| | | | |
| --- | --- | --- | --- |
| POV: | Tyler | Next POV: | Aug 11th |
| POV Used | YES | POV Ceremony | Aug 13th |
| HOH: | Haleigh | Next HOH: | Aug 16th |
| Noms: | Kaycee Rockstar and Angela Kaycee | Have Nots | |
Big Brother Spoilers LOL..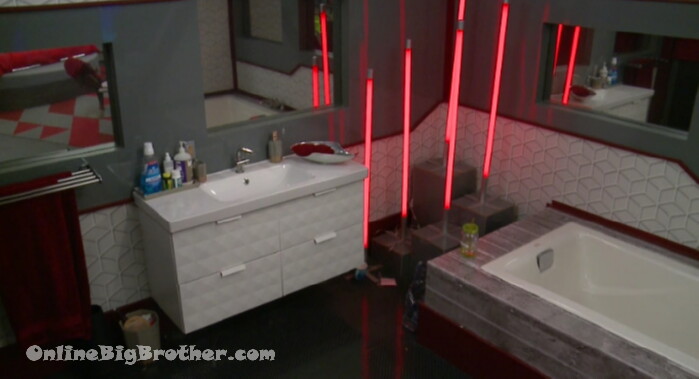 Sink fixed
3:00pm Fes and Haleigh HOH
picking at his face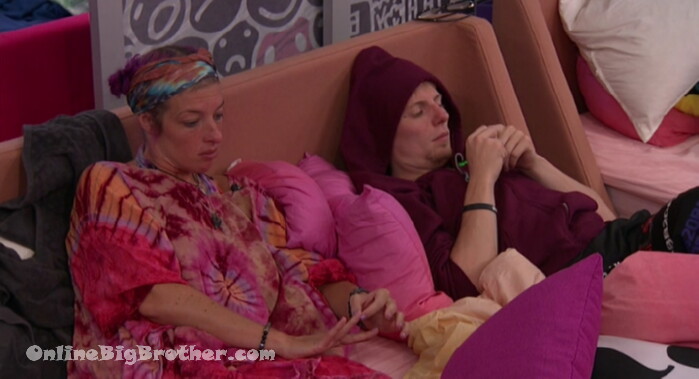 3:06pm Rocks and Scottie
Rocks- I just don't want to be completely blindsided until later and it's by a trusted friend in the final 5
SCottie – Final 5's is where stabs happen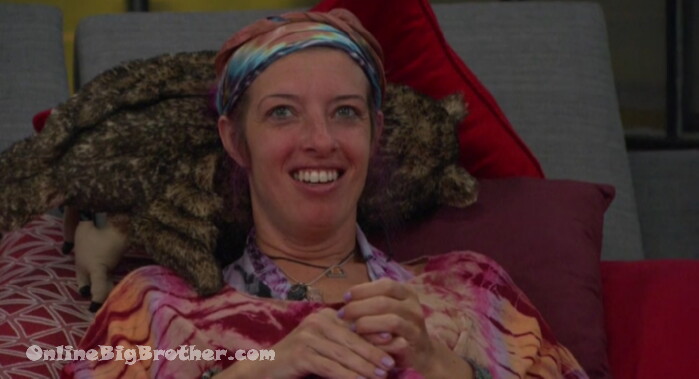 3:10pm THE HIVE
H – have you talked to JC ..
F – yeah a little bit..
H – And
F – I brought up lightly .. The numbers are getting small are you with us? this is the week
Fes says JC doesn't tell him much all she says to FES is he has no loyalties in the game but he'll never put Fes up
Rocks – does that mean we shouldn't have loyalty to JC
Angela – my main target is the other Angela (no shit.. )
H – I don't like hoe vague JC is to you..
GHaleigh thought the whole point of Fes
Fes – my talk will be get on the train or get run over
H – no.. you don't want to push him like that
FEs – we feel socnfident in Brett sam and Scottie
H – Brett, I dunno he's been in teh DR a lot
Fes – maybe he's the swing vote this week.. well JC is …
fes says it's becaseu brett has compoetley jumped shuip and joined them.. "Who does Brett feels more comffortable with"
H – He sat in here on this bed that he's voritoning KAycee out and everyone else is in the house
Fes – it makes sense
ROcks My speech is really good (Ohh shit.. buckle up )
"My beautiful I guess opponent here clearly has seen a line in the seen drawn from the very beginning. She has refused to work with anyone outside in this game outside of Angela.. She kicked her best friend out she didn't even vote a pity vote to somebody she spent hours with (Hours! get out of town). Her loyalty lies with one person Angela. Let's go even a little bit further Angela also has the Infallible loyalty of Tyler WE've seen this at the MR Pectacular Veto"
Fes – your times up
Rock – I have to go faster
H – yeah but keep going
Rocks – "we've seen it back to back vetos used on each other. Team Hilton Head. They are clearing working together. here and Kaycee vote parallel to it she not only has loyalty to my block partner here Kaycee but also Tyler.. Houseguests are your trying to further empower Angela by leaving Kaycee here or are you Trying to empower yourselfs and give yourselves a fighting Chance in this game"
Fes – that's good I like that, I don't know is it too much about Angela though
H – That's what I was saying because she's not next to Angela
R – yeah well F**** Angela
H – I know but we're not voting for Angela
F – you have to bring up if KLAycee stays Tyler, Angela and KAycee are an obvious trio.. I don't think people know how much of a trio that is
Rocks – we're friendship
Haleigh says she spends as much time with SCottie as she does with them, Rocks spends just as much time with Sam and fes spends time with JC. (unlkike the other side.. lol)
In the kitchen…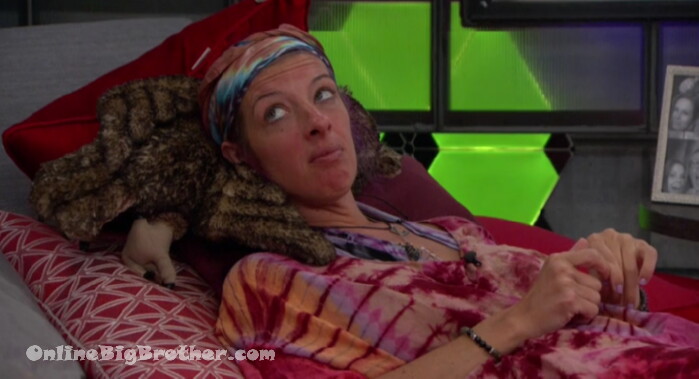 3:24pm Rocks laughs about bringing her super alliance to hang out in the HOH so those other three are left downstairs by themselves.
Fes – Sam doesn't come up here
Rocks – she thinks it's somebodys bed room.. we don't hang out in somebodies bedroom ..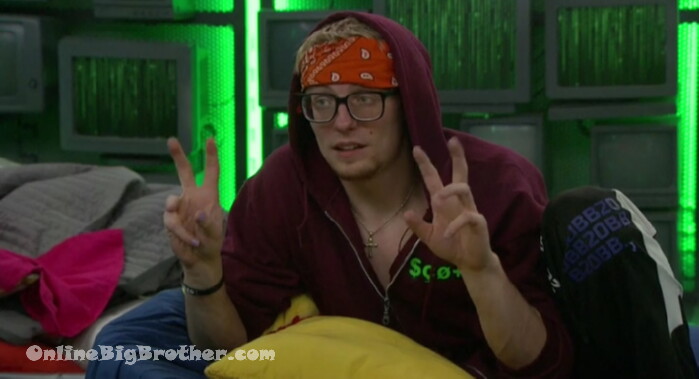 3:30pm Scottie and Haleigh
Scottie brings up his conversation with Kaycee..
SCottie – people don't know how close we are..
SCottie – I talked to Brett a long f*uing time.. he would put money on Sam voting to keep KAycee.. so there has to be some way to convince him that Sam is voting to keep rockstar.
Scottie says Brett thinks JC is a total wildcard.
Brett comes in .
Scottie continues says Kaycee's pitch was pretty standard.
Brett – do I look like Cody..
Angela comes in..
Chit chat..
3:52pm Rocks and haleigh
halegih says she chatted with Scottie and his take on Brett is he's nervous that Sam isn't voting to keep Rocks and that is what's keeping him on the fence.
Rocks – WHY … I wonder why he thinks that
H – maybe because she didn't vote to keep you last week..
Haleigh – he told Scottie he doesn't want JC to flip then Fes's vote gets cancelled and Scottie and BRett are the only ones voting kaycee out.
H – Angela is stressing out.. she walked into the room … flip opens teh door and sits quiet for 30 minutes.. she's nervous..
H – the night is young
H – I know what her 1 on 1's are like they are very blanket..
H – she's not doing any wild sh1t she's not throwing anyone under the bus
Rock – I wonder if you thought it was a good idea for Sam to talk to BRett
H – it's tricky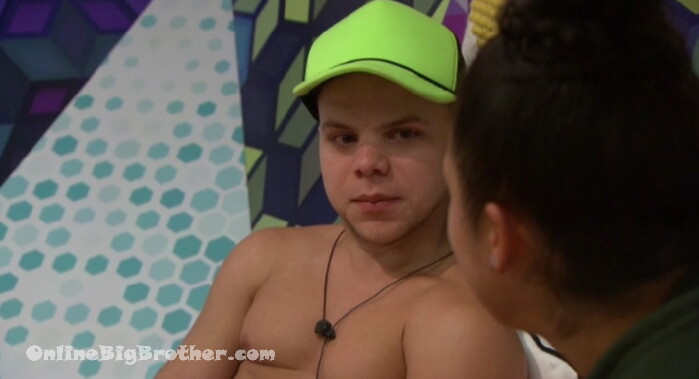 3:58pm JC and KAycee
JC – you have my vote..
Adds the only person that's pushing him to vote Kaycee out is fes.
JC says Rocks is targeting Tyelr and Angela
JC – you have to be very careful they have a bad concept of you..
JC bring sup Rockstar saying that KAycee is fake for not throwing the vote to Bayleigh
Kaycee laughs says that Haleigh brought the same thing up to her.. And KLaycee called her out on it because haleigh didn't vote for bayleigh either.
Kaycee – I bet it made the show.. it was up in the HOH b1tch you voted her out too
Kaycee was blown away that rocks got so upset that Tyler didn't use the veto on her. JC is shocked too.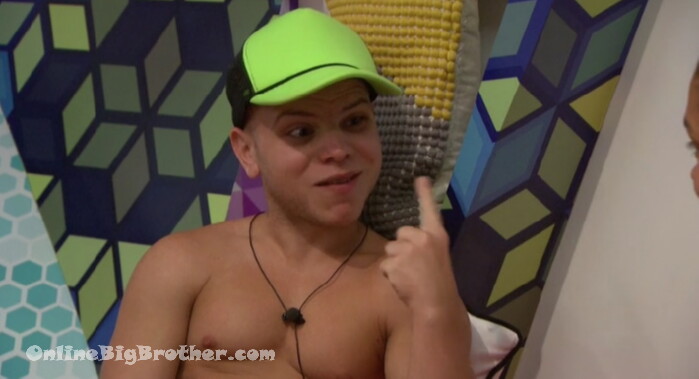 JC – we've only got 1 HOH on our side and we're getting them all out
KAycee – America is loving this rockstar is going home on Haleigh's HOH.. Rockstar is goign to go talk to Bayeligh and BAyhelgih will see everything..
Kaycee says next week their entire side gets to play in teh HOH against SCottie and Fes.
Kaycee – Haleigh's HOH turned right upside down.. Rocks is really comfortable
JC brings up Rocks coming up to her and said "I have the votes to stay"
JC says he's been telling Sam all this stuff that Kaycee is the only other gay person he would get a backlash if he voted her out "Blagh blah blah blah"
KAycee – I appreciate you though
JC – I haven't voted with them once and they don't even suspect.. Kaycee – it goes right over their f*ing head..
Jc – they don't even suspect.. not even once..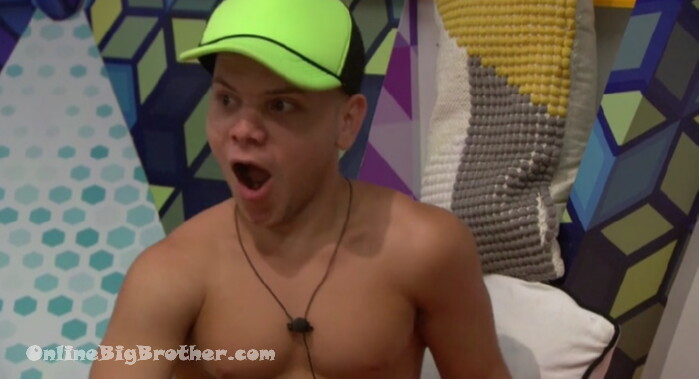 JC says every vote that is why BAylegih was like (see image)
KAycee they are all comfortable..
JC says FEs has no idea what is going on in the house
Kaycee – it's like he forgets the previous week
JC – he hasn't been backdoored because of me..
Kaycee – every single week they are shocked.. they have no idea..
JC – they think people decide to vote right before the thing…
they laugh..
JC – it's so horrible for me to laugh..
JC – fes comes up to me.. I locked the votes..
JC – after I asked him how did you lock the votes b1tch
Kaycee – they are going to be so shocked after they watch this
JC – to be honest they have no loyalty to each other..
JC says Bayleigh was one of the worst payers this year brings up a final 3 she's was offering him with Fes.
KAycee brings up how the other side came to her about the girls alliance.. "ohh all of a sudden I'm going to trust you "
JC – the stuff I tell them is bullshit
Kaycee brings up Scottie going to Angela's HOH crying that he's being bullied by the other side they were making him swear on bibles.
JC says he had a conversation with Scottie and everything he talked about went back to the HOH. He found out from Fes.
Kaycee – Scottie is blinded because he actually likes haleigh.. he's in denial that they are in a showmance.. I want to say something to Scottie so bad but I can't
JC – Rockstar tonight is going to be a shitshow..
Kaycee – I have a good feeling that Sam will keep me..
JC tells her about when the votes shake out tomorrow night and it's 5-1 they're going to have Brett say he voted to keep ROCKS and that Fes' vote was cancelled. JC is going to say Scottie is flipping votee.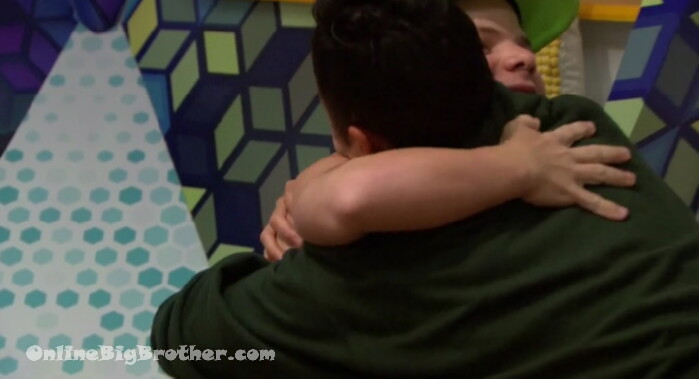 They hug it out..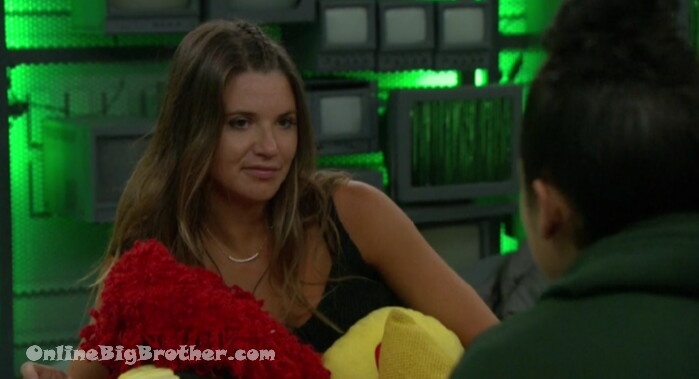 4:30pm Comparing notes..
KAycee mentions what if it's 4-2 and Sam voted kaycee out. KAycee says that would be awkward.
Angela – I would shun her
Kaycee – yaah
Angela – I hate how rockstar has been up her a$$
A – Brett told me that Rockstar and Haleigh told Sam that I was the one trying to get her up
Kaycee – really
Angela – I told Sam no..
They talk about winning the HOH and putting up HAleihg/Fes and backdooring Scottie
Kacyee – Brett will put up SCottie and Sam backdoor fes..
Kaycee – he wouldn't put Haleigh up he doesn't want to ruin that ..
Kaycee – Haleigh won the HOH and Rockstar goes home.. that's f*ing funny
Angela says when Rocks wants into the Jury and tells Bayelgih "it's going to be bad"
Angela – after I did my GBM they were like, you know sh'es going to the jury house are you sure you want to say that.. (AHHAAHHAHA)
Kaycee – you said some mean sh1t
Angela nods
They agree Rockstar will still hate Angela regardless of what she says.
Angela – I just wanted to say sorry if I came off like an entitled b1tch that gets everything they want .. I went into that a little bit more..
Angela – she's been saying I'm pretentious I'm entitled.. I'm a princess..
Angela says she's going to say something back to Rocks on national television for Rocks dragging her name all this time.
Kaycee agrees
Angela – I just don't care.. two sh1t about what Rockstar thinks of me
They agree it's rude how Rockstar thinks she's safe
Angela – I wish I had a tiara
4:40pm Rocks and JC
Rocks goes over her speech.. KAycee doesn't talk to game other than with Angela.. she's only working with only Angela.. Tyler is only working on Angela
JC – I think you should work harder on BRett.. .(LOL poor Brett)
Rocks says they have 5 votes against Angela and Tyler "I'm going to talk to brett again"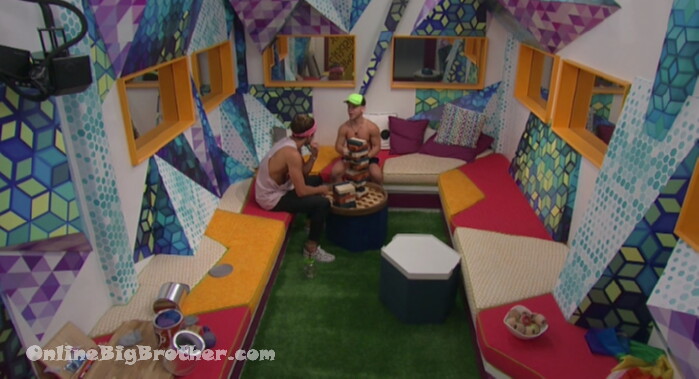 4:48pm Tyler and JC
JC says Rocks thinks she has 5 votes..
JC says he talked to SAm and she asked him to tell her his vote before they go into the DR tomorrow.
JC tells him about the plan to make Fes thinks Scottie is flipping votes..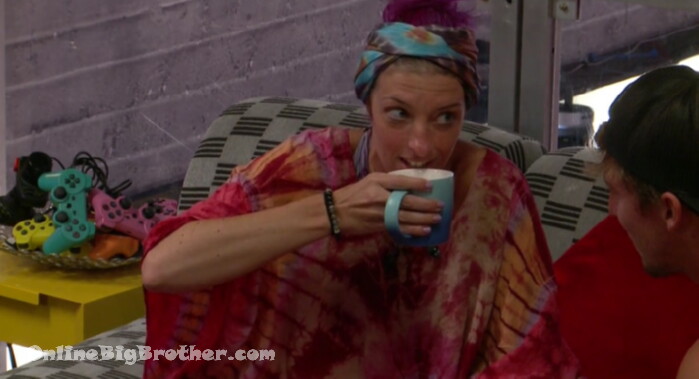 4:53pm Rocks tell Brett she's got the votes..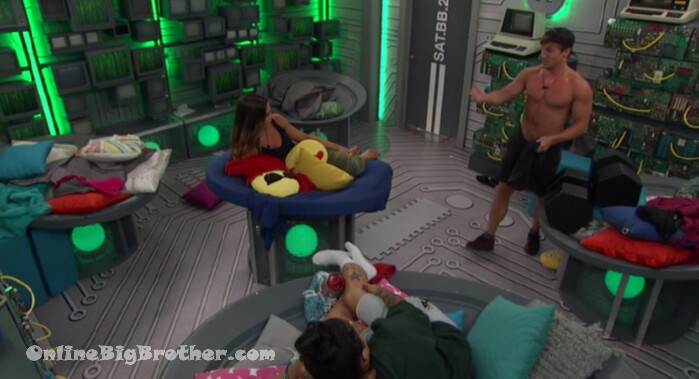 4:56pm Brett telling them about Rocks giving him another alliance pitch calling it the survivors he told her they already had one it was called Mr and Mrs Smith
Haleigh says she's looking forward to seeing Tyler follow nobody around for a week.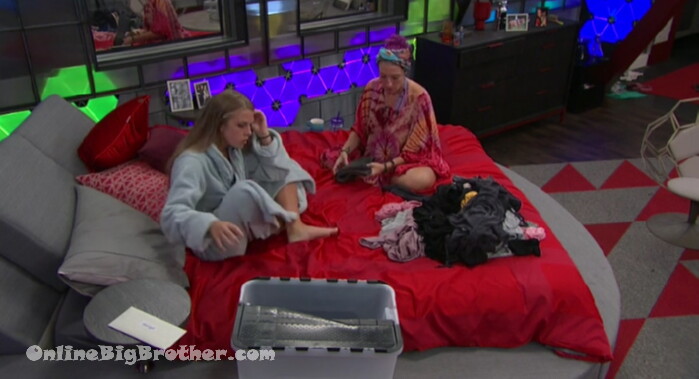 4:55pm Rocks and Haleigh Comparing notes..
Rocks says JC told her to talk to Bret and she talked to BRett.. JC warned her that the otherside is talking to Brett alot.
h – REALLY
Rock – I think JC, SAm and BRett is voting to keep me and we know Fes is
Rock – fes will be cancelled..
Rock says Brett thinks their votes are all locked in.
5:07pm haleigh and Rocksstar
They are saying that Angela was cut throat when she took BAy out says Bay and Angela were best friends..
Rockstar – I think JC is little and nervous
H – like a cat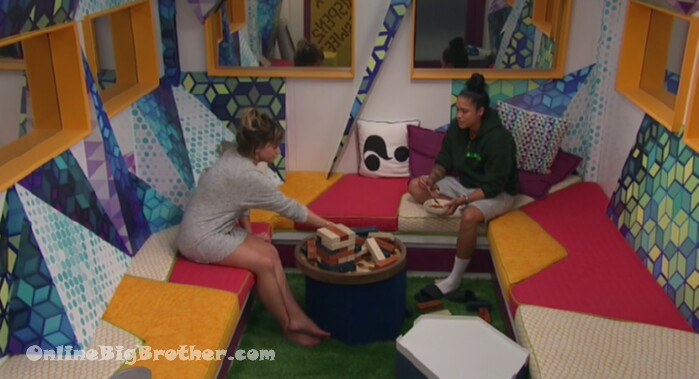 5:10pm kaycee and SAm
The ONe on one
Sam tells her she would rather her leave and Kaycee and Rocks get to stay (UGH)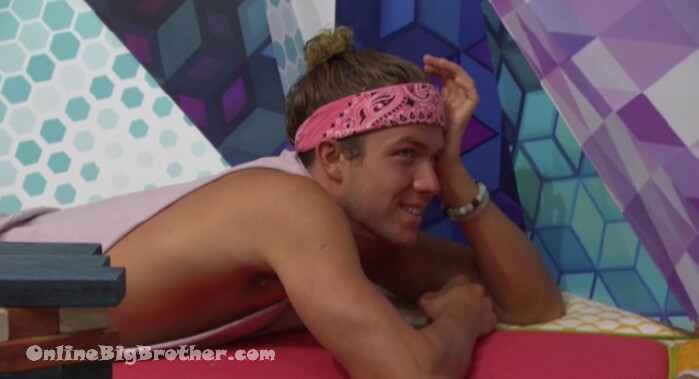 5:56pm Level 6 meeting
Tyler mentions that Sam is getting annoyed by Rockstar and the rest of them push her with game.
Kaycee – that's is why she's doing stuff..
Kacyee – I can't wait for Rockstar to leave.. everywhere she's staring, looking.
A – they told Sam I was trying to get her on the block
K – they are in her head big time and it's so sad
T – I'll probably say some sh1t about you to get you off her radar.. You think I'll fall for that again like that whole kaitlyn thing.. Kaitlyn tricked me last time now I'm tricking her (Angela)
K – When we voted her last time we weren't bashing there people we were throwing them under the bus
K – now with them that's their tactic they are getting in her head and they are talking sh12t about us ..
T – they are saying we're saying sh1t about her probably (Sam)
T – literally half of rocks pitch to get me to use it was personal shots against you personal shots against you.. I wanted to go off … and Haleigh to
K – they are feeding her information to turn use against each other.. that's not cool we voted to keep her here.. you guys did not
Tyler says Sam doesn't understand the game.
Kaycee – Haleigh is so fake
T – she's so bad.. she's awful at this
Tyler says Haleigh's and rocks pitch to get him to use the veto was so laughable. He's sure it's being portrayed like the joke it was.
KAycee – I'm sure this whole show is making them look weak
T – She said at one point if rockstar goes home on my HOH I will self evict.. f* yeah 2 for 1
Tyler mentions how JC is already trying to work what happens after the votes are out.. "Pin sh1t on other people"
T – love you guys
Kaycee – Love you.. tomorrow we'll get through it
Tyler tells them the plan to pin the vote flip on Scottie. Brett will say he voted to keep Rock because of their alliance.
Kaycee – comes down to who do they believe more Scottie or Brett
Tyler – we're going to win
They're curious to see how Sam votes.
Tyler – it'll be 5 to 1
Kaycee – yeah 5 to 1 competing in the HOH 5 of us, Sam in the middle, 2 of them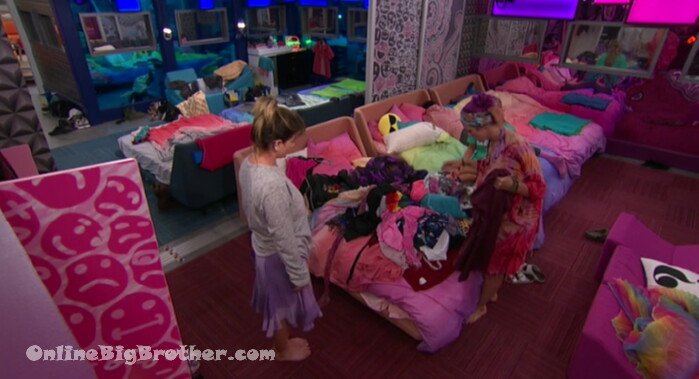 6:31pm Playing dress up with Rocks clothes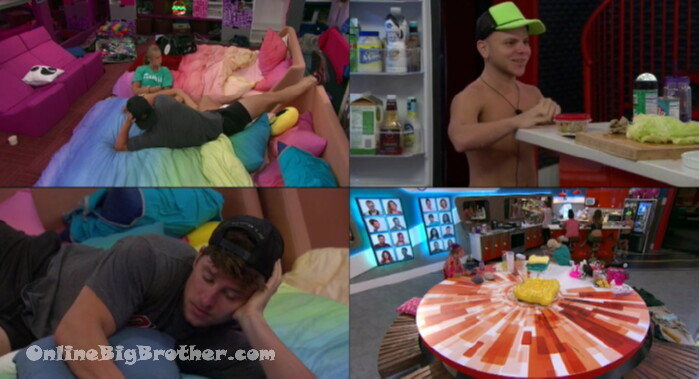 7:11pm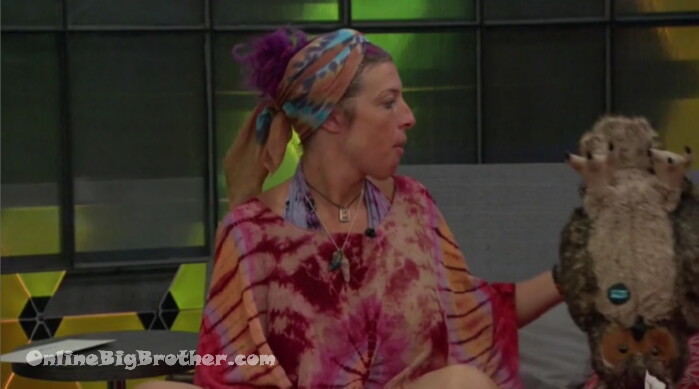 7:30pm Rocks says she thinks she has the votes.
Rocks – I hope things work in my favour..
Rocks – I don't think you understand how happy Bayleigh would be if Kaycee went to her, JC went to her and Tyler went to her..
Rocks – she told me to burn this mother f*er down when she left
Sam – ohh my
Rocks – she will be thoroughly disappointed if I go to the little house
Sam asks rocks why did Bayleihg want Kaycee out kaycee was her friend.
Rocks says Kaycee didn't even vote for her (PSST rocks in brains neither did Haleigh)
Sam – has there ever been winner here who's lives didn't change for the better
ROcks – NO ..
sam – no?
Rocks – well that I don't know
(BB9 winner things didn't work out for him)
Haleigh comes in. Rockstar says she was getting nervous with Scottie wearing Angela's hoodie.
Amazon Canada
Amazon USA