| | | | |
| --- | --- | --- | --- |
| POV: | Tyler | Next POV: | Aug 11th |
| POV Used | YES | POV Ceremony | Aug 13th |
| HOH: | Haleigh | Next HOH: | Aug 16th |
| Noms: | Kaycee Rockstar and Angela Kaycee | Have Nots | |
Big Brother Spoilers – The amount of stupid on the HIVE is so much fun. So glad they will never change.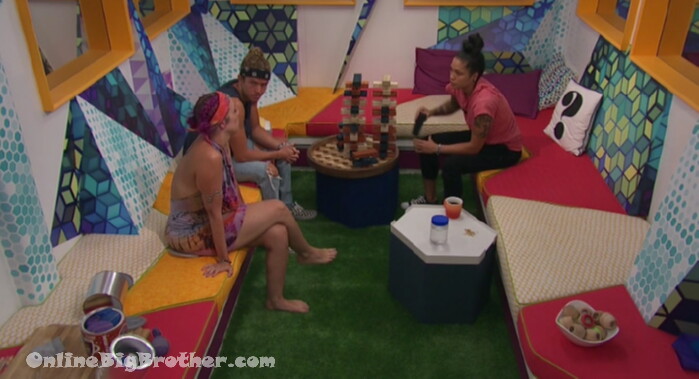 11:50am Rocks, Tyler and Kaycee
(Tyler tells Rocks that he couldn't do what Haleigh wanted him to because last week she used the Hacker on him to put him up then she cancelled his vote because he knew he was voteing against Baylegih. He was going to vote to Keep Rock. )
Rock – expect the expected..
Tyler – I wish it wasn't you that got the heat for this but you have Haleiogh to thank
Rock – I don't have Haleigh to thank for it
Tyler – She put me up last week
Rock – yeah but I didn't put you up[ last week
Tyler – you want me to put Haleigh on teh block she's HOH
Rock – I wanted Angela up there and for Kaycee to stay
T – well that's not for me to decide
Rock – I mean I also wanted to stay
T – I also wanted to stay last week when teh hacker put me up
Rock – and you did
T – now all you two have to do is get the votes
T – I couldn't give her what she wanted after she did all that to me last week.. I know you understand that I know it sucks but you understand that.. it's not a personal thing against you.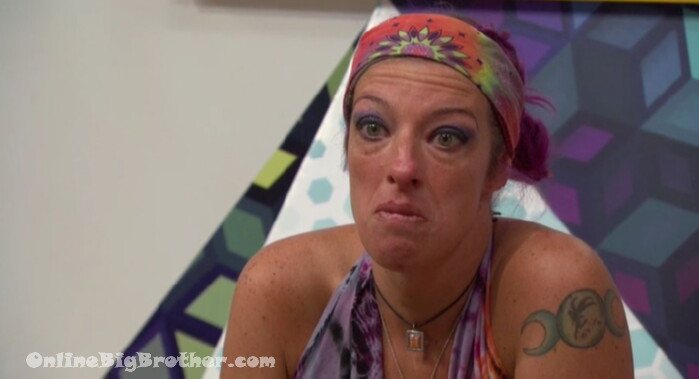 Rocks asks for a one on one with Kaycee So Tyler leaves.
Rock – I'm really sorry for you being on the block
Rock – you were not supposed to go home (ZING ZOMG)
Kaycee – sucks
Rock – I mean, maybe you still won't
awkward laughs..
kaycee – I have a very good chance..
Rock – I truly tried to work with you through out this game, Loyalties are what loyalties are but I'm really sorry you are up there
Kaycee – it sucks we're up there
Rocks – i'm just going to talk a bunch of sh1t now because it doesn't f*ing matter
Rocks says Angela is really entitled and she gets what she wants I wanted to work with you..
They hug it out..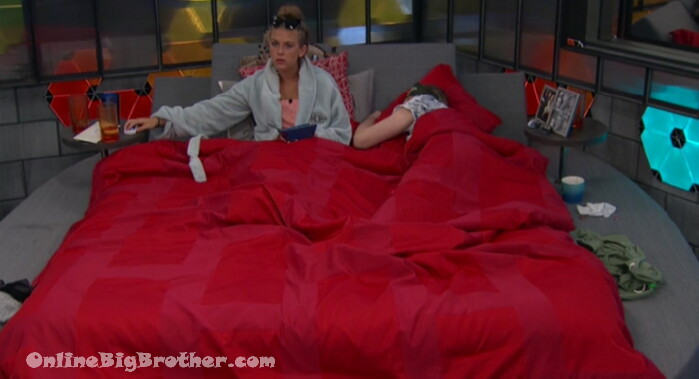 11:52am Scottie and Haleigh
Haliegh wishes she was more cocky with Tyler with her speech "thank you for reminding us all about last week we were all here.. " (Tyler reminded them all about Haliegh using the hacker on him)
Haliegh – me and Tyler will mutually not like each other this week..
11:53am Kaycee and Tyler
Kaycee debriefs Tyler on her talk with Rock.
KAycee – she said I'm sorry you are going home.. I'm like what..  yeah dude it sucks..
kaycee – she literally said I'm so sorry you are going home..
Tyler- Brett just told Haleigh he's going to vote you out.
They laugh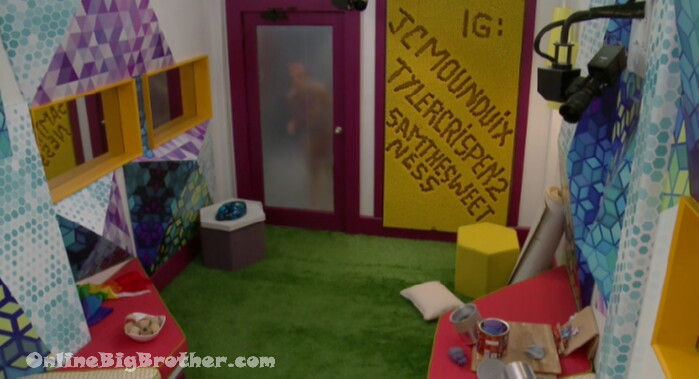 Rockstar creeps by to look in the room at who KAycee is talking to (Rock is lurking all around right now)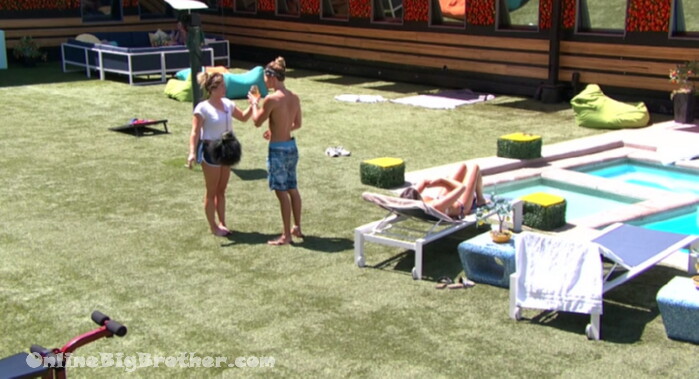 11:56am Sam and Tyler
Sam – will you trust me any less if .. What do you want me to do
Tyler – do whatever you want to do
Sam – really
T – yeah, really.. YOu know what I want you to do
Sam – you are going to hate me
T – you know that's impossible
Sam – I'm going to have to keep a pinky promise and keep KAycee .. My life is going to suck in here..
Tyler- you know that's not true you know who has your back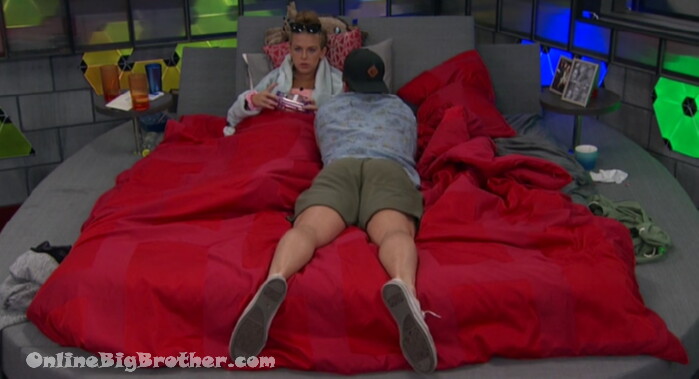 Noon Haleigh and Brett
Haleigh thought maybe Tyler was going to do it because when Rock and Tyler had their one on one she was bawling and he was teary eyed. She was 15% thinking Tyler would use it on Rock.
brett thought the rock was going to freak out. haleigh told her not to because right now sh'es had 5 people tell her they are voting to keep ROCK.
Brett – she's in a good spot unless she freaks the f* out
H – now I have 3 people stuck in this hose that are coming after me so if we can get rid of one I no longer have three I have 2 coming after me that would be a lot cooler..
H – KAycewe was my f*ing target.. obviously I ran out of F8ing options
Brett – who was your target..
H – Angela and obviously no Tyler is a suspect and he wont the veto..
Brett – I gave ROck a hug.. she was shaking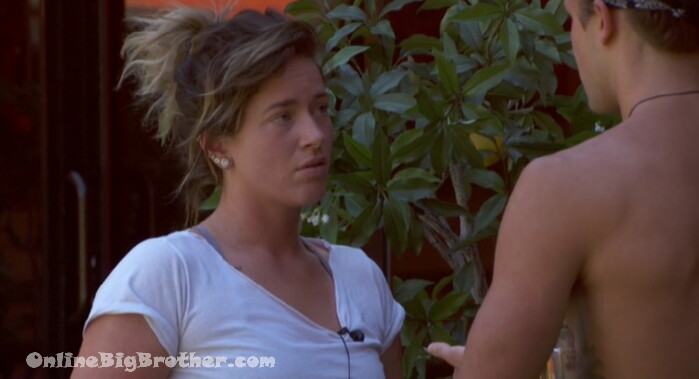 12:03pm Sam and Tyler
T – you gave kaycee a pinky promise
Sam – I don't remember I just remember us three had a thing
Tyler – I don't want Kaycee to go, If Kaycee goes out I will be devastated we have that thing
Sam – i know
T – I know you are close to Rockstar
Sam – personally she makers my life in here so much easier..
T – she explains to me how she got you by talking game with you
Sam – building my confidence and a personal relationship
Tyler says it was Bay and Rockstar that were spreading the final 2 rumours about them around.
Sam – you haven't replaced me with Angela though..
T – absolutely not.. I just kept her not over you but over Rockstar
T – she kept me last week I needed to repay that favour back..
Sam – is KAycee going to be able to pull it together and win these competitions.. or is she holding back/ what the fu** is it the stress
T – I don't know..
Tyler is certain Kacyee is going all out in the competitions she just hasn't hit the right one.
Sam – the fact that she's a mom breaks my heart.. My loyalty rides with my two babies you and Kaycee
T – we fought for you 100% we fought for you
Sam – there was a period of Time I thought you and Kaycee were at each other..
Sam – just so you know I will vote to keep kaycee.. don't tell anyone that..
T – I'm sorry things have appeared a certain way.. it was never my intentions it was just to protect both of us
Sam – I know..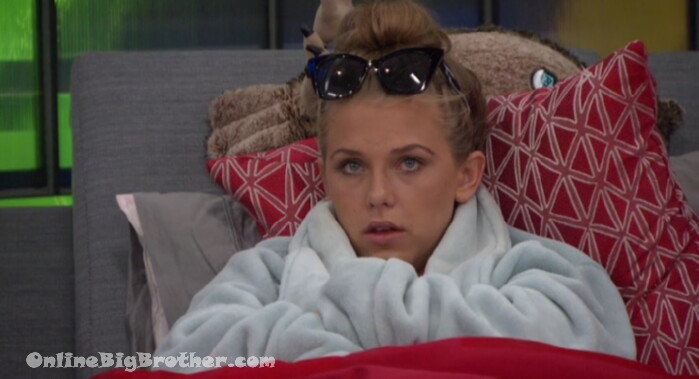 12:14pm Rock and Halegih
Counting votes..
Haleigh says Brett just told her he's voting out Kaycee and Scottie will vote for whoever she says. FEs and Sam are obviously voting to keep ROCK
Haleigh – JC isn't stupid he knows if you leave he's the next one.. obliviously we won't get Tyler's or Angela's vote
Rocks – Pretty Privilege ..
Haleigh – we can't talk votes with anyone because we don't know who the hacker is
Rock – I wonder what Scottie feels is in the best interest of his game.. if he's the hacker
Rock – Stupid b1tches (just random)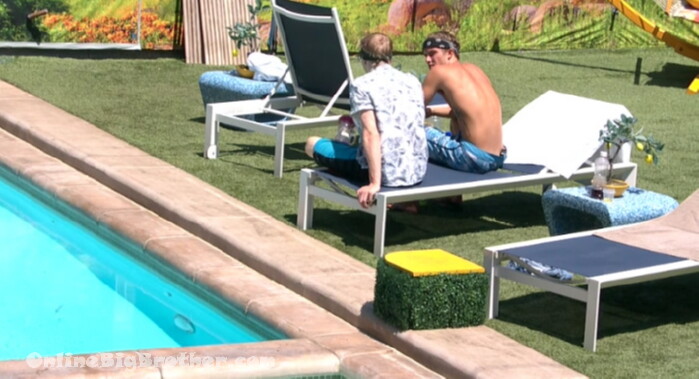 12:18pm Tyler and Scottie
Tyler – Kaycee has my vote to stay
Scottie – they are still worried she has a power..
Scottie – I can't believe she gave you the answer
Tyler – I know.. she was so pissed.. she was like F****
Scottie – they literally f*ed themselves..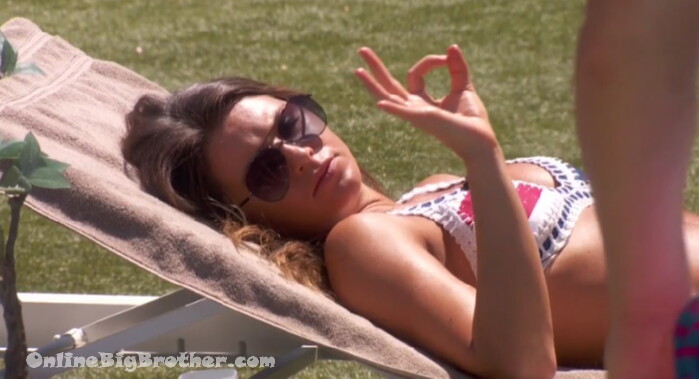 12:34pm Suntanning..
Brett tells Angela and Tyler that they were Haleigh targets this week.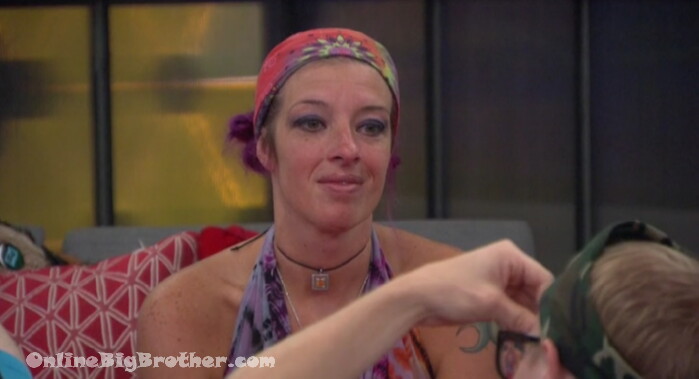 1:09am Rock and Scottie
Rock is asking Scottie if he is the Hacker to not Cancel votes that are going her way.
Scottie says he's not the hacker.
They start wondering about votes.
Rocks – Concerned about JC because that's his LGBQT brotheren
They don't know where Brett's vote is.
Rocks says if she wins the HOH she'll put Tyler and Angela up
Rocks – whose the real Angela b1tch..
Rocks – bye pretty princess go flip your hair..
Rocks – If we can send KAycee home this week that will still make Bayleigh happy..
Rock thinks the internet is dragging her because her nickname is BLOCKSTAR.
Rock says she's certain that Kaycee doesn't have the power.
Rock – f*ing b1tch .. pretty privilege.. she can't play the game me and KAycee play flirting with the competition beasts..
Rock – Tyler floating from one girl to another.. waht is he doint.. I geuss he's a young man.. 23..
They talk about the hacker power last week. Rocks thinks the mishandling of Haleigh's Hacker power hurt them. She shouldn't have cancelled Tyler's vote out it gave him too much ammunition for this week.
Rocks says KAycee was really shocked she was nominated and very sad. claims that during her talk with KAycee she has tears welling up in her eyes. (LOL ohh man Rocks's brain is broken)
A real easy way to support the site if you are an amazon shopper is to make your purchases through our link. You pay the exact same thing but we get a small % commission. It doesn't cost you anything and helps us out.
Amazon Canada
Amazon USA