| | | | |
| --- | --- | --- | --- |
| POV: | Tyler | Next POV: | Aug 11th |
| POV Used | YES | POV Ceremony | Aug 13th |
| HOH: | Haleigh | Next HOH: | Aug 16th |
| Noms: | Kaycee Rockstar and Angela Kaycee | Have Nots | |
Big Brother Spoilers The fun continues this week :)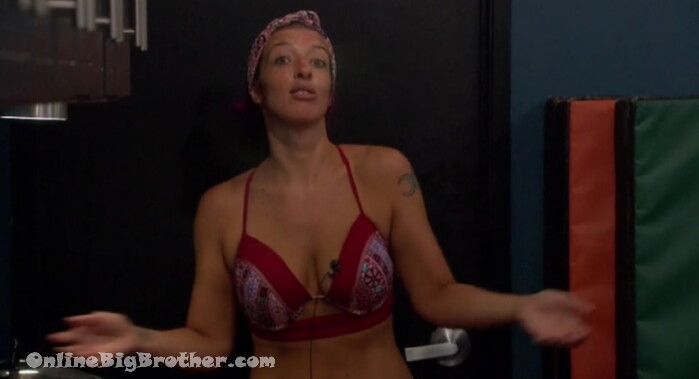 11:37am Rock and Brett
Rock – your idea you had yesterday is pretty flawless..
Rock says she was with SCottie and he brought up their secret alliance as a joke, "It's such a joke"
Brett – I know
Rock says Scottie was saying they can call it Mr and Mrs Smith
Rock – I was like Scottie whatever.. it's such a blatant joke actually.. it's so crazy it might work..
Brett – it's so crazy it might work.. I agree
Rock – Its such a joke.. me and Scottie weren't even talking game at all..
Brett – right
Rock – he was talking about movies talking about brad pit and Angelina jolie and he was like.. have you seen mr and mrs smith.. I was like no ..
Rock – It's hiding in plain site which is my favorite f*ing way to hide
brett – right
Rock – that was a real light bulb in my head..
Brett – I'm glad that you see that
Rock – I do.. and everyone else see it and now it's a huge joke.. which is so funny
Rock – first step stay second step take over the world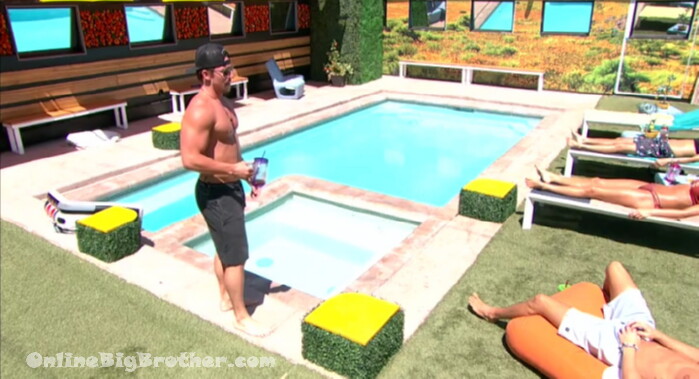 11:40am Brett hustles to the backyard Angela, KAycee and Tyler are suntanning.
Brett – Guess who just pulled me into the storage room to confirm out alliance..
they all smirk
Brett – hell yeah
Tyler – she cornered me in teh bathroom 20 minutes ago
Angela – this keeps getting better..
Brett – it's mr and mrs smith
they laugh
Angela – you're joking.. did you make it up
Brett – she did.. the best part of it is I don't think she's seen the movie.. they f* alot
They laugh
Tyler- ohh she has.. she has..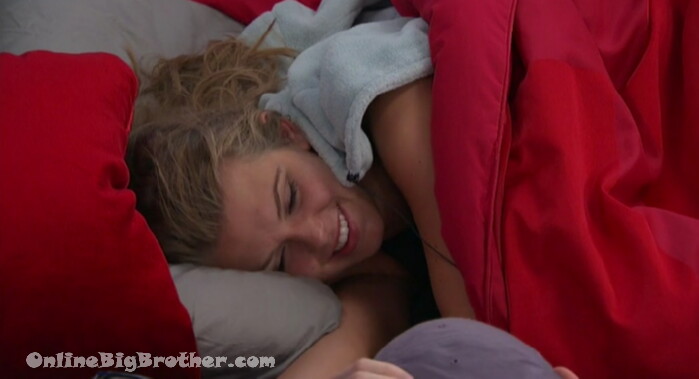 11:40am HOH Scottie and Haleigh
Scottie brings up how they got woke up at 8:30 today then production came on and apologized for it.
SCottie say we get the 6 we want, Me, you, Rock, sam, fes and JC,.. at that point what will happen is it will break off into three pairs of 2
H – mmmmhhhmmm
Scottie – FEs and JC will probably try and get me Rock and Sam will probably try to get you
H – we have to half a$$ allow and make sure the other two are not the target
S – correct.. I think JC would rather have me
H – I like the 6 person plan.. in the event we lose a member of the 6 we still have Brett and we still have Tyler.. you have Tyler (ZOMG)
H – you know what I mean… we have options going forward but it's a good plan
S – say next week we win we put Tyler/Angela on teh block neither of them win Veto and Tyler is up there on eviction night that's a shot we'll have to take
H – with Tyler
S – yes
H – OK… OK
S – obviously I don't like to do that but for the game he's teh stronger of that pair
H – that's true.. I agree
S – just know I am going to cry and it's up to you to make sure..
H – this is what we are going to do Scottie..
S – you have to make me submit..
Scottie – you know who crazy it would be if we send Tyler and Angela out in one night..
H – is brett more beneficial or Sam..
Scottie says Brett is better thinks that Sam is America's player.
H – she takes medicine.. she always brings drinks in with her
H – Kaitlyn was on medication every morning..
S – Sam is on a stress reliever
H – maybe a sedative
Scottie – yeah
H – we have a good group I think..
Haliegh says JC is on the same page ans them and she had a good conversation with Sam she's good.
Haleigh says they have to make sure Rock and Sam don't get too close.
Scottie says if he had to pick their group it wold be Brett, Haleigh and him.
H – i'm not Victoria
S – you've won and HOH.. he's Victoria.. makes me Cody
H – I'm Derrick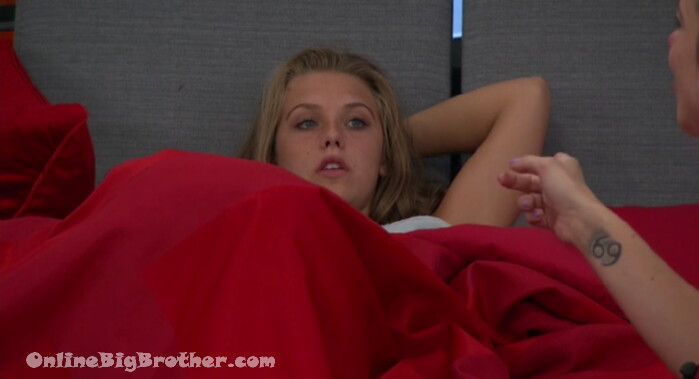 12:10pm Haleigh, Scottie and Rock (Buckle up)
Rock goes over her speech (I've have more of it transcribed below)
Rock – here we are again.. this game is about a lot of things one of those things it is about is adaption.. I'm sitting next to a very lovely lady whose refused to talk game with any of us except for this other lady right over here (Angela) "
Rs – you know who else has her infallible undying loyalty that gentleman right there.. do you want to make this 2 that cannot be swayed into a three or would you like to keep me who is willing to work with any one of you. we're all lone wolfs out here none of us have an alliance"
RS – as much as I wanted to win that veto I'mn kinda glad I didn't for the simple fact that a very clear final 2 alliance has been exposed right here with Angela and Tyler.. is that fair for any of us that are all out here working by ourselves.,. no.
Scottie – I like it
H – I like it if we can secure the votes if you give that speech and go home
Scottie – I'm feeling good about it
H – I feel good
Rock – I feel good
H – how are you going to end it
ROCK – I hope you all make the right decision as we're all just out here trying to stay in and there's a very clear final 2 alliance that is unshakable sitting right here.. Don't make it final 3 don't let them be a final 3 you guys.. it's bad for each one of your games."
H – you have to be careful because kaycee can come right back and point out you and I
Scottie- hopefully she goes second.
Rocks – I never go second I always go first..
H – She could bring Fes in and Scottie in ..
Rock – maybe something like the rest of us all have great friendships together nothing like a final 2
Rock – Angela is sitting there with two final 2 alliances one of them is on the block you going to keep her protect just slide through this game.
Rock – do the smart thing for your game take this b1tch outta here
Rocks now brings up their 6 person alliance they think they've formed.
H – What is going on today people are just appreciation me saying nice things
RS – WE're doing good things people are excited about our team
RS – brett and I went into the storage room I said.. YOu know Brett I've been given a lot of though to your secret alliance idea.. and he's like YEAH..
RS goes over her conversation with Brett in the storage room and the forming of their secret alliance.
RS – It's hiding in plain site with his my favorite way to hide
RS brings up "First step keeping me here second step is world domination and he's like I LIKE THAT"
H – I like that to
RS – I'm only telling you
H – ours trumps over everything
RS – BRett and I are big targets and hopefully we keep surviving
H – Theoretically Fes and JC have a final 2 you and I have a final 2 and you and Brett have a final 2
RS – well we have a secret alliance..
H – I could make a secret alliance with Scottie.. you have a secret alliance with Sam
RS – we have a secret final 3 with Sam (LOL these two just make up final 2 and 3's)
H – Scottie also thinks we have a final 3
RS – none of them have names
H – if we don't name it it's like it doesn't exist
Brett comes in
H – you look really really cut .. I was going to come tell you to snuggle but you were really really moist
ROCK – Glistening
Haleigh brings up how stressed JC is lately that he's getting sore stomachs and canker sores.
Rocks – he's just a little man .. we're all stressed out but he's doubly stressed because he's little
H – he gets way more worked up than we do anything that inconveniences him is 10 times worst for him than it actually is

Rock gives us her speech… "I got the bones of it I got the outline" (Buckle up and get your crash helmet on for stupid)
"Of course I wanted to win this veto and take myself off the block but I'm actually glad I didn't because it exposes a infallible final 2 of Tyler and Angela. "
Brett – that's good
RS – "which is dangerous for all of our games as none of us are actually working together and we're all just kinda lone wolfing it"
Brett – mmmhhmmmmm
RS – "Kaycee has refused to work with anybody throughout this game except for Angela so Angela is sitting real pretty right now with a infallible,e bond with Tyler and KAyucee. Are you going to let her have two shield protectors in this house"
RS – Kaycee also has a great relationship with Rachel and Rachel went out the door.. Kaycee spent hour long conversations with Bayleigh she didn't even toss her pity vote whats her loyalty going to be to you in this house"
Haleigh – YEAH
Rock – soemthing along those lines
(WOW)
RS – exposing the final 2
Brett – you need a closer about why it matters .. there's a lot of content theirs a lot of body you need a conclusion
BRett – wraps it together.. that matter because of this.. you need to make is as elementary as possible.. you almost want to trim it. Some sh1t goes over peoples' heads and they'll forget it.
Rock – Tyler is following Angela around like a puppy, Tyler is a competition beast
Brett – start with Space pecs..
Rocks – on a pinky promise he risked his entire game and looked her in the eyes and said this is total trust complete trust
Haleigh – and she brought that up in her veto speech
Brett – the centerfold Is Angela that she has two covalent bonds
H – it's shitty that they were willing to risk Kaycee I told that on Tyler..
Rock – he could have just as easily said I choose not to use the veto at this time
H – we get rid of Kaycee that duo is just stronger
H – we have several people that are putting them next to each other (T and Angela)
Rock says her target on her speech is pretty much just Angela "I want to stay to be able to help everyone"
Rocks says once Anegla leaves Tyler will walk around like a lost puppy like he did when Kaitlyn left.
H – Tyler is very malleable he wants people to tell him what to do.. that's his problem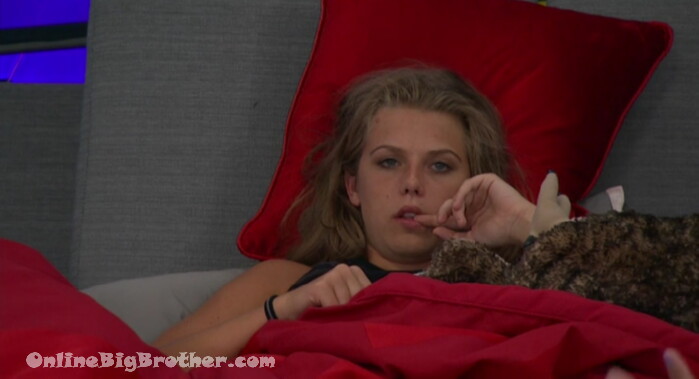 12:35pm Haleigh and Rockstar
Rock – I hope I don't have to give my f*ing speech first again ..
Haleigh now saying what if Kaycee is the hacker and still on the block.
Rock – it would have been a dumb f*ing move..
H – I'm so confident Rockstar I heard her
Rock – you heard her ankles clicking .. Scottie's ankles click when he runs..
H – I heard her ask a question before we started
ROck – cool
Haleigh – maybe she thought she wasn't going back up she was the pawn..
ROck – who did she thinks was the target if it wasn't Angela or Tyler
H – maybe she thought I had some hidden vendetta like Angela did (zomg)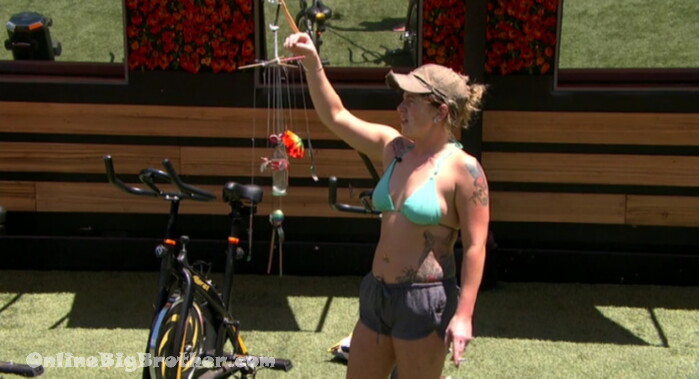 12:43pm Sam crafts
1:31pm
There's been a whole ton of suntanning throughout the day here's some pictures.
2:40pm Chit chat.. Rock tells them a story about wearing a shirt "party with sl*Ts when she was pregnant.
They talk about the 18 or younger clubs..
Sam – Kiddy club
Rock says she use to go all the time
Scottie says she never went
Sam says she's missing the best parts of her year being on the show.
Rockstar says her husband and her work their a$$es off for the summer
Amazon Canada
Amazon USA