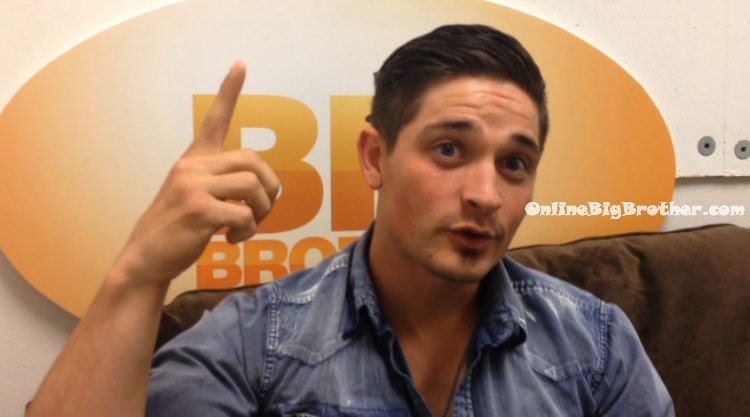 The Big Brother 16 first episode just premièred tonight and if you're anything like us we're already hooked! We can't wait for the second première to air tomorrow night at 9pm on CBS! Its definitely difficult not getting our live feed fix right after the big brother première.
People TV released a video today of the big brother 16 house guests talking about what we won't see them doing in the big brother house this summer.
Derrick Levasseur "You won't see me in a showmance!"
Brittany Martinez "Kissing a boy!"
Victoria Rafaeli "There is no Showmance!"
Caleb Reynolds "S*x on the first day!"
Brittany Martinez "Having S*x"
Donny Thompson "You won't catch me hooking up with anybody in the house because I have a girlfriend!"
Derrick "I won't be running around naked!"
Amber Borzotra "I will not be topless!"
Christine Brecht "I will not be streaking anywhere!"
Hayden Voss "I will definitely be doing the naked and hooking up so.. I won't get into any fights!"
Victoria, Paola, Joey, Brittany say they "won't get into any cat fights!"
Donny Thompson "You won't catch me being in any physical confrontation!"
Frankie Grande "I am probably going to be fighting a lot!"
Joey Van Pelt "You won't be seeing me crying!"
Frankie "Sobbing!"]
Victoria "I won't get emotional!"
Devin Shepherd "I'm kind of sensitive, I may cry!"
Cody Calafiore "I won't be saying anything inappropriate!"
Paola "Saying anything about gay people!"
Brittany "Making racist comments"
Amber "No cursing!"
Joey "I will be recycling!"
Donny "You won't catch me getting drunk and jumping in the pool!"
Early-Bird 20% Savings Special – Offer ends June 26!
Stay connected and interact with other Big Brother Fans on our Facebook page.
And Follow: @BigBspoilers and @Dawgsbigbrother on Twitter for the most up to date spoilers.