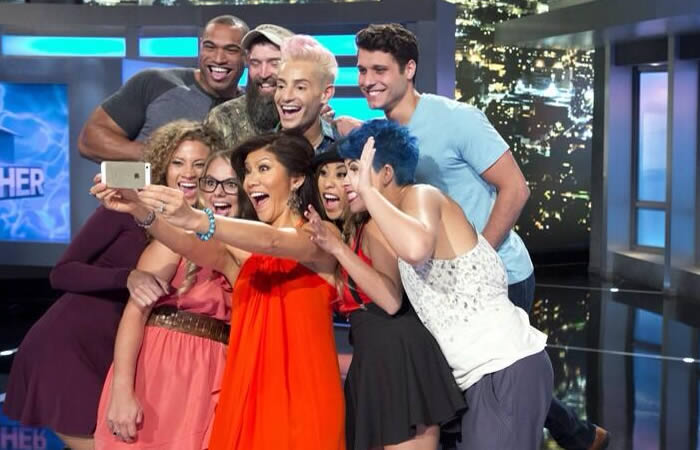 16 Big Brother houseguests were revealed last week and to all our shock and excitement they are all newbies. No hidden brother of Rachel, sister of Jeff or other inclusion of "BB Royalty". This season is all about the plebes we'll except for Frankie I suppose.
CBS didn't pull any punches when it came to twists. Theres a lot…. Before we get into the spoilers of the first episode here is what we knew going in.
2 Head Of Household's (HOH's)  Each HOH will nominate 2 House Guests (4 Total) for eviction each week.
A Brand NEW Competition named "Battle of the Block" where the HOHs won't be 100% safe. Just because you are HOH doesn't mean you're safe due to the new competition.
MORE interaction / Voting from the viewers this season. There will be a new interactive twist called "Team America" that will allow America to influence the game like never before.
First Episode Results
As was leaked earlier in the week the first 8 houseguest entered the house and competed in the first HOH competition. The competition is called "Go Fly A Kite" you can watch the video clip here. First 8 houseguest to enter the house are Joey, Amber, Frankie, Nicole, Donny, Devin, Cody and Paola.
 First four into the house are cody amber Donny and Joey
Second four into the house are Devin, Nicole, Paola and Frankie
Devin tries to pull the original 8 into an alliance called the "Crazy 8's"
Devin and Donny form a 2 person side alliance, Donny admits to having watch every single episode of past Big Brothers
Joey, Nicole, POW POW and Amber form a girls alliance "El

Cuatro

"
Julie Chen tells them this is the most Twisted summer ever (Hurray 🙁 )  tells them the HOH is not safe this year
POW POW (Paola) and Cody potential showmance POW POW "is so in love" with Cody
Paola first one out in the HOH competition
Joey is the second out
Nicole is the third out
Donny is the fourth out
Devin is the fifth out
Cody is the sixth out
Amber is seventh out
Frankie wins the Head of Household competition
First 8 houseguests in the house are told about the twist
Winner of the team America has been selected. there will be three houseguests selected by the fans over the next 3 weeks they will form "Team America" They will affect the game like never before. (we've heard that before don't get too excited 😉 )
First Member of Team America will be revealed tomorrow night.
Final 8 get reveald tomorrow

As Team America we have chosen 1 house guest to be in a secret alliance of 3. We "Team America" have already decided who the first member of the alliance is. We will decide who the other 2 members are. As Team America we will then vote on secret tasks for the alliance of three to complete."
Get Your Feeds try them for FREE!!
Support this site buy purchasing your feeds through us. Every sale through this site helps keep the OBB lights on

[polldaddy poll=8136415]