POV Holder:
McCrae
Next POV
June 27
POV Used
?
POV Ceremony
?
HOH Winner:
McCrae
Next HOH:
Wed July 3rd
MVP:
Elissa
Original Nominations:
Current Nominations:
Jessie, David and Candace
Last Evicted Houseguest
?
Have Nots
Andy, Elissa, Jessie, Howard, Helen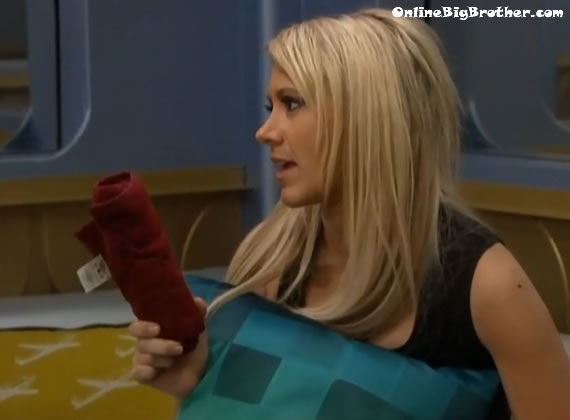 10:16pm Cam 3-4 Lounge Jeremy, Kaitlin, GiGI, Nick and Judd
Joking around, the guys want GiGI to go request drinks. She reminds them that it say in the book "If you keep asking you won't get it"
GiGi threatens Judd that she will ram a towel up his A*** (See picture)
Kaitlin jokes that she's covered in "J****" (Not sure what it is but they've been joking about the stuff being on them all evening)
GIGI: "I'm covered in j*** When J** gets in my eyes it stings"
GIGI mounts NIck starts calling him a "Little B!tch" while slapping his body (Joking around)
GIGI's hidden talent #BB15 pic.twitter.com/bNPwKpFOVo

— OnlineBigBrother.com (@bigbspoilers) June 28, 2013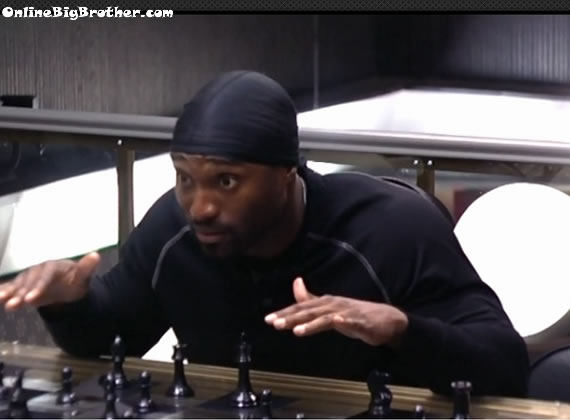 10:25 Chess cam 3-4 Howard and Spencer AKA dream team
Howard goes through their alliances plan to split in two and attache to the two separate groups in the house.
Howard: "Nick is working GIGI.. We got the numbers we made a pact early.. " Howard is really stressing that they have to relax and not make any enemies right now. He thinks they are in a good spot in the game.
Howard is suggesting if they keep candace she's going to fight with the girls because she doesn't like them, "That shit is going to blow up between her and the girls because she don't like Amanda"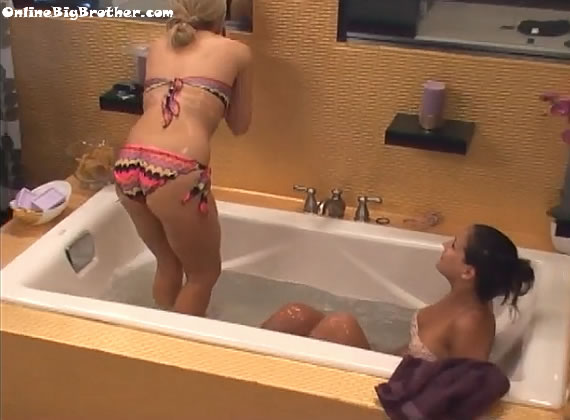 10:43pm Cam 1-2 tub Aaryn and Jessie Jessie is talking about Jeremy and Kaitlin. Mentions the night they were in the same bed. (hard to hear.. water running) They briefly chat about the competitions and how tough they are . Jessie: "There no Joke"
Aaryn says her favorite player last season was Frank she thinks "he was a genuine guy.. Chill.. the type of guy I would want to date" Jessie agrees..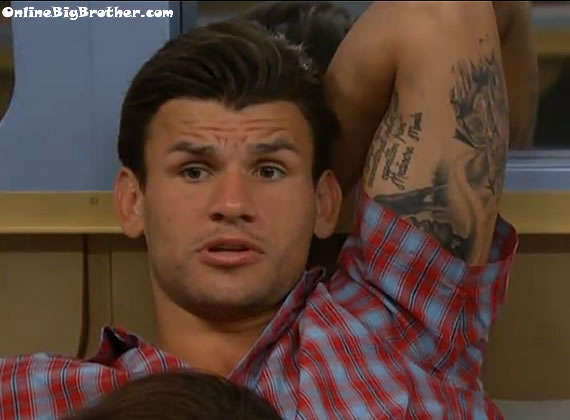 10:56pm Lounge Candace, Jeremy, Kaitlin and Helen Jeremy is warning them about Elissa, He explains that he's not telling them to not be Elissa's friend "that would be rude" he just telling them to be careful. He brings up Elissa saying her sister was Giselle bundchen. Helen thought Rachel was very annoying on the show but she doesn't find Elissa annoying. Jeremy thinks that they gave Rachel a bad edit and he predict they will do the same thing with Elissa. Helen is surprised that she didn't see Elissa's resemblance with Rachel she feels a bit betrayed because of it. Jeremy: "we don't know what she's like outside this house.. she could be a really cool women"
Jeremy explains his game strategy, he's cocky and in your face, "That's the way I am". People are going to think he's playing a stupid game. He's going to be considered a threat regardless because of his size so he has to win competitions to stay in the game. Jeremy: "My strategy is to win every other HOH"
GiGi joins them.. Chit chat starts..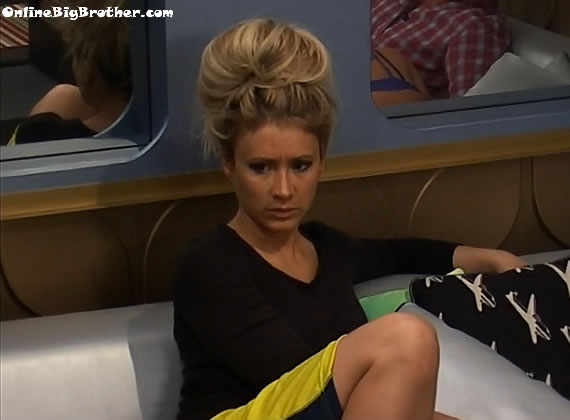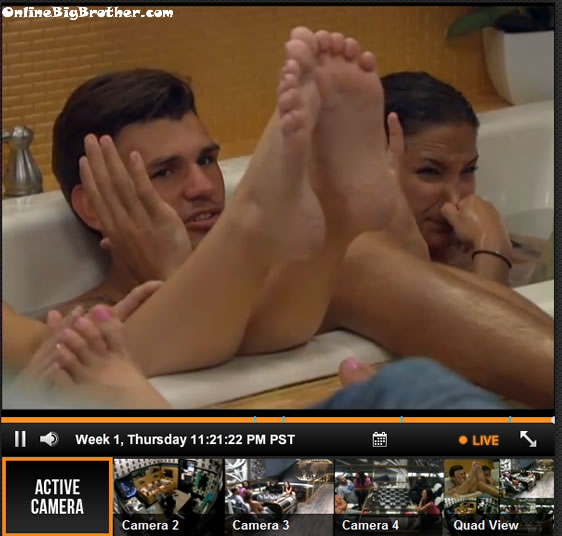 11:19pm HOH TUb Jeremy, Aaryn, Jessie and Amanda Amanda is making dolphin sounds..
The group in the HOH bathroom are all convinced that Elissa is going home. Amanda wonders that maybe Rachel is controlling Elissa's game. McCrae joins them asks where Elissa is. Jeremy: "Marinating on the fact she's going home". Jeremy wants to play with competitors: "I don't want to be with people that s**k d*ck and float by"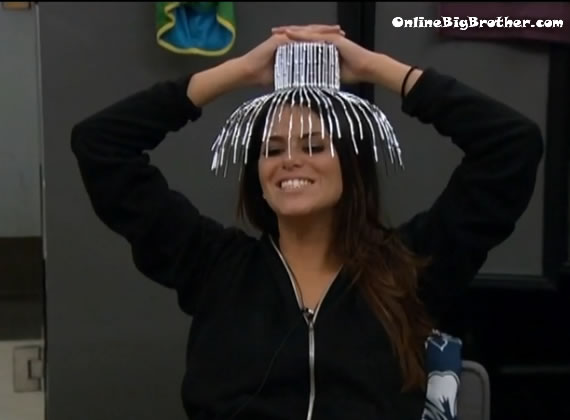 Amanda acting goofy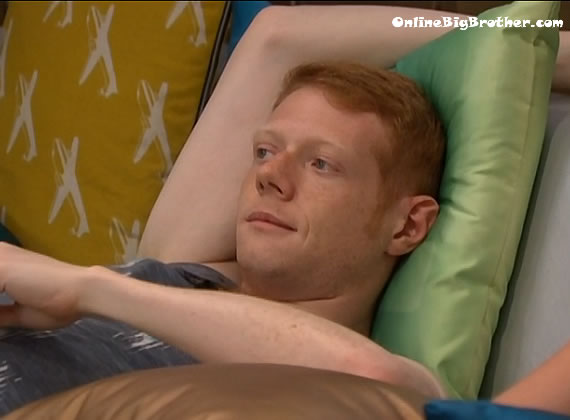 11:44pm Lounge Andy and Kaitlin Andy tells her that he not very close to Elissa he's planning on voting her out on Wednesday. Andy feel that the MVP twist was stacked against them because nobody knew who they were but everyone knew Rachel. Andy thinks Elissa should have come clean and told everyone day one.
Kaitlin: "She never really laughs here.. you don't hear her doing that.. I think I've laughed a lot.. I'm like do you not want to be here with us?"
Andy says he instantly liked Kaitlin and Aaryn he thought he had a lot in common with them. Andy likes Jeremy a lot and he wants Jeremy to stick around but he think Jeremy should dial back his "I'm going to win everything" attitude because it's going to scare people
Kaitlin adds that Jessie wants a showmance so badly she grabbed onto Jermey because he was strong and determined.
Kaitlin: "They are going to portray me the b1tch"
Andy: "I'll be the cry baby"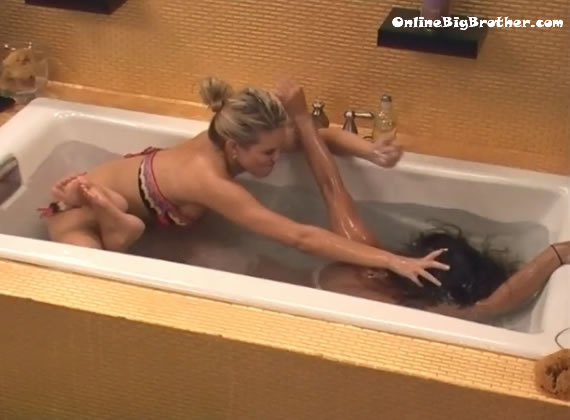 12:00AM Bubble bath girls drain the tub.. Aaryn tries to drown Jessie..
Animated Gif posted on G+
Animated gif's of Amanda here and Here
#BB15 Amanda doing "Backwards man " pic.twitter.com/eZ5pfRK3dE

— OnlineBigBrother.com (@bigbspoilers) June 28, 2013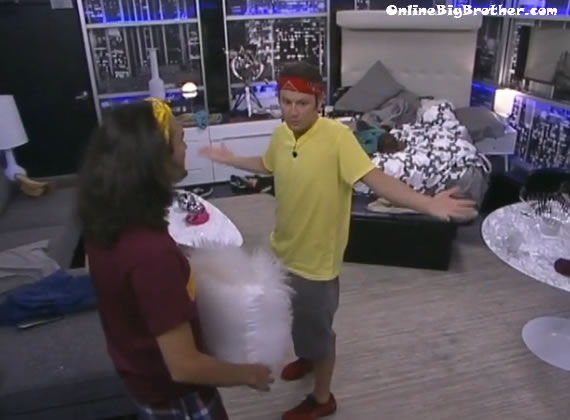 12:26AM HOH Cam 1-2 McCrae and Judd
Counting votes. McCrae thinks that they can get Nick's vote but he wants them to keep it cool until he uses the POV then they can start working for votes. Judd: "You talk to Nick and Howard and I'll keep talking to Spencer and Andy"
McCrae: "Lets not jump on it yet because I haven't used it"
Judd wonders about Amanda, McCrae thinks Amanda will vote their way if they have the number, "at least this week.. this vote"
Judd: 'Jeremey is going to go freaking nuts"
McCrae says that Jeremy is asking for a backdoor, "How many people can be in this house and not understand the game" Judd agrees says that Jeremy's cocky attitude isn't helping him.
McCrae: "Someone needs to talk to Elissa and get her to lay low"
They both agree they never want to be taught fighting in the house. McCrae: 'It's paints a huge target on your back":
McCrae says he has to "Go POOP" before he leaves Judd says he's going to talk to Spencer and Andy about their plan of keeping Elissa. McRae thinks it's too soon, "Keep close with them but wait".
Judd brings up their conversation last night about forming an alliance because they worked so hard to get here.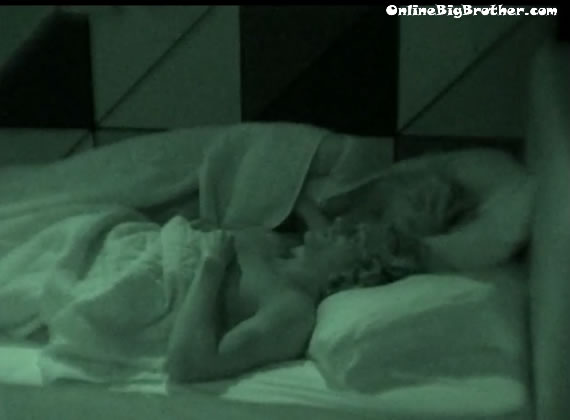 1:29AM Aaryn and David
Aaryn is complaining that the game is feeling drawn out, "I want it done boom boom boom."
David: "The Drama started stiring"
Aaryn: "I think it was Elissa.. or maybe someone that was really sneaky.."
Aaryn thinks if Elissa didn't win the MVP she would be rampaging around calling house meetings swearing she's not the MVP.
Aaryn mentions Elissa telling McCrae that they need to get the showmances out. The showmances are Jeremy, Kaitlin, Daivd, Aaryn and Jessie.
David: "Why Jessie she isn;t in a showmance"
Aaryn: 'Yeah.. it's a show triangle"
David: "All i know is if I leave this entire house is going to change.. all you guys are going to be so pissed"
They say their goodnights.. Aaryn complains one last time before she falls asleep. Aaryn: "This hair how do you sleep with all this hair in your face.."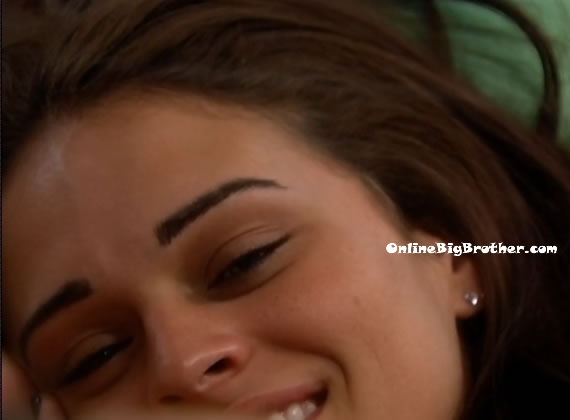 1:55AM Kaitlin, Candance and Jeremy Chit chatting..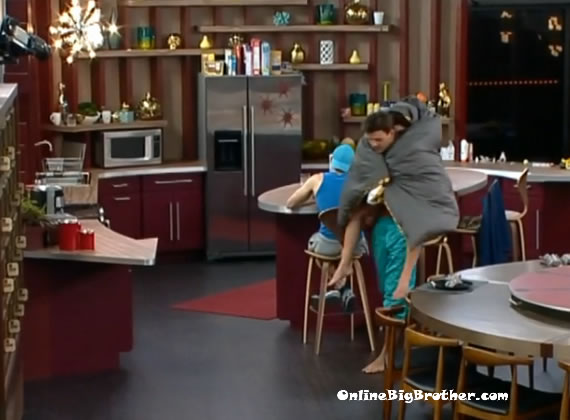 2:00AM Bed time
Share it YO!!
Tweet