POV Holder:
?
Next POV
July 13th
POV Used
?
POV Ceremony
July 15
HOH Winner:
Helen
Next HOH:
July 18
MVP:
Elissa
Original Nominations:
Kaitlin, Aaryn, Spencer (MVP)
Current Nominations:
Last Evicted Houseguest
David, Nick
Have Nots
? Judd, Jessie, McCrea, Amanda ?
11:27pm cam 3-4 Candace, McCrea, Amanda and Helen
Candace asks them to keep Howard safe this week because Howie is her person in the game.
Amanda asks Candace how she feels about Howard being in the secret alliance. Candace says her feelings are hurt she asks Amanda You are close with McCrea.. were your feelings hurt?"
Candace: "I'm some kinda hurt I care about Howie.. I do just like you have your person I have my person and I care about him"
Candace keeps pointing out that Amanda and McCrea are together and McCrea was part of the boys alliance.
Candace says that Howie protected her yesterday and she cares about him. Candace says her and Howie have only gotten close these last couple days. "if it puts a target on my back.. i don't care.. i'm going to stick with my person" Explains to them that Howie never lied to her about the votes because she never asked him.
McCrea tells her he has the MVP (Lieing)
You can re-watch ever second on the feeds using their flashback feature.. It's super easy to use click this link for a free trial —> Subscribe to the Big Brother Live Feeds
The CBS feeds are a HUGE improvement over the super pass feeds and they are 30% cheaper with no subscription to cancel.
11:50pm HOH Helen, Amanda, McCrea
Howard had just been in the HOH telling them about why he lied etc etc.. Amanda got a bit heated in the conversation. Mc
Amanda: "That comment was fu**ed up"
Helen: "It was about sleeping with McCrea the first night because of HOH"
Amanda: "And you had a boyfriend and you slept with a guy"
Amanda thinks he said this because he knows that was going to be on TV (Afterdark) he's trying to make me look bad.
Helen: 'I'm very disappointed with Spencer and Howard .. I wish I had put those two up"
They all agree that Howard is twisting his game all up and not making much sense. He's a sinking ship.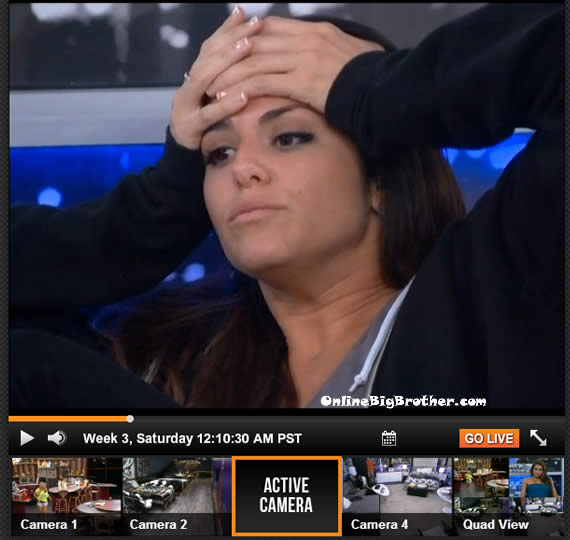 12:05AM HOH Elissa, Judd, Helen and McCrae
(Elissa had been called into the Diary room they assumed she went in to place her MVP vote and they assumed she put howard up)
Elissa walks in.
Amanda: 'Did you do it"
A: 'What… what was that face"
E: "I don't think I got MVP"
A: "really.. you are lying"
Elissa explains it was just a regular Diary room session.
A: "That's bullsh!t.. theres no way you're lying right.. Tell me you're lying"
E: "NO"
Elissa says it doesn't matter who is playing in the Veto Cadance, KAitlin Aaryn they win the veto and they can put up Jeremy.
Amanda: "No… There was a whole f**** thing behind it… I have to be honest with you.. It looks as though you just went downstairs and voted for someone else"
Elissa says it doesn't matter who is the third nominee in this case.
Elissa: "You guys didn't even call me up here and talk to me before the nominations.. If you guys felt so strongly about howard being nominated you should have done it"
Helen: 'you are right Elissa.. I was going to nominate Aaryn and Howard I just never got a chance to talk to spencer "
Elissa: "I told you guys I am not comfortable"
Amanda says If you did in fact go downstairs and put someone other than Howard up you just f***ed the two people that have been working the hardest to keep you in the game. "You really F****ed us"
Amanda: "You just f***ed us really bad "
Elissa: 'Why"
McCrea says he just b!tched out Howard
Elissa still doesn't understand what the big deal is, "if everyone who plays in the veto throws it… "
Amanda: "OK if Howard, Jeremy and Spencer get picked for Veto it's a better chance that they will win the veto and keep it the same.. then our first and second target will not be on the block.. Look I thought this was all clear.. and now we would have Jeremy, Candace, Howard all off the block and they have a very good chance to win the next HOH.. it fuc*s our alliance"
Amanda: 'Just come clean about it did you just go down there and nominate someone"
Elissa: 'Tonight.. I feel like I don't' really want to talk about the game… I told you I wasn't comfortable with it"
Amanda: 'Elissa I'm so upset.. you just F***ed us.. really bad"
Amanda: "who did you put up .. be honest"
Elissa: "I don't know who I put up"
Amanda: "Jeremy"
Elissa: "Who do you think"
Judd: "Spencer"
They all laugh..
Amanda: "actually.. if Jeremy plays"
Elissa: "theres a 1 in 11 chance JEremy is going to play he's not playing"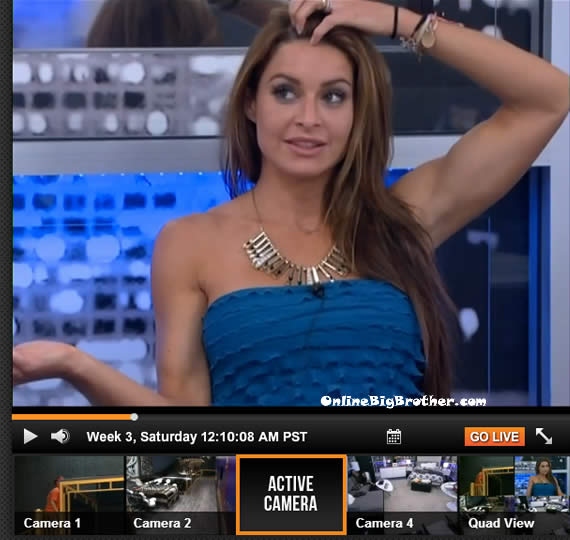 Helen tries to cool the situation tells them Jeremy is the target maybe Spencer will win the POV "Pull it out of his a$$"
Amanda says is someone was to get the POV and not use it they are F**** . Elissa: 'We'll Aaryn can go.. I know she's not the biggest target"
Elissa starts to yell: "YOU GUYS DID THIS TO ME.. NOBODY ASKED ME ABOUT WHO TO PUT UP" (Regular nominations)
Amanda: "Fine.. the only people that got F****ed.. really really really F****ed was McCrea and I"
Amanda: "Fine just fine I'm glad you saved Howard"
Elissa: "I'm not saving him he wasn't going anywhere"
Feeds go to fish. when we come back
Elissa: 'i'm just going to be the target again.,.. I should just go home.. now they (Amanda and McCrea)hate me" she starts to cry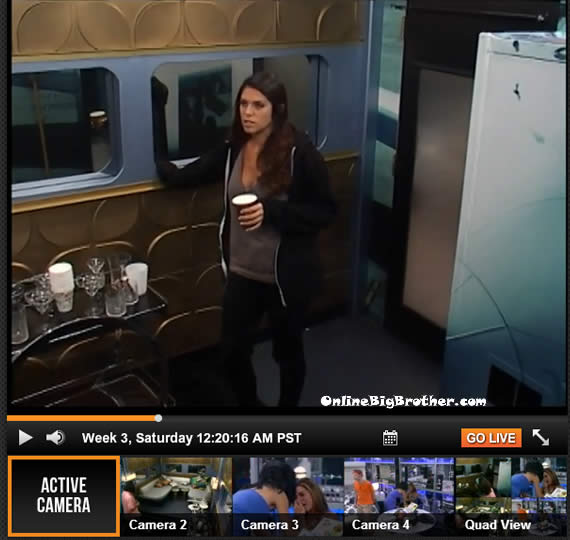 12:20AM Cockpit Amanda and McCrea She tell MC to go talk to Spencer and make a deal. MC and Amanda will not put Howard up as the MVP Nominee if Howard does't put them up next week. They are going to tell everyone that McCrea has the MVP. McCrea is pi$$ed says that Elissa and Howard have a deal, "F***ing .. has a deal with him 100%.
McCrea: "She's the worst f****inb liar I have every seen.. "
MC: "Oh my god i'm so fu***ing pissed right now:
Amanda: "How can she be so f****ign stupid"
MC: "She has a deal with him"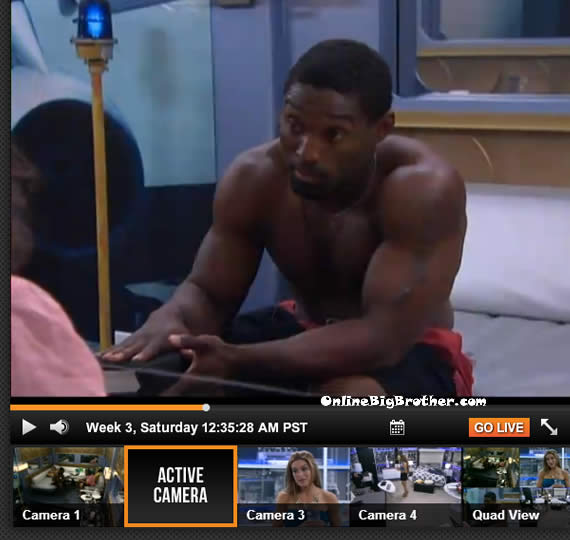 12:30AM Cockpit Howard and McCrea (Howard thinks McCrea is the MVP) McCrea making a deal with Howard to be safe next week.
Howard wants to make a 5 person alliance with McCrea, Amanda and Spencer and run to the end. McCrea asks for the five person. Howard doesn't care, "I won't be in an alliance unless you and Spence are in it" McCrea wants him to swear on religion that he won't put McCrea up if McCrea doesn't put him up this week with MVP.
howard says he'll do it and that "His word as a man"
McCrea says the last time the man gave me his word he lied, needs something better.
Howard: "I'll put that on the bible"
He goes off to grab the bible
McCrea says that Spencer is going up but they want Jeremy gone so the POV has to be played or Aaryn goes home.
Howard: 'You got to tell Spencer"
Howard swears on the bible that he won't put McCrae and Amanda up next week.
12:35:50am Cam 3-4 HOH Amanda and Helen Amanda: "why do you guys keep saying that production swayed you to not get rid of Howard" feeds cut*** (Elissa and Helen both said tonight that they got the feel "The Show" was trying to keep Howard safe)