POV Holder:
Shane
Next POV:
July 20 (Friday)
POV Used
No
POV Ceremony
July 15 (Sunday)
HOH Winner:
Willie
Next HOH:
July 19 (Thurs)
Original Nominations:
Frank and Kara
Current Nominations:
Frank and Kara
Have Nots /Slop
Danielle, Shane, Ashley, Ian
Coach Competition Winner
Boogie, Ian is safe
Next Coaches Competition
July 21 or 22
Re-Watch ALL THE DRAMA on FlashBack:
Big Brother 14 Live Feeds – 3 Day Trial!
7:20am Mike is up and sitting out in the backyard talking to himself. He says that Frank had the votes to stay. He says that he didn't like Wil's behavior. They are such amatures up here. They're a bunch of sick-o-fant sheep. Mike says that he has got to send Willie back to those hot a$$ Louisiana docks. He says Dr. Will what up! These people are nuts in here. Mike gives a big shout out to Lance Bass and says sorry I had to lie to you that I was coming on your show last week. As you can see i'm kind of busy. The worst part about this is that even if tomorrow night, you get the HOH it is still going to be hard to get this piece of sh*t out of here. What a bunch of co*k suckers. But as we know this game changes on a dime. You're gonna have to swallow a lot of pride to deal with these b*tches Boogie. Can you do it? Can you somehow interact with these people and not blow your top everyday? This is where I could really use Dr. Will in here. He was very good at keeping me calm. I don't know this Willie guy gets under my nerves. Come on Ian, win this thing. Please be something that only requires brain and memory. Then we have a shot. I would pay to see team Britney's face if Ian won this HOH. I would literally pay cash money to see the look on Willie and Shane's face. Shane has one chance today to show his loyalty and if he chooses to roll with Willie then he will be stuck with Willie. Ian was the type of kid that Willie would pick on and it would be nice to see Willie's face if Ian won HOH. Boogie then sits in silence and then goes to work out in the backyard.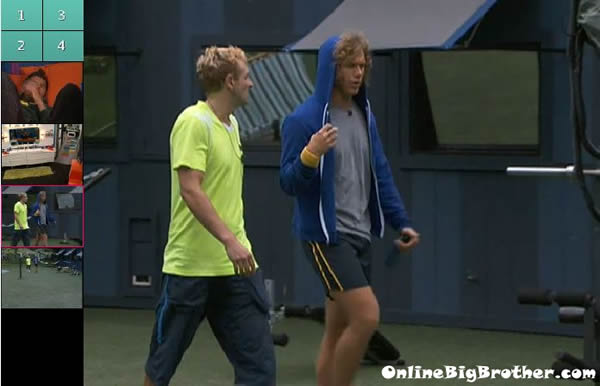 9:10am
Big Brother wakes up the house guests. Frank and Boogie are out in the backyard. Frank tells mike that right now he thinks he has the votes. He says that he talked to Ashley and she said he had her vote. Mike says that it seems like Frank is doing a good good by himself and that whenever he gets involved his reputation gets brought up. Frank says that Janelle seems really receptive to the whole thing especially when you're not around. Frank says that he will talk to Joe some more. Mike and Frank talk about Ashley. Mike calls her dopey. Mike says that you can't really count on her, she talked about how she was afraid to ask for the money when she did spray tans. So I think she might just be saying what both sides wants to hear. Frank says that Shane said he is going to talk to Britney about whether or not he should separate himself from Willie because he's a cancer.
9:25am Wil and Joe are talking in the arcade room. Joe says if we went Kara then you have Ian and Jenn who will never trust you again. So that puts up with 5 major enemies, we can't go into week 2 with 5 enemies. Wil and Joe both say that they never told Kara she had their votes, only if she had the votes would they vote for her. Wil says that he is going to go with Joe and vote for Frank to stay. Joe and Wil talk about how much Janelle wants Boogie out. Joe and Wil discuss the coaches enterig the game and the contracts they signed. Joe says that they only way a contract would we invalid would be if they offered them less money. They can offer them more money.
Watch what happens AS it happens: Big Brother Live Feeds!
9:40am Jojo and Ian are outside on the couch talking. Jojo talks about taking advantage of using the HOH bed for the next couple days while she can. She tells him he needs to win this week and if he does she and Ashley will be up there with him. Ian tells her yeah she and Ashley could stay up there. Jojo says they could all fit in the bed. Ian says as long as Ashley is next to him that's all he cares. Willie joins them. He tells them that he got rid of a lot of stress last night, even though he didn't want it to go down like that.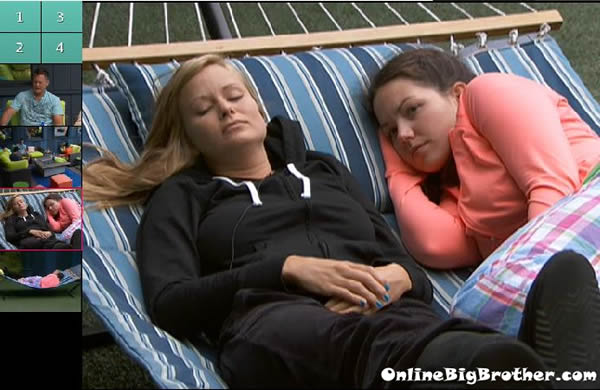 Kara and Danielle are talking in the hammock. Kara talks about how Frank is still campaigning hard. Kara says that she prayed hard the other day and that her prayers got answered. Danielle tells Kara that Janelle told her that her team is going to vote with the majority. Kara and Danielle head inside. Meanwhile, Wil and Ashley are in the bathroom talking. Wil says if we vote for Kara we are going to piss off Ian. Kara and Danielle walk in and the conversation stops. Big Brother then calls for an out door lock down. All the house guests head out into the backyard. Ashley tells the others that she just found out that girls have a separate pee hole. Frank says that he doesn't want to hear that right now.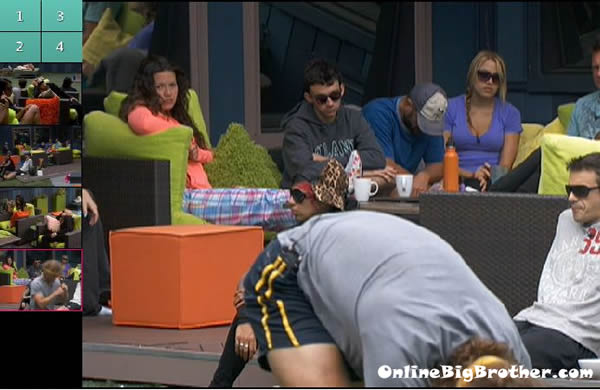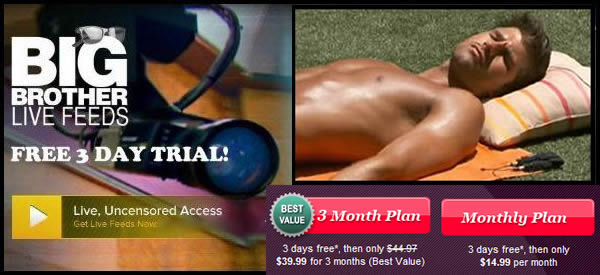 10:20am – 10:35am Britney and Shane are laying out on the hammock together. Shane asks Britney who she thinks will win this game. Britney says that you were my first pick so obviously you. I think Jojo has a good chance too, but its harder for girls to win this thing. Shane asks Britney to tell him any thing that could help him, he wants to hear what she thinks. He says that I am playing my own game but its in your best interest for me to win. Britney says that Joe is burning his own bridge, he is making deals all over the place. Shane agrees. Britney talks about how she laid down last night and then woke up hearing Willie made a gay slur. So I asked Frank and he said no he was just mocking Wil. They talk about the votes. Shane says that he thinks Joe is going to vote out Frank. Shane says that Ian and Jenn want Frank to stay. Britney says that she thinks she can get Dan to work with them. She says that she thinks Janelle is going to work with Boogie. Shane tells Britney how Danielle is like a lost puppy, she even watched me eat last night. It was so weird. Britney tells Shane that he needs to start studying and counting things in the house. Big Brother calls an end to the lock down. Britney tells Shane that the other day she saw two guys standing up pointing into the yard. She says they were pointing at a certain part of the yard and she says the Q&A is always on the other part of the yard. She says that also a little piece of paper baggie fell on her and the only other time she saw that was when they had the ski competition and it was the snow.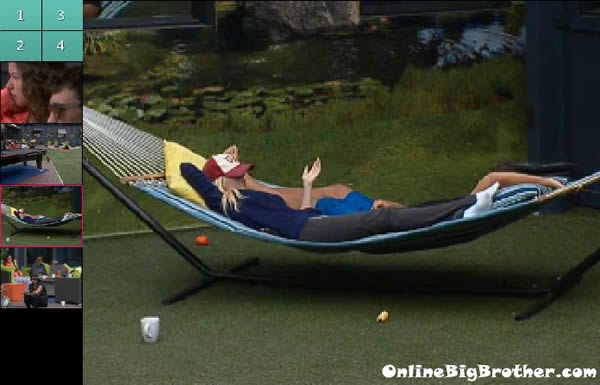 Share it YO!
Tweet