POV Holder:
Shane
Next POV:
July 13 (Friday)
POV Used
?
POV Ceremony
July 15 (Sunday)
HOH Winner:
Willie
Next HOH:
July 19 (Thurs)
Original Nominations:
??? and ???
Current Nominations:
Frank and Kara
Have Nots /Slop
Danielle, Shane, Ashley
Coach Competition Winner
Boogie, Ian is safe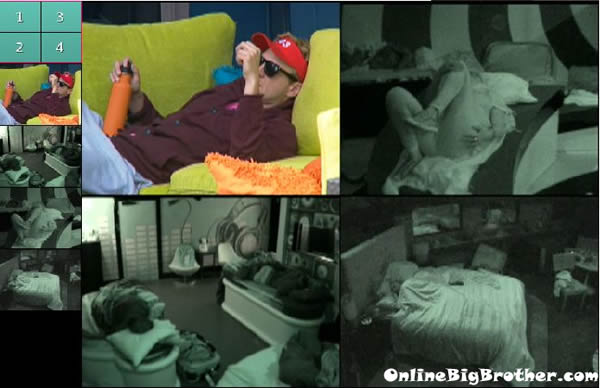 8:25am Boogie is in the kitchen throwing things around and getting mad. He then heads out into the backyard and gives a shoot out to Dr. Will. He then starts going off about the ant infestation in the kitchen and how some people aren't cleaning up after themselves. He says that he is going to start calling people out. He says that he is going to get Joe all fired up about it to stir the pot, and JOjo being italian wouldn't like ants in the kitchen either. He wants to call out Danielle for not pick up after herself. He says they can't evict me, they have three people to get through before they can get me out. Boogie says yeah, I think we have a nice relaxing Sunday… we are going to have to start calling people out. Last time I checked your mom isn't in here to clean up after yourself. Boogie says lets see Britney in the kitchen cleaning up by herself saying that she doesn't clean and just sits up in the HOH room with Janelle.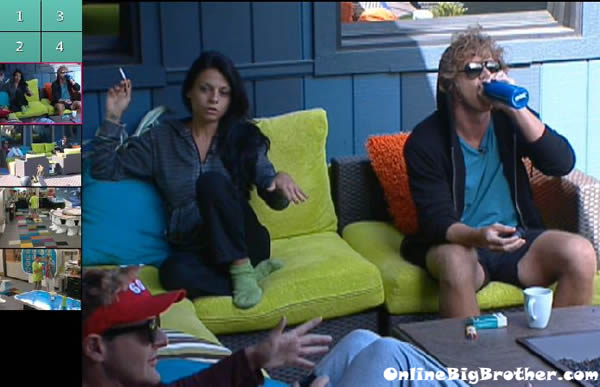 Watch the first few days of Big Brother 14 for FREE: 3 Day Trial!
9am Frank, Boogie and Jojo are out in the backyard. Boogie is firing up Jojo about the ants in the kitchen. Boogie says that he guarantees that Britney doesn't live with a bug investation at home. Frank comments how Ian is not cleaning up either. Boogie says that he is going to slap him around too.. he thinks he's in college. Jojo is getting mad about and wants for the people to be called out. Joe comes out and says F**king slobs. Boogie says I am glad you noticed and are fired up. Boogie says that its not like we can go to the store and grab things, we have to beg for nail clippers. Mike says that he doesn't want to hear anything but your right, I'm sorry it won't happen again. Ian joins them, and then says that he feels like everyone here does a pretty good job at cleaning up after themselves. Mike says well, I wouldn't include yourself in that statement. Ian says oh well, yeah I left a pot out last night. They talk about how Willie and Shane are good at cleaning. Willie comes out and they tell him about how pissed they are about the people not cleaning up. Willie says just tell everyone to wash their own dishes. Frank says on how they should just not give alchohol to the people that don't clean. Joe says that if he gets HOH it will be a serious consideration of who I nominate. Mike says that he is going to call Britney out right in front of everyone because he knows she left out the cookie dough and pan.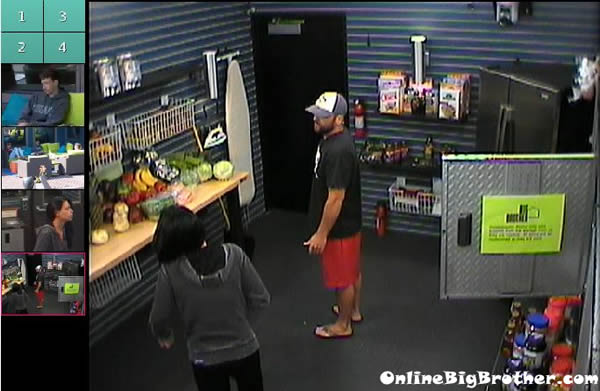 9:20am Meanwhile, Danielle and Wil are in the kitchen cleaning up and doing dishes. Willie and Jojo head into the storage room. Willie tells Jojo that what Mike is trying to do is get everyone all fired up because his guy is on the block. I know what he is doing. He says that he better not come too strong at Britney because I will be there. People just need to start doing their own dishes that it ..its not a big deal.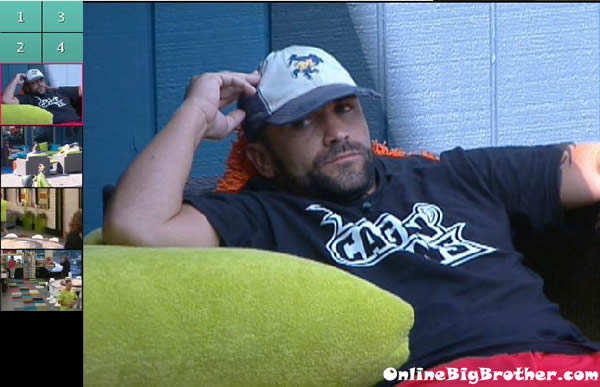 9:35am – 10am In the backyard, Mike, Joe, Ashley, Ian, Frank, Shane and Willie are still talking about the ants. Ashley says maybe we'll have our first fight today. Dan comes out and Mike fills him on the ant infestation and how he's going to call all the rug rats out. Dan asks if they said what time this was going down (POV Ceremony) and Boogie says no, they just woke us up a little earlier.
Sign-up for the Big Brother Live Feeds and get the MOBILE Feeds for FREE!