POV Holder:
Shane
Next POV:
July 20 (Friday)
POV Used
No
POV Ceremony
July 15 (Sunday)
HOH Winner:
Willie
Next HOH:
July 19 (Thurs)
Original Nominations:
Frank and Kara
Current Nominations:
Frank and Kara
Have Nots /Slop
Danielle, Shane, Ashley, Ian
Coach Competition Winner
Boogie, Ian is safe
3:30pm Bathroom Danielle, Kara and Frank Chit chatting about how much it sucks that they're on the block with a person they like. Frank says it would be a lot easier to campaign against someone he doesn't like. Kara agrees, Frank tells her he's going to tell everyone that Kara has her own bed so if you evict her it frees up a bed, "Thats all I got against you" Kara and Danielle laugh.
3:41pm Backyard couch Dan and Ian Dan doing his thing asking a bunch of questions. Dan's saying that this weeks eviction is going to be hard. Ian agrees says both the nominees are very likable. Dan wonders if Ian will do stuff he normally would not do to get further in the game. Ian: "I', really up for anything.. but game mechanic wise putting up people I like thats where things get umm… I'm not interested" Dan: "What if you knew hey were coming after you in the game but you liked them as people" Ian doesn't know, he wishes they could just sit around at then have a vote in the end but that would not make for a good television show. Dan asks if ian thinks he can make it far. Ian: "I lack a killer instinct" Dan: "people with killer instinct have won this game".
They talk about how there hasn't been any big fights yet this season. Ian mentions season 10 when there was a giant fight between Renny and Jessie.
Dan brings up that Renny is one of the few people that can really push his buttons.
4:00pm Backyard Boogie and Ian Ian starts explaining what happened during his date with Ashley last night. Ian says for the most part it went well. He feels like he's sprinkled in enough short term game and some long term game.
Ian: "I said Frank's a good guy to keep around "
Boogie: " what was her reaction "
Ian: " it was pretty neutral "
Ian explains how earlier today jojo ask him what we felt about Thursday and Ian replied that he's looking forward to it and dreading it at the same time then jojo replied that it's going to be sad for him if Kara goes because he has a crush on him. Ian and Boogie are happy about this, Boogie I know things can change in a second but I like how people are leaning towards Kara"
Ian gives a light debriefing about what he said to Ashley he says that it's hard to talk to her because sh'e so spacey. Ian says that Willie is warming up to him a lot more since he started talking to him , Ian: "He thinks if it's anything mental i'll automatically win it's funny.. it's comical actually". Boogie is happy to hear that Ian is starting to open up, "keep talking to people asking them questions about themselves.. you are getting better and better every day it's working". Ian says that he's really trying to build up that he's a 21 year old kid, he's scared he's a goof ball and having trouble adapting. Boogie thinks this is a great angle he wants him to make them all feel like he's not playing the game. "act like you are not eavesdropping you don't even care"
Ian knows he's a target. Boogie tells him to just keep working it and if they don't win HOH they'll push the angle that you are not a threat.. "It'll Work"
Boogie leaves to talk to frank on the couch. Boogie: "I noticed you had some Willie time"
Frank says he talked to Willie for a bit things appear cool between them he's feeling good about it all. Boogie agrees says it's looking good for frank, he brings up what JoJo told Ian about Kara getting evicted. Frank and Boogie agree it's 70/30 for Frank to stay right now, Boogie is aware that things can change between now and Thursday night. Boogie plans for tomorrow are to kick it up a bit but he doesn't want to over play it they need to lay low.
Frank doesn't think they need to hard just keep at the pace they are at. Boogie: "If you survive I feel good about the game.. even if one of you do not win HOH I think you're good".. Boogie thinks it would be odd for the other side to save Frank this week just to nominate him the next week. Boogie adds the odds are for one of the other side to win HOH so thats what they should prepare for.
Boogie thinks Ashley and Joe will vote more with what Willie than Janelle and Britney. Franks agrees he thinks that Willie controls the vote this week. Boogie tells him that Janelle and Britney want Frank gone. Frank thinks if he can survive this week he'll have Willie in our pocket because he won't have any on left. Boogie thinks Willie is trouble long term but in the short term he's a great pick. boogie explains that the problem with willie is if you double cross him and he ends up staying you have an all out war on your hands.
Boogie: "Dude I'll be super excited if you stay this week"
Boogie: "Dan doesn't have a likable good player left if he loses Kara"
Boogie hopes that Janelle and Britney are realizing that taking out Dan is HUGE and they look beyond their dislike for him but he doesn't think they are that smart. Boogie thinks that Jenn is playing a great game he thinks she's playing below the radar. Boogie: "The other day o forgot she's even here" Boogie adds that his time has mostly been spent coaching Ian he would like for him to win HOH so it takes the heat of Frank for a week.
Boogie: "If we win HOH Dan will make Danielle roll with us HARD they have no choice… That means we only need one vote to control the vote and when you are the man in the HOH it's easy to get one vote"
Boogie knows Janelle and Britney will want them to put up Danielle but is positive the only thing they should do is take a number from Britney and Janelle. Boogie starts talking about who they should take out if they win HOH he thinks that maybe they should put up JoJO, Frank doesn't think so because JoJo isn't going to win shit. Frank says they need to put up Shane and Ashley. Frank doesn't want Ian to know that willie is warming up to the idea of working with him. Boogie tells him not to worry Frank needs to get in with Willie they have Ian working his own strategy.
4:30pm Arcade room Joe, Wil and Joe AKA Straight Shooter They're talking about Willie and how Britney has been telling him to vote out Frank but he's being pig headed. They are wondering why Willie would side with Frank he has it set with them. Joe thinks that all of Willie paranoia started when Frank began talking to him. Joe: "Now he's all going paranoid because Frank is cutting deals with him and he thinks that maybe other people are cutting deals he doesn't know about". They all agree that Frank and Willie made a deal but for only one week. Janelle is just worried that he'll honor the deal with frank. She's really not worried about Dan in coaches comps she's more worried about boogie. Joe tells them if Frank wins HOH than Joe is gong up he's doesn't want Frank to stay.
5:00pm Ashley joins them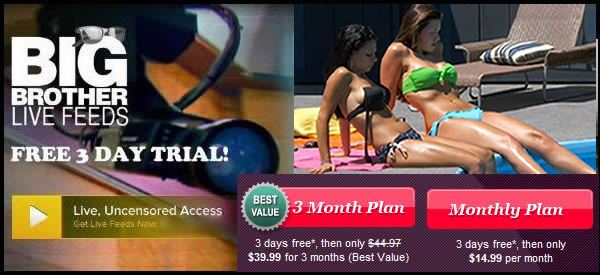 Share it YO!
Tweet