POV Holder:
Shane
Next POV:
July 20 (Friday)
POV Used
No
POV Ceremony
July 15 (Sunday)
HOH Winner:
Willie
Next HOH:
July 19 (Thurs)
Original Nominations:
Frank and Kara
Current Nominations:
Frank and Kara
Have Nots /Slop
Danielle, Shane, Ashley, Ian
Coach Competition Winner
Boogie, Ian is safe
Next Coaches Competition
July 21 or 22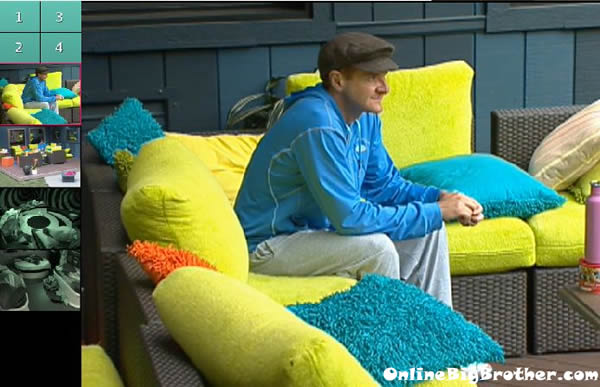 Sign-up for the Big Brother Live Feeds and get the MOBILE Feeds for FREE!
7:45am Mike is out on the backyard couch drinking an iced coffee. Willie comes out to join him. Mike asks him if he was up late. Willie says yeah. Mike asks with who? Willie says a few people here and there. Willie says that something ain't right in this house. Mike says like what did something crazy happen last night? Willie says no, just things I see don't make sense. Mike you don't mean us do you? Willie says no, we're good. Mike says he sees Britney and Janelle spend more time up there. Mike tells Willie to try and break up the foursome because they are going to be your strongest competition. Willie asks Mike what he should do if he were him. Mike says to have a few alliances, one main one and then a few extra ones just in case to get their votes. I think you've set yourself up pretty nicely to get out of the first week unscathed.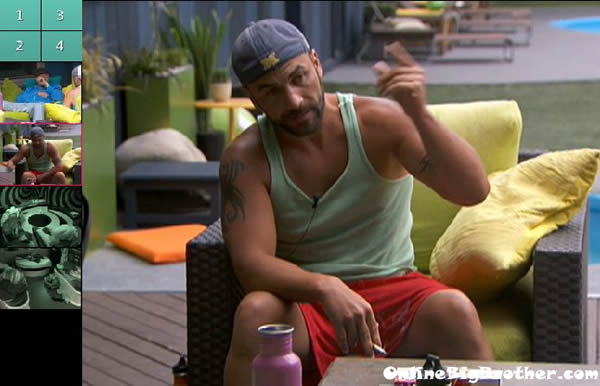 Willie says that it just doesn't make sense to me, something is going on. Mike asks can you say who? Willie says the coaches just don't make sense to me. Willie then tells Mike how he doesn't understand how there will be 9 people soon with 2 weeks missing in the game. Mike tells him that he thinks he is smarter than the average newbie. You are pretty worried about someone coming back? Willie says that he just doesn't know, he gets that Dan is scrambling but there are two weeks missing. Willie says that he wants to look long term, the numbers don't add up … more than two people are coming back. Willie says that they've had 14 people before and only one double eviction.. and we had one leave day one and only have 11. Mike says that Willie might know the game a little better than most; some people here have never watched the show before. Willie wonders why Janelle is playing so hard, she doesn't have a player on the block. Mike says that even if one of her people put you up on the block I can keep you safe. Willie says he doesn't understand why Janelle is trying so hard for Kara. Mike says well maybe she is working with Dan. Willie asks why he only has one player? It benefits her nothing to do what she is doing. It makes no sense for Janelle to get so upset about Kara going home. Mike says Janelle wasn't known for being the best strategist; don't give her too much credit. Mike says there is no way her to get so upset about Kara without working with Dan. Willie asks why would you dump 3 people to work with one person? What the fu*k that doesn't make no sense. I see it, she just hasn't come out and said it. Willie says I am in the game; she isn't even in the game.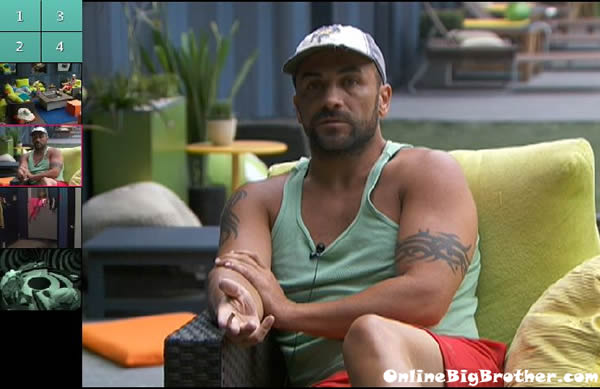 Mike says that Dan and Janelle can be freewheeling with their strategy, if they lose one person what does it matter to them. Mike says that Dan is good, he's desperate but he's good … he's a trouble maker. Willie says that he is going to find out what's going on. Mike tells him that he thinks Willie is good next week. Willie says it just don't make no sense for Janelle to rock the boat when she doesn't even need to so early. Willie says that he is not telling anyone that he is in a relationship with Mike. Willie asks who would Mike put up next week. Mike says Wil and Danielle. Mike asks Willie if Danielle is in tight with people up there. Willie says it's not as tight as you may think it is. Mike says good. Willie says the way Janelle is freaking out so much I am fixing to hit her in the jaw the way she is acting. Mike asks so what is your take on Joe? Willie says Joes good, but he's a wild card. Mike says well maybe we nominate Joe and Wil. Wilie says if you do that Wil has to go because you can't trust him. Willie says no matter what happens I have the best interest of Frank in mind. Willie gets called to the diary room.
8:25am Mike is sitting out on the backyard couch alone. Mike says alright, Willie and Boogie rolling together, who would have thunk it? My birthday must still be going on and Christmas is right around the corner. He says what's next Willie doesn't like Britney anymore? I love it, I love it, I love it. Thursday can't come soon enough.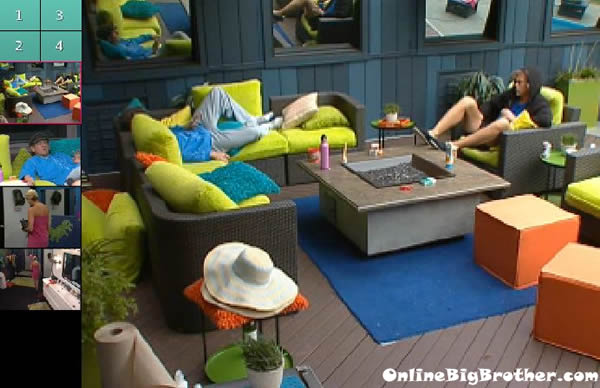 8:30am Mike and Frank are on the backyard couch talking. Mike tells Frank the entire conversation that he had with Willie. Frank says that Willie gets super paranoid about Dan and Janelle talking. Mike says that's good for us. We just need to sit back and do nothing. Frank wonders if he should tell Willie that he heard Mike and him had a talk. Mike says no, I'm not supposed to be telling you anything. Frank says I just thought it might make him see that he can trust me. Mike says no, I see where you're going with that and I like it but no, not right now. Frank says that Joe came up to him and talked to him outside yesterday…  (Big Brother cuts the feeds to wake up the house guests.)
Wil, Britney, Joe and Frank are sitting on the backyard couch. Jojo joins them. Willie asks her why she didn't sleep in the bed last night? I was going to take advantage of you. JOjo says that she will sleep in it tonight.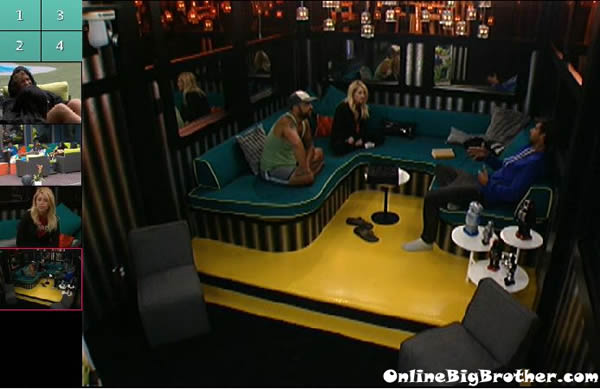 9am Britney, Willie and Shane are in the kitchen. Willie says that this house ain't right. Britney says we can't jump off the deep end. Britney says that if I say something I am going to be excommunicated, and no one will talk to me. Willie says that he will protect her. Britney then asks Shane to come into the arcade room. Willie, Britney and Shane go into the arcade room to talk. Britney says this is stupid. Willie tells Shane that there is something going on and that is why Britney is upset. Shane wonders if it has something to do with Willie's brother being Russell. Willie says no it ain't got nothing to do with that. Britney says that several of the coaches already know, and I am not certain it is going to happen but we think the coaches are going to be entering the game. And that is why the coaches are already setting the pace of the game. (Big Brother cuts the feeds.) When the feeds come back, they are still explaining it to Shane. They tell him that they think it will happen in the next couple of weeks. Britney tells Shane that she doesn't know for sure. Shane wonders if the $100,000 was just an incentive to get the coaches into the house. Willie asks Shane to be honest with him, has anyone come to talk to you about anything? Shane says no …um let me think… Um yeah Frank and Boogie came to me about trying to get me to be in an alliance with you and me and Frank. They said they talked to you about it. Willie says they never came to me. Shane says they said it would be like the brigade. They continue to talk about the coaches coming into the game and wonder if they should spread a rumor. Shane says that Dan came to him to about being with Kara too. Shane says that Janelle came up to me and told me what happened between you and Frank. They then talk about bringing Mike in to asks him what he thinks about letting this out.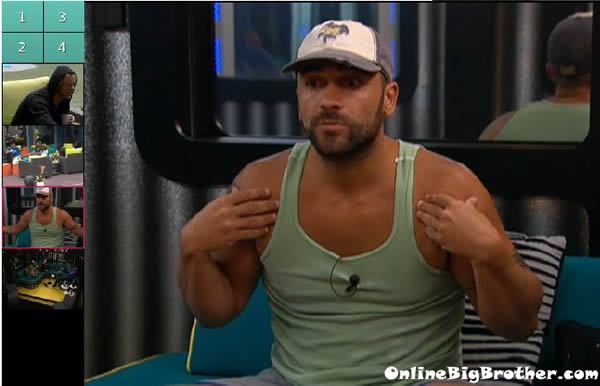 ***** The following conversation Big Brother didn't want you to hear, the video feed was switched but the audio was still on this room. *****
9:10am – 9:30am Britney then goes to get Mike and asks Willie and Shane to leave the room. Britney tells him that a lot of sneaking around is going on and a lot of scheming. Britney says that she think Mike Boogie played it right by sleeping the first few days. Britney asks Mike what he thinks about the coaches entering the house. Mike says that he thinks the twist is so complicated as it is. Britney says that the contract doesn't specifically say anything about them coming back in the game but that the last line suggests it could happen.
Big Brother 14 Superpass Live Feeds: 3 Day Trial!
Britney says that "the last byline in the contract says that they can change anything at any moment."


Mike says that the more we talk about it, the less it is going to happen. Britney says yeah that's true. Mike wonders if it comes out do you think it affects you negatively. Britney says yeah, that's why I wanted to talk to you about it. Mike says that he is playing as a coach if I play hard they my players become a risk of leaving ..and that affects me. Mike says I can't wait for Thursday to come soon enough. Britney says OHHHH… okay. Mike says Frank and I didn't have that conversation with him. I would like it to happen though. But I don't think all four of us would come back. I think one of us would leave and a few more people would be evicted. Britney mentions that the time line doesn't add up that after next week there will be 9 people left and that is usually when Jury starts. Mike suggests that if they just have a regular game without double evictions it should all play out fine. He says maybe I did my math wrong though. Mike asks if she was up gaming last night. Britney says yeah. Britney says that maybe I should just tell him to calm the fu*k down. Mike says why would he think we would know anything, we were locked up a week before coming in here just so we wouldn't see a commercial. Britney says that she needs to take a day off from it all because its really getting to her. Mike says yeah you should do that. Britney and Mike leave the arcade room.
9:40am – 9:50am
Britney tells Willie that he needs to chill the fu*k out! Willie freaks out and said that he hasn't done nothing. He then storms out into the backyard. Britney and the others keep talking about diary room sessions and Big Brother keeps telling them to not talk about production. Britney is getting really annoyed at production and says they better watch out we're giving away trade secrets. Britney then tells Shane in private not to talk to anyone or say anything about what they told him. She tells him that Mike didn't think it was going to happen anyways. Shane says that he wont say a word, he doesn't want to get her in trouble.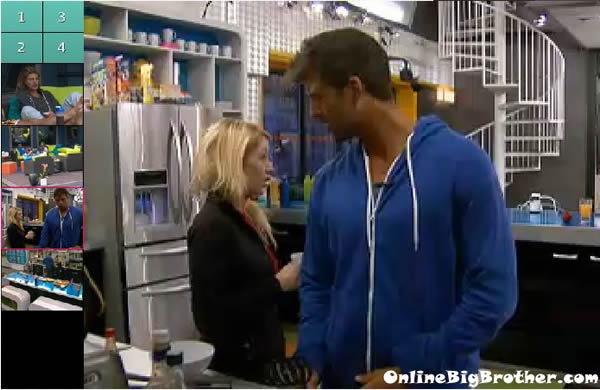 Watch what happens AS it happens: Big Brother Live Feeds!
Share it YO!
Tweet