POV Holder:
?
Next POV
June 27
POV Used
?
POV Ceremony
?
HOH Winner:
McRae
Next HOH:
Wed July 3rd
MVP:
?
Original Nominations:
Current Nominations:
Jessie and Candace
Last Evicted Houseguest
?
Have Nots
Andy, Elissa, Jessie, Howard, Helen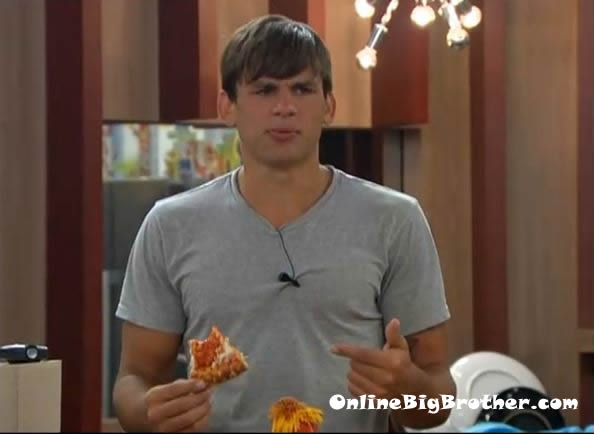 2:15am Gina says she wants to be on the TV show Dancing With The Stars. She tells Jeremy and Kaitlin about how Brendon and Rachel were on the Amazing Race after Big Brother. She says that they didn't make it very far though. In the kitchen Helen, Jeremy, Kaitlin, Spencer, Andy and Nick are all talking and eating pizza. Out in the backyard – Judd, Howard, McCrae. Elissa, Amanda on backyard couches talking about sleeping on the havenot airplane seats. Elissa wonders which day they will be off of HaveNots. Amanda is talking to Elissa and tells her that after the veto ceremony she needs to come clean about being Rachel's sister to the people that are saving her.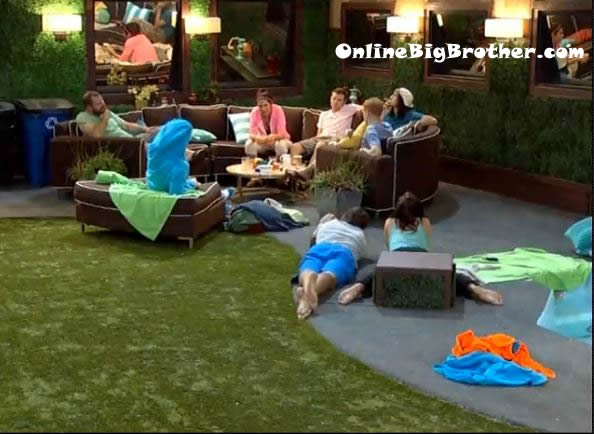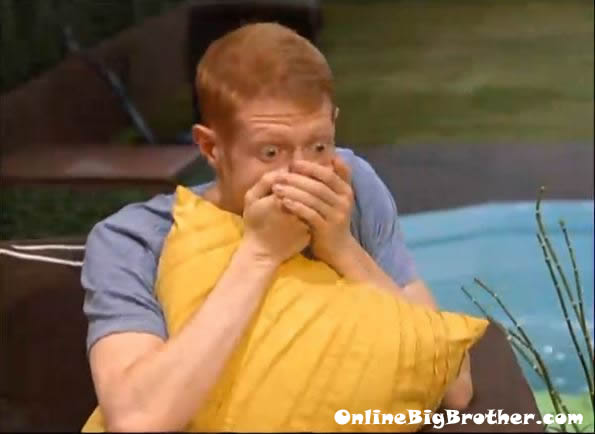 3am Out by the hot tub – Kaitlin and Amanda are talking with their feet in the hot tub. They are discussing there being a unanimous vote to evict Elissa. Amanda comments that someone will probably throw a random vote in the mix for drama. Kaitlin laughs and says that by a vote of 11-1 then Elissa walks up and talk ends. Judd, Amanda, Spencer, Nick, McCrae and Nick are all in the backyard – talking about random things like movies. Andy talks about a shock movie he had to watch for a university class that was all about shocking things. He says that at the end showed a 300 pound tranny walk up to a dog that just took a sh*t and picked it up and ate it. He says he was watching it in the library and a little Asian girl came up to ask them to be quiet and saw that and ran away.
Even MORE from the BB House! Check out the Live Feeds with a 48hr free trail! Access to EVERYTHING they can't show on TV…we don't want you to miss a moment this season!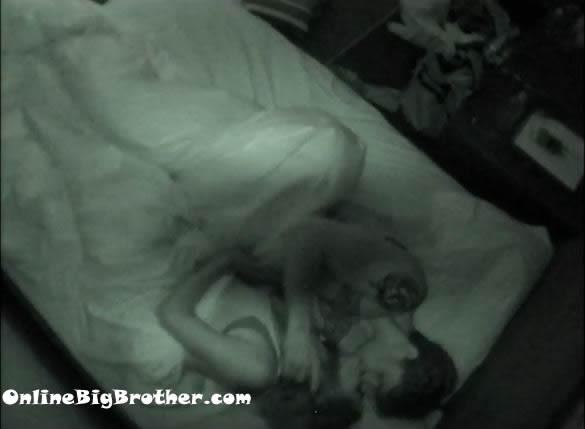 4am Spencer and Nick are alone in the backyard talking. Spencer tells Nick about his mega alliance with Amanda, Andy, Judd, Elissa and Helen. Nick and Spencer agree to share information from both sides of the house. They both talk about who the threats and how they need to eventually get Amanda and Helen out. Spencer tells Nick what Amanda thinks of him about how she thinks he is a floater and that he is working with Gina. Nick and Spencer start sharing information. Spencer says that his loyalties lie with the MC (Moving Company) Alliance. Spencer tells Nick to vote for Jessie to make him seem clueless to the rest of the house. Spencer tells Nick that he wants Aaryn, Kaitlin, Andy and Amanda out before they get to the people going to jury. Nick and Spencer laugh at how clueless Andy, Amanda, Helen and Judd.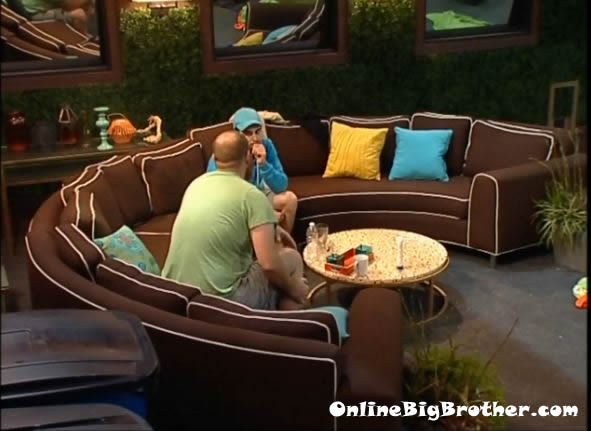 4:40am – 5:40am Nick and Spencer are still out in the backyard sitting on the couch talking. Nick tells Spencer everything about himself that no one else knows. Spencer is questioning what Nick isn't telling the others and wonders if Nick is a Doctor. Nick tells Spencer that he was in pre-med at Columbia but dropped out. I was a wrestler which is why I used to cut weight and I am a pro-roller bladder. Spencer tells Nick that he didn't hid anything coming into the house. He says that the only thing is that I own two houses but they aren't even worth 70G's. Spencer says I will protect you at all costs. If your name comes up for any reason I will protect you. Spencer says when I came in here I wanted to remind people of someone they know, be likeable, get in good with the girls, and start a hard core alliance within the first 48 hours. Nick brings up how David is already in a showmance. Nick tells Spencer about how Jessie already tried to suck him into a showmance. Nick says but I denied her. Spencer says good, because she is poison. She is like a spoiled little rich girl, just like Candice. Spencer says that Candice complained about how she was helped out during hurricane Katrina saying that now they are wanting her to pay back the 20g's. He says that Candice talks about going back and forth to New York with her boyfriend. Spencer says pay your debts. Nick talks about getting in good with David to also get in good with the girls. Spencer and Nick both agree that they trust each other more than anyone else in the house. They discuss Elissa being the MVP. Nick asks if we know Elissa is the MVP why aren't we keeping her around because we know where the nomination is coming from. Spencer agrees. Spencer talks about wanting to get rid of Amanda soon. Spencer brings up how Amanda sleeps up with McCrae. Where is she going to sleep when he isn't the HOH? Nick didn't know Amanda has been up there the last few nights. Spencer says that he doesn't know what McCrae is thinking – probably that he is excited to just sleep in the bed with a big t!tty bit*h. Spencer talks about Jeremy walking around like he is prom king. Nick says that he is left the girls in limbo like that he could be ready for a relationship so that they continue to try and like me. Spencer brings up the moving company alliance and says it will be the most solid alliance in the history of big brother. Nick and Spencer come up with the signs they can use to say they are good or if they need to talk. Nick says if I do an eye rub then everything is good. If I need to talk in the next hour we can ask if you need a coffee. Spencer says well I don't ever drink coffee so I will never say yes, so let's just ask if you need a drink. Nick says that he feels like McCrae is the only person who gets his jokes. They talk about how they like talking to McCrae. Nick says that he is there to play the game and isn't wasting time with a showmance. Spencer says you can't find love on reality show. Spencer and Nick talk about how they need to get Jeremy focused and to get his mind back in the game. Spencer and Nick agree that they had a great talk and Spencer heads inside to sleep for a bit and so they don't get caught talking. Nick hangs out on the couch for a bit by himself.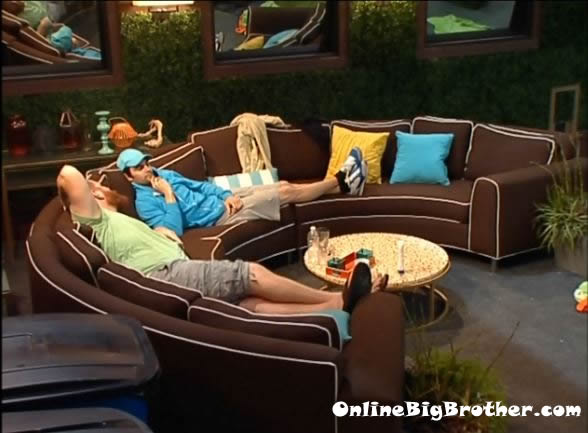 6:20am All the house guests are sleeping..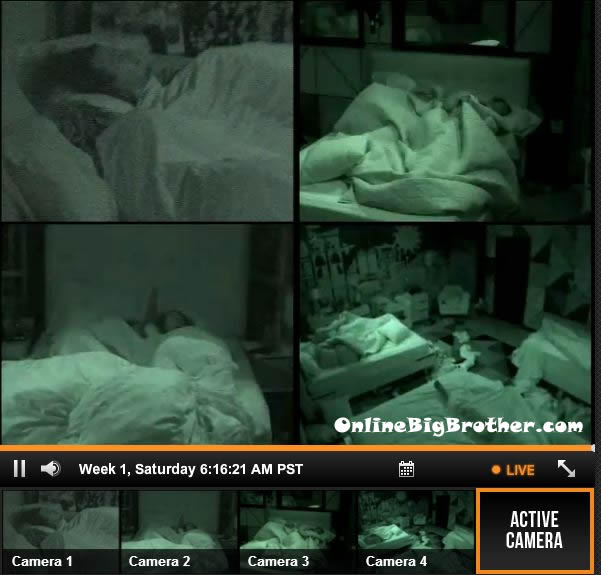 Stay connected and interact with other Big Brother Fans on our Facebook page.
And Follow: @BigBspoilers and @Dawgsbigbrother on Twitter for the most up to date spoilers.
Share it YO!!
Tweet