POV Holder:
McCrae
Next POV
June 27
POV Used
?
POV Ceremony
?
HOH Winner:
McCrae
Next HOH:
Wed July 3rd
MVP:
Elissa
Original Nominations:
Current Nominations:
Jessie, David and Candace
Last Evicted Houseguest
?
Have Nots
Andy, Elissa, Jessie, Howard, Helen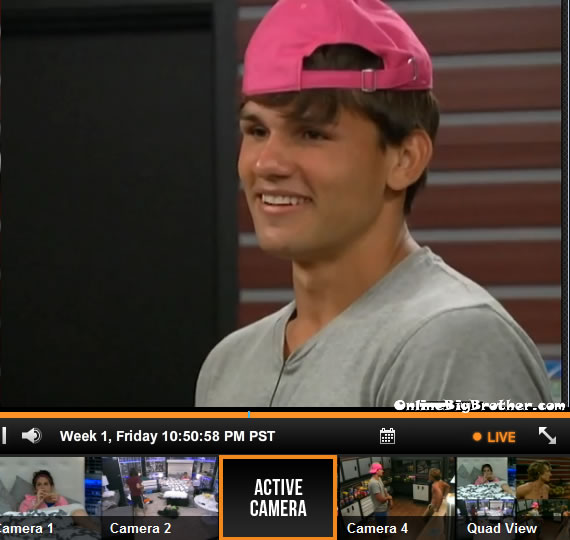 10:48 Cam 3-4 Storage Room Dumb and Dumber
David: "Do you realise how good we got it"
Jeremy: "Ya it's me you, aryan, Kaitlin, Nick, Judd and Jessie.. thats 7 people bro..Sh!t.. and then F***ing Spencer he's talking game play all the time..F****ing like all the time bro"
David: "I have a good thing going off and on with Howard dude"
Jeremy: "Ya yeah you and howard thats like 8 – 9 theres no way we can't make it"
David: "So the only people we have to worry about is F**** Amanda, Candace McCrae up there and Andy"
Jeremy: "Thats 4 ohh Sh!t.. and then next week.. we know we're going to win it (HOH) so Amanda is gone right there.. the goodlord is on our side and he wants us to take home some cash bro. "
David: "This is so perfect dude"
Jeremy: "We have the two strongest girls.. dude.. all the girly challenges they got that sh!t.. we just got to fuc**ing rape everybody else.. "
David: "Dude no way they're going to win"
Jeremy: "Andy isn't going to win sh!t.. I won't let myself lose to him"
David: "No way Spencer is going to win"
Jeremy: "It'll have to be a fluke"
Jeremy: "F***ing yo bro this is hard bro"
David: "Same here dude it's been getting to me"
Jeremy: "I feel good about some sh!t happens then I get sketched out.. Sh!t"
Jeremy: 'We could have all fallen apart today but we kept it together"
Jeremy: "I just wanted to thank you for holding that shit together
(Lots of dudes.. lots of sh!ts.. lots of F***.. Lots of Stupid)
11:10pm Cam 1-2 HOH McCrae. Elissa and Amanda
Amanda tells Elissa that she needs to continue to act like she's going home. Amanda tells Elissa their first task. Elissa: 'And they're like 23 they don't care if they lie to you" Elissa backtracks a bit tells McCrae he's a mature intelligent 23 year old. Amanda says that they get rid of David this week then BD Jeremy the following week.
Amanda: 'we're going to figure it all out.. get out the floaters"
McCrae: "Just be pissed off"
Amanda: "Just know you have the votes"
McCrae: 'Just be pissed off.. don't overdo it"
Amanda: "If anyone wants to talk to you about it just tell them no"
Amanda explains that they want David leaving to be a HUGE shock to the beibers so it hinders their performance in the HOH comp.
McCrae and Amanda both tell her that after this conversation they talk no more game until next week.
Elissa: "Just don't change your mind"
MC: "We won't.. it's too good"
Amanda: "Basically it's the older people getting rid of the younger people and some floaters.. basically if we stick together we're in this game for a month and a half"
Elissa: "If plans change please tell me"
Amanda: "FYI GIGI and Nick have nothing to do with it.. We're assuming they're voting to get you out".
Elissa: "I don't think NIck will vote me out"
Elissa leaves.. MC starts saying he's worried about keeping Elissa. He thinks that she's going to slip up and their plan to use Elissa's MVP's.
Judd is worried that Elissa is acting too happy the evening. McCrae is to, because if their plan gets outed the house is going to be gunning for him. They tell Judd Elissa knows she's staying but she doesn't know who is voting for her.
Judd: "She's our weapon right now"
MC: "It only works if nobody knows"
Amanda doesn't think the beibers will even target them because they have too many friends, "It would be stupid"
Judd: "When it all comes down to it it should be usee three final three"
Amanda agrees McCrae nodes.
Judd is unsure of Nick because he's been acting overly friendly today. Amanda wants nick out soon, "Hello GIGI and Nick play the game"
Judd I hope Jeremy doesn't get MVP next week
Amanda Why would he get MVP he's a douchebag.. he's not a fan .. this is our fu**ing show..
(Going to be awesome fun when Amanda gets put up on the block next week)
11:37pm Cam 3-4 Spencer and Nick
Spencer says he's talked to McCrae and everything is in motion all they have to do is keep people off their backs and let them do their thing.
Spencer says the plan is for them to take out players from each side every week and along the way pick off some floaters.
Spencer: 'It's all good David is going home.. we'll chat later tonight after I take my stomach pill.. I need to go over a voting situation with you or Jeremy.. one you need to vote for Jessie"
Nick suggests they get everyone to vote out David and play the blame game later.
Spencer: "It's on like donkey kong bro"
Animated gif's
Jeremy and Kaitlin cuddling Here
Nick Here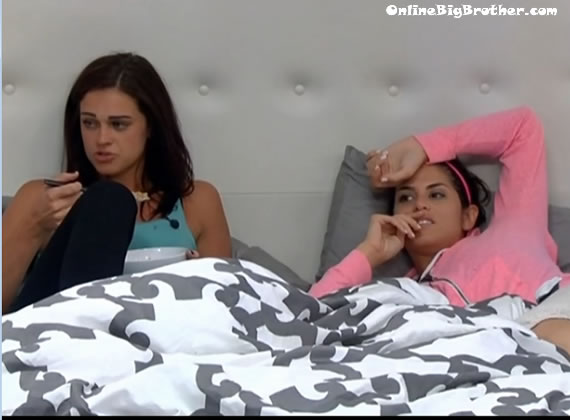 12:38pm Cam 3-4 HOH Andy, Kaitlin, Amanda, Spencer
That girl has so much plastic surgery
Amanda Lets be nice to here might as well
Kaitlin: "Candace has no idea what she's doing here.. She has no fu** ing gameplay".
Amanda: 'No thought Process behind her words"
Spencer: 'She's something else dude"
Katlin: 'But I like her as a person.. early on in the game she was a nice distraction because she never talked about gameplay"
Katlian: "She's trying to get everyone to turn against each other"
Amanda: 'Who"
Katlian: "Elissa"
Amanda: "How why?"
Andy everyone stay solid and we're fine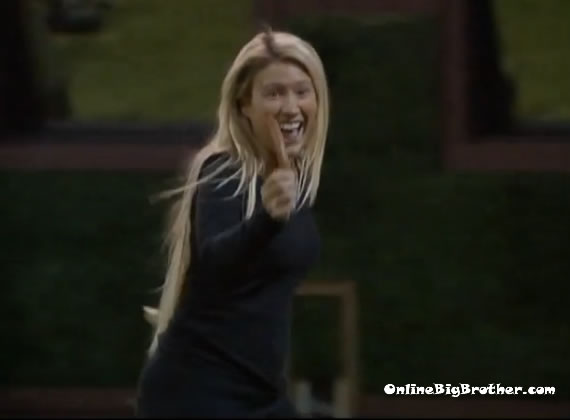 12:40pm GIGI storms into the backyard tells Aaryn, Judd and Jeremy that she learnt a new trick. Animated gif.. Enjoy (? GiGi deep throats a hot dog)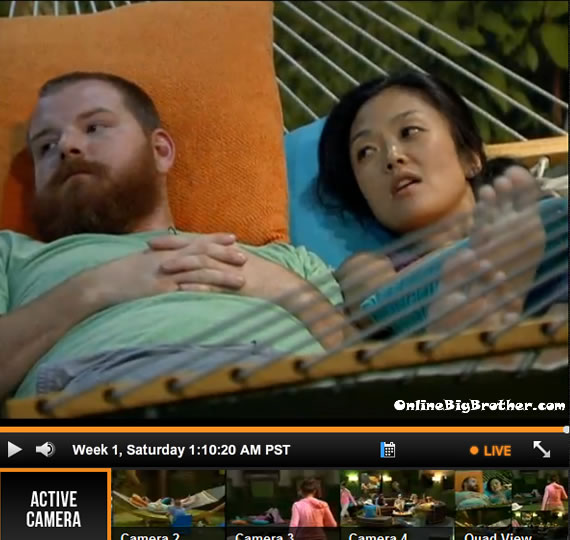 1:08am Hammock Helen, Spencer and Andy
They fill Helen in on the plan to keep Elissa. Helen is glad Elissa is staying and is fully on board.
Helen leaves. Andy and Spencer talk about Amanda being the first to go home our of their group. Andy says he likes that he's close to Judd and Spencer
1:45AM Kaitlin and Jeremy Cam 3-4 showmancing
1:55AM #BB15 first night seen on the feeds
Share it YO!!
Tweet