POV Holder:
Jeremy
Next POV
July 13th
POV Used
YES
POV Ceremony
July 8
HOH Winner:
Aaryn
Next HOH:
MVP:
Elissa
Original Nominations:
Elissa, Helen and Jeremy (MVP nom)
Current Nominations:
Elissa, Helen and Nick (MVP nom)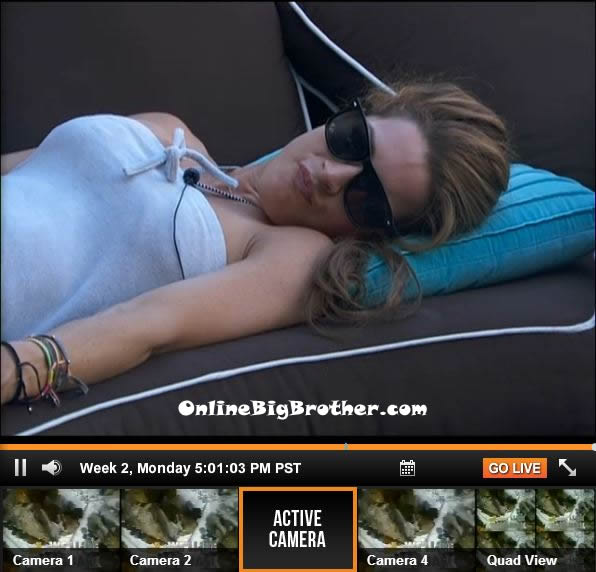 5pm – 5:15pm Out on the backyard couch – Elissa and Amanda are talking. Amanda talks about getting and taking a Xanax. Elissa asks if Amanda can give her one. Amanda says that they only give her one at a time. Elissa asks if Amanda can ask the diary room for another and for her to give it to her. Amanda says there is no way, they only give me one a week. I negotiated it when I came in here. Elissa asks if they would give her one if she asked. Amanda so no way. Meanwhile in the havenot room – Andy tells Helen that she is fine, she is not going home. Helen talks about how they need backdoor Spencer next week with the MVP. Andy agrees. Helen says that if we keep MVP on our side we can use it and at least make it to jury. Andy agrees and says the best option is to get rid of Nick this week. Andy says I feel really strongly about everyone in our group but Spencer. Helen tells Andy that we just need to keep Aaryn in the loop as long as you think we can trust her. Andy says that they can and that he will continue to talk to her. Andy leaves the room and comments that its good we are both on the same page. Big Brother then tells them that this is a lock down, please go inside and close the sliding glass door. Andy comes out of the Havenot room and bumps the door into Elissa and Spencer. Andy leave the bedroom and Spencer and Elissa are seen shaking hands.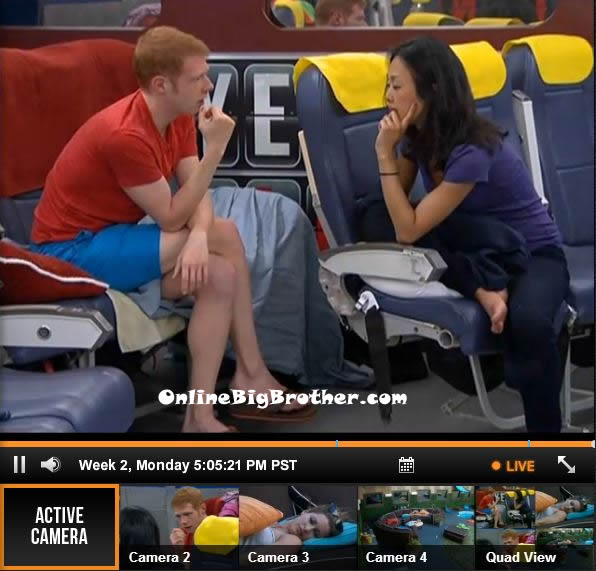 5:15pm – 5:30pm Up in the HOH room – Andy, Nick, Judd, Aaryn, Jeremy and Kaitlin are talking and hanging out. Judd jokes that if he gets HOH and gets to decide havenots, he will put Andy on it again because he wants him to be the one on it the longest in history. Meanwhile in the downstairs bathroom – Amanda is tweezing McCrae's eye brow. McCrae complains it hurts. Amanda says can you imagine doing this on your balls. Amanda says if we go that way we just have to make sure we don't align with people that are shaddy. Amanda says that we need to make it clear that if we keep him (Nick), he can not put our a$$ up. Andy joins them. Amanda says that McCrae is such a baby. Amanda asks how to pluck her n!pple hair. She says that she is going to donate it to locks of love.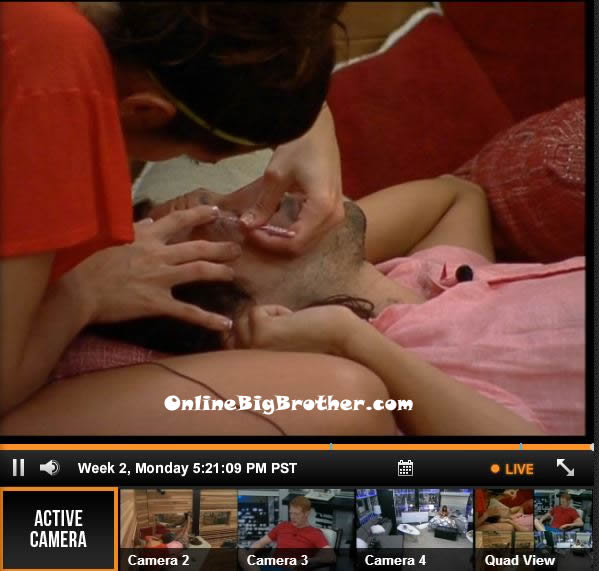 5:35pm – 5:50pm Up in the HOH bathroom – Aaryn is doing her make-up while Gina lays in the bathtub talking to her. Meanwhile in the bedroom – Judd, Jessie, Nick and Gina are talking about random things. Andy heads into the downstairs bathroom and tells her that we have a golden opportunity to get rid of Nick and keep our greatest asset. Amanda says Mmm, Hmm. Andy leaves the room.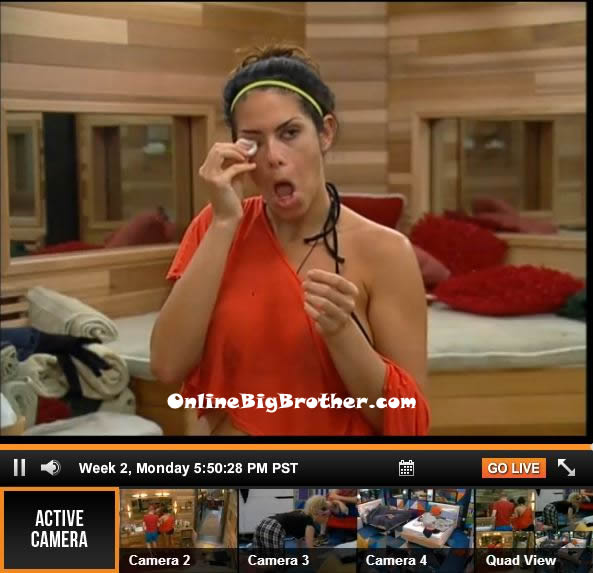 5:55pm – 6:10pm Amanda tells McCrae that she is willing to do whatever he wants to do in terms of voting. McCrae asks her why she changes so much. Amanda says that she wants to make it so there is no one coming after us. Amanda says that we could make a deal with Nick. Amanda says that she just doesn't trust Jeremy. McCrae says that he still wants to talk to him again. Amanda says that people swear on a lot of things.. McCrae says I know. Amanda says we have to make them know that we are doing them a favour. I need to know that Nick will not have my name come out of his mouth again. McCrae says we need to win HOH this week. Amanda says no, we need to play like we don't need to win HOH. Andy joins them. Amanda asks where Spencer is at? Andy says that he thinks Spencer is looking to get rid of Elissa. Andy says if we get rid of Elissa, I don't think anyone will come after me. But if we keep her a lot of people will be coming after me. Andy comments that his gut is telling him they need to vote out Nick. Amanda leaves the room. Andy asks McCrae what they should do. McCrae thinks they need to go with them and then back door Jeremy. Andy says if we get rid of Elissa the water will be calm. Andy and McCrae agree that they still have more time to figure it out and hope that there are more tell tale signs. Andy says that it worries him that Spencer was so ready to talk game before and now he isn't. Andy says that it is just so safe to vote with the house – to vote out Elissa then Candice. Andy tells McCrae to keep him in the loop. I trust you and Amanda.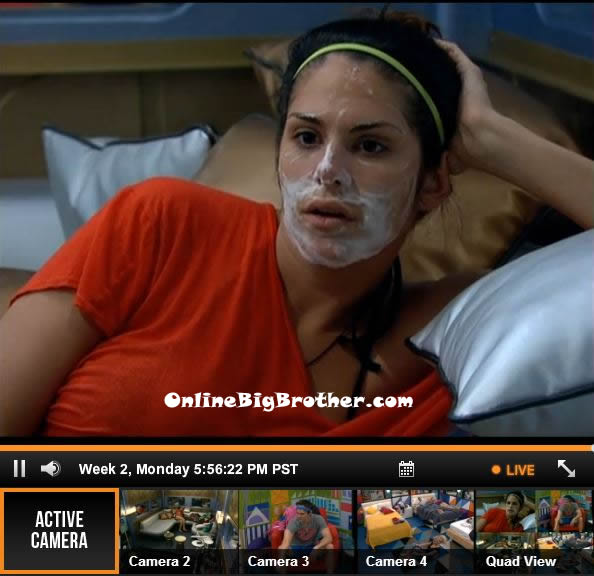 6:15pm Aaryn and Kaitlin are in the HOH bathroom talking. Aaryn brings up how she is being told that the house is divided between the popular people and the misfits. Aaryn thinks that McCrae will get MVP and so we need to stay close to him. Aaryn says that Howard and Spencer will never get it. Aaryn says that she thinks Kaitlin and Jeremy will become targets. She says that people think that you are Jeremy's downfall and that they need to get you out to get to him. You are going to have to fight very hard in every competition. Aaryn tells Kaitlin that she will probably go up by the MVP. Aaryn says that it would be the same for me if David was still here. Amanda joins them in the HOH bathroom. They decide to have a shaving party. McCrae comes up to watch the shaving party.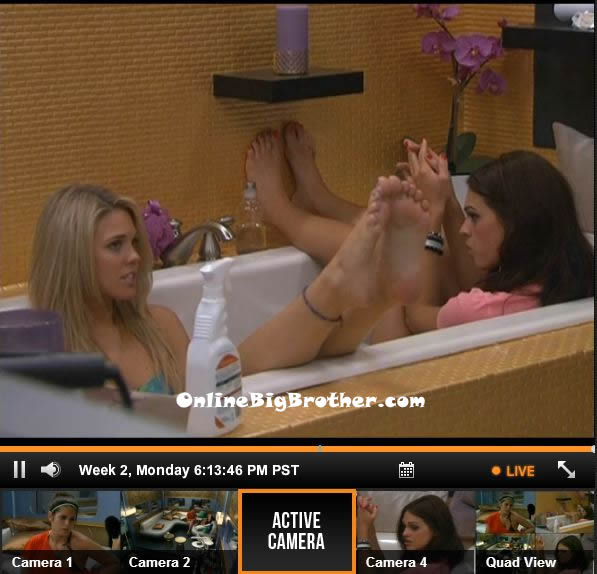 6:35pm – 6:50pm Amanda is in the HOH bathroom shaving her bikini line while Andy, Aaryn and McCrae watch. Meanwhile down in the bedroom – Spencer and McCrae are talking. Spencer tells McCrae that the others don't trust Amanda. McCrae says that he thinks he can get her on board with doing what the others want. Spencer says that if Amanda and I can work together in this group it would be good but that it won't be good for MC. Spencer asks McCrae to talking to Jeremy. McCrae says that he is already planning on doing that. Nick comes into the room and they end their conversation. Nick and Spencer talk. McCrae, Howard, Nick and Spencer talk in the bedroom. McCrae tells them that if they don't trust Amanda then that means they don't trust him. Nick says that he can't be seen talking with them and leaves the room. Spencer tells McCrae to promise Amanda a final two deal until we cut her. McCrae says that he will keep her in bed all day. Howard says so we are going with the nine? Spencer says we need to fill Jeremy in on it. Spencer says will will pull our 4 into their 5 to make 9. McCrae tells them that they need to trust him and Amanda. McCrae says that if Amanda ever gets wind of it, I WILL CUT HER! I am sharpening the knives.

[polldaddy poll=7235287]
Stay connected and interact with other Big Brother Fans on our Facebook page.
And Follow: @BigBspoilers and @Dawgsbigbrother on Twitter for the most up to date spoilers.