POV Holder:
Jeremy
Next POV
July 13th
POV Used
YES
POV Ceremony
July 8
HOH Winner:
Aaryn
Next HOH:
MVP:
Elissa
Original Nominations:
Elissa, Helen and Jeremy (MVP nom)
Current Nominations:
Elissa, Helen and Nick (MVP nom)
Last Evicted Houseguest
David
Have Nots
Helen, Elissa, Candice, and Andy
6:50pm Cam 1-2 McCrae and Howard
McCrae: "I know you are worried about me and her I know you are "
Howard: "i'm not worried about you"
MC: 'I know you are worried about her of course"
MC: "I mean again If I ever get the whiff.. MC comes first 100% I am not Sh!tting you I am loyal till I die I swear to you"
MC: "I'll cut her when I need to but I think we can use her still"
MC: "I'm serious man.. "
H: "Ok .. Dude"
MC: "I just want you guys to trust me"
H: "I don't doubt you .. alright cool cool"
6:57pm CAm 1-2 Cockpit Aaryn, Kaitlin and Jeremy
Jer: "I don't want a lot of negativity because I'm getting a lot of negativity from everyone" Jeremy adds that he's sick of people talking about who is going to get the MVP because none of them have any clue.
Aaryn says that is exactly why she came to talk to them. Amanda told her that some people are going to be voting to keep Elissa because they hope it will help them get MVP.
Aaryn: 'That fact that she said that Scare the sh!t out of me for her vote"
Amanda told her there was 2 people voting to keep Elissa in the hopes they get MVP vote.
Jeremy: "Let them that's not going to get them MVP votes.. "
Kaitlin: "DUde she's sketchy.. she's going to keep her here..she's completely on her side "
Aaryn has been thinking that Amanda and Mcrea are with Elissa.
Jeremy: "McCrea is not.. I had a long talk with him by the pool"
Aaryn: "that confirms they voted David out"
Jeremy tells them to just hold tight he plans on putting Amanda up anyways.." Jeremy brings up his conversation with McCrea that McCrea is really nervous about Amanda and asked Jeremy if he won HOH if he would put her up.
Aaryn: "I'm just afraid that any of us end up on the block these people are so scared of us that they going to take that chance and vote us out"
J: "Good.. I plan on not going on the block at all I plan on winning every time.. .. stay confident don't let them bring you down"
Aaryn they are the most feared people here.. and she thinks if any of them are on the block for the final round they will go home.
J: "I don't plan on doing anything but winning.. don't freak out they want us to get freaked out.. Play hard every time .. be confident"
A: "I don't freak out "
J: "prove it.. don't tell me prove it.. cause i'm about to prove it to y'all"
Jeremy tells her he just wants to chill right now "She (kaitlin) seems nervous for some things and now you seem nervous for some things just sit back… be confident and let the winds happen"
Jeremy says that Amanda and MCrea don't have a chance of winning MVP, Jeremy thinks they have a good chance of winning so does Howard "I don't really see anyone but us having a chance of winning"
7:19pm Storage room Gina and Aaryn
Aaryn starts turning on Kaitlin.
Aaryn brings up her conversation in the cockpit with Jeremy where he told her to relax. "I need to relax when his frickin girlfriend is running around crazy"
Gina says kaitlin is going to mess it up for them and Nick is going to go home, Gina reminds Aaryn that they need nick .,
Aaryn He think he's winning POV and MVP every week.
Gina: "He's not going to win MVP he's a douchebag and people don't like douchebags.
Gina thinks the fans like funny people like her.
Aaryn brings up that Jeremy says "People like Showmances and People like powerhouses… and he points to himself"
Gina calls kaitlin and Jeremy king and queen of the house. Gina points out that Kaitlin doesn't really interact with anyone in the house.
(7:20:44 Cam 3) Aaryn: "I'm just like f** this I earn that HOH with him.. If I ever get MVP she's going home he's f*** up my game"
Gian: 'If she screws this for Nick I'm going to flip out"
They agree Kaitlin only cares about her showmance.
7:36pm Cockpit Nick and Gina
Nick is telling her Aryn and Kaitlin are butting heads and it really needs to stop.
Gina: "Katlin is f***ing up our game.. if Aaryn wins MVP she wants to put Kaitlin up"
Nick: "WTF" (Check out the gallery to see his response)
Gina: "only because she's a walking time bomb"
Gian explains that Aaryn is worried that Kaitlin is going to do something and enraged the other side
N: "Who do I want to talk to first.. "
Gina: "Do Andy first he's easy.. then talk to Howard he's got some info"
N: "then who.. I was going to wait til 9 10 o'clock"
Gina: "Amanda and McCrea would be best talked late.. "
Nick want to talk to McCrea alone he's going to prefer One on One with everyone.
Nick thinks there is something going on between Amanda and McCrea he thinks they look like they're fighting.
Gina starts giving him pointers about the house guests.
Gina wonder is he talks to Candace she'll mix stuff up so it might be best to just leave her alone.
Nick doesn't plan on talking to Candace.
Gina is worried when he's talking to Jess he might have to Lead her on.
Nick: 'Baby i'm in control trust me.. I know how to talk to Jess.. if it comes down to one vote and it f**** Jess.. I will be F*** " (He'll probably will have to hook up with Jess to get that one vote)
(LOL I swear this season has some of the oddest couple Nick and Gina, Spencer and Howard, Even Amanda and McCrea)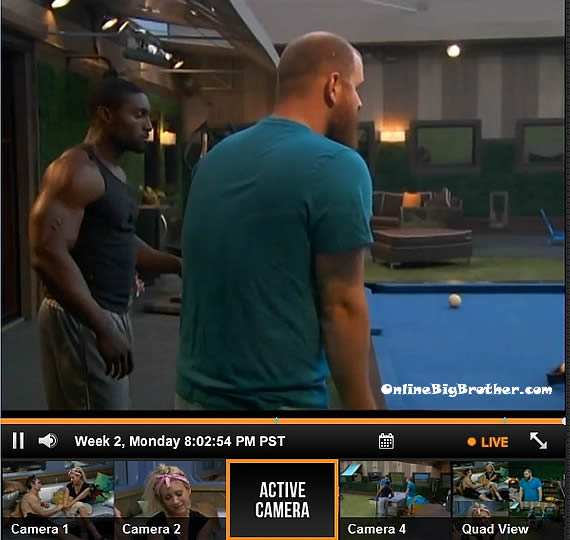 8:02pm Cam 3-4 Spencer, Jeremy and Howard
Spencer: 'If any of us win MVP we put her a$$ up for damned sure"
Spencer: "He told me that he feels sorry for her because she'll be in trouble when she gets home.. she's got to go" (Her boyfriend will be mad)
Howard: "She's gotta go"
Jer: "Listen I think we gotta leave McCrea out of this for right now.. we really can't do sh!t until we win HOH so for right now just keep it on the downlow and when it comes down to it.. before I make my decision we'll just hash it out then" (LOL Jeremy just claimed leadership of the mOVing company)
Jeremy: "this is a game of chess we gotta wait till the we see what the next move it"
Howard: "dude I'm telling you if she gets another good week in here.. especially two weeks..that sh!t is gone.. it's going to take one good drunk night and it's gone."
Spencer: "We're all on the same page I wanted her up this week"
J: "Let wait it out
(Who should be the leader of the Moving Company? )
[polldaddy poll=7235287]