POV Holder:
Jeremy
Next POV
July 13th
POV Used
YES
POV Ceremony
July 8
HOH Winner:
Aaryn
Next HOH:
MVP:
Elissa
Original Nominations:
Elissa, Helen and Jeremy (MVP nom)
Current Nominations:
Elissa, Helen and Nick (MVP nom)
Last Evicted Houseguest
David
Have Nots
Helen, Elissa, Candice, and Andy
2:50pm Out in the backyard – McCrae, Aaryn, Judd and Jeremy are talking. Andy is talking about coming out as being gay. He says that it took him a long time to come out and says that it makes him happy to see other people coming out when they are younger and younger. Jeremy comments that he doesn't see how Andy could hide it. Andy says that you should be able to like whoever you want. Aaryn heads inside to the diary room. When she comes back she says I have to go home …because I am too sexy! McCrae says whoa, that scared me. Jeremy heads inside. Gina joins them. Andy talks about wanting to meet Ragan Fox and Janelle. The conversation turns to talking about survivor. Andy and Aaryn start studying the events of the house. McCrae says that he thinks it's going to be so difficult to remember everything. Each day seems like one big line they're all the same. They wonder what this weeks HOH competition will be like. Andy says that he and Helen can't be havenots again. He suggests all the havenots go on one team and the other team just throws it. Aaryn says if you want to be a havenot, be on Candices team.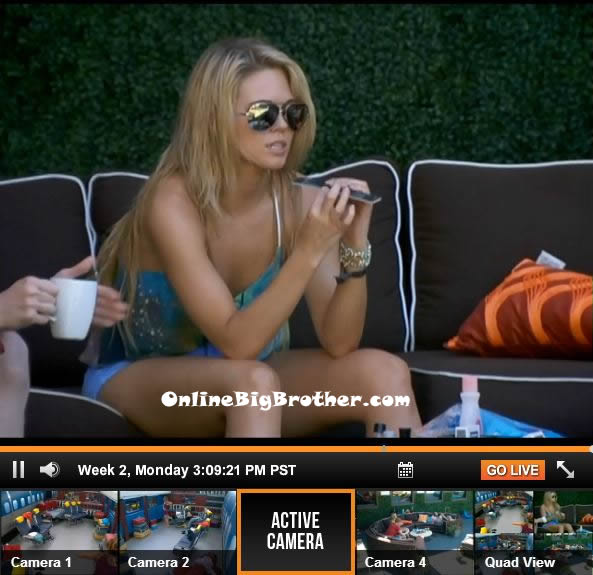 Meanwhile in the kitchen – Nick, Amanda, Gina are talking about random things. Nick is talking to Amanda about New York.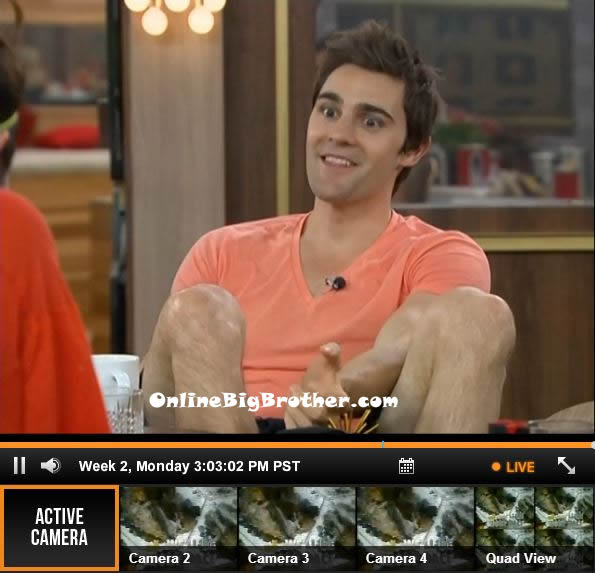 3:10pm – 3:30pm Out in the backyard hammock – Kaitlin and Gina are talking. Gina comments that Nick is in the kitchen talking to Amanda. Kaitlin asks about what? Gina says he is asking her questions about her. Kaitlin says good, she has wanted that for awhile now. Kaitlin and Gina talk about how fake and annoying Candice is. Kaitlin says she hates how Candice said she doesn't talk to her because Kaitlin is always with her boyfriend. Kaitlin and Gina talk about how Jeremy isn't her boyfriend. Gina says that Candice is a fake bit*h! Gina tells Kaitlin that Candice needs to turn down the blackness. Kaitlin says no turn it up! Kaitlin leaves to go get into the pool with Jeremy. They talk about taking a nap together. Kaitlin comments that she is surprised she didn't get put up on the block. Kaitlin comments that her mom is not going to like Jeremy's style. Jeremy says I've got flare, she'll love me. Spencer joins them.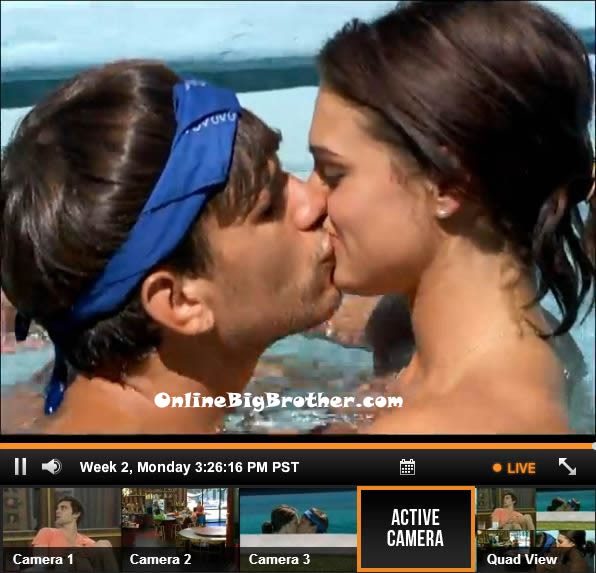 3:35pm – 4:05pm Up in the HOH room – Gina and Aaryn are talking. Gina says that Nick had a long talk with Amanda, like for her to get to know him better. Gina says we probably have to do it again late Tuesday and again on Wednesday because people make their decision last minute. Aaryn comments that she doesn't think Nick wants to get HOH. She says that she thinks McCrae will be HOH next week which is good because we are like this. Gina and Aaryn agree that Candice is her biggest threat. Aaryn is worried if Candice is up with a strong player ..then she would stay. Aaryn says that worries me. They talk about how Howard has been sneaking up trying to get information. She says that she tried to make a deal with him but that he said he isn't making deals with anyone. Aaryn says are you joking?! I am a strong player, why would you not want to work with me. Andy joins them. Aaryn tells them that Elissa is telling a bunch of people that Nick told her to put them up instead of him (Nick). Nick joins them. Nick talks about how Elissa is saying that he was telling her to put up a list of 7 people in the house. Nick says come on, a fifth grader could have come up with that. Aaryn says everyone is getting a taste of what I got week one. They continue to trash talk Elissa. They talk about Howard sucking at everything. Gina says that you can't act that horrible. Aaryn says that she was raised very strict and says that her parents are going to be really upset about some of the things I have said and done here.
TRY the LIVE FEEDS for FREE: Big Brother Live Feeds
4:10pm Aaryn, Gina and Andy talk about the votes last week. Aaryn says that she can't understand why she got boo'd. They wonder if Howard being religious is fake. They all comment on how none of them really know Howard. Aaryn tells Gina that she watch how she acts with Nick because Aaryn is concerned that she will be portrayed as her following him around like a little puppy.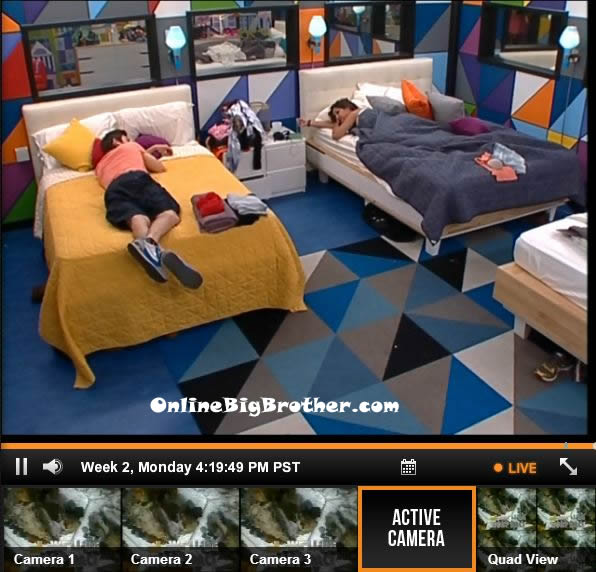 4:15pm – 4:35pm Spencer and Judd are laying out on the grass in the backyard talking. Judd says that this next HOH will be really important. Spencer says no doubt. Big Brother switches the feeds to the we'll be right back screen. When the feeds come back Jessie and Nick are in the bedroom talking. Nick tells Jessie that he has "her back hardcore!" Jessie tells him that she has his too. Meanwhile up in the HOH room – Aaryn is telling Kaitlin that everything they do is recorded and that she could go to google and type in her name and a ton of photos and videos would pop up. Kaitlin is shocked and says that's not okay. Aaryn says that they could zoom in on my butt hole right now if they wanted. Aaryn says she probably already has a nip slip out there. Jeremy joins them and Aaryn tells him that Andy told her that everything is recorded and you have go back and re-watch it. Aaryn comments on how they just learned that the eviction night changed from Wednesday to Thursday. They talk about how get paid $1000 a week. Kaitlin says that she makes $1000 a weekend. Jeremy says well you are doing a lot more than just bar tending. Andy talks about how he can eat again tomorrow night at 12am.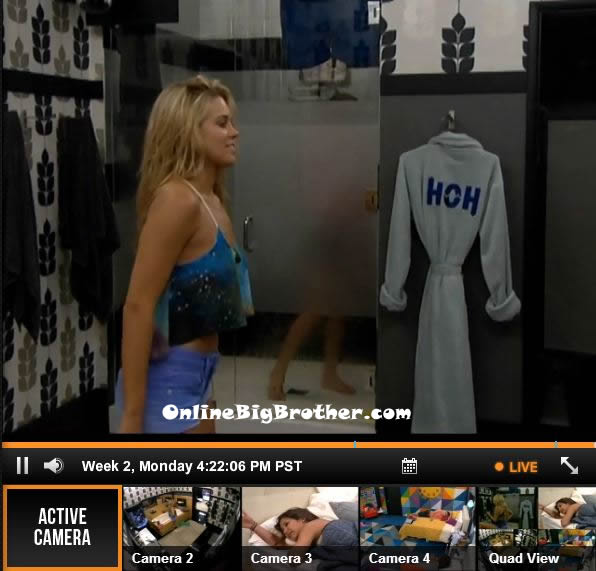 4:40pm – 4:50pm Out by the pool – Ginamarie gets into the pool and starts bouncing. She tells Judd to put his hands on her butt to feel it bounce. Judd then gets into the pool with her and they talk about how the eviction has changed to Thursday. Gina says that it sucks because they have another day of telling people the same reasons to vote. Aaryn joins them by the pool. Aaryn says that she just got awkwardly shunned out of the HOH room. Aaryn says that Kaitlin told her that she was going to sleep with Jessie tonight and she could sleep with Jeremy. Gina asks what does she think you are trying to move in on her? Aaryn says that is exactly what she thinks, which is so not true. Aaryn starts doing cheers beside the pool about Gina and Judd.
Ginamarie tells JUDD to put his hands on her butt and feel it bounce @bigbspoilers #bb15 #bigbrother15 #cbsbigbrother pic.twitter.com/y7fIE1B1fi

— Dawg (@DawgsBigBrother) July 8, 2013
4:50pm – 5pm Amanda comes over by the pool and talks to Gina. Gina explains that Elissa was going around lying about saying that Nick was telling her to nominate a bunch of different people in the house. Amanda says that she had a good conversation with him. She says that she will vote for what the house wants and and says she thinks we all know what the house wants. Gina talks about what a nice guy Nick is.
[polldaddy poll=7235287]
Stay connected and interact with other Big Brother Fans on our Facebook page.
And Follow: @BigBspoilers and @Dawgsbigbrother on Twitter for the most up to date spoilers.