POV Holder:
Kaitlin
Next POV
July 20th
POV Used
?
POV Ceremony
July 15
HOH Winner:
Helen
Next HOH:
July 18
MVP:
Elissa
Original Nominations:
Kaitlin, Aaryn, Spencer (MVP)
Current Nominations:
Last Evicted Houseguest
David, Nick
Have Nots
Judd, Jessie, McCrea, Amanda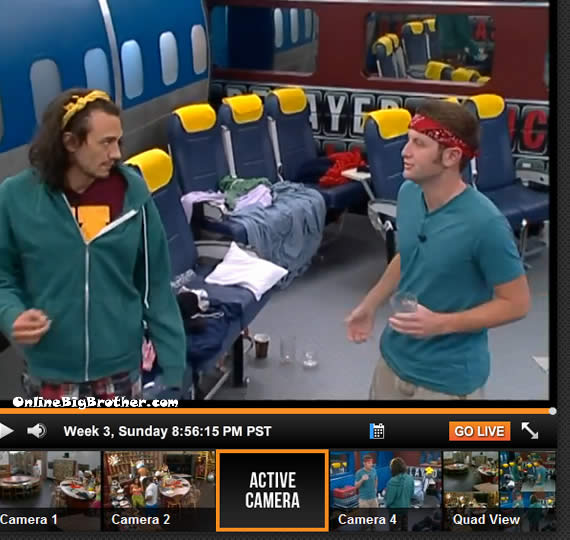 8:45pm Have nots Judd and MCrea
(Feeds come into this conversation 1/2 way through i'm not 100% sure what they are talking about but it shows that MCrea and Judd have really up their game talk together)
McCrea saying he wants to start planting seeds like 'F*** you they were talking about you"
Judd: "She conveniently left Jessie out.. because her and Jessie don't talk"
Judd: 'We need to make a big move.. "
McCrea: "yup"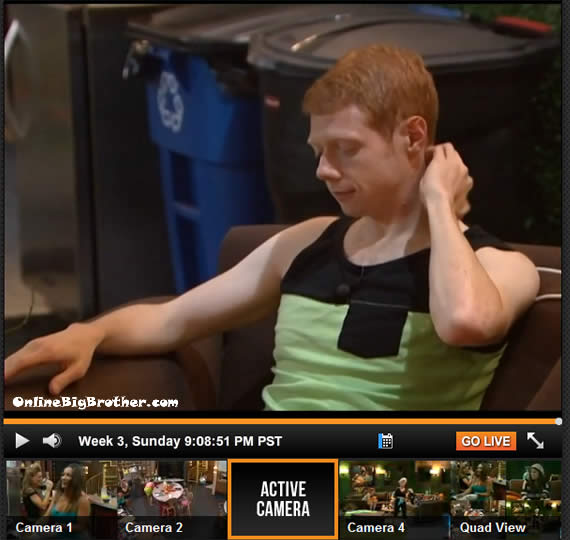 8:55pm Cam 3-4 backyard Amanda and Andy
Amanda was talking to Aaryn and told her she overhead Helen saying "Andy, Candace, Elissa have your back" in the storage room.
Andy says that's the first time he's heard of that, "I think I know what happened "
Amanda: "Don;t worry.. I just think it's funny"
Andy: "She was saying We implying the whole house we will have your back and we all hugged"
You can re-watch ever second on the feeds using their flashback feature.. It's super easy to use click this link for a free trial —> Subscribe to the Big Brother Live Feeds
The CBS feeds are a HUGE improvement over the super pass feeds and they are 30% cheaper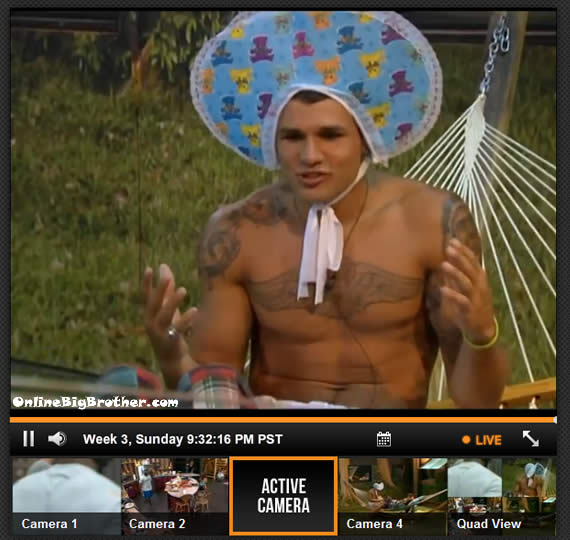 9:10 Hammock Jeremy, Amanda and McCrea
They agree Howard and Spencer are super paranoid. Amanda says she doesn't trust Helen she's a time bomb. McCrea wants Aaryn to get the HOH.
Amanda: "once they give up the MVP Elissa can get teh fu*** out of here"
Jeremy and Judd join them asks them if there is any deal they can cut to help get rid of "That puss ball" (Spencer)
McCrea and Amanda both say he's too much of a risk. McCrea says his mind is open but it's not looking good.
Amanda says it's not possible with the house begin so against him.
Amanda: "trust me we've thought of every scenario.. you will see after you watch the show.. I've thought of every scenario"
9:26pm Amanda asks what Helen told him in the storage room
Jeremy "You were coming after us and gunning for me"
Amanda: "I feel like she says sh!t and doesn't think about it"
Jeremy: "You know with my people we are champions.. I can promise you I will never put you up.. I'm not a super threat because everyone in this house hates me"
Amanda says he has a better chance getting Helen to put up someone else
Jeremy: "I told Helen I can name 6 people that want spencer and howard out more than me".
Jeremy: 'I want SPencer out he's a straight up puss.. and Howard he swore on the bible that he didn't throw the competition"
Jeremy does all the campaigning and McCrea and Amanda just say he needs to talk to Helen to put someone else up thats really his only chance.
Judd says maybe they should keep Spencer over Aaryn because if they get rid of Spencer thats another guy gone.
Jeremy leaves.. (Walks on his hands)
McCrea: "He has to get Howard on the block"
Amanda: "He's going.. "
Judd: "I think we need to get KAitlin out before Aaryn"
McCrea: "I can trust SPencer more than Howard"
They all agree that Howard has to go first.
Judd: "for some reason if we keep Jeremy I don't' think we should keep Aaryn"
Amanda: "There is no way we are keeping Jeremy.. no no no no he's gone"
She runs the numbers says if Jeremy stays and Spencer goes Jeremy will team up with Howard, gina, KAitlin and Aaryn.
Amanda: 'Why do you look like you're thinking about it"
McCrea: "You are the one that brought it up"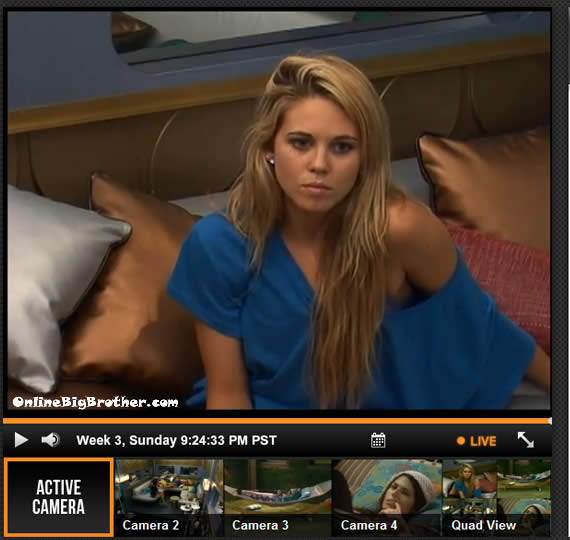 9:12pm cockpit Helen and Aaryn
Helen is glad that Aaryn came up to the HOH earlier in the evening. She wants Aaryn to know she will always be invited up in the HOH
"eat chocolates, chill out eat the *Peoples) food drink wine, let's be friends and have a good experience. (Friendship)
Helen says she wants to get to know everyone in the house.
Aaryn: "It's super hard being in the minority of the house.. I don't want to act nice to people and they automatically think it's game"
Helen understands says that this house can be lonely.
Aaryn thanks her for being so nice.
9:25pm HOH Elissa and Andy
Andy saying this week is really easy and so will be next week. He suggests they get Aaryn out after Jeremy leaves. Elissa agrees, "I just feel like umm ya… every week I want to keep her than I regret it"
Andy: 'She's a trouble starter"
Elissa: "She's trouble.. it stinks.. I wanted to like her so bad.. "
10:07pm Storage room Gina and Andy
Gina saying that Judd came up to her and lied to her on a personal level about the Nick vote. Andy apologizes for lying to her about the vote. Gina says what Andy did was different.
10:09pm HOH Helen and Andy
Helen says Aaryn's days are numbered but she still wants them all to be nice to her because she feels sorry for her.
Helen says growing up she was never part of the in crowd so she's a bit sensitive to things like that. Helen says that Aaryn isn't coming after them but Helen thinks people will put her on the block every chance they get.
Andy says that Kaitlin went to Aaryn and told her about the Storage room conversation and Aaryn tried to spin it like you were trying to form a girls alliance, "Don't worry I squashed that"
Helen: 'If she's playing dirty tricks like that it doesn't help her case"
Helen says there was a point where she thought about working with Aaryn but after the matters flip she doesn't want to . They start going through all the people that are after them they think they are good with Kaitlin, Aaryn, Gina, Elissa, Amanda, MCrea, Judd, Jessie, Howard, Candace and Spencer (super friends are covered). Andy: "we're in good shape people are genuinely invested in us" Helen: "We just need to manage all those relationships (you mean friendships)"
Andy says he's not going to be upset if he doesn't get the HOH.
Elissa joins them says the only reason Aaryn doesn't want to hang out with the people in the HOH because she's been so nasty to everyone.
Helen: "I hope everyone gets a chance to be HOH, I want Jessie, Judd, Elissa, Andy and Amanda to all have a chance to get HOH.. His HOH will be like lets have fun"
Helen: "When they won it it was only the cool kids allowed.."
Elissa: "You're HOH has been fun"
10:36pm Have Nots Judd and Jeremy
Jeremy starts to campaign to Judd. Helen and Elissa pulled KAitlin aside and told her they are taking me out then Howard and Spencer.. Judd: "That would leave 8 girls vs 2 guys" Jeremy says Judd will be the last guy in the house. Judd thinks it will be Andy. Jeremy says Andy is one of the girls.
Jeremy says they were telling kaitlin they want the guys out then Aaryn and Amanda. Judd says he would want Aaryn gone not Spencer because the entire house will be pissed at him. Judd also points out if the girls are coming after them they will need Spencer he's another guy.
10:42pm Howard and Kaitlin in the cockpit
Howard is trying to get Kaitlin to turn on Jeremy. He says what she has with Jeremy may not be real. When he was in the Moving Company Kaitlin was a target. He wants Kaitlin to use the Veto..
Kaitlin says she's already made her decision about what to do with the Power of Veto. Howard: "If you do use it you are making the decision to protect the person most important and that should be you"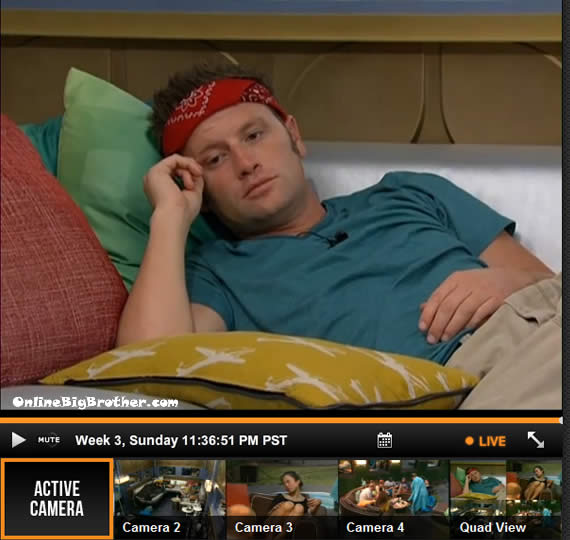 10:51pm Cockpit Amanda, Judd, Aaryn and McCrea
They are telling Aaryn Jeremy has started campaigning but so far he's not trying to get Aaryn voted out he's trying to get Spencer out
Judd: "Helen wants Jeremy out so bad.. there is no way he's getting the votes"
Amanda is really worried about the conversation Kaitlin and Howard had 5 minutes ago she's always nervous when Howard talks to someone alone.
Judd: "Howard is the most dangerous player here.. I cannot believe I didn't pick up on him earlier"
Amanda starts running numbers wonders if Howard is trying to get Kaitlin to not use the veto so they vote out Spencer. "Jeremy, Howard, Gina, Candace, They only need one more vote.. "
Aaryn says Jeremy is pulling out all the stops on Kaitlin, "He's trying to make her fall in love with him so she doesn't use it"
Aaryn mentions that Helen told Kaitlin if she does use the Veto Helen and Elissa will keep her safe… "they said they will have her back till the end of the game"
Amanda wonders why you make a deal to someone for them to use the veto on themselves doesn't make sense.
Aaryn leaves
They start running through scenarios and votes. Amanda says there is no way Howard can get the votes to keep Kaitlin safe.
Amanda thinks Elissa will vote out Aaryn before Kaitlin but there is no way Jessie would not vote out Kaitlin. There is enough votes to get rid of Kaitlin if she chooses not to use veto.
Judd: "I have an idea that is risky.. If we're worried about Helen and and Elissa teaming up with Kaitlin why don't we get her to not use veto and evict her"
Amanda: 'No too risky"
Judd: "if Jeremy stayed that would rock the house".
Aaryn thinks that maybe the twist is for Elissa to get rid of the guys that is why Elissa is here.
Amanda: "I don't think so.. theres no way we have too many ties with the guys.. She's not smart enough to figure things out the twist is she was Rachel's sister".
11:03pm Andy comes in.
Andy doesn't think there is an alliance to get out the guys. He's certain if Kaitlin doesn't use the veto everyone in the cockpit will vote her out. Amanda asks Andy if he would really vote out Kaitlin because they have gotten closer Andy: "If kaitlin doesn't use the veto i'll vote out kaitlin and so will the house"
Andy is positive spencer and aaryn are not going anywhere he thinks everyone is stressing out over nothing.
Aaryn says that HOward is scrambling because when Jeremy goes Howard is the largest physical threat. Amanda mentions that Howard is already everyones target.
Aaryn warns them that Howard is so manipulative he was up in her HOH all the time and made sure he only came up when nobody was around.
Amanda tells Andy to find out about the Kaitlin and Howard conversation. Aaryn is worried that something shady will go down with the vote and she'll end up going home. They reassure her she's safe.
Amanda says that Elissa put up Spencer and it was Howard who voted her out.
Aaryn and Judd leaves
McCrea: "she's going to get in his head" (Aaryn into Judds head)
Amanda: "No she's not"
11:27pm Cockpit Aaryn, McCrea and Amanda
After talking to Kaitlin and Jeremy Aaryn relays to them what the Howard/Kaitlin was about that has Amanda so worried.
Howard wants KAitlin to use the vetro so he can vote out Jeremy . Aaryn brings up that Helen is telling Kaitlin to keep whether or not she's using the veto to herself because she wants to house to feel like she's done them a favour. Helen's wants Kaitlin to stay in the game because she's strong and she wants to use Kaitlin to get people out of her own Alliance. Helen never told Kaitlin any names.
Aaryn asks them who they trust. They say maybe Andy, Judd and Aaryn.
11:50pm Cockpit Andy, Judd, McCrea and Amanda
They do not think Helen is trying to form a group against them. Andy tells them he's been with Helen a lot and her loyalty is with them. Amanda mentions that Helen doesn't want Elissa to win HOH because she won't put up Howard. She adds that today Helen told them McCrea and her trump Elissa.
They start chatting about Elissa not putting up Howard as the MVP. Amanda says if Elissa does that again they need to cut her loose. McCrea points out that Elissa tried to lie to them about not having the MVP after she already told them she had it.
Andy: "I think Elissa is a complete idiot.. don't get me wrong I like her but when it comes to game she has no idea"
Amanda: "the only person in this house that scares me is Howard"
Andy: "Ginamarie" They all laugh. Andy tells them Gina is targeting Judd. "You're on her radar".
12:06AM Bedroom Jeremy and Andy
Jeremy: "Howard is slandering me so please please get him out after me.."
[polldaddy poll=7248812]