POV Holder:
McCrae
Next POV
June 27
POV Used
Yes
POV Ceremony
June 29th
HOH Winner:
McRae
Next HOH:
Wed July 3rd
MVP:
Elissa
Original Nominations:
Candice, David, Jessie
Current Nominations:
Jessie, Elissa and David
Last Evicted Houseguest
?
Have Nots
Andy, Elissa, Jessie, Howard, Helen
3:03pm Lounge Cam 1-2 Jeremy and Nick
Nick is giving Jeremy the skinny about what the Moving company has planned. Jeremy is now privy to their plan to get Elissa David out not Elissa. Nick explains that there is already a lot of votes against David so Nicks and Jeremy's last two votes will "Push David Out"
Jeremy: "Wait.. we're not getting Elissa out.. are you sure.. this is making me nervous"
Nick explains the plan to have two groups in the house fight it out with their group sitting on the side lines. Every week they will alternate taking out a member a side group until just the MC remaining (MC = Jeremy, Howard, McCrae, Nick, Spencer) This graphic may give you a better idea about what is going on with the alliances..
Jeremy is worried that he's gotten "Into It" with Elissa already he fears if she gets the MVP again he'll be a target.
Nick: "Elissa is already deep with howard.. She's close with the other side"
Jeremy: "Thats fine yo you have my vote whatever.. you just have to watch out for Amanda"
Nick: 'David goes this week then Amanda.."
Nick: "What we need to do is get out all the smart people the competitors first.. Helen is freaking smart man"
Jeremy: "I was just nervous about McCrae because he was getting deep with Amanda"
Nick: "No no no MC all the way"
Nick: "After David goes home the house is going to be chaos.. You and I are going to point the finger to the other side the other side is going to point the finger to us"
Nick instructs him that all week Jeremy, GIGI, Nick, Kaitlin, Aaryn and David have to be seen together to build up the illusion that they are a group.
Nick: "doesn't matter which side gets the MVP.. we already know.. it's a f****ing wrap.. game over bro"
Jeremy: "PAck them up ship them out.. MC Hammer play it down"
3:08pm Cam 1-2 Lounge Nick and GiGi
Nick talking about them teaming up and forming a group with Jeremy, David, Aaryn, Kaitlin. GiGI is on board says she's been on board since day one.
Nick says he talked to Jeremy about the idea but never got a confirmation. Nick think Jeremy is down. He wants GiGI to talk to Jeremy and get him on board.
GiGi goes through the list of people in the group and tells Nick why she likes them. GIGI: "We're strong we're going to run this F*** house"
GiGI: "Helen, Howard and Spencer need to go.. Amanda.. UGH I can't stand her.. she's got to go next"
GIGI:" F** everyone else we're going to rule the whole thing.. this cannot be any better.. once Elissa goes MVP is up for anybody..
Jeremy joins them.. They go over the composition of the 'Boats n Hoes' Alliance..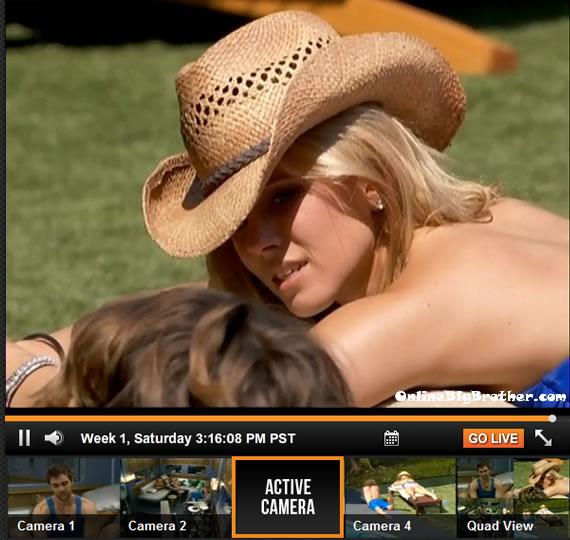 3:16pm Cam 3-4 David and Aaryn Aaryn is not trusting Jeremy very much she thinks if there ends up being a rat in their group it's going to be Jeremy. David mentions he had a good talk with Jer last night in the storage room. . Aaryn thinks Jer is going to be a flip flopper.
David: 'You think so much"
Aaryn: "you have to"
3:52pm HOH Andy, McCrae and Amanda
For the last hour they've been talking about how "Solid" and "Awesome" their alliance is. Jeremy is the target after David goes home. Amanda wants to make a final 4 with Andy, herself, McCrae and spencer. Andy is up for it.
Elissa joins them and the talk continues about how solid their group is.
Elissa tells Elissa that if they stick with their plan they are safe for a solid month and a half. Amanda wants Jeremy then Kaitlin gone.
Elissa says she's thankful for Rachel's fans.
McCrae: "that f**** saved us"
Amanda mentions how skinny Elissa has gotten while being in the house. Elissa: "I'm on the Survivor Big Brother edition.. to survive the mean girls"
They start bashing Aaryn, Kaitlin and Jeremy a bit..
Amanda: "We're set.. there's no cracks.. worst case scenario is we're all in Jury together"
Elissa leaves..
(Amanda is the most annoying person in the house.. her and McCrae never really leave the HOH room)
McCrae: "God she still worries me.. "
Amanda: "Me to.. we need her"
McCrae: "Ya I know"
Amanda: "We have too many alliances.. nobody will put us up we're too much of a threat.. I don't f*** care we have the numbers"
McCrae: "You need to chill out"
Amanda: 'I'm Kaitlin's target?"
MC: "Ya.. "
A: "what would she tell you that"
MC: "We need to down play our relationship.. we're up here and you're touching my hair.. everyone sees that.. you can touch my hair now"
A: "Why am I a threat.. why are the teeny boppers after me"
MC: "Cause you're smart and a social threat.. you just need to chill"
Amanda thinks that someone is telling Kaitlin to target her she doesn't think that though started with her. McCrae explains to her that they have to be prepared that the other group gets the MVP next week, "Plan for the worst hope for the best"
McCare continues to remind her that she needs to stop getting into fights with the other players. He thinks he can keep her safe for awhile but if she stirs things up too much there's nothing he can do. McCrae points out that once the other side finds out that Elissa is staying they will target her the following week and won't go after Amanda.
Amanda: 'I'm f*** pissed.. you have no target on your back and you won HOH and veto.. "
McCrae tells her that he wants to stay in the house but the only way that will happen is if Amanda relaxes a bit and stay off peoples radar. .
#BB15 FEEDS pic.twitter.com/MT4eX5uczJ

— OnlineBigBrother.com (@bigbspoilers) June 29, 2013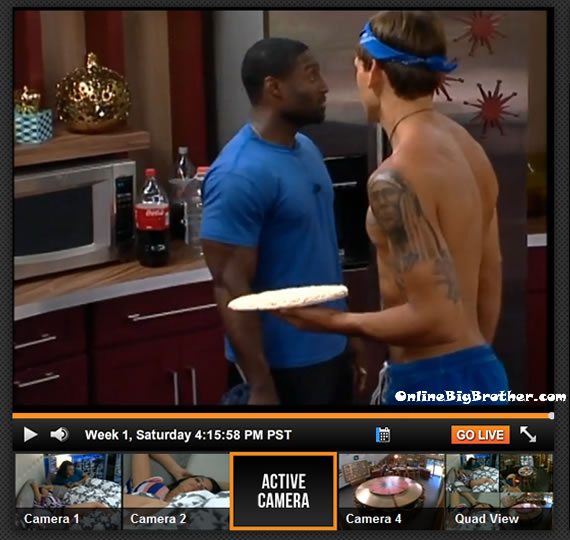 4:17pm CAm 3-4 Howard and Jeremy
Jeremy: 'He's going to be F***ing pissed"
Howard:"Oh hell ya.. the girls are going to start turning on each other"
Jeremy: "Sh!ts going to get CRA CRA.. I love it"
Howard: "You know it"
(They are talking about David)