POV Holder:
?
Next POV
July 6th
POV Used
?
POV Ceremony
?
HOH Winner:
Aaryn
Next HOH:
MVP:
Elissa
Original Nominations:
Elissa and Helen
Current Nominations:
?
Last Evicted Houseguest
David
Have Nots
Helen, Elissa, Candice, and Andy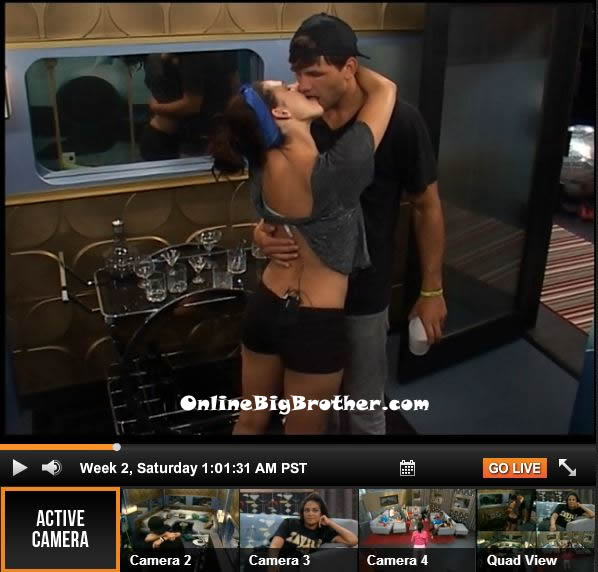 1am Jeremy and Kaitlin sneak into the lounge and start kissing. Jeremy tells her she tastes like m&m's. Kaitlin says sorry. Jeremy says no it tastes good. Jeremy tells her that she is definitely buzzing. I can tell. They leave the room. Jeremy says I am totally asking the diary room for another wine bottle.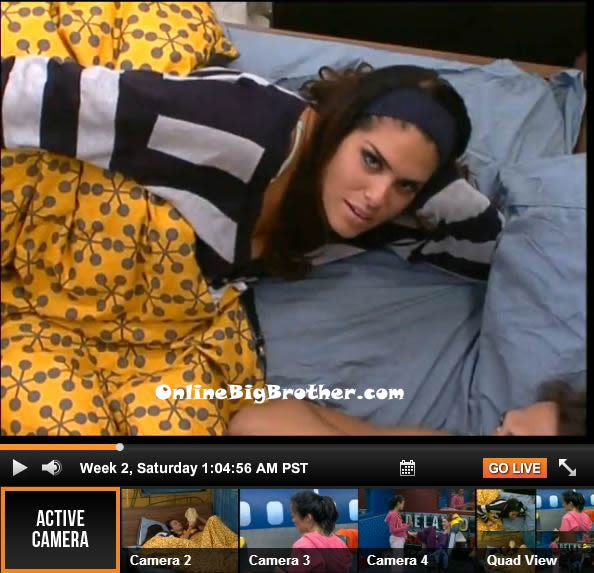 Amanda and McCrae are in the bedroom talking. McCrae tells Amanda that they are asking for music, these people are dumb. There is no way we are getting music, they have to shut off the feeds to get music. Amanda agrees. Amanda says they asked me if Aaryn was being racist. That's bad! McCrae asks what? Amanda asks did you hear what I said? McCrae says her being racist. McCrae says she is, she is a bigot. I honestly believe that. Judd has been relaying every little thing to me. Amanda says that's really bad. McCrae says so bad. Amanda says like people are going to hate her! McCrae says yeah.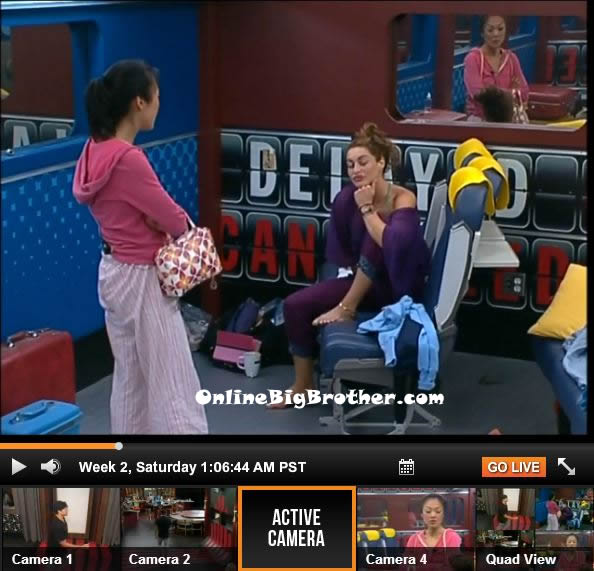 1:10 – 1:15pm In the havenot room. Elissa and Helen talk about how they are going to try really hard to get the POV. Helen says just try really, really hard. Elissa says we love you Brenchel army. Helen says you have to think of all those people that voted for you have MVP, you have to win POV. Elissa says I know. Helen says you need to take this thing. Elissa says when I felt support it brought me into the game. I thought I would just come in there and play Big Brother, I didn't think everyone would be against me. And then wham, bam, thank you mam! We just need to get Aaryn out. Helen says it's not competitive with Jeremy in this game. I think it would be stupid for them to not vote Jeremy out. Helen says well we have the votes. We just have to make sure he stays on the block. Helen asks do you think putting up Kaitlin up if he wins POV. I feel like she could just float through this game and she is on no ones radar. We have to split them up. Elissa says if Jeremy gets the POV, I think Nick should go up. He is playing the game way harder. Helen says if you put Kaitlin up we have the votes to get her out because who knows what alliances he has. If we put Kaitlin up, we have the votes. Helen says every time you take out someone close to Jeremy, you weaken his game. Just look at how much weaker Aaryn is now that David is gone. Elissa says if Jeremy wins POV, let's just see how manly he is and see if he will let his girlfriend go up. Helen says maybe you could tell Nick you could put him up but that you won't to build trust. Elissa says how great would it be for the girls to make it to the end.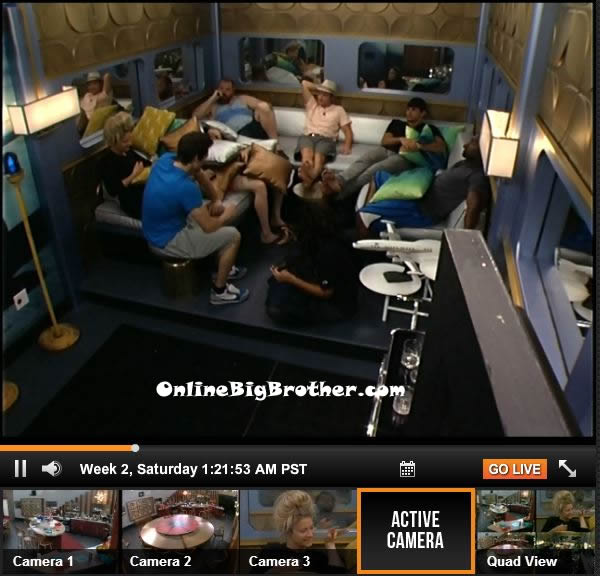 1:20am In the lounge room – Nick, Gina, Andy, Spencer, Judd, Aaryn, Jeremy, Kaitlin and Howard. They start talking about p*rn names. Andy says that he and some friends were bored looking up p*rn titles and their favourites were: Sayonara Tight Hole, Dude she Squirts! Jeremy says Lord of the G-strings, Alice's Wonderland. Aaryn talks about some gorilla porn, a guy dressed up in a gorilla suit chasing a girl through the woods. Andy says that's a thing. They wonder if tomorrow will even be a competition. Kaitlin says they wouldn't give us alcohol if there was. Andy says no I think there is tomorrow. Meanwhile in the havenot room – Helen is talking to Elissa about how its tough to play an ethical game. There are times when you have to lie to stay in this game. She says you just have to try and treat people with respect. Elissa says that Jeremy has to go, he is just so arrogant.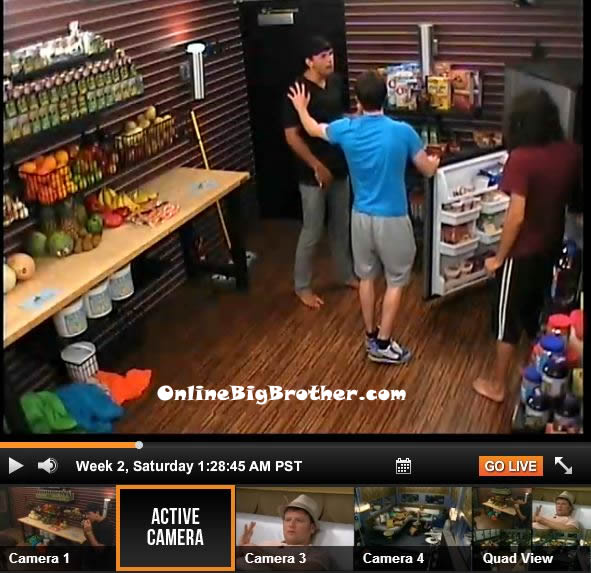 1:30am In the storage room – Nick, Spencer and McCrae have a quick talk. Spencer says we need to avoid talking together. McCrae agrees and says that Judd is seeing people talk and asking questions – he saw members of the moving company talking and was asks why they were talking. I told him to not worry about it people can talk. Spencer leaves. Jeremy comes in. Nick tells them our chicks are going crazy. My chick thinks I am looking at your chick. McCrae laughs. Nick says I don't care about the chicks. I don't want to date any of them, I want to win this bit*h. Jeremy says they're all crazy I can't wait to send them all home. Jeremy says I can't wait till there a bunch of champions left in here. But I am going to milk it! Nick says oh yeah milk the cow bro. McCrae says he is going to milk it. Jeremy tells McCrae you have a lot to milk. They all laugh. Jeremy leaves. Nick complains about having to talk about shoes and sh*t with Gina. McCrae says Amanda loves me so much dude. Nick says Amanda hates me. McCrae tells him that she does but if you come out with a little bit more and more she will like.. big brother cuts the feeds.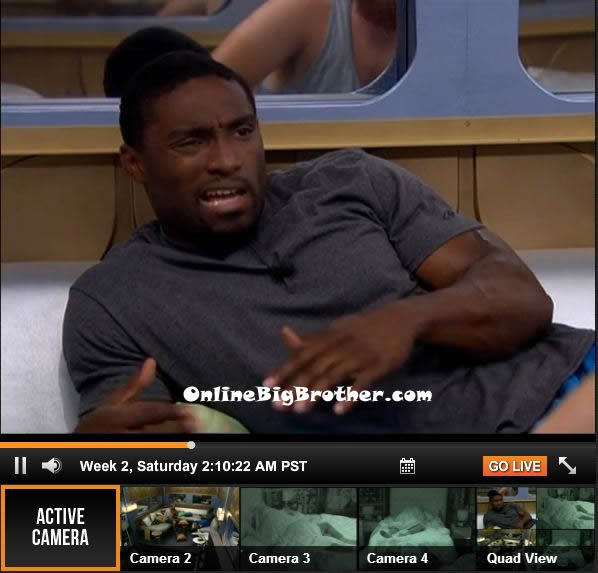 2am Howard and Spencer talk in the lounge room – Spencer is talking about removing the swing votes because they can go either way. Howard agrees. Spencer says we need to get Judd out. Howard agrees. They talk about needing to win the POV and not letting Elissa get it. Howard says watch Canice she is going to figure some shit out. Spencer says she is too dumb to figure it out. Spencer says that we will see how McCrae and Amanda are and if he can control her. I think she wears the pants. Spencer says its one thing to be buddy buddy with someone but another to go to bed when someone tells you to. She tries to control this side of the house and I want our crew to control it. Spencer says if I win MVP I would put up Aaryn or Amanda. Spencer says we've got to get Elissa to put up Ginamarie or Kaitlin – instead of Jeremy. We'll lie to her and tell her Helen is his target. Spencer says we will vote out Elissa this week to keep peace in the house. And then hopefully one of the moving company can get MVP. Spencer heads to bed.
You can re-watch ever second on the feeds using their flashback feature.. It's super easy to use click this link for a FREE Trial —> Big Brother Live Feeds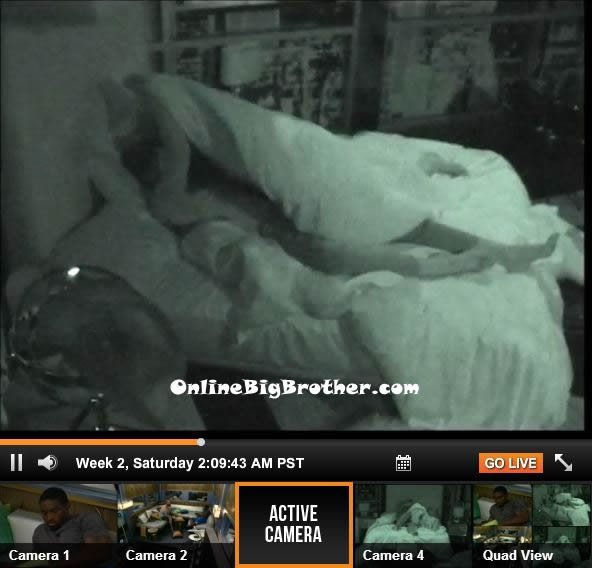 2am – 3am Kaitlin, Aaryn and Jeremy are getting ready for bed. They talk about pleasuring themselves. Jeremy tells Kaitlin if she is doing it in the shower, he is going to be jealous because he isn't doing it. He asks if he can at least watch. Aaryn says that she is going to do it. Aaryn talks about having to touch Nicks butt hole. She says it was so gross. Aaryn gets called to the diary room. Kaitlin asks this late?! Aaryn says I swear if I am being called in for sexual harassment I am going to lose it. Aaryn leaves.
Jeremy and Kaitlin start making out under the covers. Kaitlin is grinding on top of Jeremy. Jeremy says calm down for a sec, give me a breather. Kaitlin says this looks so bad on camera. Jeremy says so stop. Kaitlin says oh what you don't want me to? Kaitlin continues. Jeremy says we've got to stop. Kaitlin says yup. Jeremy says I think I deserve major kudos, I stopped us and I don't want to. Kaitlin says we have a long way to go. Jeremy says this is going to be impossible. Kaitlin says I have to be under the covers if you are going to do that, my dad can't see this. They continue to make out until Aaryn comes back. Aaryn comments that every time she turns around Spencer is talking to Candice. They wonder if he will even vote out Elissa. They talk about the number of girls Jeremy has slept with. He says 23, but Kaitlin doesn't believe him. She says she knows people in triple digits. Jeremy says he thinks 23 is a shameful amount, I wish I had stopped at 15 and starts having relationship sex. I think 20 is a good amount to get married at and I already fu*ked that up. Maybe I'll change it to 25. Aaryn laughs that sucks for Kaitlin.
Stay connected and interact with other Big Brother Fans on our Facebook page.
And Follow: @BigBspoilers and @Dawgsbigbrother on Twitter for the most up to date spoilers.