POV Holder:
?
Next POV
July 6th
POV Used
?
POV Ceremony
?
HOH Winner:
Aaryn
Next HOH:
MVP:
Elissa
Original Nominations:
Elissa and Helen
Current Nominations:
?
Last Evicted Houseguest
David
Have Nots
Helen, Elissa, Candice, and Andy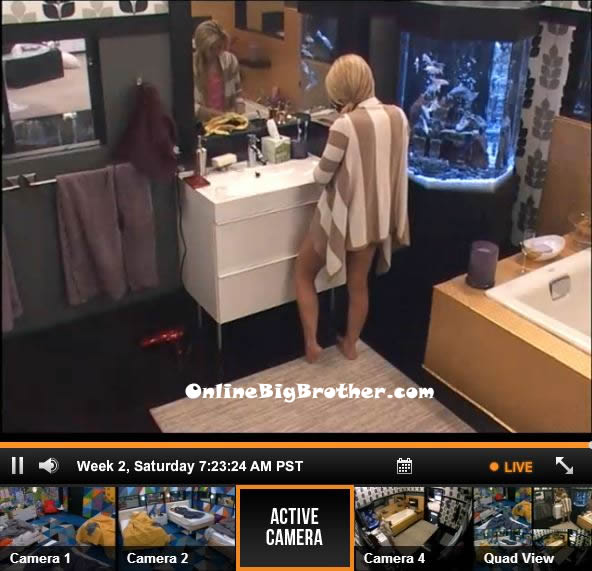 7:15am – 8am Big Brother switches the live feeds the the We'll be right back screen. When the feeds come back Aaryn is awake in the HOH bedroom. Spencer is in the kitchen. He heads back to the bedroom and gets back into bed. In the kitchen Nick and Judd wonder why they woke them up so early. Judd says they called Aaryn to the diary room already. I wonder if we are doing something. Helen brushes her teeth and then goes back to bed in the havenot room. Howard heads into the photo booth to pray. Aaryn comes back from the diary room and goes back to bed in the HOH bed. Jeremy asks her if she has enough room. She says yeah. He says don't be scared I don't bite. Jeremy says this girl is out for the count. Big Brother cuts the feeds. When the feeds come back Jeremy, Kaitlin and Aaryn are getting back out of bed. (Big Brother told them to get up.) Jessie comes up to the HOH room to do her makeup. She says she dreamed that Brendon came into the BB house. Aaryn says if he comes back, I am self-evicting! Kaitlin joins them. Aaryn asks her if she needs to have a shower too? Kaitlin says yes. Aaryn says well we need to hurry then because they said we only have an hour. Aaryn says we can only relax when the nominations are final. I want to win the veto. Kaitlin is still worried that she might go up. Aaryn says that she won't use the veto if she gets it and neither will Jeremy .. Well unless he is up, then it's between you all. Kaitlin comments that Jeremy is taking a long time in the shower. She says he is probably jacking off. Aaryn says no way, I hope not. That shower is see through.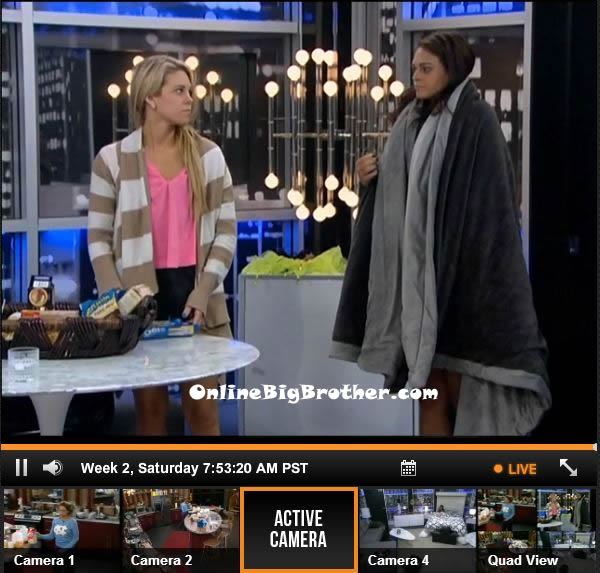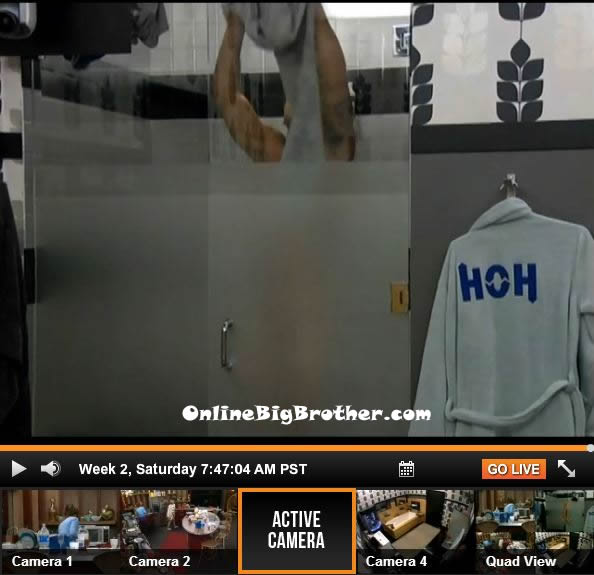 8am – 8:20am Aaryn watches the spy camera and narrates what she thinks Elissa is saying to Spencer in the kitchen. Aaryn says this is sketch as fu*k! Kaitlin tells her to open the door and listen to what they're saying. Aaryn does and then comes back says that they were whispering and then he left. Aaryn comes back and says that was sketchy as fu*k! Aaryn comments that Judd now went up to Elissa in the kitchen. Judd comes up to the HOH. Aaryn asks Judd if Spencer and Elissa are in a sketchy alliance? Judd says I don't know they were just talking in the bathroom but I couldn't hear what they were saying. They tell Judd to go down and break up their conversation. Judd heads down and Aaryn, Kaitlin and Jessie see that as soon as Judd goes down Spencer and Elissa stop talking. Kaitlin comment that she doesn't even know why he is talking to her, he called her a cu*t last week. Aaryn and Kaitlin tell Jeremy what happened. Jeremy tells them not to jump to conclusions that he might have just been asking her who she is going to put up if she has MVP. Aaryn says you're right. They talk about how they need to trust him still. Kaitlin says that she can't trust him. Judd comes back up and asks Jeremy if he got MVP. Jeremy says nope, I would have told you if I did.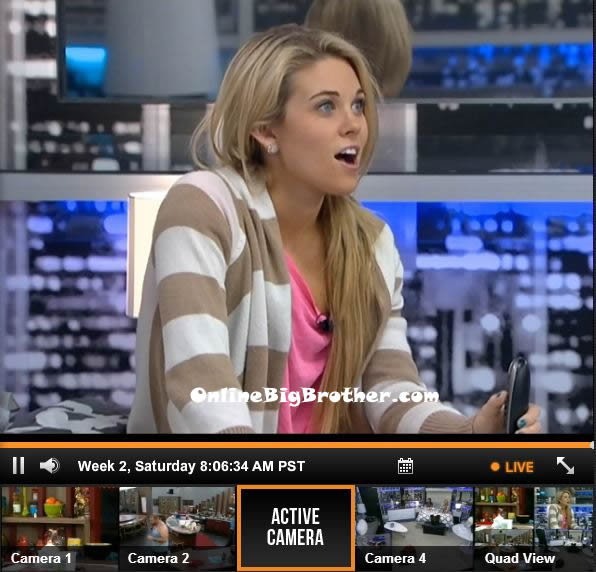 8:20am – 8:30amIn the bedroom – Judd tells Spencer that they were watching you in the HOH room. Judd tells him to be careful talking in the kitchen. Spencer says yeah I know. Judd says I told them that she was asking me for my vote earlier so that was probably what you were doing too. Judd says I got your back. Amanda asks Judd if Elissa did corner you for your vote. Judd says no, not yet. I just told them that. Judd says that he doesn't want to change the noms .. its the MVP that scares him. They wonder if the MVP twist will last all the way to the end or if it will end when jury starts. Spencer says there's no way it will go to the end. Spencer leaves. Judd tells Amanda and McCrae that Spencer has got them really suspicious. McCrae and Spencer talk in the bedroom alone. Spencer says we are going to need to vote to keep Jeremy and it is going to cause conflict. Helen walks by and Spencer asks so they said were picking veto players in an hour or so. Helen says yeah and leaves. McCrae says we can't trust Howard, Andy, Helen… Lets just go with them because they will keep us safe. Spencer says that he just needs to get to Jeremy so that he knows we are protecting him.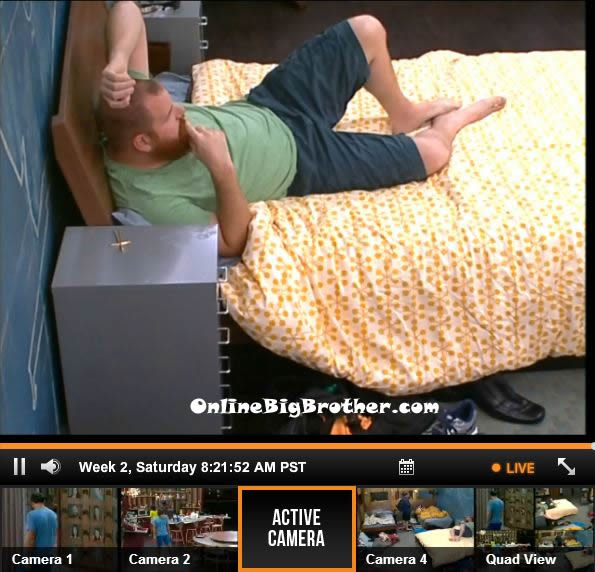 8:40am Aaryn tells Kaitlin that she is feeling what she felt last week. Aaryn says that it will be okay, Jeremy will win HOH next week. Kaitlin says that doesn't mean that I will still be here.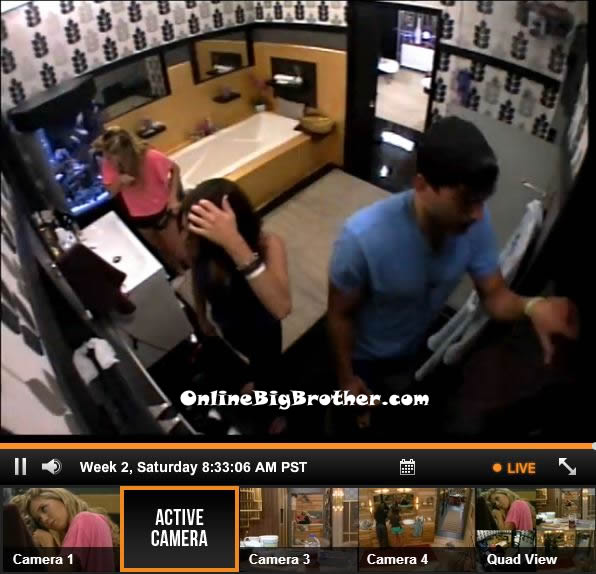 8:45pm In the downstairs bedroom – McCrae, Jeremy and Spencer are talking. Jeremy says that he is ready to run through a wall. Jeremy says that he "meditated" in the shower so that he has a clear mind. Spencer tells Jeremy that he talked to Elissa and asked her if she had the MVP and she said no. Amanda comes in and tells McCrae to get his a$$ up! McCrae says that he is pretty sure that his pen!s is on the internet now. I got into bed and it was hanging out. Amanda says ewww. keep it in your pants.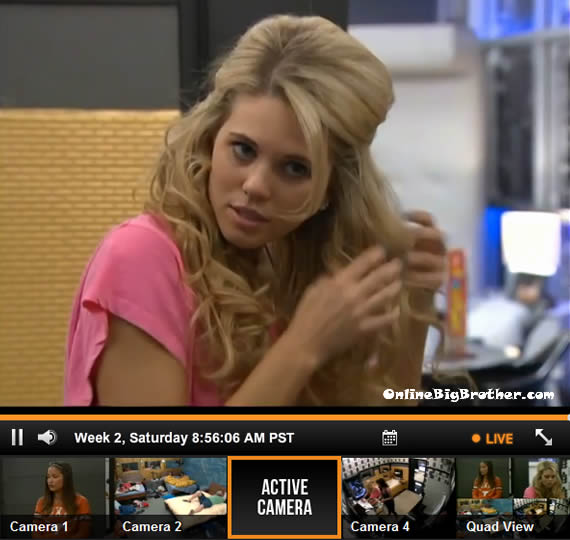 8:57Am
Aaryn: " Can you imagine that Amanda is MVP.. "
Kaitlin thinks that would be great. Aaryn brings up the possibility that Elissa will put up McCrae because McCrea was talking about BD-ing her earlier.
Aaryn brings up Rachel's wedding where she was passed out under the bar at the end of her wedding, "Passed out drunk under the bar at her own wedding in her wedding gown"
Kaitlin: "thats hilarious"
Aaryn: "And this b!tch wants to talk to us about looking trashy"
Kaitlin says that Elissa went up to her and told her "I know about you family" Kaitlin points out that serious shit went down in her family and if you Google her last name you can find it.
Feeds are fish BTW as they do the MVP nom adn pick the veto players
Stay connected and interact with other Big Brother Fans on our Facebook page.
And Follow: @BigBspoilers and @Dawgsbigbrother on Twitter for the most up to date spoilers.