POV Holder:
?
Next POV
July 6th
POV Used
?
POV Ceremony
?
HOH Winner:
Aaryn
Next HOH:
MVP:
Elissa
Original Nominations:
Elissa and Helen
Current Nominations:
?
Last Evicted Houseguest
David
Have Nots
Helen, Elissa, Candice, and Andy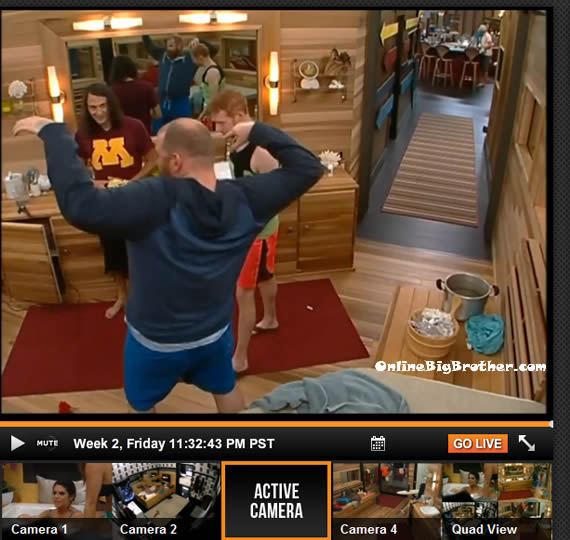 Spencer, McCrae and Andy go to the exact spot where Willie fought crazy powerhouse Joe
11:20pm Cam 1-2 Aaryn, Jessie and Amanda

Amanda is calling Jessie out for trying to steal all the other guys away and flirting with MCCrae. Amanda wants Jessie to stop. Jessie says that she's not trying to do that. Jessie says that she's all alone in the house everyone has a "person". Amanda doesn't believe her say she's going about it all wrong.
Amanda: "You can have a friendship in this house and not a romance"
Jessie: "I'm not trying to have a romance"
Jessie is saying that Amanda is making her look like shit and she's fine with how she's been acting.
Amanda: "you're proud of the things you said"
Jessie: "Ya"
Amanda: 'Umm ok"
Amanda says she talking to Jessie makes her feel like she's having a Elissa conversation, "It makes no sense"
Jessie: 'Well thats another insult I have to take"
Amanda: "You know what a grown a$$ woman would do .. I'm sorry Amanda I can see how it would have come across that way it won't happen again"
Amanda: "Lets all just be adults.. here"
Jessie: "I'm 25"
Amanda: "I'm 28"
Jessie: "Amanda.. I'm sorry I stepped on your toes"
Amanda: 'Thank you"
Jessie: "moving forward I will respect you"
Amanda: 'Thank you"
Jessie: "Give you and Mcree.. space"
Amanda: "If it feels flirtatious DON'T do it.. cause now i'm hyper aware"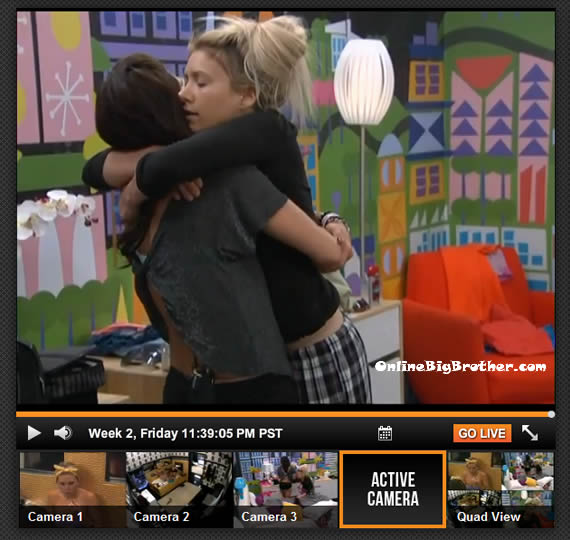 11:34pm Bedroom Cam 3-4 Kaitlin and Gina
Gina is telling Kaitlin that Nick is smart and a good player they need him on their side. Kaitlin: "Ya totally". Gina says that she told NIck to start talking to people tell them about his school and more about his life.
Gina: "We do F**** need him.. because we we have is so f***** legit"
Kaitlin totally agrees, "Elissa might put up Amanda"
Gina: "Ohh because she's weak"
Kaitlin: "I still think he voted David out though.. " (Nick)
Nick gets called in the Diary Room by production
Kaitlin: "Why does he get called into the Diary room so much"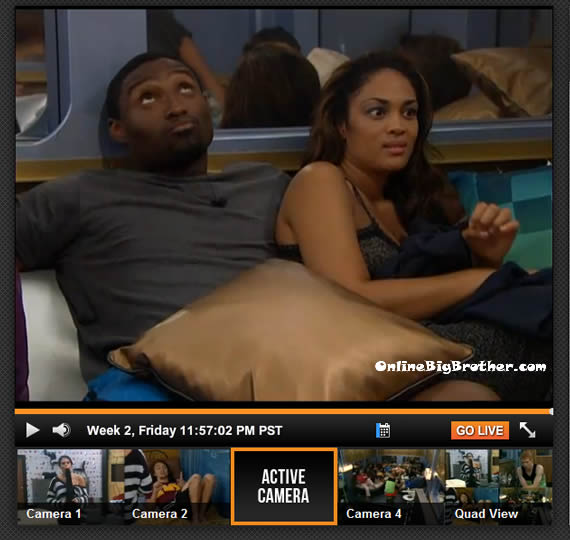 12:20am cam 1-2 Amanda, McCrae and Elissa
Amanda asks about her pajamas. Elissa says they are on NAtional TV and in this house with all these guys so she wants to look respectable.
Amanda understands that Elissa is married and a "Mommy", "Me i'm N!pples"
MC: "N!pples Everywhere"
Amanda: "N!pples"
Amanda asks Elissa if she will tell her if she gets MVP
Elissa: "Uhh ya"
Amanda: 'Swear to God"
Elissa: "Umm ya.. you guys know I would do what is planned anyways"
Elissa: "I'm the big Wavemaker.. I can get much more Rapid"
McCrea starts to laugh, tells her she going to "Kill it" in the POV
Elissa sits down.. "I gotta win something.. It's not fair that she gets to take Adderal"
Amanda: "I take Adderall"
Feeds cut instantly
Elissa is worried that Power of Veto Competition will be a puzzle.
Amanda is telling her to do the right thing if she gets the MVP because they put their necks out for her last week to save her.
Elissa: "I hope whoever plays throws it" (POV)
Elissa is super worried about it being a puzzle, she's confident that she has a good chance if it's phsycial.
Elissa: "I don't usually lose stuff.. but I usually don't do stuff that I'm not good at.. you know"
Amanda: "I think we've talked enough.." (People will get suspicious)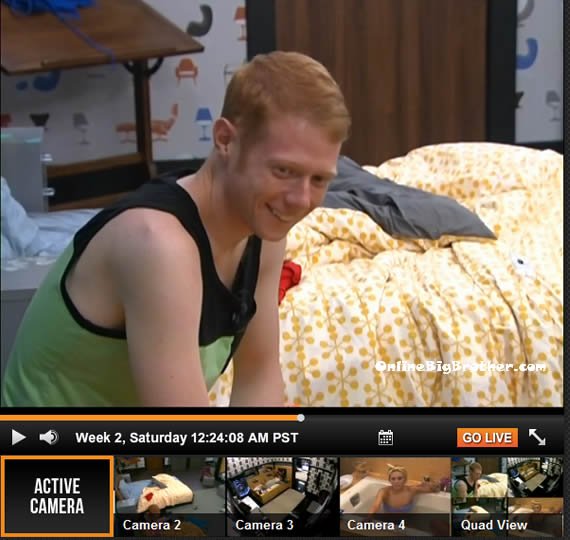 12:26AM Bedroom Andy, McCrae and Amanda
Amanda says she really wants Elissa to win the veto. Andy asks them if putting up Jeremy is the right idea. McCrae nods, Amanda says yes.
Andy mentions that Jeremy isn't as big of a beast as everyone says he didn't win the first comps and he just beat Andy ion the last HOH. Andy: 'Either way it's golden If Helen wins Candace goes up so we're going to have a easy week"
You can re-watch ever second on the feeds using their flashback feature.. It's super easy to use click this link for a free trial —> Big Brother Live Feeds
Take it from someone that has watched a lot of feeds CBS has done a fantastic job HUGE improvement over last year