POV Holder:
Jeremy
Next POV
July 13th
POV Used
?
POV Ceremony
?
HOH Winner:
Aaryn
Next HOH:
MVP:
Elissa
Original Nominations:
Elissa, Helen and Jeremy (MVP)
Current Nominations:
?
Last Evicted Houseguest
David
Have Nots
Helen, Elissa, Candice, and Andy
3:45pm Gina and Nick Cam 3-4
Gina saying she has confirmation that Amanda and McCrae have hooked up .
Gina leaves
Nick: "Just gotta let the dust settle.. we already know the numbers"
N: "Good for one more week.. next week bye bye Amanda. .after that Helen, Aaryn.. after that it's going to have to be the moving companies shotgun riders .. maybe we will take out Judd or Andy"
Nick looks at the camera "I gotta do my least favorite thing play fake with a bunch of 20 year olds. "
(He makes a gun shape with his hand and shoots himself in the head)
4:03pm Backyard Most people sitting around the pool
Elissa telling them that she took a family member that was 14 years old to see the movie spring breakers and they left after a short while because it was appropriate. Spencer: "Why the hell did you take a 14 year old to that movie"
Elissa claims that in Canada there is no rated R movies only PG13
Spencer talking about the Kumite. Just random chit chat houseguests enjoying the sun..
4:27pm Kitchen Aaryn talking about student things people would say in school, "Don't eat tomatoes they make your v****na smell"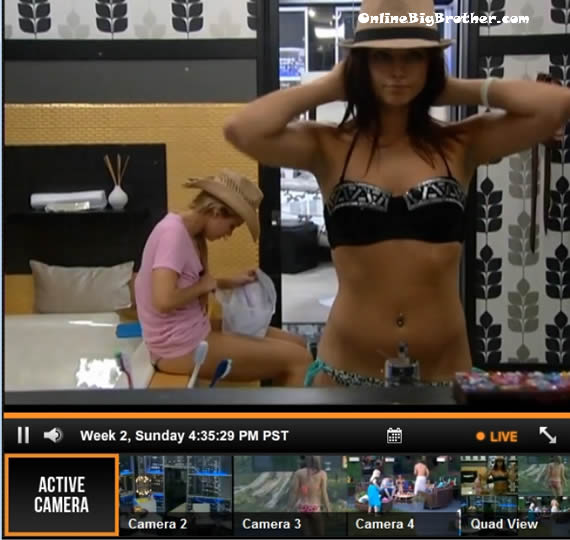 4:29pm Aaryn and Kaitlin
Aaryn and KAitlin talking about Elissa being the most immature person in the house, "She's so high school"
Kaitlin: "She's been on Judds nuts all day"
k: "She was telling me that she's been miserable
A: "Well good.. go home.. we don't want you here"
K says Elissa doesn't do anything all day except for Yoga and take care of her son.
Aaryn: "She's basically just a yoga wife.. "
K: "She was like Kaitlin what do you do for fun.. I'm like party"
A: "She told me they travels every single weekend.. "
Kaitlin is screaming in pain in the bathroom apparently her bladder infection hasn't gone away.
Kaitlin: "do you think the ceremony is today"
A: "It should be"
Kaitlin and Aaryn both think that David deserves to be in the house more than Elissa. Aaryn says she know hate is a strong word but she hates Elissa. Kaitlin is getting a bit worried about going up. Aaryn says that Nick is going up so just relax.
4:43pm Storage room Amanda and Elissa
Amanda saying she cannot talk to Spencer anymore he' cannot be trusted. Their big plan is to tell spencer they will keep him safe from MVP if he votes out NIck. They agree that Nick, Jeremy and Spencer are working together.
Amanda about Spencer "Don't talk to him he's the devil" Amanda says she wants Elissa to stay and the one person that will prevent that is Spencer.
Amanda wants her to put up Nick. Elissa says she plans to. They think Spencer is dumb for teaming up with Jeremy and Nick.
4:44pm Cockpit Jeremy, Spencer and McCrae
Mc telling them that Amanda will do whatever he says. There is no need to worry. They agree the plan is still to vote Elissa out. Spencer says that McCrea needs to get louder about getting id of Elissa. McCrea doesn't know what angle he should use to make the push for Elissa
Jer: 'Everyone should be on it but Andy isn't"
Jeremy: "Even if Candice and Andy don't vote we still got it"
Spencer says the reason they are keeping Elissa is this week Nick goes home next week Jeremy goes home. Spencer: "from our side it's a very good strategy.. but she's going home bro"
Jeremy: "you know who deserves to be here Moving company"
MC asks them if the plan is still to take out Candace next week. Jeremy says yes. Mc is worried they want to take Amanda out because he's been hearing people are targeting him and her. They tell him Candace is their target next week then Andy or Helen.
Spencer mentions how Andy is going around telling everyone if they vote out Elissa America will hate them
McCrea: "Andy is the worst strategic player ever.. he's terrible".
Spencer points out when Elissa leaves Andy will join Mc and him.
McCrea: "Amanda will vote with me 100%"
Spencer tells Mccrea that he should go up to Amanda tell her they need one more person they can trust 100% and Pull Spencer in.
MC: "OK"
Spencer: "She spits enough venom bro she can say one thing to a person and it goes viral"
Spencer says he can use howard instead but either way they have to make Amanda now they are stronger than Helen.
Spencer: "For the moving company the best thing is for Elissa to go.. we need that MVP freed up"
Jeremy: "I'll put up Candace and Andy or Helen if I win HOH"
Spencer brings up that Helen is a bad strategist she was telling him that Nick is Dan 's cousin and using that as a reason to vote him out.
MC agrees that helen is shitty at strategy and she wears her heart on her sleeve..
Mc "I'll throw her under the buss when I have to but you guys have to trust that I have Amanda"
Spencer: "Drops that Andy might be better gone before Candace"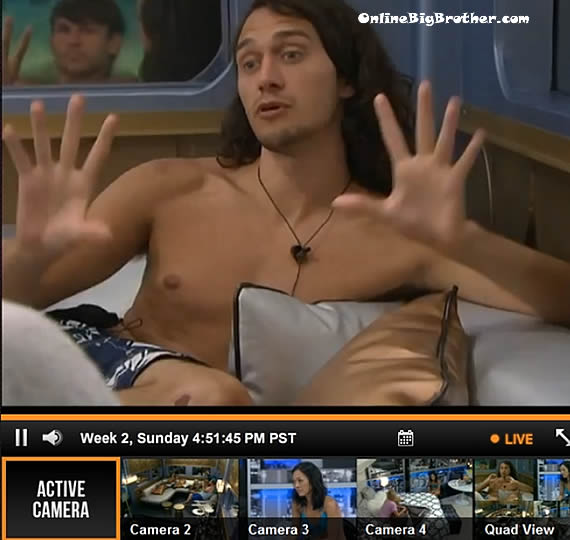 MC: "when this vote comes out you guys will see tha tshe voted with me.. "
MC: 'I'm here for me"
Spencer says a lot of people are suspecting something is up with Candace and they don'e trust her. Spencer says the thought has crossed his mind about putting Amanda up to realign MCrea .
Jeremy: "Moving company 100%"
Spencer: "Absolutely"
Jer: "This whole keep Elissa thing has be nervous"
MC: 'Just like you game the vote to the movie company last week i'll do it this week"
Jer: "That will show me that we are all in it together"
Spencer says that the four of them are going to be stronger than Helen, Andy, Cadnace and Judd "Those mother fu*** have to goooo"
MCrea is saying that his goal is to get Andy to vote out Elissa.
Andy comes in. Spencer says: We were talking about you.. walking about your Gay a$$ wardrobe. "
You can re-watch ever second on the feeds using their flashback feature.. It's super easy to use click this link for a free trial —> Big Brother Live Feeds
The CBS feeds are a HUGE improvement over the super pass feeds and they are 30% cheaper with no subscription to cancel. You pay a flat fee for the season.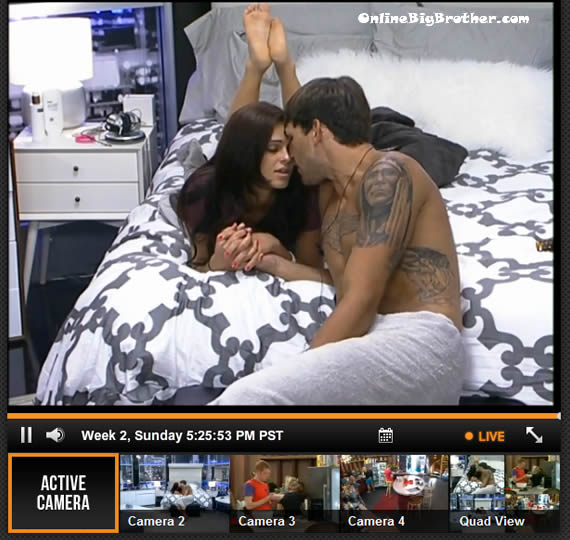 Jermey is saying that Elissa is going home. Kaitlin brings up that Aaryn is making her nervous she keeps saying how Elissa might stay. Jeremy tells her not to worry.
(There was two conversations I missed Andy telling Howard to keep Elissa and Helen campaigning to Aaryn to keep Elissa)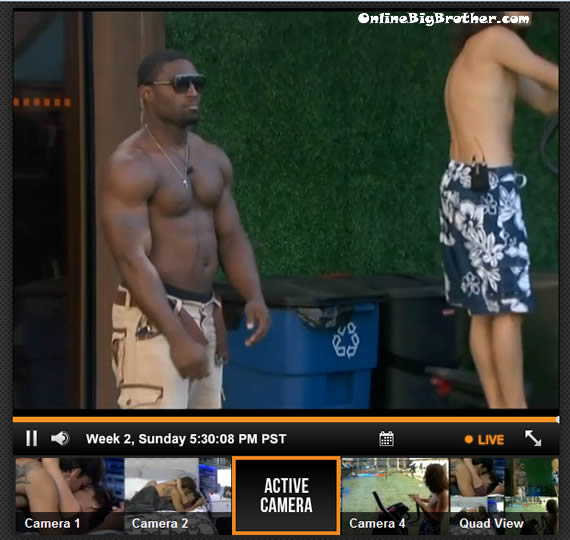 5:45pm CAm 1-2 HOH JEremy, KAitlin and Aaryn Jeremy asking them if everything is cool with the "triangle of Thrust" they all are cool. As Jer leaves he jokingly says bye to Aaryn and Jessie.. this pisses kaitlin off.. jeremy comes back in says he was joking.. She wants him to stop calling her JEssie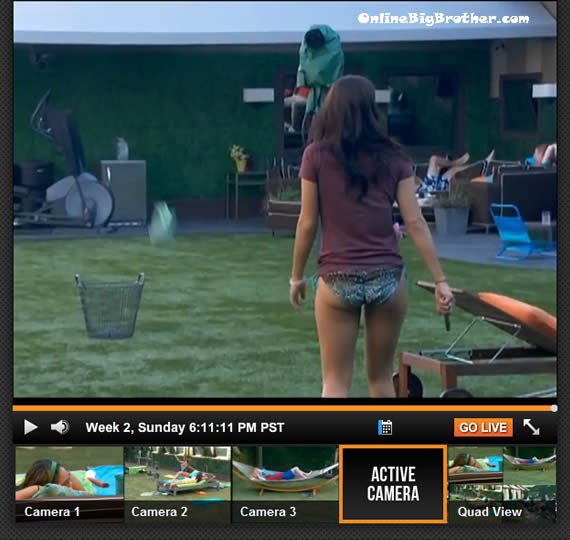 6:00pm Hammock Spencer and Kaitlin
They are talking about Elissa and her lies. Kaitlin says that Elissa's husband lives in and she's trying to move there but paper work needs to be done.
Spencer says the Canadian government is probably delaying cause they don't want her a$$ in the country, "Sorry miss slater we lost your paperwork EH "
Kaitlin brings up when Ellissa denied having breast implants then when Kaitlin mentioned how she told her the first week Elissa just ignored her.
Spencer: "She's a pieces of shit she's a moron"
KAitlin wonders if Elissa lies to her husband.
Spencer: "He's the one making the big bucks she doesn't want to ruin her princess life.. Fake b!tch "
Spencer: "as A man i'm attracted to hot chick obviously". feeds cut.
when the feeds come back..
Spencer says there is a mentally challenged child down the street that does his yard work.. he does a great job and he loves it. He's 50 something..
Kaitlin walks away.. Spencer says to the camera "Why don't y'all zoom in on that a$$ that I would like to f*** beat up" (Ohh sh!t spence is getting horny)
there's going to be a bandanna ball tournament coming up tonight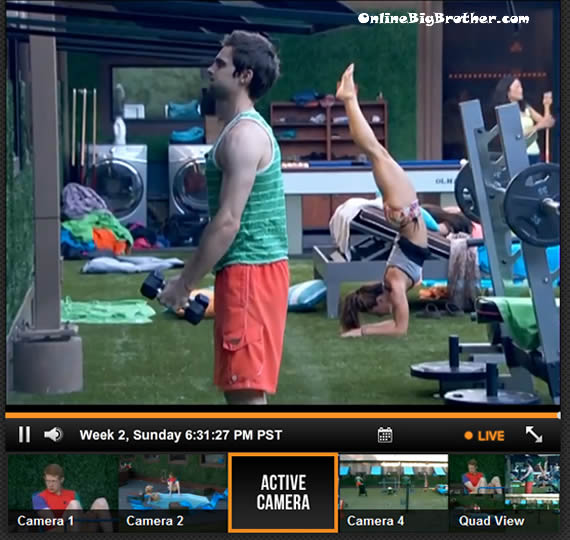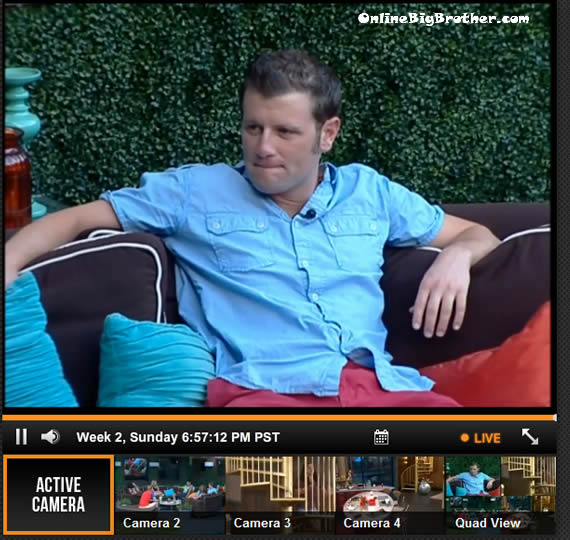 Bunch of the house guests outside random chit chat.. They sometimes get Judd to say "Northerners speak" and Andy to say "Southerners Speak" . Judd also does a Australian and english accent without mumbles.