POV Holder:
Kaitlin
Next POV
July 20th
POV Used
YES
POV Ceremony
July 15
HOH Winner:
Helen
Next HOH:
July 18
MVP:
Elissa
Original Nominations:
Kaitlin, Aaryn, Spencer (MVP)
Current Nominations:
Jeremy, Aaryn, Spencer (MVP)
Last Evicted Houseguest
David, Nick
Have Nots
Judd, Jessie, McCrea, Amanda
12:30pm Out in the backyard – Andy, Candice, Aaryn, Judd, Howard and Gina are talking and joking around on the couch. Spencer says he has a speech that will knock your socks off. Judd says his speech should be "To whom it may concern, fu*k all of ya'll" Aaryn says that she doesn't know what she is going to say. Candice asks did anyone else hear Andy's would you rather? She says would you rather, either when you are nominated all you can say is "I am addicted to internet p*rn" or everytime you compete in the HOH competition your pants fall down and you have no underwear on. Judd quickly says internet porn. Aaryn says pants fall down. Howard says pants fall down. Aaryn says I am not ashamed of what I am working with. Gina says I actually am addicted to internet p*rn so I would go with that. Andy says yeah me too. Aaryn says how much time do you look at internet p*rn? Andy says sometime it takes a few minutes, sometimes it take longer. Howard says yeah sometimes it takes a few minutes, sometimes it takes hours. Candice asks HOURS? Howard says yeah.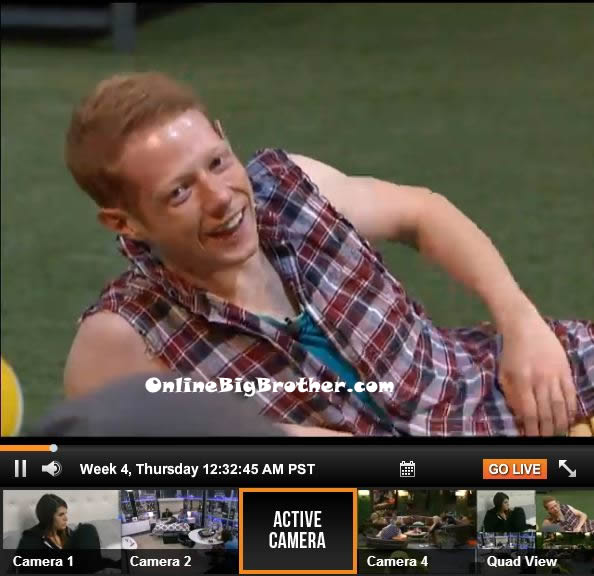 Up in the HOH room Amanda, Elissa, McCrae are talking. Elissa tells Amanda that she will be loyal to our group. Amanda says I think we will be fine. Elissa says yeah with Jeremy gone, one of us will win the Veto. Amanda says it would be stupid for Howard to put up us because we have allies. It would be smarter for him to put up people like Kaitlin and GInamarie because they have no one. Elissa says that she can't believe that they ever thought that I would put you (Amanda) up as MVP. Amanda asks what was their justification. Elissa says I guess to get McCrae alone. McCrae nods. Amanda say that doesn't even make sense how does that benefit you (Elissa). McCrae says that's why they are dangerous. They talk about the HOH competition coming up. Amanda says that the people that haven't been havenots better get it. They talk about how no one will for get how Jeremy bull dozed through here.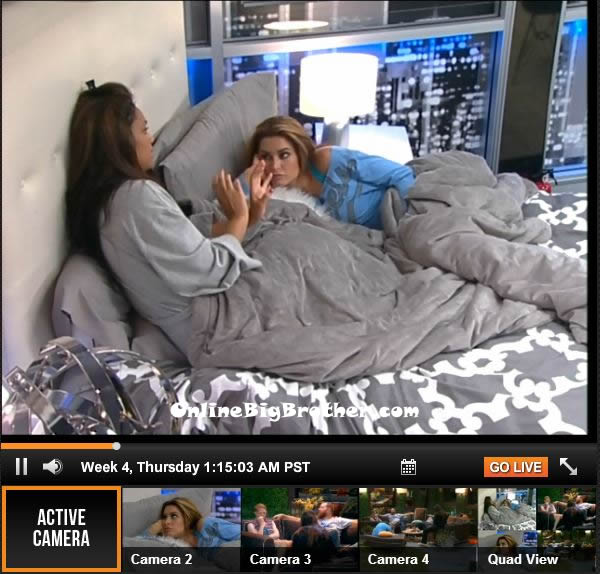 In the lounge Candice and Andy talk about how where they are at. Andy says that he feels he can talk to Howard once a week and they are good. Candice says that she and Howard don't talk much game. They talk about Kaitlin and Aaryn. Candice says that Aaryn apologized for flipping the mattress but Kaitlin never apologized for calling me a trashy wh*re. In the havenot room – Judd and Jessie are talking. Judd tells Jessie about his conversation with Howard. Judd tells Jessie how Howard said he would watch his back and yours. And how Judd said that he would do the same for Howard and Candice. Judd says I don't think that is what he really wanted to about, I think he changed his mind. Jessie says that she is so happy we are working together, you have been such a great partner. I trust you 110%.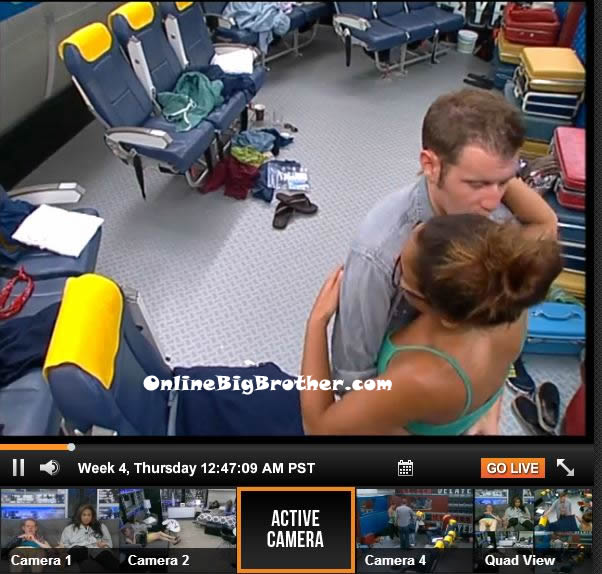 1:15am Up in the HOH – Candice talks to Elissa about how it is taking up so much of her energy to be around Aaryn. She says Aaryn just said so many hurtful things about me and the people I care about. Elissa says I can't have a conversation with her because she turns it all around and twists it. Candice says I think she will watch herself on TV and see that she isn't the center of the universe and that there are different and unique people out there. Maybe she will get over these sheltered racist views that she has. If she grew up spoiled on some branch as the only baby, then maybe she hasn't been around all this but being sheltered is not excuse. Candice says that she learned a whole growth thing from Howie about not reacting and giving up our bed. They talk about how they both find it disappointing that Aaryn said her biggest lesson in the house was that she should invest in a muzzle. Candice says that she gave Aaryn the opportunity to redeem herself and show how much she grew but she didn't. Elissa says that she doesn't wish anything bad on Aaryn but she just doesn't want a relationship with her. Candice agrees.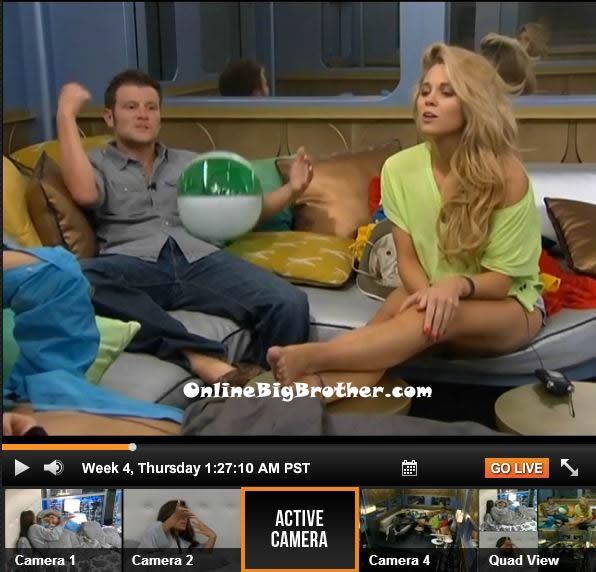 1:30am In the lounge room – Judd, Aaryn, Amanda and McCrae are talking. Aaryn comments how Judd said Nick's hat would only go for $6 on ebay and someone would just rip it to shreds. Judd says that Ginamarie is the most pathetic bizarre person I have ever seen in my life. McCrae brings up the being havenots. Judd says that Gina is worried about losing her bed because that is where her and Nick slept. (Judd punches the air). Aaryn says that Gina said I better get my fu*king bed back. Aaryn says we have all had to switch and share beds. Aaryn leaves. Judd asks Amanda and McCrae about bringing Jessie into their goof troop alliance. Amanda says we don't need to bring her in to it, we can just protect her. Judd says that he just really trusts her. Andy joins them for a minute. Andy says that Gina doesn't want to vote for Jeremy because she wants to be loyal. Andy says he told her that Jeremy wasn't loyal to her with the Moving Company. He says that Gina said she didn't care and says that she insists on being loyal. They think Gina will vote out Spencer. Amanda says that GinaMarie has a serious mental disorder, there is something wrong with her! Andy talks about how Candice would do anything for Howard, we need to nip that in the bud. Andy asks Judd what Howard told him. Judd says just that he has my back and he randomly said he has Jessie's back too. Judd says that Gina is annoying the fu*k out of him lately. Andy says it will be a travesty if she lasts longer than any of them. Judd says it's a travesty that she's still here. Judd says that he thinks that anyone can get MVP now since Elissa got it the first two times but then McCrae got it. Amanda says that if she were to win HOH and Elissa and Helen were on the block I wouldn't use POV so that none of us go up on the block. Andy says that he feels like no one in the Goof Troop is on anyone's radar.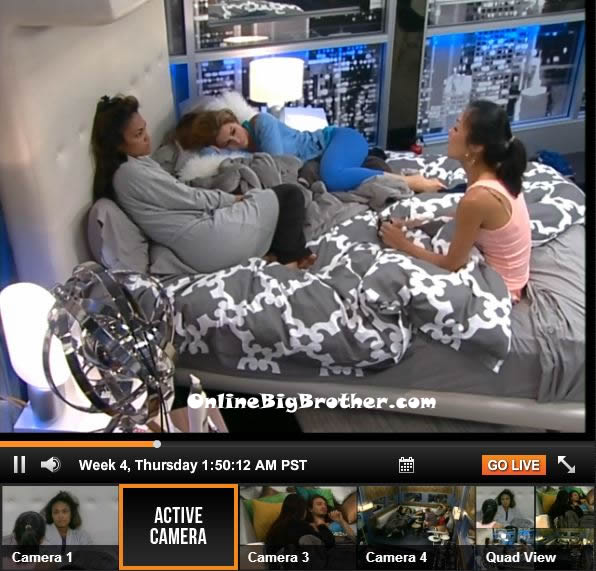 1:50pm Up in the HOH room – Helen is talking to Elissa and Candice about Aaryn. She says that Aaryn feels Kaitlin and Gina are distancing themselves from her. Helen says that Aaryn said she wouldn't come after me and Elissa. Helen says that Aaryn thinks that the guys stirred up a lot of drama. Helen says I don't think she deserves to be here but I don't think she is to blame for everything. Elissa asks if Aaryn said anything ground breaking. Helen says no, except that she is remorseful but that could all be an act. Helen brings up how Aaryn gets upset about the wh*re house comment and the comments about the medication Adderall that she takes. Elissa just thinks that it is such a mind altering medication that it's an unfair advantage. Candice says that Aaryn said that she will invest in a muzzle, which means she will still think hateful things but not say them. Helen comments that she think Gina really loves Nick.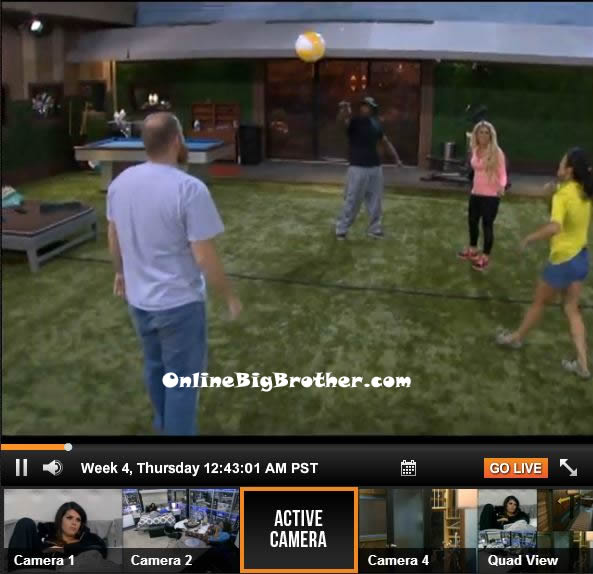 Big Brother 15 Live Feeds: FREE 2 DAY TRIAL
2:15am – 2:50am Out in the backyard – Spencer tells Howard that he would like to bring in Andy and Judd into an alliance. Howard says that Andy will tell people anything they say. Spencer agrees. He says that is why he just offers safety instead of an alliance. Spencer asks Judd who he would want out first Aaryn, Kaitlin, or Gina. Judd says Kaitlin is so nice that people may end up wanting to work with her. He says that Aaryn has no one and Gina is batsh*t crazy. Spencer tells Judd that Gina was blaming Judd for Nick's eviction. Spencer says that it was a 7 – 4 vote. Judd says he keeps trying to explain it to her that the votes were there with or without him but that she just doesn't get it. Judd says that Gina talked about spending the holidays with Nick. Judd says that Gina is delusional. Judd says that it's starting to get old because she can't talk about anything with bringing up Nick. Howard thinks Gina might be doing it for attention. Spencer says that Gina isn't smart enough to do it for attention. She is batsh*t crazy! Howard heads inside to go to bed. Judd and Spence shake hands and agree to not put each other up. Judd says we need to get the three girls out. Spence says if they go then it will be five girls and five guys. Spencer wonders about Elissa wanting an all-girls alliance. Judd says that may have been the first day. They both think that the girls couldn't all be together with all the fighting that would happen. Judd says he sacrificed a lot to be here and says that it makes him mad that people will coast. Spencer says that he hope Howard will dominate in some competitions because he looks like he could kick some a$$. Judd asks if Howard has been throwing the comps. Spencer says that Howard didn't want to look like a powerhouse. Spencer says that he is excited to give a speech and tell his girlfriend Marilyn and his family that he loves them. Spencer says that if Howard won HOH he would nominate Kaitling and Aaryn or Kaitlin and Gina. Judd and Spencer agree that Gina can't make it to Jury because she would be bitter. Spencer says if he makes it to jury house and makes the $13000 stipend he will pay off Marilyn's car, buying her a ring and pay for a honeymoon. Spencer and Judd head to bed.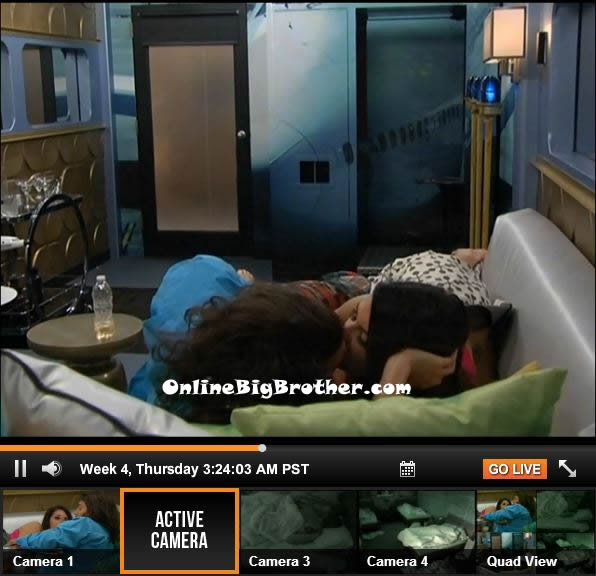 PROOF Amanda is possessed! She comes up for air after making out with McCrae.. @bigbspoilers #BB15 #CBSBigBrother pic.twitter.com/exl0miYCQz

— Dawg (@DawgsBigBrother) July 18, 2013
Test out the Live Feeds and if you don't like them – just cancel:
3am – 4:10am Amanda and McCrae are still up talking about random things and making out. They talk about past seasons of Big Brother. Amanda asks McCrae what he was talking to Gina about today. McCrae says he was talking about making Amanda his Big Brother wife, he says Amanda Olsen. They talk about how they are excited for their wedding. The conversation turns to talking about how they both don't want Andy to make it to the final 3 because he has a good memory. Amanda comments that it was bold of Judd to ask to bring Jessie into the goof troop alliance. McCrae says that Judd is wanting security with someone that will fight for him. McCrae says that Judd wouldn't do anything to mess up the alliance. They talk about the Brigade. Amanda puts a big handful of baby powder down her pants and McCrae watches her. Amanda tells him that she is keeping it fresh, trust me! I know what I am doing! They decide to head to bed.
9:15am All the house guests are still sleeping..
[polldaddy poll=7256699]
Stay connected and interact with other Big Brother Fans on our Facebook page.
And Follow: @BigBspoilers and @Dawgsbigbrother on Twitter for the most up to date spoilers.