POV Holder:
Kaitlin
Next POV
July 20th
POV Used
YES
POV Ceremony
July 22
HOH Winner:
Helen
Next HOH:
July 18
MVP:
Elissa
Original Nominations:
Kaitlin, Aaryn, Spencer (MVP)
Current Nominations:
Jeremy, Aaryn, Spencer (MVP)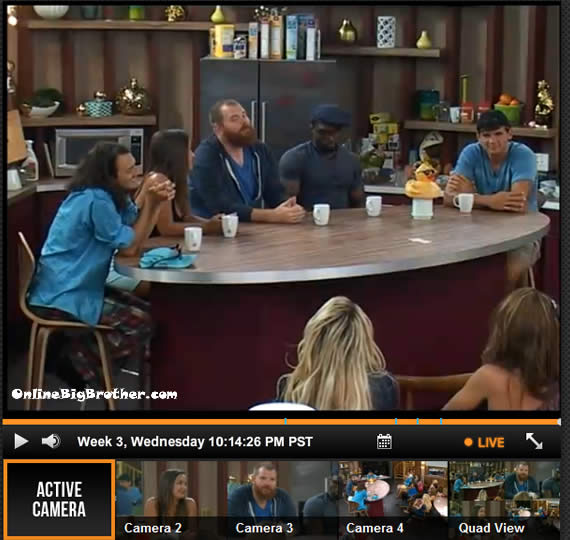 9:55pm The Talk Show
It's investigative reporting by Jessie unravelling the secrets of the moving company . Gina sets up Nicks hat and sunglasses on the table beside the other member of the moving company. They call him Craig Thompson
Spencer tells them about the origins of the alliances name, it comes from Spencer's old company called the murdock moving company.
Andy asks a question "I'm not calling you all bigots .. I just want to know why the gay man in the house was excluded.. I'm assuming because you're bigots"
They laugh and blame it on Craig Thompson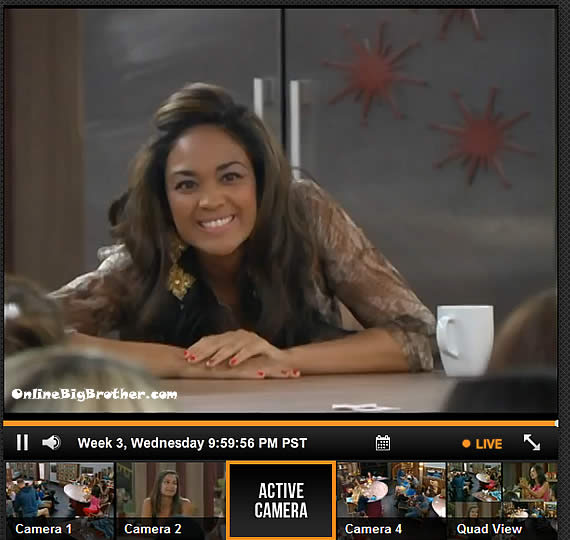 10:00pm Keeping it real with Candace
First up is McCrae and Amanda. She asks them when they fell in love.
Amanda says it was love at first site.
Candice brings up that MC is just a pizza delivery boy how does he expect to support a high maintenance jewish mamacita. MC says she going to take care of him.
Candace: "This is when I knew they were in love when he walked out of storage with her tampons"
Aaryn is the next up
Candace: "What have you learnt in the Big Brother House "
Aaryn: "Probably to invest in a grade A muzzle"
Candace pulls Gina up
Candace: "You fell really hard with a shafy f**.. can you let us how you fell for a shady f***"
Gina says they just got along and they are both from New York, He opened up to her. Gina thinks they had a connection she likes him and hopefully he doesn't forget about her after the show is over. Candace says she can look at the camera and tell Nick someone. Gina lokks at teh camera "Nick I miss you everybody thinks you're a cool guy a bit of shady f**** ,.,.."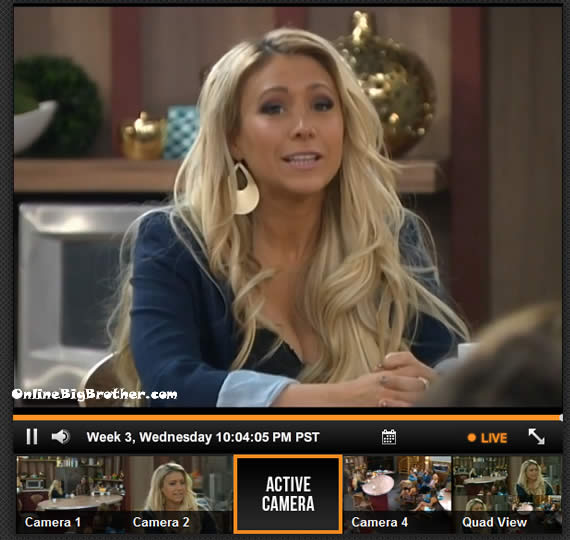 10:09 Showmance showdown hosted by Jeremy all the showmances are called up
(Jessie/JUDD, Amanda/Mc , Aaryn, Howard/Candace, Kaitlin/jeremy )
Gina: "I don't get to go up "
Jeremy: "shady f**k doesn't count
10:16pm backyard couch Amanda, McCrae and Spencer
Spencer: "I'm ready for a new HOH"
Amanda: "Ya"
They snicker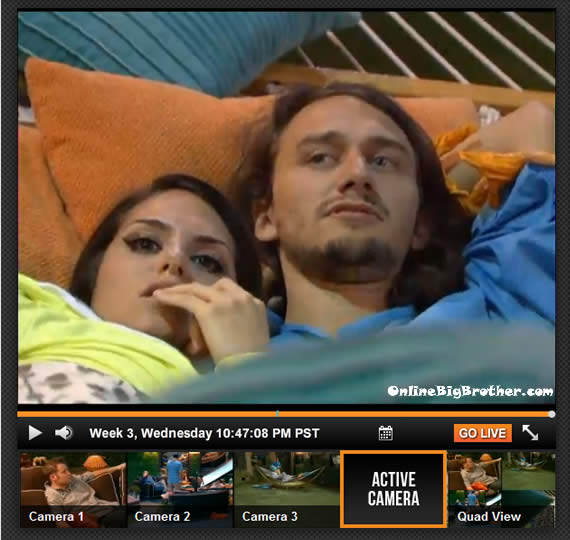 10:33pm Hammock Andy, MC and Amanda
They're wondering about the HOH tomorrow. Andy wonders if it's majority (majority is a type of HOH comp where whatever answer gets the majority wins. if you have the majority of players you can all pick the same combination of answers essentially letting you choose who you want to win HOH) . Thinks they might want to go over it with JUDD and Jessie. Amanda tells him they don't have the numbers to "game" a majority HOH comp Amanda says they don't want Elissa to win it and Helen can't compete, "go with the flow"
Andy wonders what Spencer and JUDD are talking about on the couch.
MC says that JUDD is so worried about being portrayed in a showmance.
Andy still thinks it could be endurance tomorrow with them standing on something that would be easy to set up.
MC: "It's going to be lockdown soon"
Amanda thinks they will lock them down in the morning they are not going to hire people to work at night they will do as much as they can during the day.
Andy is now wondering if it's double eviction. Amanda says it would be nice to get rid of Howard and Spencer in the same night.
They agree that the first five people they want gone are Spencer, Howard, Kaitlin, Gina and Aaryn as long as they are on the same page with that they are golden.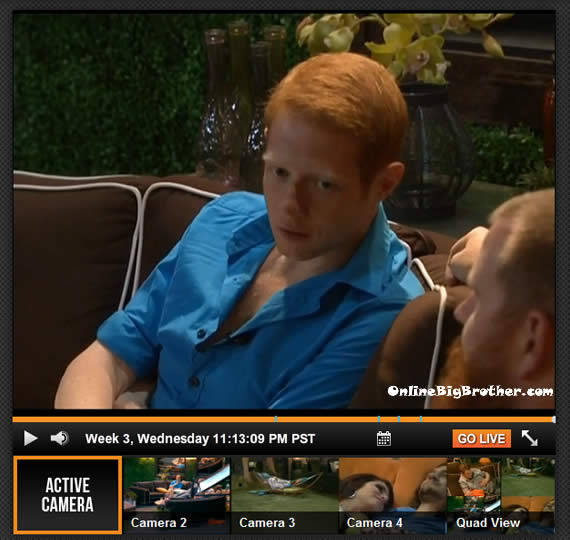 10:41pm backyard couch Spencer, JUDD and Andy
Talking about the HOH competition tomorrow. Spencer thinks it's going to be a quiz. They start talking about double evictions. Spencer's theory is the first 2 jury members will go home back to back, :Which will obviously be Amanda and McCrea"
Andy: "YA"
JUDD: "I'm confused are they together together"
ANdy: 'I don't know"
Spencer: "I don't know either.. they seem like an odd couple"
JUDD thinks they are together. Andy says double eviction he will put both Amanda and McCrea, "Now that I know Jessie and JUDD are in a showmance maybe I should put them up"
JUDD is pissed that people said he was in a showmance he doesn't think he is.
Andy jokes that Elissa and Spencer are in a secret Showmance. Spencer: "I don't think she likes me"
Andy: 'You don't "
Spencer doesn't know what it is she never says anything mean to him.
Spencer tells them that he'll put GM on slop if given the chance because she threw the carton of chocolate milk away and there was still at least a couple glasses of milk in it.
JUDD is telling them that Gina needs to get out of the house she's just to blame as Aaryn is for all the bullsh!t. Spencer says she gets away with a lot of stuff.
Andy says she doesn't talk game to anyone which scares him because he doesn't know what she will do. Judd: "that B!tch needs to be put up there"
JUDD: "She's a psycho b!tch.. I don't mean b!tch but you know when they say Psycho b!tch.. I feel bad for him" (Nick)
Andy and Spencer says she not as big of a threat as some of the other girls because she really doesn't talk game.
Spencer jokes that next year on the news there will be a report that NIck Uhas murdered by stalker Gina Zimmerman in staten island, he was found cut up into pieces and left the back of a convertible seabreeze.
JUDD: "I think that show is a little dangerous.. I don't think I'll be attending" (the talk show the girls were doing)
Howard joins them says the show was dangerous.
Spencer: 'Jess looks fine tonight"
Howard: 'Natural beauty"
Spencer wonders if Jessie will be in playboy after this.. He asks Andy if he would ever pose nude. Andy says no he's a teacher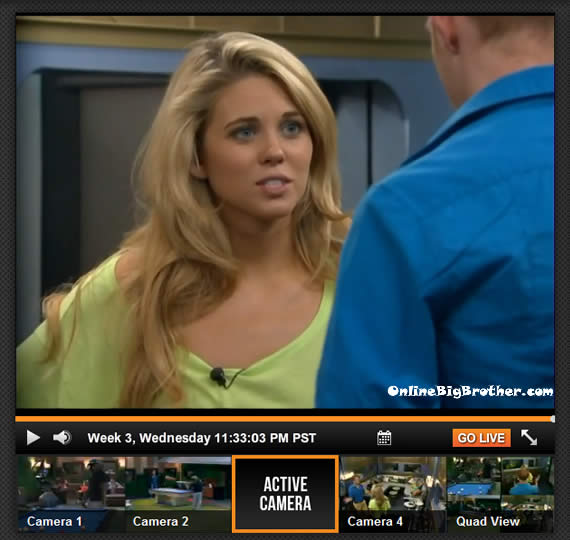 11:10pm Aaryn and Andy
She tells him that Kaitlin and Jeremy were throwing her under the bus. Aaryn says if she wins HOH she's going to ask them all what they think. Andy say he's serious now even though the last two votes he voted against them (And lied to their faces) he never had anything against Aryan and Kaitlin. Aaryn says she's scared that Kaitlin is coming after her. Andy tells her she's not she has to believe him she's fine.
Andy tells her there will be one vote against Spencer and the rest against Jeremy.
Aaryn brings up her talk with Elissa. Andy says Elissa is a little bit annoying when she's like that and he doesn't like that she won't make amends with her after Aaryn offered it.
11:46pm Hammock Andy, McCrae, Elissa and Amanda
Talking about Helen's HOH getting into her head. Andy says she was became power hungry. McCrae mentions how the house didn't like the way she took over the talk show.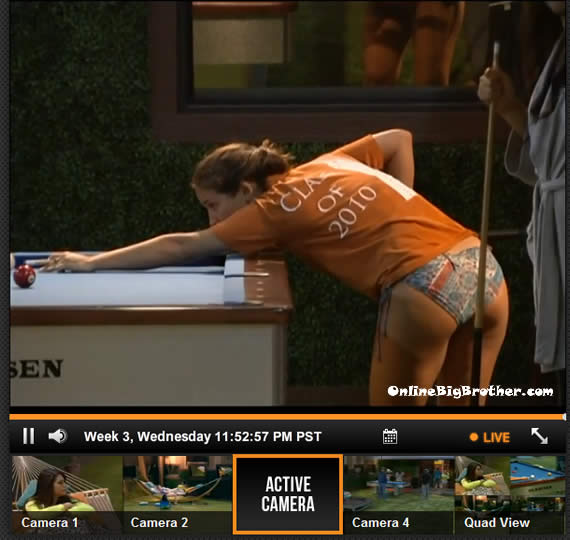 11:54pm POOL Jessie, Candace, Spencer and Howard Jessie shaking her behind around for the guys. Both Howard and Spencer find Jessie really attractive and she knows is.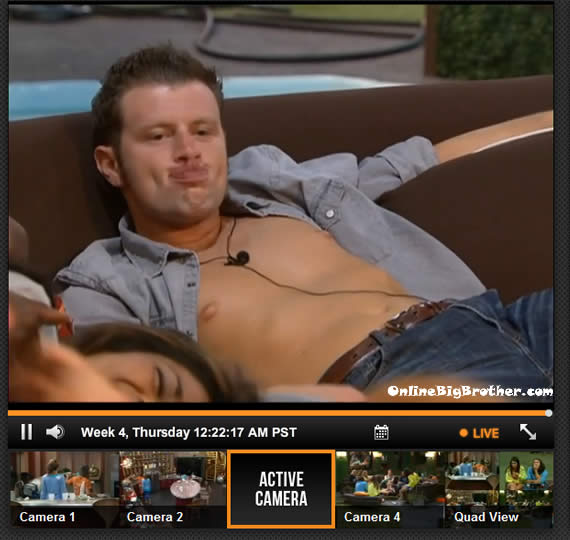 12:23AM Random chit chat .. Judd touches his nose with his tongue.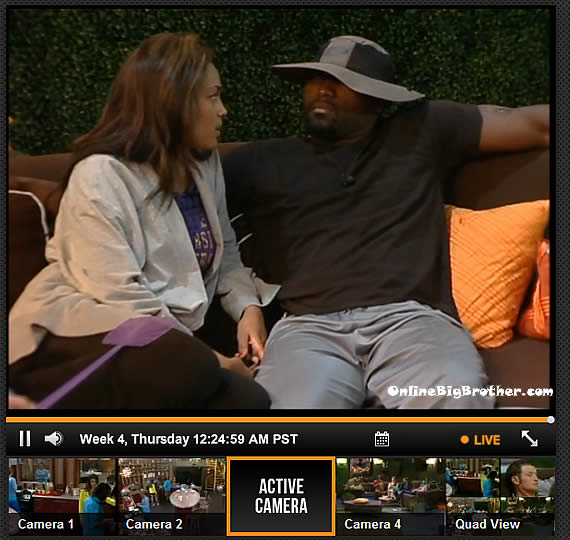 Talking about Slacks or jeans for the Show tomorrow night. Howard wants to wear slacks Candace calls them church pants.
[polldaddy poll=7256699]