POV Holder:
Jeremy
Next POV
July 13th
POV Used
YES
POV Ceremony
July 8
HOH Winner:
Aaryn
Next HOH:
MVP:
Elissa
Original Nominations:
Elissa, Helen and Jeremy (MVP nom)
Current Nominations:
Elissa, Helen and Nick (MVP nom)
Last Evicted Houseguest
David
Have Nots
Helen, Elissa, Candice, and Andy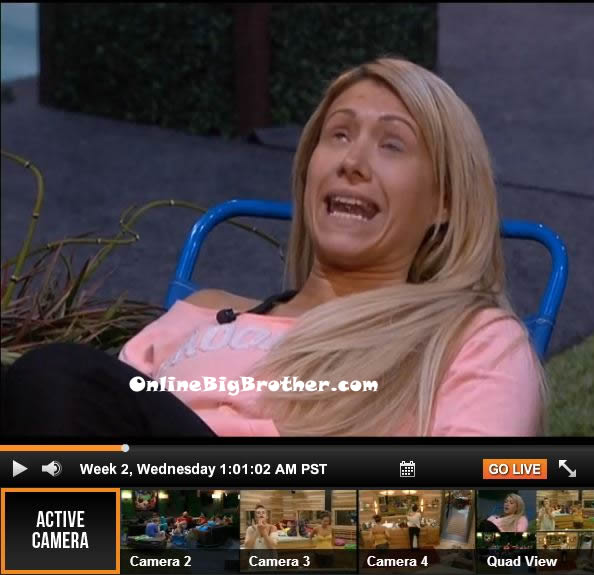 1am Jeremy, Spencer, Helen, Candice, Elissa, Nick, Judd, Gina and Howard are sitting out on the backyard couch talking about the different cheap wines and other alcoholic drinks they like. Gina talks about how she doesn't drink. She says that because she was in dancing school and pageants she never got peer pressured into drinking or $ex. Meanwhile in the bathroom – Judd, Amanda, Jessie, McCrae and Elissa are in the bathroom talking about how they are doing goodbye messages tonight. Elissa asks if anyone has figured out the sleeping arrangements. Andy says that he will have the havenot room to himself tonight. Elissa says that she can't let him do that. Andy says no he wants to instead of sharing with someone. McCrae jokes that Andy could masturbate in havenot room because he will be all alone. Jessie and Candice head to bed. Jessie and Candice sit on the bed and Jessie does a prayer.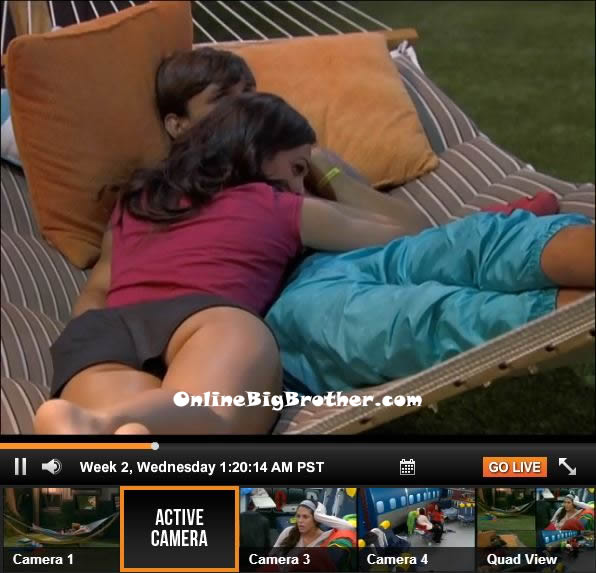 Jeremy and Kaitlin are laying in the hammock. Kaitlin talks about an ex-boyfriend she had that she broke up with because she found out he smoked pot. She says that when she broke up with him he went crazy started throwing sh*t. She says that he threw a nights stand at her. She says he had to be restrained and put on suicide watch. Jeremy says that is crazy, do you want me to beat him up? Kaitlin says no.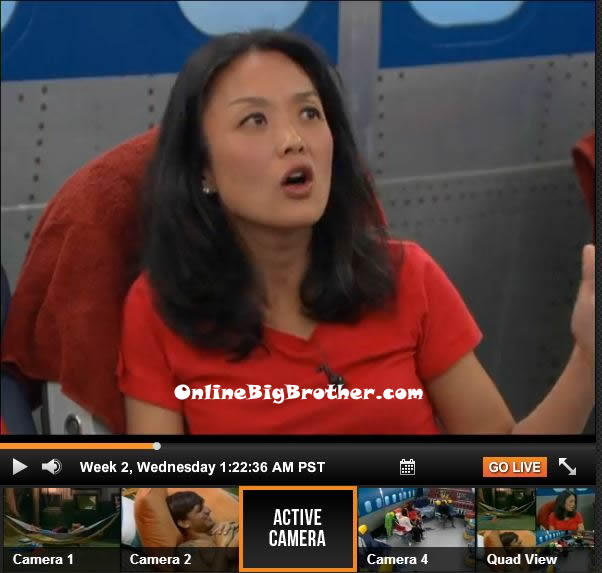 1:30am Helen and Amanda are in the havenot room talking. Helen tells Amanda that Spencer needs to go. Helen tells Amanda how Spencer tried to throw Amanda under the bus to be nominated. Amanda says that Spencer admitted it to her. Howard joins them and Amanda tells him about how it happened. Helen wondered why and says that Spencer said they need to get Amanda out to get McCrae's head in the game so that their alliance would be tighter. Helen says hello we need the votes. Howard says wait we are still voting out Nick right. Helen says yes. Helen says that they can't let Spencer know we are on to him.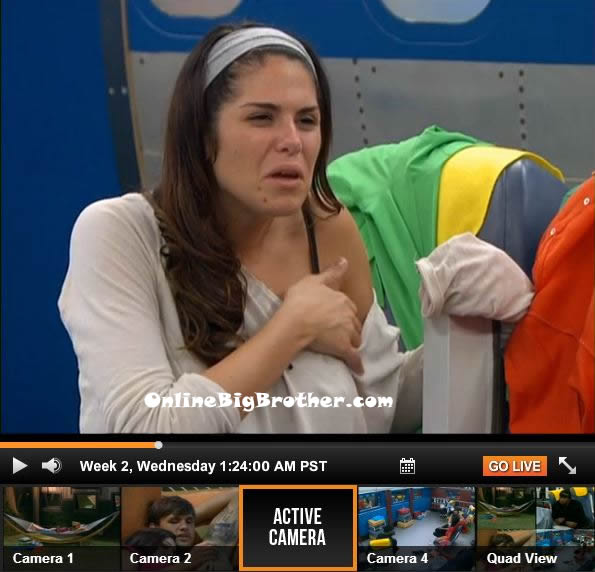 Howard says that he doesn't think Spencer has something with the others that is more Nick. Amanda asks why me? Howard says because he thinks you have something against him. Amanda thinks that its because he and her are lying about voting David out and that it would be less pressure on him if I was gone. Helen talks about how we have the votes with or without him. Helen thinks she has figured it all out and that Nick is a relative of Dan Gheesling. Helen says that she wants to wait and see where the votes lie. If it is 7-4 then we know he voted with us and if its 6-5 then he is against us. Howard says that if there was a guy alliance, how the hell am I not in it?! Amanda says that she knows that McCrae isn't in a guy alliance either because she would know if he was. Howard says if there is a guy alliance then it would be two or maybe three guys. Howard says that Amanda and Spencer just need to hash it out. Amanda says we have, it's just the trust will never be there. Helen says we should not be voting each other out. Howard says that he thinks Spencer wants to talk to MCrae without you. Amanda says I do what McCrae tells me to do. Amanda says if he goes after me McCrae will go crazy and go after who votes me out. Helen talks about how Candice is voting with us, she hates Jeremy. Amanda leaves the room. Helen tells Howard that she is worried Nick will win this game, we will never have this opportunity again. Howard tells Helen to worry about right now, not 2 and a half months from now. Howard brings up how Aaryn thinks we have a minority alliance you, me and Candice. Helen asks Howard to figure out if Spencer is working with us. Howard tells her he will, but that she is not going home. You are fine. Howard thinks McCrae is being preyed on by Amanda because she knows he likes domineering women. Howard says we need Amanda right now but down the road we need to get rid of her. Helen agrees.
2am Spencer is out in the backyard playing a game of pool by himself. Meanwhile in the bedroom – Nick, McCrae Judd and Andy talk about food. Nick heads out to the kitchen. Up in the HOH room – Aaryn, Jeremy and Kaitlin are getting ready for bed. Out in the backyard – Howard talks to Spencer about his conversation with Helen. Howard tells Spencer that he needs to talk to Helen tomorrow. Howard says that freaking Amanda is feeding that bullsh*t saying that she is still pissed that you threw her name under the bus. Howard tells Spencer that Amanda thinks he is the one that is on our side trying to flip and go to the other side. Spencer says her and McCrae have already gone to the other side. Howard says right. Howard says I flipped it back on Helen when Amanda left that Amanda is trying to cut a deal to go on the other side. Spencer says that he is waiting till after the live eviction show to talk to Helen. I am going to tell Helen that once Amanda doesn't trust me at all ..and the reason Amanda doesn't trust me is because Helen started all this with Amanda. Before Amanda just didn't like me and after Helen talked to me now she doesn't trust me. Nick joins them. Spencer says that once the vote turns out and it ain't just one person – it's going to be different. Nick leaves. Spencer tells Howard that with MC he trusts Howard the most.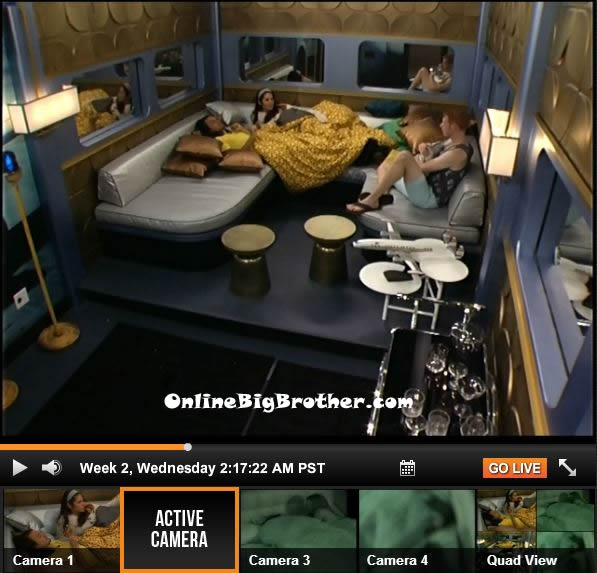 2:15am McCrae and Amanda are in the lounge room talking. Amanda tells him that she got trapped into a conversation with Helen. Amanda says that Helen was bring up how Spencer threw her name out there. Amanda says that she knows she can't trust Spencer. Amanda says that Howard is full of sh*t, I can tell he is lying. She says that he wasn't shocked about it so I know he is lying. Amanda says that Howard brought up a guy's alliance. Do you know anything about that? McCrae says no. Amanda asks him to swear on their future babies. McCrae says yeah. Amanda asks what's wrong. McCrae says that it sucks to lie to her, I hate that sh*t. Amanda says it's just a game and we're all good. Amanda calls Spencer a shaddy mother fu*ker. Andy joins them. Amanda says tells Andy about her conversation with Helen and Howard. She says that Howard kept defending Spencer, that's how I know he is with Spencer and them. Andy says a part of him wants us to vote for Elissa and let them all vote for Nick and we'll see what happens.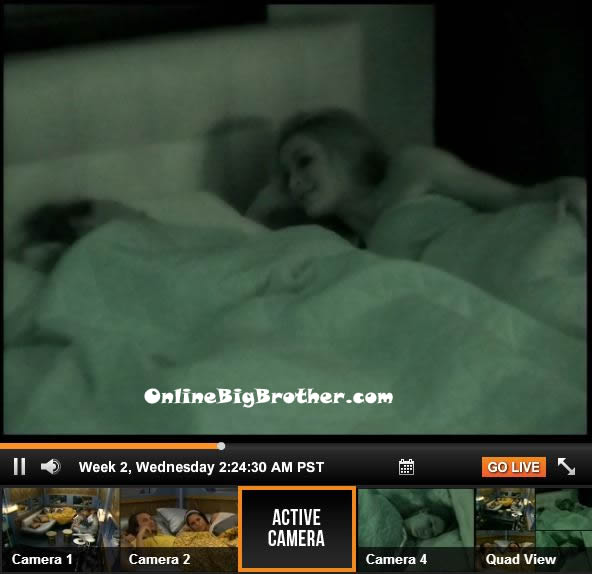 In the bedroom – Elissa is talking to Jessie. Elissa wonders who else they would put up if I leave. Elissa says that Nick is working with Jeremy and Spencer. Elissa says that McCrae is so lasered, his mind is so much stronger than his body. Elissa asks if she thinks Judd is 100% on board with voting out Nick. Jessie says that she doesn't know, I don't talk to him. Elissa says that the others in the house are mean, I just want a fair chance to play this game. Just because my sister played doesn't mean I shouldn't be able to play a fair game. Elissa says that if I go they will be coming after you, Candice and Helen. Elissa says that she doesn't want to be stuck in jury and doesn't want to go week 2. They are just going to use you for a vote. Kaitlin thinks that she is over powering you with Jeremy. The reason she is with Jeremy is because she is proving she can have him over you. Elissa says that Kaitlin is with Jeremy even though he is like douche city. Elissa tells Jessie she is going up if she goes home. Elissa says if you do this and we have the votes we can start picking them off like Jeremy, Aaryn, Kaitlin, Gina… Elissa tells Jessie to talk to Judd about getting rid of Nick. This is the perfect opportunity.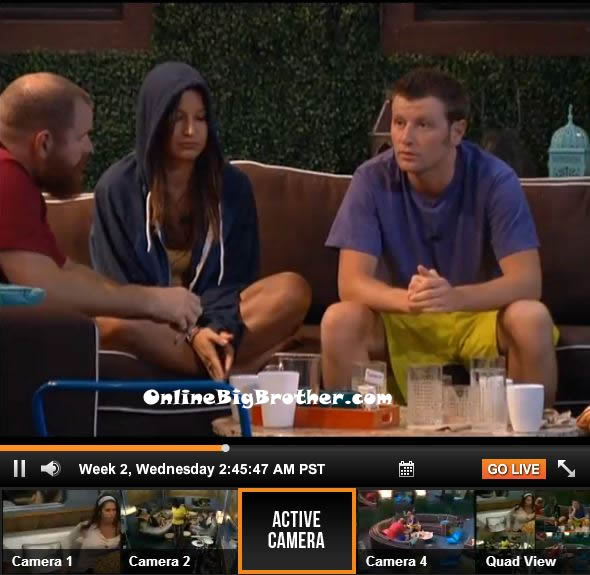 2:30am Spencer say that he would like to see Amanda gone and then Judd. He says that then we would have a good grip on the house. Howard thinks Aaryn needs to go. Spencer says that the more I get to know Aaryn, the more I think she is a crazy bit*h! Howard says that she is smart. Howard says that he has a personal issue with Aaryn over the racist comments she has made but that he respects that she said it was taken out of context. Meanwhile in the lounge – Andy talks about wanting win HOH. Andy says that he thinks he can sit Aaryn down and explain to her about the flip floppers. He says that he thinks he is in good with Aaryn. Amanda tells Andy that Aaryn is in deep with Jeremy. Andy says that he feels that Jeremy doesn't trust him but Aaryn does. Amanda say that Howard is a liar and that he lied on the bible. They talk about how Spencer is a lost cause. Amanda says that if he wins HOH she will be nominated up with Candice. Andy tells Amanda that she would have the votes to stay. Andy says I hope America sees that I genuinely care about Elissa. He says give me that MVP so that I can do her dirty work. McCrae says that he wants Jeremy gone. Andy says if Jeremy wins HOH I will die. Amanda and McCrae head to bed. Amanda tells McCrae that she thinks Spencer, Howard and Jeremy are an alliance. McCrae says that he hopes we win HOH and MVP. Amanda tells McCrae he can't win HOH. McCrae says that he will take it if he has too. Amanda says that she just want to make it into the jury house him and says that she would be totally okay with that if she can be with him for a few months.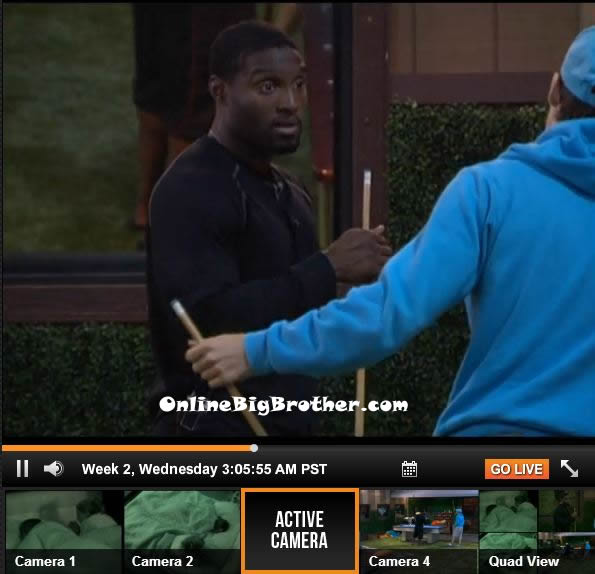 3am Out in the backyard – Howard and Nick are playing pool. Howard says that everything in position. Howard says that there is just one person causing strife, we need to get Elissa out of the house. Howard tells Nick that he is good but that Amanda is making it hard for them. Howard tells Nick to make sure he is good and protected. Howard says that McCrae's whole thing was worrying about jury house but if we all make jury house then that's three votes. Nick says that he worries about having two members of the Moving Company on the block at the same time because that hurts our odds. Howard says that when McCrae said he wouldn't have a problem if Amanda leaves then I was good. Howard says that he would nominate Amanda. Howard asks why Gina is so emotional. Nick says it's because of the goodbye messages. Nick says that he doesn't want Amanda to poison Aaryn and then have Aaryn go ape-sh*t the last minute. Howard says that they are working on that. Howard says that by Spencer and him joining up with Aaryn, Kaitlin and Jeremy they will be less likely to believe Amanda. Howard says that Judd stays up and watches every conversations. Howard says Judd isn't as dumb as people make him out to be.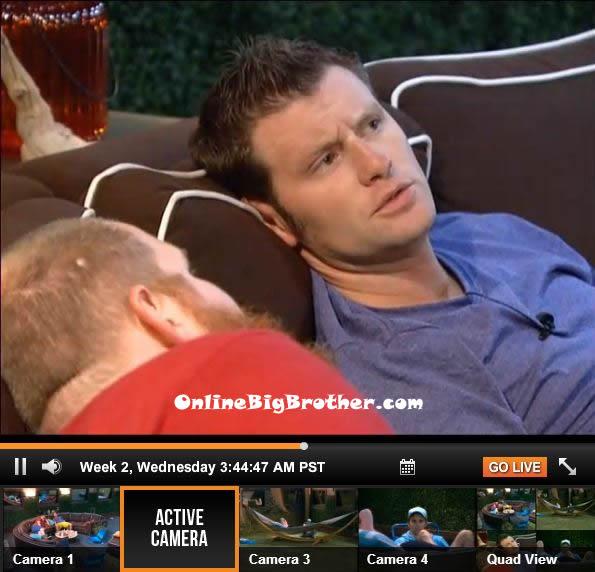 3:35am – 4:40am In the backyard – Spencer and Judd are talking on the backyard couch. Judd asks Spencer what he thinks about Jessie saying Nick is after them. Spence says it's bullsh*t. Judd asks Spence who he wants to stay. Spence says he is voting with the group and that he has heard a bunch of sh*t. Judd agrees. Judd tells Spencer that he wanted to talk to Spence because he hasn't gotten to talk game with him in a while. Spence tells him that he could tell Judd didn't want to talk game with Jess because he was quiet. Judd says he knows Jessie could change her mind in 10 mins because girls can go back and fourth. Spence tells Judd that he can trust him because he never tells people what he says. Judd says if they keep Elissa then they control the MVP vote and they are safe until jury but if they get rid of her then they might not make it to jury. Spence tells Judd that what concerns him about Judd's game is that he admitted to evicting David so that if Elissa stays then they will know that Judd voted to keep Elissa and it won't take long to get the votes together for Judd to leave. Judd tells Spencer that he trusts him the most. Judd says that he gets annoyed when people talk about being bullied about their vote because no one will bully him and says that he won't stand for it. Spencer and Judd head to bed.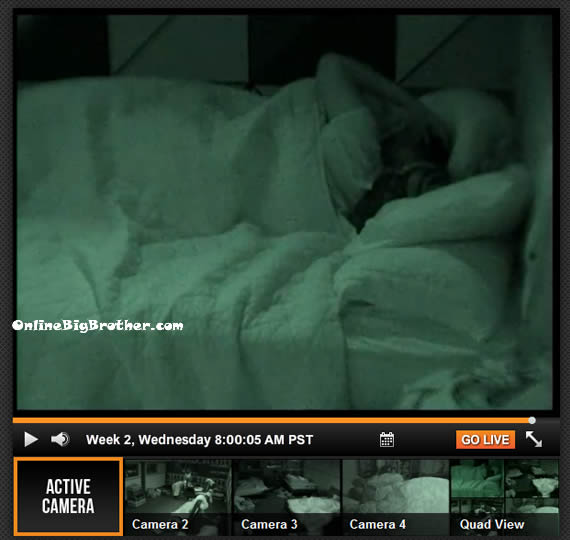 8:10AM Everyone sleeping Candace and Howard getting close
9:00AM sleeping
9:51AM Still sleeping
10:15AM House guests rolling out of bed
[polldaddy poll=7235287]
Stay connected and interact with other Big Brother Fans on our Facebook page.
And Follow: @BigBspoilers and @Dawgsbigbrother on Twitter for the most up to date spoilers.