POV Holder:
Jeremy
Next POV
July 13th
POV Used
YES
POV Ceremony
July 8
HOH Winner:
Aaryn
Next HOH:
MVP:
Elissa
Original Nominations:
Elissa, Helen and Jeremy (MVP nom)
Current Nominations:
Elissa, Helen and Nick (MVP nom)
Last Evicted Houseguest
David
Have Nots
Helen, Elissa, Candice, and Andy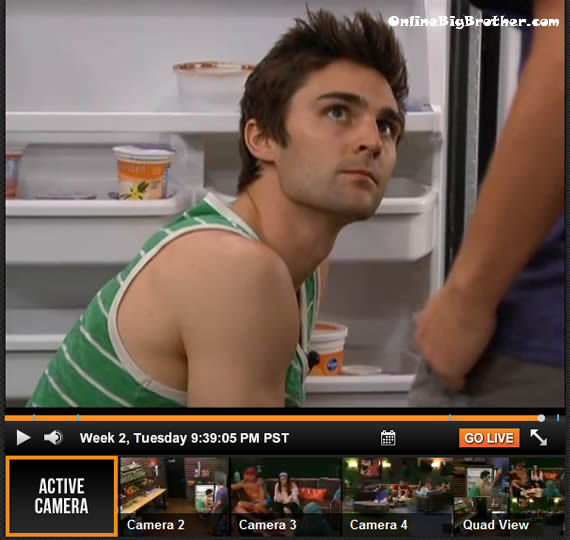 9:37pm Cam 1-2 Storage room Nick and Judd
(Man Judd is all over the map tonight.. could it be.. the powerhouse the chosen one?)
Judd: "She keeps cornering me every time" Judd knew Elissa was in the bathroom doing her nails so he was hold his pi$$ in as long as he could to prevent talking to her.
Nick: "Are you voting me out"
Judd: "No no"
N: "Of Course"
J: "Why would I say otherwise"
Judd mentions there will be a couple votes going Elissa's way he's just worried everyone will think it's him. Judd adds that Elissa is supposedly going around telling people that he's voting to keep her.
Nick isn't worried Judd gave him his word. Judd is planning on winning HOH and whoever is going around saying that is one of the people he's putting up.
Judd: "I'm trying to keep my cool but I really want to go around hey Mother F**k*r did you say that"
Judd: "100% i'm not voting your a$$ out.. I want to work with you on the long run.. not just this week"
nick: 'Ya bro you're good"
Judd thinks he has a very good chance of going up next week. Nick tells him if he wins HOH he's not putting Judd up.
They shake on it.

9:39pm Cam 1-2 Andy and Nick Storage room
Andy is going to vote out Elissa. They make a deal to not put each other up if they win HOH. (Andy jiggles his junk when Nick isn't looking)
10:38pm Elissa and Helen
Elissa thinks that this is the worst dynamic in the house. She thinks Aaryn's reason to get her out are stupid and personal.
Helen: 'If they don't vote nick out.. They've lost the game.
Helen: "It's unbelievable this whole house is scared of making Jeremy mad.. I'm going to go b!tch about it in the Diary room"
Elissa: "Do you really go in there and b!tch about it"
H: "I'm going to"
H: "I do forgive people and let them make good.. but the people in this house are so self conscious"
Elisa says that production made Jeremy apologize to her for wiping his a$$ with her hat otherwise he wouldn't have.
Helen asks if she's talked about it in diary room
Elissa says no.. asks Helen if she should,
Helen: "If he (jeremy) gets MVP everyone should just go home it's over'
Elissa doesn't think he's going to get MVP she thinks it'll be Nick
Elissa thinks if Jeremy won HOH he would put up Jessie and Candace and backdoor McCrae
Elisa: "I want to know Kaitlin's thoughts of the situation" (Jeremy and his behaviour in the house)
Helen: "Who cares.. she's 23 and wants to go to Vegas to bartend.. where do they find these people they have no self confidence.. they can't beat him"
Helen: 'Their servants of him" (Jeremy)
Elissa says she's never been one to follow the crowd and she's really logical.. she doesn't understand why people allow Jeremy to act the way he does.
10:49pm MC storage room Jeremy and Spencer
Jeremy has a new sub alliance for the Moving Company that will help get Spencer and Howard in good with his girls. "What if I bring you and Howard in with my three and make a five man alliance"
Spencer asks about the alliance they have with McCrea and Amanda.
Jeremy: "I was talking to Aaryn and she was like is this thing with Amanda real because I don't want her here"
Jeremy: 'I was that's the name of the game.."
He told Aaryn they need to get some strength in numbers. Jeremy: 'And before I said anything she said do you think spencer would be down"
Spencer likes this plan.
Jeremy asks if Howard will be down
Spencer: "fu** ya"
Spencer is excited because it rebuilds the trust with Jeremy's girls.
Jeremy is worried that Aaryn feel she has no one close so she might be swayed away to Amanda but if they can give her the numbers and keep Amanda under control they can take out the Judd's, the Jess's.. Jeremy adds that this sub alliance will be in secret and will sit above the Moving Company, "So we're still under the carpet still" (See image)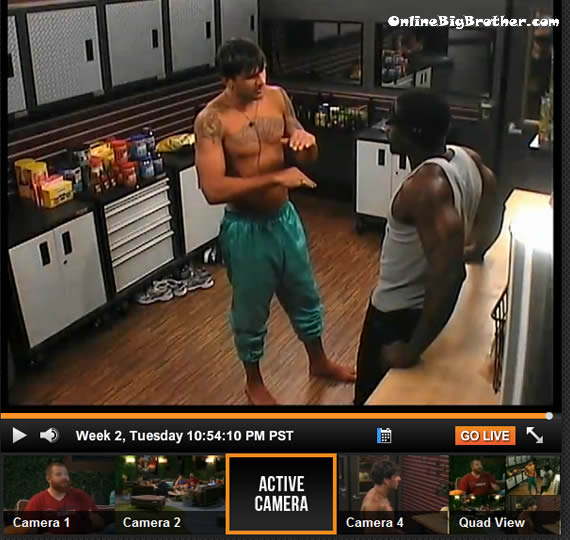 10:53pm Storage room Cam 3-4 Howard and Jeremy
Jeremy: "i was taking a shower and came up with a genius plan"
Jeremy pitches the 5 person sub alliance with Kaitlin, Aaryn and Spencer. says Spencer is onboard.
J: "This way they 100% trust y'all and that strengthens our numbers against Amanda because Amanda is trying to turn Aaryn right now".
Jeremy explains how this alliance will be secret and sit above the moving company (See image)
Jeremy says it gives them the strength of the 9 like what Spencer was talking about before and it doesn't expose the moving company because only three of them are in it.
Howard: 'I like it it dude lets run with it"
After the conversation with Jeremy Howard heads to the bathroom where Gina and Nick are flirting around. The guys let Gina rub their obliques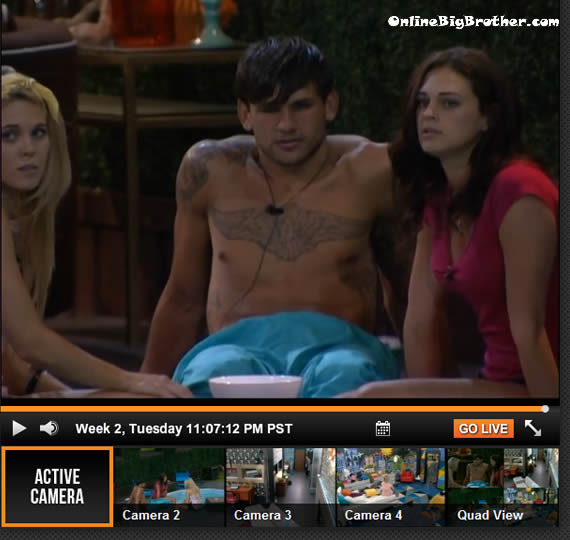 11:06pm Cam 1-2 Jeremy and Aaryn hot tub
He's asks her if she wants to be in another secret alliance. Aaryn:"DUH.. Who"
Jeremy says it's with Kaitlin, Howard and Spencer. Aryn is cool with that.. Kaitlin joins them he tells her they need to talk in the HOH
11:10pm HOh Kaitlin and Jeremy He tells her about the 5 person sub alliance.
She thought he was already in there "Like Swimwear" they don't fully trust me so they cam to me about an alliance plan. Jeremy says Howard and Spencer are expendable . Kailtin says sure they secure them votes but the kinda weight them down.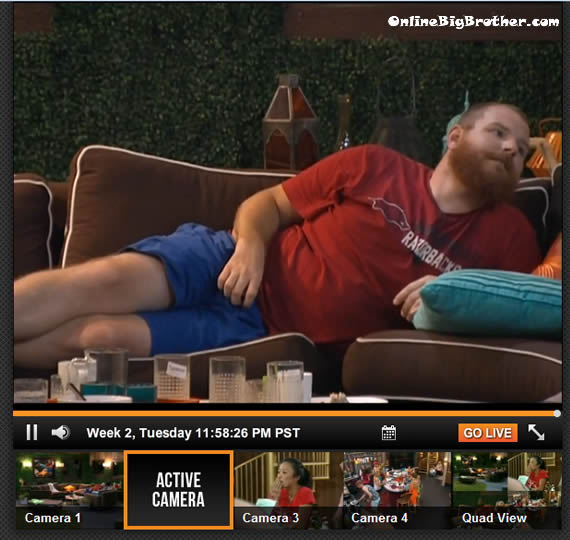 11:55pm Spencer and Howard couch Cam 1-2
Howard going on about the dangers of Amanda goes over the days "Minority Alliance" that Amanda was telling people he's a part of. Howard: "Lucky Jeremy told me and I straightened it out"
Spencer: 'aaryn doesn't trust Amanda so it's going to be easier to"
Howard : "We gotta help the little brother out"
Spencer asks Howard if he feels some of his comments were racist. Howard says no, if spencer was a racist he would be avoiding Howard. Spencer: "You're the first and only person I got a connection with in this house"
Howard says he feels the same way about Spencer.
You can hear the girls screaming they got alcohol
Howard: "Ahh sh!t"
They start joking about McCrea being Amanda's little slave. Spencer says maybe she'll take McCrea out in the yard tonight and let him go poop and pee. Spencer adds whenever you hear Amanda come to the Diary room you run and find McCrea to talk to him.
Spencer says Nick is going to put Amanda up if he wins HOH, "You're going to trade 4 strong dudes for on loud b!tch".
Howard goes one about the Moving Company and how during Big Brother 20 they will still be talking about them.
12:04AM McCrea and Howard.
Howard is explaining the "Minority Alliance" incident today and how Amanda took a conversation Howard was having and went around blowing it up. McCrea doesn't think Amanda said he was in a minority alliance he thinks Aaryn drew that connection herself. Howard: "Dude Jeremy told me" McCrea says he was in the room at the time when Amanda told Aaryn and Aaryn drew the parallel on her own.
Howard suggests she is using McCrea in the game and adds that the MC is 100% behind McCrea but not Amanda.
McCrea: 'I don't think she's using me"
McCrea keep reiterating how he controls Amanda and Spencer is worried that Amanda will find out about the guys alliance.
McCrea: "I really don't give a sh!t to cut her.. "
Howard: "Good.. we're deep with the 5"
McCrea: "I totally understand the concerns.. for sure and she will have to be cut eventually"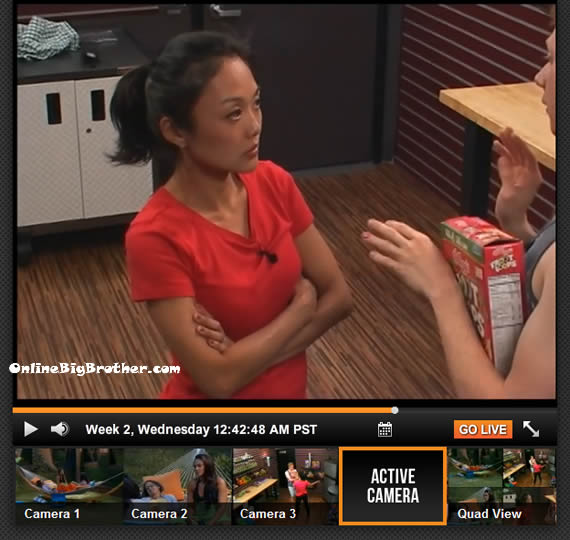 12:42AM Cam 4 Andy and Helen
Andy says that when she talks to people she has to make sure she never uses anyone in our groups name because you told Spencer about putting Amanda up.
Helen: "Oh my God Spencer made that up"
Helen goes over the conversation she had with Spencer where he suggested to her she get Elissa to put up Amanda. At this point Helen got suspicious that Spencer only wanted to put up Girls. Spencer then went to Amanda and McCrea and told him Helen is wanting Amanda put up as the replacement nominee.
Andy: "Amanda doesn't trust spencer anymore"
Helen says no F*** way would she put up AManda she's voting with us
Andy: "People are starting to freak out.. I'm doing whatever I can but it's not looking great. and so just try and push forward and realize that if we can't do it we're still good for next week"
Helen thinks they have the votes, she counts Judd, Howard, Amanda , McCrea, Candace, Andy
Helen: "Spencer needs to go next.. we need to BD him"
Random chit chat..
Games's not looking good for Elissa 🙁
[polldaddy poll=7235287]