POV Holder:
Jeremy
Next POV
July 13th
POV Used
YES
POV Ceremony
July 8
HOH Winner:
Aaryn
Next HOH:
MVP:
Elissa
Original Nominations:
Elissa, Helen and Jeremy (MVP nom)
Current Nominations:
Elissa, Helen and Nick (MVP nom)
Last Evicted Houseguest
David
Have Nots
Helen, Elissa, Candice, and Andy
10:28am Cam 1-2 Bathroom Judd and Amanda
Judd tells her about the conversation with Jessie last night.. She told him she doesn't know what to think.. Elissa told her Nick tried to get her put up for MVP it makes her feel like NIck is with them (Aaryn)..
Judd: "she said Makes me feel like I'm on the bottom of the totem poll.. I don't know what to do"
Judd: "I really didn't say much"
Amanda: "I think we need to talk to McCrea.. Andy and Howard.. I think that Howard is working with them to"
Amanda tells him about Spencer trying to get her put up for MVP nominee and Howard knew about it.
Judd tells him he saw Howard and Spencer whispering in the corner when they saw Judd they scrambled like they were not wanting to be seem
Judd: 'If we get HOH we should put Howard up"
Amanda: "And Spencer"
10:56AM Kitchen McCrea, Judd and Amanda McCrea is complaining that Big Brother woke them up so early. Amanda tells him it's not early it's 11 o'clock
10:57am McCrea leaves Amanda says her suspicions about Howard are definitely true. Amanda: "I can't say why.. I just know" Judd says he can't even look at that f***er (Howard or spencer hard to tell because the water was running)
They move to the Backyard couch to chat, Spencer and Helen are still in the backyard exercising.. Amanda says she wants Elissa to stay so bad. Judd thinks that Helen is going to get MVP if Elissa leaves because her and Elissa are so close. Amanda disagrees says it'll be Nick or McCrea maybe even Judd.
McCrea joins them.. Amanda tells McCrea that suspicions from yesterday are confirmed (Howard and Spencer are working together). Judd about Howard lifting weights "I hope you drop the weights on your face you mother f****"
Andy joins them. They are talking about getting the votes to save Elissa. Judd says he's going to work on Jessie. Andy says Candace is a lock.
Amanda says even if they vote out Elissa everyone is on-board to stick together they still have the numbers (Helen, McCrea, Judd, Andy, Amanda)
They call Helen over and Amanda says to her it's confirmed that Howard and Spencer are not trust worthy. Helen is surprised about Howard. Andy says they need to corner Jessie right before the vote and tell her the house is voting out Nick. Helen: "Promise Jessie that when Elissa wins MVP next week they can guarantee her safety"
Amanda says every time she's with Aaryn and Jeremy and suggests Howard's sketchy Jeremy changes the subject or drops the idea outright.
Helen: "Spencer has to go next week.. "
Amanda: "These people are all fu*** retarded Jeremy has made himself too much of a target"
Howard joins them "For the sake of argument.. everyone is voting Nick out right"
They all agree.
Andy says that with this twist in their favor they control the game. Helen keeps saying: 'Stay solid until we get to jury"
Howard says he'll talk to Spencer. He points out to Helen that She's basing too much of the game on Elissa winning MVP they need to get out there and win HOH this week.
Judd and Howard head to the weights to lift.
Candace joins them crying says she had a dream about something bad happening to her mom.
11:36Am Judd starts running a few comments are made about how fast he runs. (Judd has bragged about how he's got a chance to win a competition if it's running based..Judd doesn't run for very long.. maybe a couple minutes)
11:40am Cockpit Helen and Candace
Helen says she thought the vote was going to be 7-4 to evict Nick but now things have changed. If Spencer flips it will be 6-5 but now everyone is getting suspicious of Spencer and Howard
Candace has been telling howard to stay away from spencer she's think he'll listen to her.
Helen is panicking about the group falling apart. she says that Amanda is now going around saying Howard and Spencer have flipped so the votes are now going against Elissa.
Candace is adamant that Howard will not vote out Elissa, she says she's 100% Howard is voting out Nick.
Helen: "You need to figure out a way to keep Howard's vote"
Helen doesn't care if Spencer flips but they cannot have howard flip even the perception that Howard might not vote out Nick is causing the group to break apart. Candace needs to lock Howard.
Helen: "We need to make sure Howard tells all of them that he's voting out Nick.. everyone is too wishy washy."
Candace: "he is voting out nick he told me last night in bed" (They were snuggling in bed last night)
Helen if this alliance falls apart this week we're all goners.. Jeremy is always going to be loyal to Aaryn and Kaitlin"
Candace says they have to get rid of Nick because Jeremy says he's coming after her and Helen next week and not Elissa.
Helen: "You need to tell Howard that they are all being suspicious and he needs to clear his vote up with the group"
Candace: "For MVP we have to keep her"
Helen: "I Know"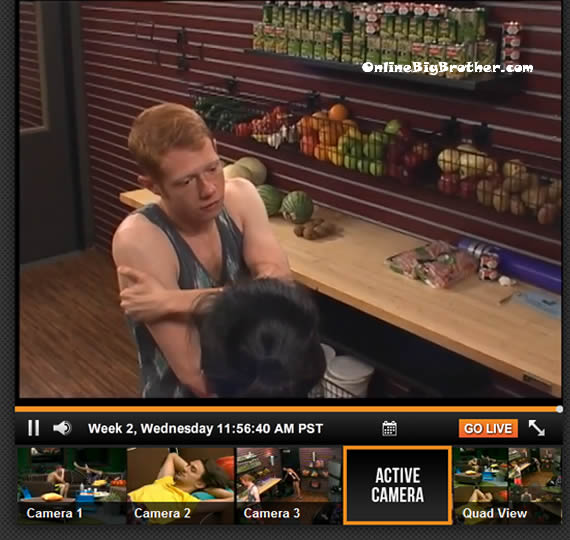 11:56am Storage room Andy and Helen
Helen is starting to wonder if maybe Amanda is trying to sabotage the group. Andy swears Amanda is not bring sup that she was crying last night. Helen: "Sucks that i'm on the block I can't do all that much" Andy says if only 5 of them vote to keep Elissa it will screw them over they need the majority or nothing.
[polldaddy poll=7235287]