POV Holder:
Kaitlin
Next POV
July 20th
POV Used
YES
POV Ceremony
July 15
HOH Winner:
Helen
Next HOH:
July 18
MVP:
Elissa
Original Nominations:
Kaitlin, Aaryn, Spencer (MVP)
Current Nominations:
Jeremy, Aaryn, Spencer (MVP)
Last Evicted Houseguest
David, Nick
Have Nots
Judd, Jessie, McCrea, Amanda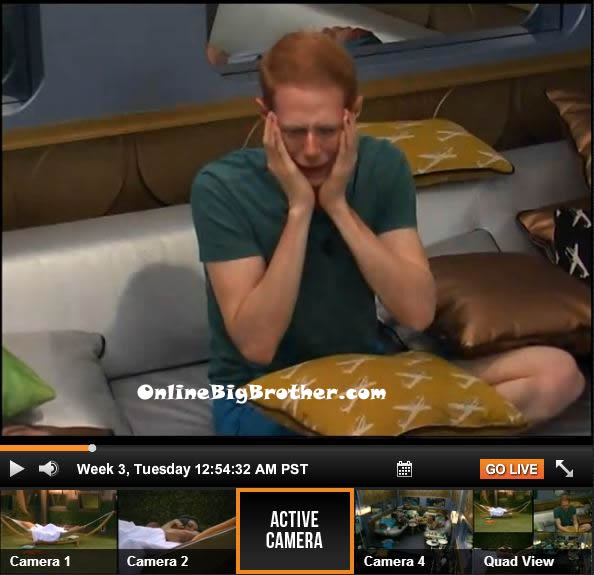 12:45am In the lounge room – Amanda, McCrae and Judd are talking about Gina and how annoying she is. Judd says that sometimes she acts like such a little kid. Judd complains about how Gina eats the havenot food when she isn't even a havenot. McCrae says that it enrages him. Andy joins them. Judd asks Andy if he notices Gina only eats the slop balls. Andy says yeah! Judd says if Gina isn't a havenot next week I am going to go ballistic! If she is on my team I am just going to fall asleep. Andy says from havenot fatigue. Amanda says that she hides the havenot food like it's a dead body. Judd says that Jeremy goes looking for people in rooms asking them to make him something. Andy says me and Judd had to sleep in the havenot room because no one would give up a bed for 3 days. The conversation turns to talking about the havenot competition and if Howard threw it or not. Andy comments how he was covered in rotten milk from the havenot competition and Jeremy who wasn't even in the competition cut in front of him to shower. Andy says and Aaryn took a half hour shower. Aaryn joins them. They talk about how everyone is tired of hearing Gina talking about Nick. Amanda jokes we need to do an intervention with Gina. Amanda goes to take some of Nick`s stuff from Gina. They joke she should put it in Candices bag to see a round two fight between them. Amanda stole Nick's cup, hat, sunglasses, chap stick, cereal box. They're all hiding them and laughing. McCrae says that he's going to blame Aaryn. Aaryn says everything is blamed on me. Andy says that Gina is going to be so mad! Judd says we are going to hell! Amanda says this our new alliance called moving sh*t. Let's not tell her, let's just watch her scramble.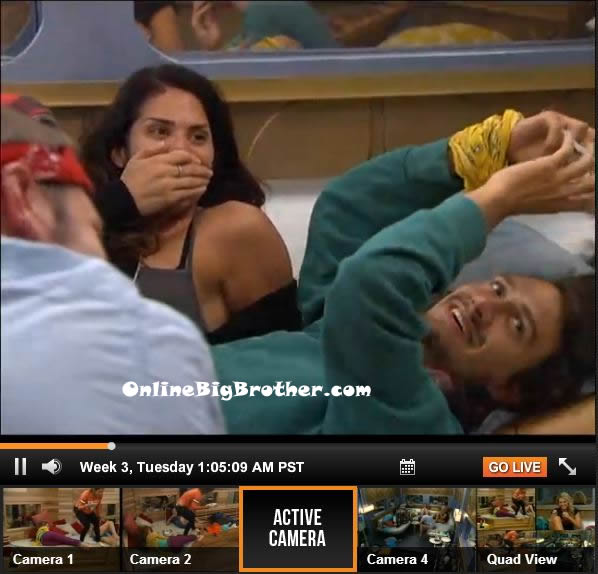 1:15am Aaryn and Kaitlin are in the storage room. Aaryn pulls out the condoms and looks at them. She finds used/opens ones and says eww. She throws them out and counts them. She counts 9, there were 12. Kaitlin says and that's not even the original box, there were two boxes. Aaryn says do you know what's even worse. Aaryn pulls something out of the cupboard and get Kaitlin to read it. Kaitlin says that is a female condom. Aaryn asks why is it in the butt hole, this is not real?! They make these for butt sex? Aaryn reads the package "Single use only, do not reuse. Shear damn placement for vag!n@l, or@l and an@l $ex.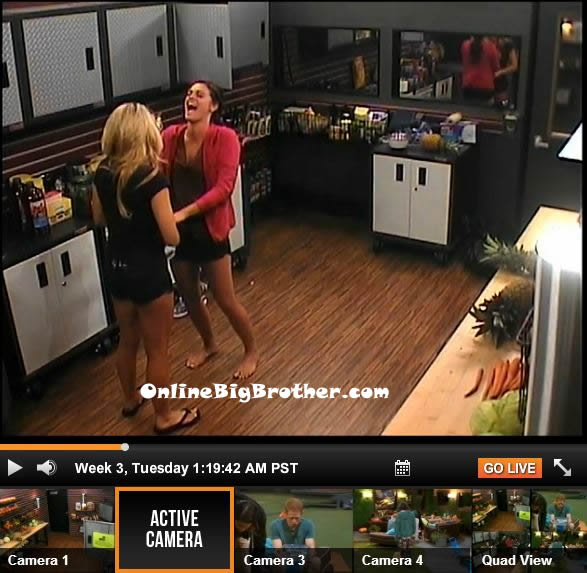 1:40am In the kitchen Jeremy teases Gina when she mentions Nicks name. Jeremy says whose Nick there hasn't been anyone named Nick in here. I think you made him up. There has only been one person evicted and that was David. Maybe you're schizophrenic. Did you take your medication today? Gina says yeah I take medication frequently.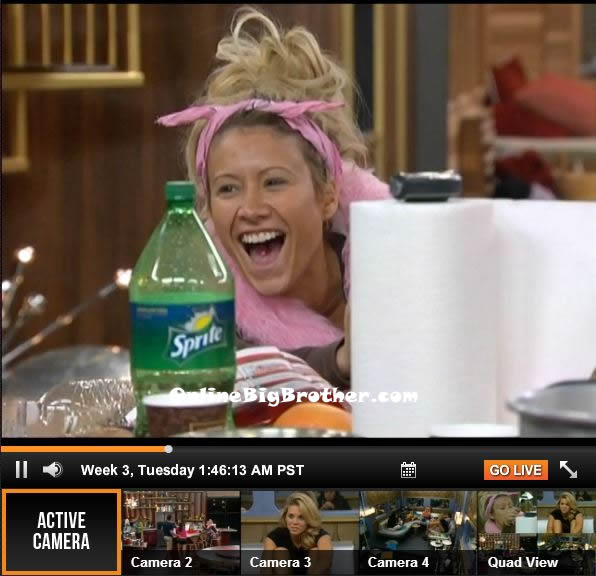 2:20am Amanda, Andy, Gina and Aaryn are in the lounge room talking and joking around. Aaryn tells Amanda that she is going to make a midnight feast when she gets off havenots. Andy says those feasts are the best! Aaryn says they have to wait until Thursday at midnight to get off being havenots. Aaryn thinks they will be having a food competition this week instead of the HOH picking have/havenots because the we are havenots till Thursday at midnight. Gina says I am going to go lay down, Nick's waiting for me. Amanda asks who's that? Gina pretends to cry. Amanda asks where is my husband? They tell her he's outside. Candice goes to tell him Amanda wants him. Amanda says that McCrae said he would carve me a ring out of soap or cork. Amanda says she told him she doesn't want that. Aaryn asks if Big Borther would go out and charge a ring for if you told them you wanted to propose to someone in the house? Amanda laughs and says that McCrae only has like $25 bucks! Candice comes back from telling McCrae that Amanda wants him and comes back to tell Amanda that McCrae jumped right up when she told him Amanda wanted him.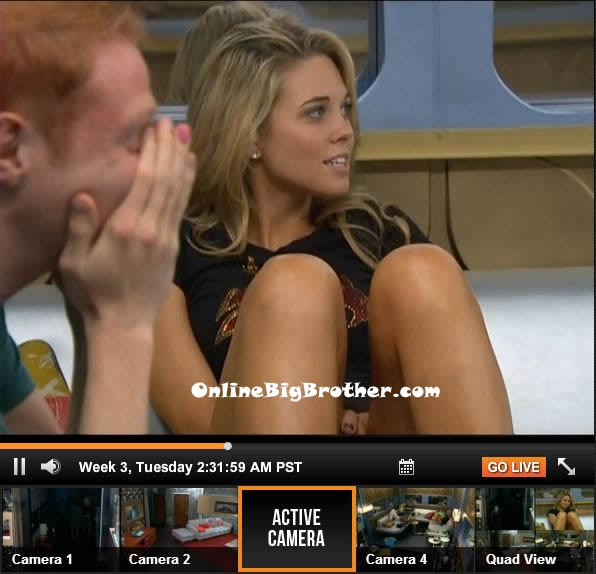 Meanwhile out in the backyard – Spencer and Judd are talking on the couch. They talk about how Elissa wants an all-girl alliance. Judd says that the votes this week will show whether there's a girl alliance in the house. Judd says that he doesn't want to be in this house with all girls. Judd says that he is worried that Gina will make it to Jury. He says that he thinks that would be a disaster. Judd says Gina blames me for Nick going home.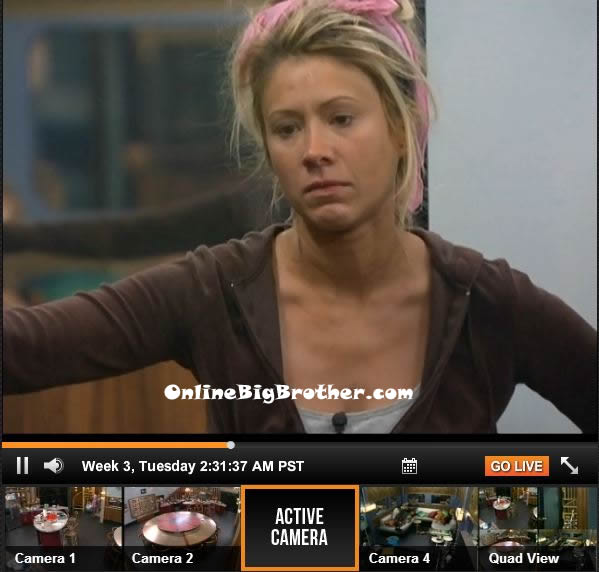 Gina comes back and asks them where Nicks hat and cup are. Gina keeps questioning Aaryn. Aaryn says that she doesn't know where it is. Gina gets upset telling them she needs it. She almost cries and leaves the room. Amanda goes and finds Gina because Jessie tells her that she is crying. Amanda tells Gina it was just a joke that went bad. We're sorry. Gina says you took my shrine away! Gina laughs and says that sh*t was funny. Amanda says sh*t was funny until you started crying. Amanda say oh, I'm going to get evicted next week! They are all laughing. Amanda jokingly says it was all Aaryn's idea. Aaryn says it was not me! Amanda asks tell me about the logic behind the Nick shrine. Gina says that its just all the stuff Nick left behind. Amanda asks Gina why she doesn't wash the cup. Gina says because she's not drinking out of it so she doesn't need to wash it. Amanda asks her if she knows Nick isn't dead, this isn't the Hunger Games, this is Big Brother!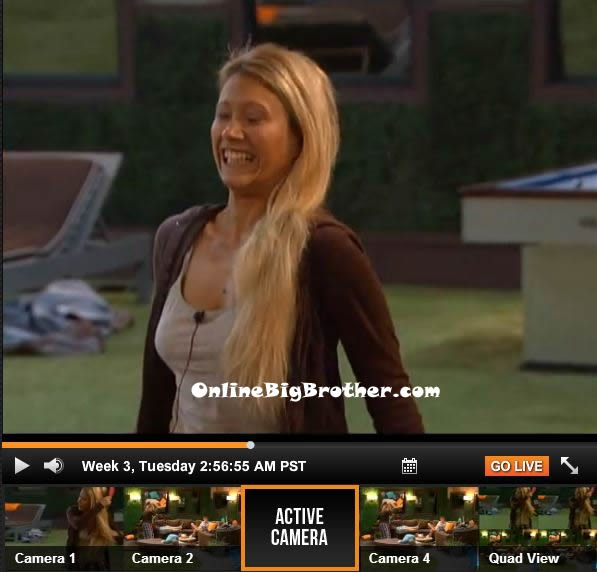 2:50am Out in the backyard – Judd Andy, Spencer and McCrae are talking on the backyard couch. Amanda joins them. Judd says that he is worried that Gina will blame him for hiding her stuff. Andy says that Gina has a new target every day and tells Judd that he shouldn't worry. McCrae says he knew Gina would react that way – freaking out and crying. They all laugh at how over dramatic she is. Judd says it's all funny till Gina gets that HOH. Meanwhile In the bedroom – Candice tells Gina they are going to have a memorial service for Nick tomorrow to put an end to her mourning him. Candice says we are going to put an end to this. Candice says we will put all of Nick's things in a crate and put it in a drawer. Gina agrees. Candice tells Gina is never going to heal wearing Nick's hat and putting it on the pillow next to her at night. Gina goes out to tell the others that she is putting Nick stuff in a drawer. Spencer asks can't we just put it in the trash? Gina says I will keep one thing. Andy says keep the hair gel, I want to use it. Judd says Nick would want us to use it. Amanda asks what if he left all of these things as a sign or a message. It all has to do with blocking from being shaddy – A hat, sunglasses, contact solution so he can see clearly. Spencer says maybe Gina should just wear it all at once and call yourself Nick for the rest of the game. Gina heads to bed. Amanda laugh about how she was trying to convince Gina that there was symbolism to the items left behind by Nick.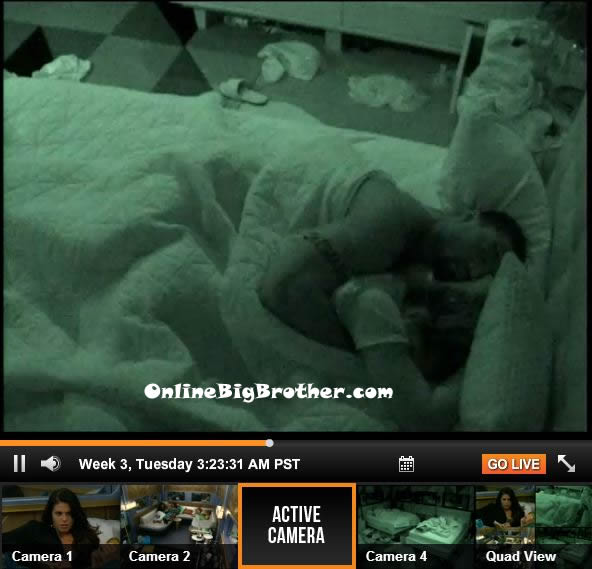 3:25am – 3:45am Amanda and McCrae are talking about what happened when they hid Nicks things. Amanda calls Gina a nut bag for the way she broke down. McCrae says that Aaryn just wanted to antagonize the situation. McCrae says fu*king Aaryn. Amanda says that Aaryn is mean spirited. McCrae comments that he wants Aaryn gone. McCrae and Amanda start making out. Meanwhile by the memory wall – Andy, Judd and Spencer are looking at the photos. Andy says he wants play a game of Marry, Fu*k, Kill with the memory wall photos. They talk about what order they would fu*k the guys/girls. Spencer is 6th on Andys list but only because Andy likes smaller guys. If I liked big guys you would be higher on my list because you are an attractive larger guy. Andy says he would marry McCrae, fu*k Nick and kill Jeremy. Andy then does Judd and says he would marry Helen, fu*k Amanda and kill Aaryn. Judd says no, marry Helen, fu*k Amanda and kill Aaryn. They laugh about it and then head to bed. Meanwhile Amanda and McCrae are in the lounge. Amanda is asking McCrae if he is a $exual person because he never wants to try anything with her. McCrae says he doesn't want to be that guy. He says he is here to play the game. Amanda and McCrae head to bed.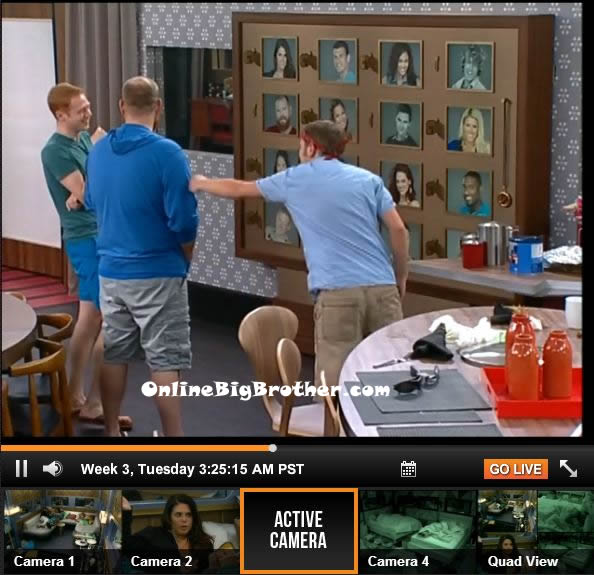 7:40am All the house guests are still sleeping..
10am – 10:45am Big Brother switches the live feeds to the we'll be right back screen to wake up the house guests. When the feeds return, Helen is getting ready to do her run while she talks to Elissa in the HOH room. The other two cameras are on the havenot room where the havenots are still sleeping. Helen then heads down stairs to do laundry and start her run. All the house guest are back asleep except for Helen.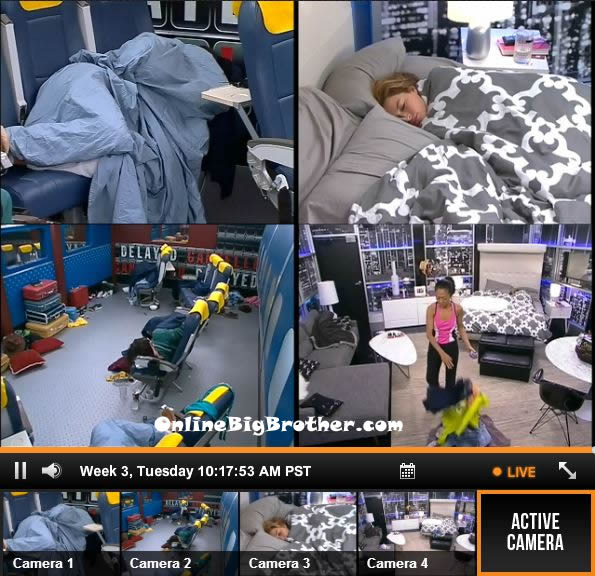 [polldaddy poll=7248812]
Stay connected and interact with other Big Brother Fans on our Facebook page.
And Follow: @BigBspoilers and @Dawgsbigbrother on Twitter for the most up to date spoilers.