POV Holder:
Kaitlin
Next POV
July 20th
POV Used
YES
POV Ceremony
July 22
HOH Winner:
Helen
Next HOH:
July 18
MVP:
Elissa
Original Nominations:
Kaitlin, Aaryn, Spencer (MVP)
Current Nominations:
Jeremy, Aaryn, Spencer (MVP)
Last Evicted Houseguest
David, Nick
Have Nots
Judd, Jessie, McCrea, Amanda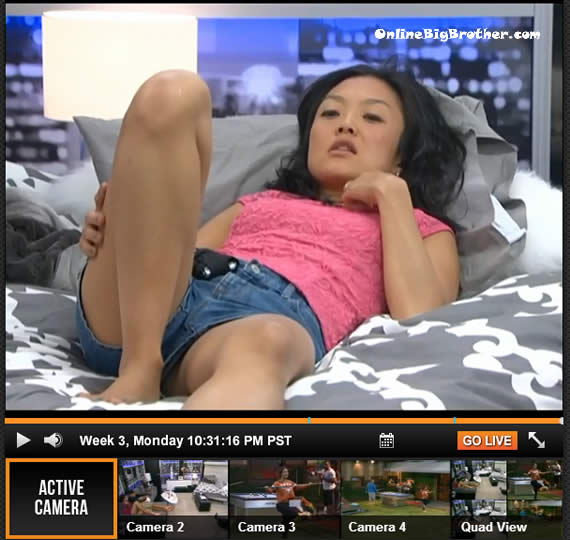 10:00pm HOH Helen and her friends
Helen talking about after she won HOH she looked at Spencer and Howard in the eye and asked them where the extra vote went.
Helen brings up how Spencer flipped his vote 2 hours before they were cast. Helen says Spencer is on the sh!t list. She feels it can go either way says she'll give anyone a second chance but if you screw her a second time I'll come back with a vengeance.
Helen "I will smear your name to the point you'll never want to show your face"
Helen told Spencer: "Play hard for that veto.. what have you done for me lately.. " (They start quoting janet jackson)
Helen keeps talking on an on. She says all the girls have their own unique strengths and the house is full of smart strong competitors.
Helen: "I would have been like.. ohh I'm the smartest person here" she adds that the comps she thought she would excel at she didn't.
10:36pm HOH Aaryn and Helen
Aaryn thinks that next time they should do masks and massages.. She would have rathered it been all girls.
Helen understands that being on the block is tough cause you never know what will happen . This is why Helen was upset with Spencer told Jeremy to vote her out.
Helen starts to deconstruct the Moving COmpany's strategy tells Aaryn that the guys were going to share information about each sub groups game. She thinks it was a good idea the guys knew the girls would have lots of drama.
Aaryn says Candace is super smart in this game.. she sniffed out the boys alliance, figured out the votes and the first person to figure out Elissa is Rachel's sister.
Aaryn says that things are going great for her these past two days Elissa and Candace are talking to her again.
Helen knows that Aaryn has caused drama and Elissa has caused drama Helen thought that bringing all the girls together would give them a chance to see that they all have good qualities. Helen: "there is good in everybody.. If we all came together I was hoping we could all build some (Super)friendships then the Drama would come down.. then we can play the game"
Helen: "The Drama doesn't help the Game"
Helen going off about how getting rid of Jeremy means they all have a chance to win HOH and that was one of her priorities, "I would like everyone to win a HOH" She didn't like the idea of keeping a player like Jeremy in the game that would win all the HOH's and rob people of the opportunity to win it themselves. Helen thought that the house was feeling discouraged that they wouldn't be able to win any competitions because of Jeremy and now with him gone the game can reset.
Aaryn :"Did you Howard and Spencer mend things so they are not targets anymore"
Helen: 'AHHH umm I will always forgive people.. even you." Helen goes off on a tangent telling Aaryn that she doesn't want drama in the house she just wants to play the game.
10:57pm JEJU
Jessie and JUDD tickling.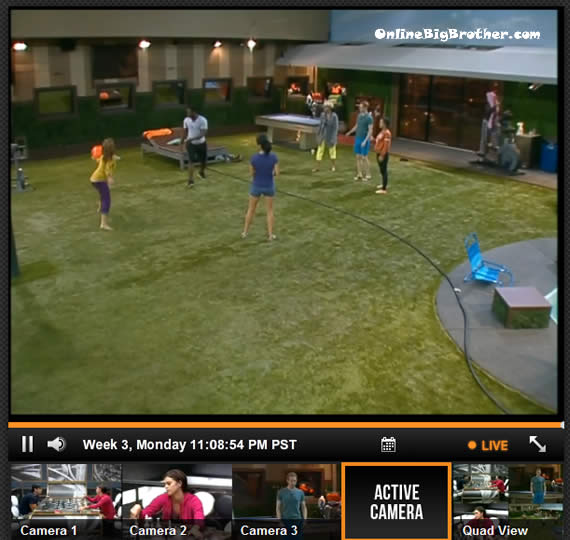 11:09pm Friends playing Volley ball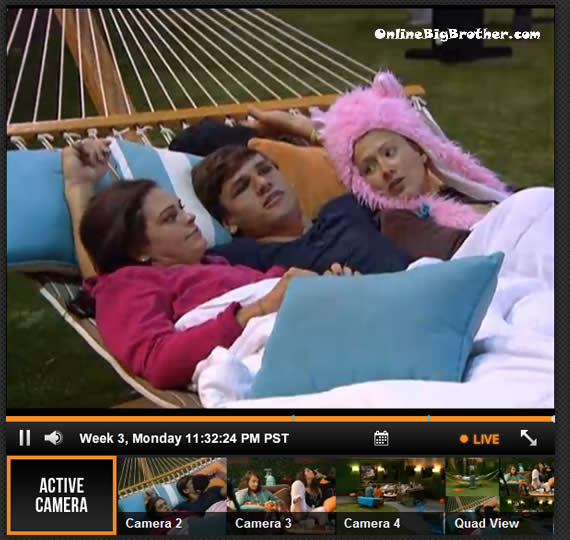 11:22pm Hammock Kaitlin, Aaryn and Jeremy
Aaryn tells them a bit about her conversation with Helen.
Aaryn: "She told me Howard and Spencer are not targets anymore"
Aaryn says that Helen is only telling her that she will protect her because she doesn't want Aaryn to put her up. Aaryn doesn't think she can count on Helen.
Aaryn has the feeling that whatever happens the next HOH is going to change everything up, "they are going to realize HOH doesn't mean you are going to win the entire game"
Kaitlin thinks Helen still wants Howard and Spencer out.
Aaryn disagrees says that that entire side of the house is all cool now.. she tells Kaitlin They will tell you whatever they need to so you do what they want you to do.
Kailtin says she trusts Andy he was crying the last time they were talking to each other.
Aaryn tell kaitlin that Helen, Andy and Elissa told her she was in a alliance because they think Kaitlin will win HOH and they don't want to go up. THey have no intentions of being in a real alliance with her.
Kaitlin says she guarantees they are going to take Howard out next week they want all the guys out of the house. Kaitlin adds that HElen forgive people but it doesn't mean she forgets. She told Kaitlin when people do 2 strikes you are out with her.
Aaryn questions what Jeremy's 2 strikes were.
Kaitlin says it was the win fight and the personally attacked. Jeremy says he never personally attacked anyone.
Kaitlin says Andy is on board with getting Spencer and Howard out she talked to him yesterday . Aaryn doesn't think that is who the targets are she thinks it's someone else probably them.
Gina joins them ..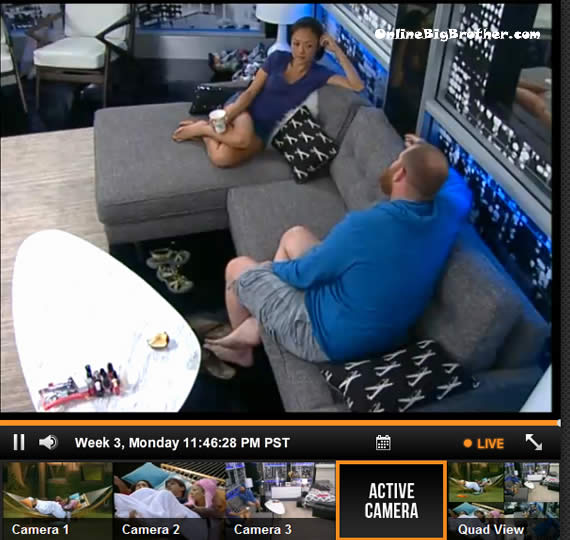 11:39pm Helen and Spencer HOH
Helen tells him he was always safe this week Even if Jeremy wasn't going up Aaryn would have gone home. She doesn't want Spencer to tell anyone that because Helen told Aaryn she was the pawn.
Helen tells him because of what he did people will want to take him to Jury but after that it's going to be tough. Andy joins them. Asks them what they are talking about. Spencer says they are talking about when he suggested to Jeremy they vote out Helen. Spencer apologizes.
Spencer: 'I am extremely loyal to you .. you can consider my HOH with y'all.. oh and same with Elissa" Spencer goes on about how he tried to tell Jeremy to stop acting the way he did but nothing seem to stick.
Helen: "You tried to train him but he's un-trainable.. he's like a pitbull"
Helen says she appreciates his apology she just wants him to know he's was always a pawn.
Spencer brown noses the entire time saying things like "the best thing I ever did was vote Nick out"
Spencer: "I am terribly sorry for the both of y'all.. you two are the main reasons I wanted to get out of the Moving Company"
12:08am Hammock Gina, Kaitlin and Aaryn
Kaitlin says that Elissa is controlling this game everyone is ki$$ing her a$$. Gina about She should have been out the first week but everyone is a pu$$y F*** in the house. Aaryn points out that the only girls that are attractive Elissa has a problem with.
They say Elissa is making fun of Gina all the time about Gina and Nick being boyfriend and girlfriend. Kaitlin mentions that Elissa thought her and Jeremy were in love, "I only known him for 3 weeks cmon"
Kaitlin thinks McCrea was MVP last week, She heard it from everybody even Jeremy. Gina and Aaryn disagree. Gina cannot understand who McCrea got MVP. Aaryn thinks he's the underdog people like that. Gina doesn't think he's the underdog he's murdering it.
Kaitlin says that the DR is milking this situation they are in right now, "This is going to be a huge f****ing week for TV.. for CBS.. it almost makes me feel that it was rigged"
Aaryn: "that you won.. we'll I'm surprised Candace beat me"
KAitlin: 'I tell you this game is not what we think it is"
Gina says there is no way that Fat A$$ b!tch beat her in the pov competition. (Candace)
Gina says she really didn't want to go to that Nail party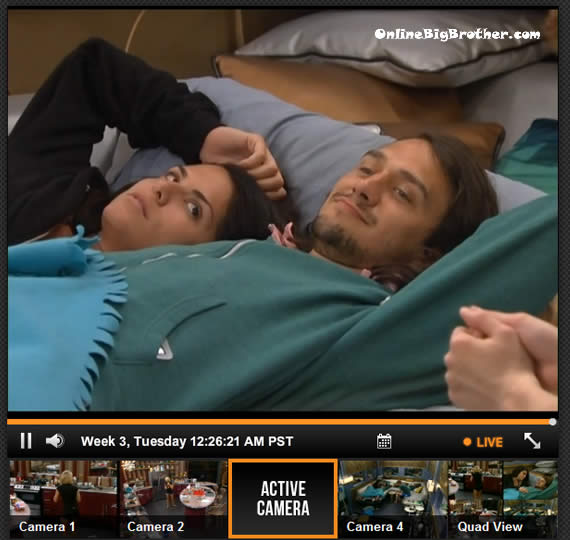 12:26AM Cockpit Andy, Amanda and McCrea They all want Howard gone next week and they think the best way to do that is to have Kaitlin win it. Amanda says Candace and Gina are a lot a like when it comes to guys. Whoever gets Howard out will have Candace after them.
Andy wonders who Aaryn would put up. Amanda: "Candace and Howard" Andy laughs mentions for Aaryn portrayal it's not going look good. That is why McCrea doesn't think she will put both Howard and Candace up. Andy is worried that Kaitlin and Aaryn are after him after he BFF'd them and backstabed them for 2 weeks in a arow. McCrea says that is a worry him and AMand ashare.
Amanda: "They're not that smart… plus we have MVP"
Amanda thinks they are in a fine position in the house.
They starts talking about awesome the "Goof Troop" alliance is. (Amanda, McCrea, Andy and Judd)
[polldaddy poll=7248812]