POV Holder:
Kaitlin
Next POV
July 20th
POV Used
YES
POV Ceremony
July 22
HOH Winner:
Helen
Next HOH:
July 18
MVP:
Elissa
Original Nominations:
Kaitlin, Aaryn, Spencer (MVP)
Current Nominations:
Jeremy, Aaryn, Spencer (MVP)
Last Evicted Houseguest
David, Nick
Have Nots
Judd, Jessie, McCrea, Amanda
9:04pm Katilin, Helen and Andy
Andy tells them that Howard has been throwing every competition they've had.
Kaitlin starts punching her pillow "I f***ing knew it"
Helen and Andy really start stirring up the get Howard out rants. Kaitlin says Spencer is the only person allied with Howard.
Helen tells them they have to win HOH and get Howard out. Kaitlin is going to be pissed if Howard wins HOH over her.
Kaitlin heads into the HOH bathroom
Andy doesn't think howard will win HOH he thinks his huge muscles will be a disadvantage. "Teeny Tiny" guys like him and McCrea will be better suited for endurance.
Helen is worried "Oh my god"
Andy says this is why we have to keep him close incase he wins HOH so they can get Aaryn and Gina put up. (Kaitlin would have heard this)
Helen: "He won't put Gina up they are close"
Andy: "Who else would he put up"
Helen: 'Kaitlin… never put Spencer up.. one of us"
Andy: 'He'll never put us up.. it'll be Aaryn"
Andy: 'I just don't want Spencer or Candace to win because they won't put him up"
Andy thinks they might be able to convince Spencer to put up Howard.
helen: "I think we could I think we can convince Spencer" (I would Disagree)
Helen says Elissa won't use the MVP to put up Howard they are going to have to really work on her to do it.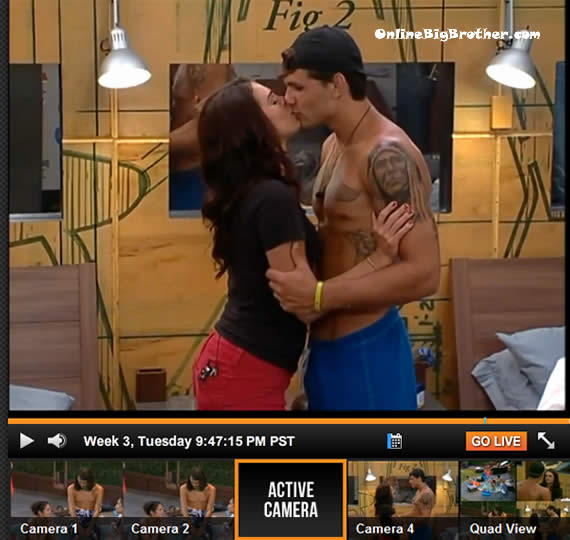 9:05pm Bedroom Kaitlin and Jeremy
Kaitlin: "Dude I was just up there and Andy was telling us about Howard throwing every competition"
Jeremy: "I tell you this.. I'm pretty sure it's going to work.. it's not for sure yet " Jeremy gives her quick rundown of the conversation they tells her he told them if it came down to final 4 she would vote her out . He doesn't plan on honoring the deal though. Kaitlin: 'you have to honour it"
Kaitlin kisses him tells him that she told them she'll vote him out in four weeks.
Kaitlin brings up that Helen talked to her and Whatever aaryn is saying isn't true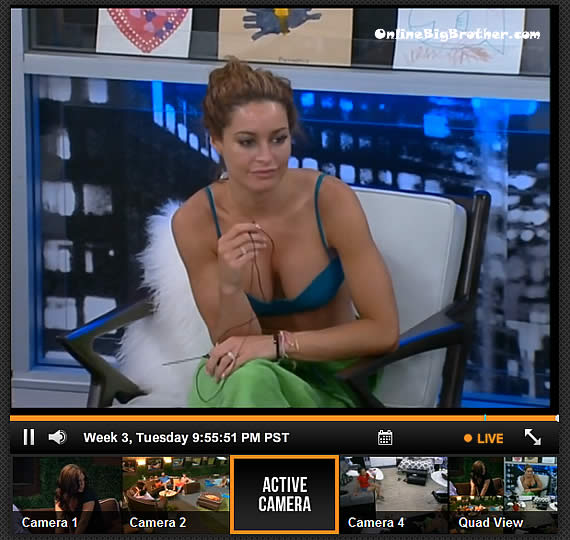 9:54pm HOH Elissa and Helen
They are planning on bringing Jeremy Up and telling him he's had 21 days in the house he's had plenty of time to correct the wrong. It's too much water under the bridge.
Helen: 'It's too late we don't need him.. Judd, Andy, MAnda and McCrea all agree"
They both agree that having jeremy in the house isn't fair to their friends because it makes it harder for them to win HOH. Helen points out if they keep Jermey in the game they will be disappointing their friends.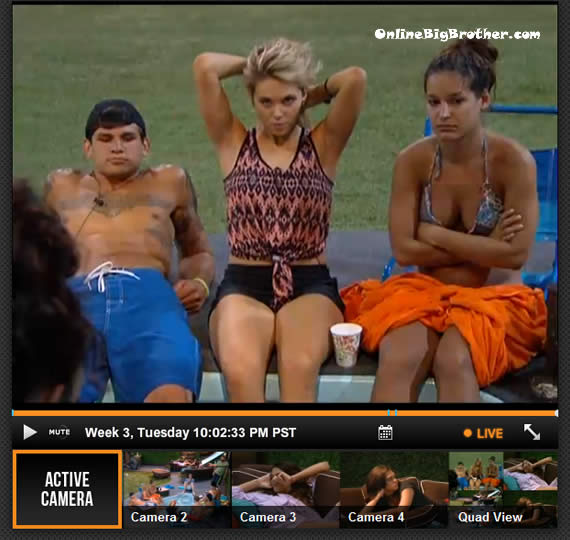 9:00-9:45pm Hot tub chit chat Jessie is not happy 🙁

10:03pm Hammock Aaryn, Amanda and McCrea
Aaryn: "So is she considering getting rid of Spencer "
Kaitlin: "nope"
Gina joins them
Aaryn wants to know exactly what Jeremy and Kaitlin were talking about in the HOH.
Kaitlin says that Jeremy tried to make a final 4 deal with Helen and elissa. Kaitlin offered them a deal she told them if they keep him this week she will vote him out the following week.
Aaryn says she's worried about it backfiring and she goes home. Kaitlin says people only mention Spencer as a second option.
Gina wants to know if they can save him Jeremy do they have any chance.
Kaitlin: "Helen says they will probably evict him"
Gina: 'i want to keep the strong players here.. I don't want to play with scrubs"
Aaryn leaves.
Kaitlin is totally onboard to get Howard out (Sigh 🙁 )
Kaitlin: "I tell you now if Howard wins HOH every single person in this house will feel sorry for voting Jeremy out"
Kaitlin says aaryn puts people down to make her feel better."I'm not going to lie to you she's going home soon"
Kaitlin says that Aaryn is really starting to annoy her. She thinks that they can get the power back but the reality is they can't unless they win MVP and HOH. Kaitlin points out even if they win HOH Elissa will get the MVP put one of them up and they all have the numbers to get rid of her.
They agree they need to work with the other side they want to keep Candace in the game to use as a target.
10:15pm have nots McCrae , Jeremy and Amanda
Jeremy says he talked to Helen he's not sure if she's going to go for it or not..
Jeremy says Helen and Elissa are considering his offer. They told him if Jeremy doesn't go home Aaryn will.
Amanda asks him to list five of his targets. Jeremy: 'I don't have 5 targets.. I want Spencer and Howard out"
Jeremy says if he has to pick Howard, Spencer, Aaryn, Candace and Jessie.
Jeremy gives them the skinny on his conversation says he doesn't want to be fishy.
Jeremy adds that Helen told him that her main people are Elissa, Andy, Amanda, McCrae and Judd. Jeremy was surprised by this he didn't even know McCrae, Judd and Amanda were that close to them all.
Amanda: 'Who told you that"
Jeremy: 'helen"
Amanda: 'Thats really weird.. "
Jermey: 'It is.. I hope I'm not revealing too much"
Jeremy leaves..
Amanda: "Is Helen f****ing retarded.. she just told him our whole alliance"
Amanda: "What is wrong with her"
McCrae: 'It's going to be awesome when she's not in power"
Amanda: 'What is wrong with her.. I am baffled.. she needs to shut her mouth and not talk ever"
Amanda: "I can't wait to boot her out of the door she's so annoying"
Amanda says if they really push to keep Jeremy he could stay. McCrae says that Aaryn is shady . McCrae says Spencer Is easy to read he's not too dangerous like Howard..
McCrae says the one advantage to Jeremy is is easy to read. They both agree that Jeremy needs to go this week but they wish it could be Howard.
McCrea: "There is no f**** way I would have left Hoard in the game he too f***in good"
Amanda calls Helen and Elissa morons.
They agree that getting Helen out will be tricky because they are playing both side.
Judd walks in Amanda says that Helen just outed their entire alliance to Jeremy. Judd: 'What the f*** .. is she's an idiot.. he's going to go tell everyone before he goes home"
Amanda says they need to all play dumb.
Judd tells them he has Jessie locked down.. He thinks they should swap out Helen for her, Judd isn't sure Andy will be down for it. Amanda wants to get Helen out first before Jessie. Judd asks if Helen is part of the good troop. Amanda says no! Judd says he's getting confused with the alliance. Amanda says Elissa and Helen are in a fake Alliance with them.
Judd points out how Howard and Spencer are obsessed with Jessie they will vote to keep her. Amanda: "Spencer looks at her in a creepy way"
Judd says he really irritated with Helen.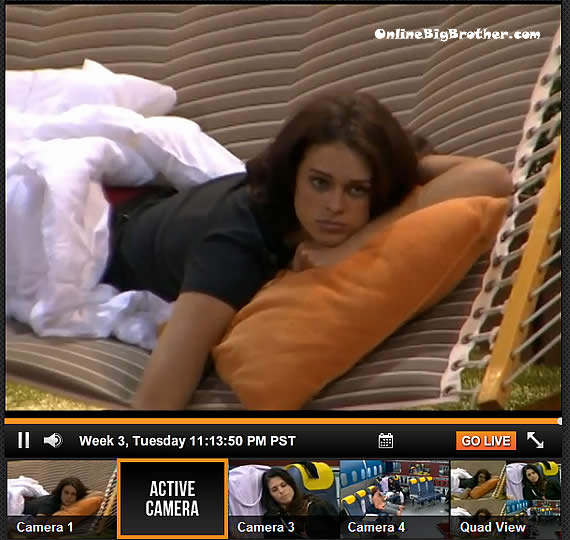 10:30pm Hammock Katilin and Aaryn
Kaitlin telling Aaryn some more about the deal that Jeremy was trying to make with Helen. Aaryn is really worried thinks she'll end up getting thrown out. Kaitlin tells her Helen and her friends want to get out all the guys. Aaryn: "when did they say that today"
Kaitlin: "they said it earlier in the week"
Aaryn: "they know if Spencer goes home we have the numbers"
Theres a long pause.. Aaryn leaves
10:42 HOH They tell Andy what Helen did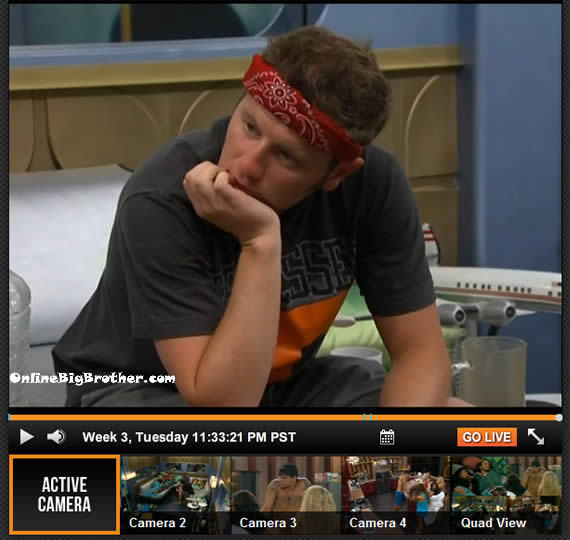 11:27pm Cockpit Goof Troop
Judd is asking them if Helen is changing her mind about Jeremy. McCrae says Jeremy is really campaigning but Helen hasn't changed her mind.
Andy says Jessie is locked. Judd reports that Spencer and Aaryn are very nervous they keep asking him if they are going home. They bring up Helen telling Jeremy that Helen, Judd, Andy, Elissa, McCrae and Amanda are in an alliance.
Andy says he's going to talk to Helen tonight "I'll fix that"
judd: 'Oh my God"
they all laugh
Judd: "Was she on ecstasy" (Judd figured it out.. the friendships, the non stop talking the nail party it all adds up. Helen has been on ecstasy while HOH)
Judd you know Jeremy tells Kaitlin everything.
Andy says that Kaitlin
Judd I'm sure this is so exciting for America looking at us here sober and boring
McCrae thinks they should have an all liquid diet instead of slop where they can drink anything they want.
Candace, Spencer, Howard and Jessie hanging out.. sounds like they are targeting Aaryn after Jeremy goes. Jessie leaves.
Howard thought the live feeds were only on 2 hours a day. Candace says the live feeds are continuous it's afterdark that is only a couple hour a day. Candace gives Spencer shit for lusting over Jessie all the time. Spencer swears he would never do anything with Jessie he cares for maryland too much, "I've cheated in the past but never on maryland"
12:00AM Cockpit McCrae and Amanda
MC is telling her how much he needs the money. He's hoping that there is a competition like Big Brother 14 where the players could win $3000.
McCrae "Even if it was $1000 I would get down on one knee and suck someone's d!ck"
Amanda: "you just said that in front of a lot of people"
McCrae: "That's fine.." He really needs the money

Gina, Andy and JUDD dancing around.. no idea
12:25AM Cockpit Kaitlin, Spencer, Amanda, McCrae, Andy and JUDD Andy is saying they should form a 6 person alliance and call it the f*** c***ts
12:30AM Hammock Jeremy, Candace, Elissa and Helen.
Jeremy tells them that he hasn't talked to his father for 10 years because he punched Jeremy in the face. Jeremy leaves. The girls wonder if his story is real
[polldaddy poll=7248812]