POV Holder:
?
Next POV
?
POV Used
?
POV Ceremony
?
HOH Winner:
Aaryn
Next HOH:
MVP:
?
Original Nominations:
?
Current Nominations:
?
Last Evicted Houseguest
David
Have Nots
Helen, Elissa, Candice, and Andy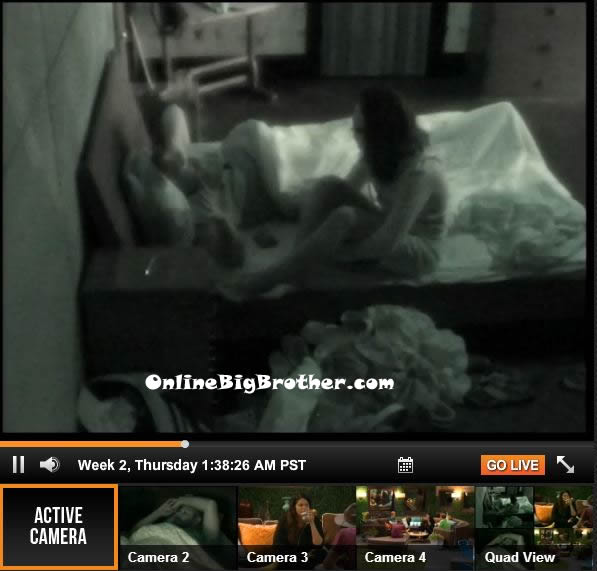 1:40am Helen and Spencer are talking in bed. Spencer says this is going to be a tough week, but if you get it (MVP) whoever you put up I will support. Helen say yeah I won't touch you, McCrae, Howard, Andy. Spencer says yeah, when she (Elissa) got it she went up and told McCrae. Spencer says so there is a bit of time before the POV when you get it. Spencer says that she will probably get it again. Spencer says I know they don't trust Jessie, or Nick. Spencer asks what would you do if you were in my shoes would you keep denying. Helen says yeah I think so. Helen says we'll hangout in the havenot room a lot.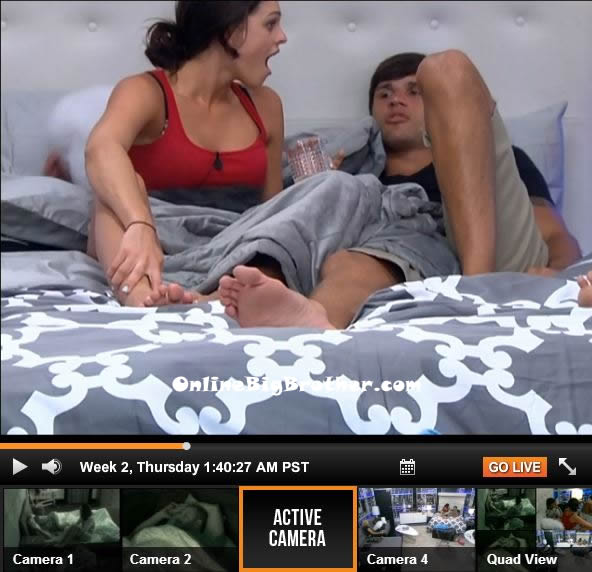 Up in the HOH room – Kaitlin, Jememy, Aaryn and Ginamarie. Jeremy tells them that Jessie came up here last night and the three that we (Kaitlin and Jeremy) had $ex. I told her you don't know what's going on, don't comment. Kaitlin is shocked and asking WHAT?! She told everyone we had $ex?!!? Jeremy says the three that were up here. Kailtin asks did you tell them we didn't?! Jeremy says yes, they came down and I told them we didn't. Gina says they are just trying to stir the pot. Aaryn says that she really doesn't think she (Elissa) has the hand book anymore. I really think just think this house is fu*ked. And we pretty much have a hand book because we have seen all the seasons. Aaryn says the more that I think this game is rigged, the more I act irrational and stupid. I have to get my head right. I have to believe we can overcome her, unless the veto is a number counting game. I am just going to black out. Jeremy says that he is right there with her. Aaryn says for some reason when we get into games I go to another place. Jeremy says that he is right there with her. Aaryn says I better get a good job out of this! She laughs. I need to be the new interior designer for Big Brother … obviously! Aaryn talks about in the competition she would hold her hand under the cup to catch more and wipe it off on Jeremy's hand to get more in. Kaitlin says you guys are lucky because you weren't allowed to do that. Gina says yes you were allowed as long as it was from the cup because I asked. They talk about how some got stuck with sh*tty teammates. Gina got stuck with Amanda and she was so slow. Aaryn asks how did you feel when you realized you were with her? I would have hit the panic button and said fu*k this, it's sh*t o'clock and I don't need this! Gina talks about how when she fell in the competition she hurt her hand. Kaitlin talks about how she kept cheering when Candice would fall. Kaitlin says she is worried that she is going up on the block with the MVP nomination because she is with Jeremy and he is the strongest person. We thought David was fine too and he went home. If I go up, I will go home. What are we going to do if she puts me up. Aaryn says we will figure that out right now. Kaitlin says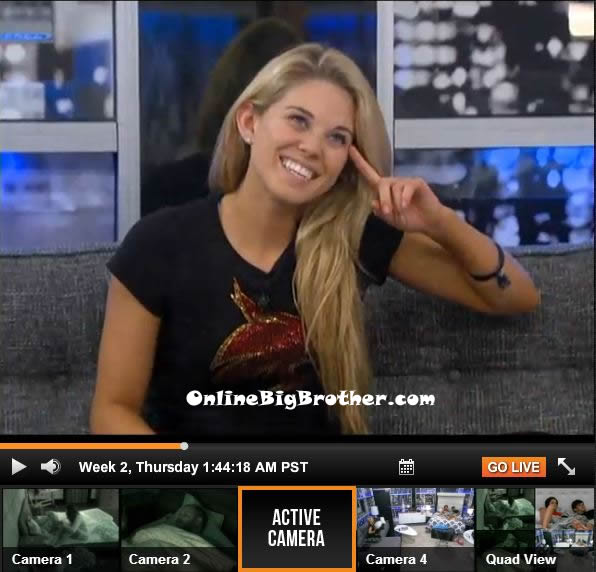 2am Amanda comes up and tells Aaryn and Kaitlin that she knows they have their 5. Nick, Gina, Aaryn, Jeremy and Kaitlin. Amanda says I know you expect me to come up here and kiss you're a$$. I didn't vote out David, I didn't think he was coming after me. Aaryn says that the whole thing with Elissa saying not even you McCrae. It was all just really fake. Amanda asks how does it benefit me to work with Elissa. Aaryn says if you made a deal with her then when she gets MVP again because she probably will, then we would be in her cross hairs. Amanda says I 100% did not know Elissa was putting up David because David was not coming after me. Amanda leaves.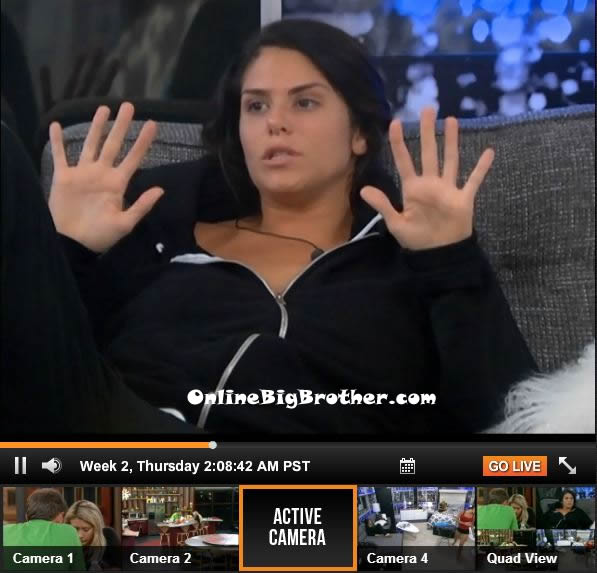 They talk about how Judd and Andy are upset and the only ones that came clear about voting out David. Jeremy and Kaitlin bring up how Kaitlin went into the storage room one day Elissa was in the back back room, through the other door. I am telling you this whole fu*king game is for her. She is getting something from production. Aaryn comments that she got big time boos when she was voting. They are probably portraying my as the bit*h and they are putting it on my why he went home. Nick and Jessie join them. Jeremy says that we all need to vote out Elissa! Amanda says that sounds good to me. That was the plan last week. Amanda heads back down stairs. Judd joins them. They all start grilling Judd. Judd says that he voted out David because he changed his vote today, he says that he talked to Candice told him to. Aaryn says that Candice was up here saying she didn't vote out David. She straight up lied to my face. Judd says that I am really sorry, I feel bad about it. From the bottom of my heart I am sorry, I messed up. Aaryn says that it was like stabbing her in the heart. Jeremy says Elissa is going this week. If we put her up will you vote her out?! Judd says well like yeah. I don't want to mess up again. Judd says that he appreciates Aaryn not putting me on slop. Judd says still hang out with me by the pool. They laugh and say they will still hang out with him by the pool. Judd says I am sorry. Aaryn says that she accepts his apology. Aaryn says Elissa comes up here saying we're running a wh*re house, when Rachel's fiancé Brendon showed his pen!s online to a stranger. Jessie asks really ewww. They talk about how Brendon has an old man pen!s.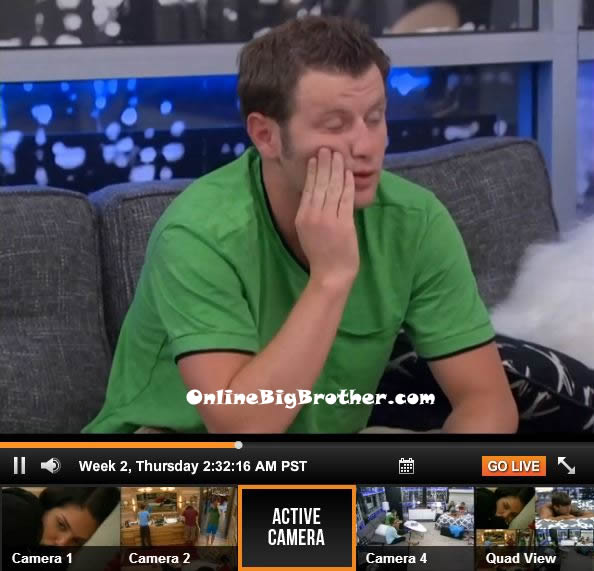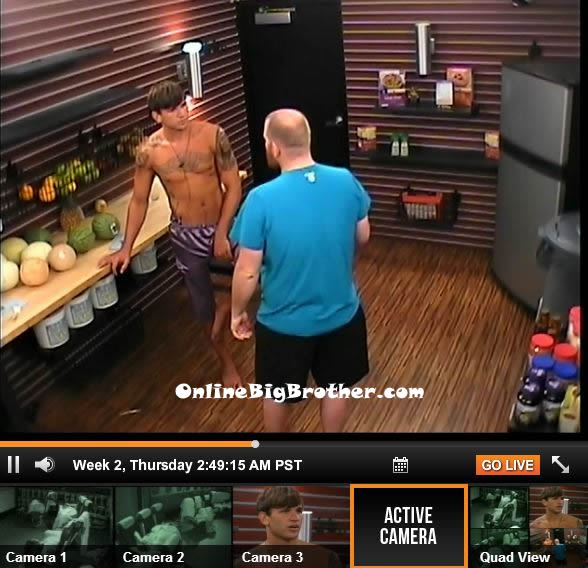 2:45am Jeremy and Spencer are in the storage room. Jeremy says they aren't mad at you, they are mad at Judd because he straight up lied to their faces. Jeremy says they are grilling him up there. Spencer says I need you to keep an inkling of trust with them, just vouch for me. Jeremy says that Aaryn told him that we will put up anyone you want because if it wasn't for you we wouldn't be here right now. Spencer asks if Jeremy will tell him before nominations. Spencer says I am with moving company, everyone better get out of the way. Jeremy talks about how they are worried about McCrae. They think Amanda is going to mess and throw moving company under the bus. Jeremy says that he thinks they should get out Elissa this week and Amanda next week.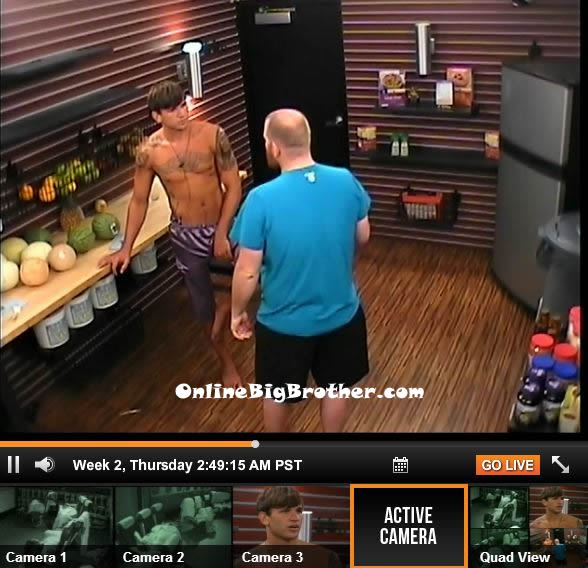 2:50am – 3pm Up in the HOH room – Andy, Judd, Kaitlin, Gina, Aaryn and Nick. Kaitlin tells Judd I would have let you touch my n!pple ring! But you fucked that up! You would have seen it tonight. Aaryn says don't know one want to see my tits because I don't have any but you could have seen them. Gina says yeah mine too, even Nick hasn't seen mine yet. Judd asks you would have let me see yours too? Awe man. Gina says up! Andy says that he is about to miss his flight and needs to go. Gina asks him if he wants a pat down? Jeremy, Aaryn, Gina and Nick talk about the HOH competition. Jeremy tells Gina that he thinks if Elissa get MVP she might be coming after you.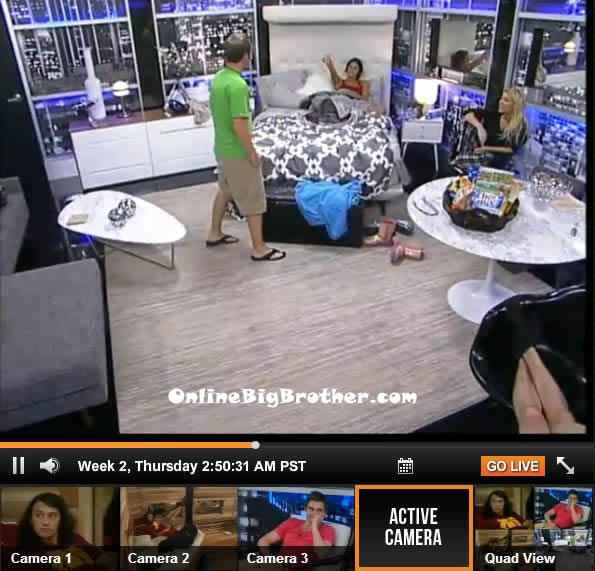 Meanwhile in the downstairs bathroom – Howard tells Amanda that it doesn't matter who they think did it, they can speculate all they want. Just stick with it, they don't know who did it. Andy tells Amanda that he and Judd just went up there and they bought it. Howard says it don't matter if they think or speculate. They don't really know who. Amanda tells Andy to stop going up to the HOH room. You and Judd are acting paranoid. Andy says they legitimately think I want to align with them. Amanda says we are not throwing each other under the bus. Andy says no I know, I am only saying Candice and Elissa.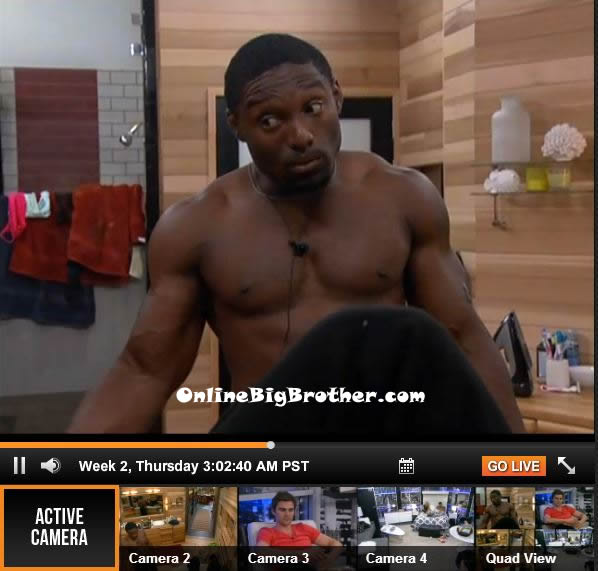 3:05am Amanda, Judd, Andy and McCrae are in the backyard. Amanda tells them to stop going up there. Judd says that he just told them that it was Elissa and Candice. Andy says that he just told them that he felt cornered and scared and just thought about my own selfish game. Judd says Candice can be our scape goat. They talk about how we need to stop laughing. Judd says they said they are giving me another chance. Andy says yeah they said that to me too. They talk abut how Jessie is up there kissing their a$$es. We knew this was going to happen.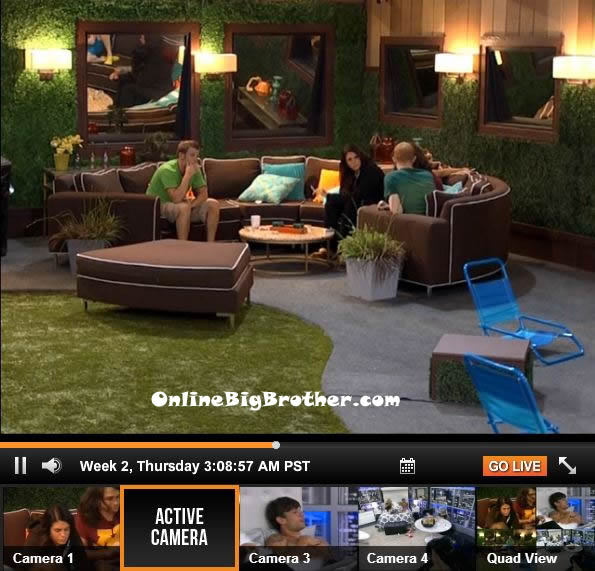 3:20am – 3:35amUp in the HOH room – Jeremy, Aaryn, Gina, Nick are talking in the HOH room about having a team HOH competition. They wonder if there POV would be a team competition too. They hope not. Gina talks about how she has to stay and make some money before she goes home. Jeremy says well you've already made 2G's. Gina says that's how much my hair cost to come here. Jeremy says well now you're even. Gina says she wants to stay and can't go out when JoJo went out. I have a lot of people rooting for me. Gina heads down stairs. Nick and Gina head down to lay out in the hammock. They talk about how Gina thinks she is going up and going home because Elissa will get MVP and put her up. Nick tells her she is fine. Nick tells her we just need to play nice.

3:50am – 510am Up in the HOH room – Judd, Jeremy, Aaryn and Kaitlin all talk about how sketchy Nick is and that they don't trust him. They talk about how he is always called into the diary room and he doesn't do anything but eat and sleep all day. They think that Nick is playing Gina and she doesn't realize it. Aaryn says he doesn't even know that he is a queer! They snicker. Aaryn says what, I am sorry. Judd asks don't they sleep with pillows in between them. Aaryn says if you sleep with pillows between you, you aren't getting laid. Aaryn says that she can't wait to get out of here, David is going to be bruised. She talks about how her ex was so rough, he was a hockey player. Aaryn talks about how if showmances made sex tapes people would watch it. Jeremy says I would watch it. She says I'm not going to do it, just saying. They continue to talk about the HOH competition and other random things. Aaryn thinks that there will be a vote to let one of the evicted back into the house. Aaryn says and then we will have a no pants party. Aaryn says because David is an angel and Judd you will always be Judas to me. Aaryn says that she walked by Elissa and told her you can't be MVP every week bit*h. Aaryn wonders if the twist would be if Elissa was evicted then Rachel comes into the house. Judd heads down to bed. Jeremy, Kaitlin and Aaryn go to bed in the HOH bed. Aaryn says you don't mess with this fire, fireball!
Stay connected and interact with other Big Brother Fans on our Facebook page.
And Follow: @BigBspoilers and @Dawgsbigbrother on Twitter for the most up to date spoilers.