POV Holder:
?
Next POV
?
POV Used
?
POV Ceremony
?
HOH Winner:
Aaryn
Next HOH:
MVP:
?
Original Nominations:
?
Current Nominations:
?
Last Evicted Houseguest
David
Have Nots
Helen, Elissa, Candice, and Andy
11:30pm HOH Candice, Jessie, Aaryn, Kaitlin, Nick
A: "Where do you think David is you think he's in a hotel"
Kaitlin: "No he's at home he lives only 2 hours away"
Aaryn: 'Umm maybe he's in a hotel waiting to come back "
Kaitlin says they're saving that for Elissa.
Candace leaves..
They have figured out that McCrae must be in on voting out David because Amanda was and they were so close they spent all week together in the HOH.
Jeremy about David leaving: "It sucks that was my dude since minute 2.. minute 2 I was like Dude"
Jeremy: 'I was like Bro when you go home and watch the F**** tapes you'll know I had your back the entire time"
Gina: "He's the only one that laughs at my jokes"
Aaryn: "I should have been nicer to him"
K: "I'm in shock that she didn't leave"
GIGI starts to cry says that Elissa will win MVP every week
Kaitlin and Aaryn doubt it
Jessie: "I can't believe that the house cannot vote one person out for one week.. a person we all can't stand"
Jeremy: "Put Helen and Elissa up.. "
Aaryn :"OK that is what we are going to do until we change our minds" (LOL)
Jeremy: "And if anything changes we'll talk"
Jeremy: 'Helen and Elissa are the plan.. everyone cool with that"
Aaryn: "I think McCrae was in on it" (Voting David out)
Gina says that during the entire HOH competition all the cameras were zoomed in on Elissa lane, "We're just co stars bro"
Kaitlin: "I tried as hard as I could to Splash BBQ sauce in her lane.. when she fell I fist pumped and the camera saw it"
They keep going on and on about how shocked they are that David is gone. They talk about how Judd is a a$$ for telling them he's with them then voting out David. Kaitlin mentions how she told him she would flash him her b**b
J: "Listen we definitely do not want to back door Elissa we want to put her up right away"
A: "What if Kaitlin wins the veto"
J: "she won't win"
K: "What do you think jessie "
Jessie I didn't know about David I was super shocked.. I would like to get Elissa out.. I'm with.. putting her straight up
Jeremy comments that she can put him up against Elissa he doesn't care he'll win the POV.
Aaryn says she's not worried for Jeremy getting votes, two days ago he went from the most hated houseguests to buddy buddy with the other side.
Kaitlin: "You know what Amanda said to me.. I'm going to stay close Elissa so I can get information for us.. "
They laugh
Aaryn says that Elissa was giving her crazy eyes again so when she walked by her she said "you can't win POV every week you crazy b!tch"
Kaitlin says the MVP twist was put in the game to keep her safe. Gina: "Elissa has the handbook of Big Brother from her sister"
Gigi calls the MVP twist "unfair" and "Cheating"
Aaryn: "She called us wh*res when her sister married a guy that sent a girl he didn't know D1ck picks on skype.. and she called us wh*res"
(yesterday during the arguments with the sleeping arrangements Aaryn had suggested a sleeping layout for the house guests and Elissa said something like "Why don't you run a wh*re house)
Aaryn says she so shocked about what happened she's going to have to play the game with less emotion: "to quote Dr Wil Flesh on the outside and wires and circuitry on the inside"
Kaitlin: "Why would Candice raise that huge f**** sh!t if we know she's lying"
Jeremy asks Jessie if she wants Elissa and Helen up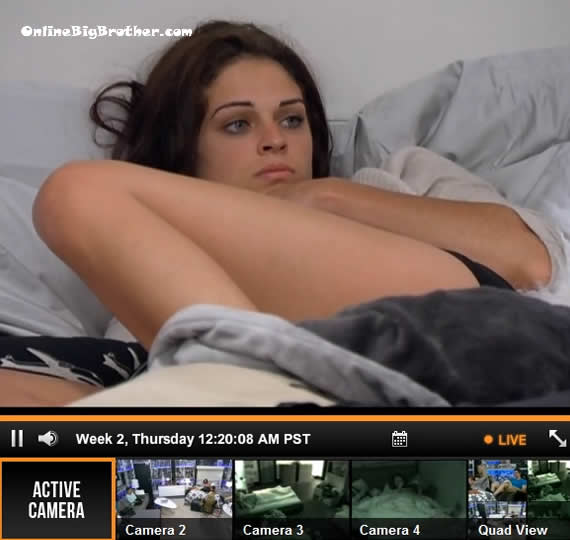 Jessie agrees.
Kaitlin asks about putting Candice up
Jeremy thinks Candice isn't a threat right now.
Aaryn: "I have a feeling that there are people in here that are so good they're playing an entire level of game.. They could be one person that orchestrated this entire thing"
A: "If it's you Nick i'm going to cut off your b@alls in your sleep"
Gina: "he isn't using them" Everyone laughs
Kaitlin tells aaryn to make sure she locks her HOH so people don't mess with her sh!t.
Jeremy: "Telling you from a guy that has already f****ed with some sh!t you can't do it producers won't let you"
They all think Candice is lying about voting to evict Elissa and Andy is full of Sh!t when he says he didn't know what was going on. They Comment on how poorly Howard did in the HOH comp.
Gina: "All that muscle for nothing.. Howard sucks"
Aaryn thinks that everyone is telling them whatever it takes to be safe this week she's not believing them right now. She knows that for the next couple days it's going to be non stop conversations in the HOH.
Kaitlin: "the fact that arryn heard booing when she voted out Elissa has me worried"
Aaryn: "Am I the only one that got boo'd.. Suck my d!!k you bitches boo yourself.. f*** you "
12:35Am Andy comes into the HOH.
(They give him hard time at first but eventually warm up to him. They are glad he told them right away who he voted for)
Andy says that Elissa is trying to be Rachel but she's actually turning Aaryn into Rachel, "The blonde Rachel" they all laugh. He explains what he met was that Rachel lost her "Man" in the game then got revenge.
Nick and Kaitlin say they weer not cheering Andy to win. They all think that Elissa would have taken the HOH
Kaitlin says that Amanda got a 1 minute penalty.
This is what's going on downstairs..
1:00AM Cam 1-2 McCrae and Amanda
Amanda: "We just had a moment in the storage room me and Elisa"
McCrae: "be careful "
They talk about distributing the votes around this week so that the other side gets confused. McCrae says that with three nominees they can really mix things up.
McCrae: "Nick is running sh!t up in the HOH right now.. He's going to control every single one of them up there.. maybe I'm just paranoid.. I think he knows way better (?).. now that he's in power he's a master manipulator.. Aaryn lost her guy, Jeremy can't think for himself, Aaryn is a wreck and Gina is in love with him"
McCrae tells her that Jeremy will put Amanda up if he wins HOH.
McCrae: "Tomorrow is nominations"
Andy joins them says that they told him everything they know that Amanda is lying to their faces and McCrae knew about the whole thing
They ask him who is going up. "Candace and Elissa"
1:23AM Downstairs Amanda, Spencer, Andy
Andy says he's going to distance himself from them and get close to the HOH crew. He says they think Spencer and Amanda are lying and they are going to put up Candace and Elissa.
Andy tells Amanda he thinks her telling them the truth would be the best thing for her. Spencer says he' ssticking to the story. Andy points out that they've figured it out.
Andy: "They think Judd is a idiot and they have no idea I'm working with you guys"
Amanda tells him about their plan to "Throw around some random votes"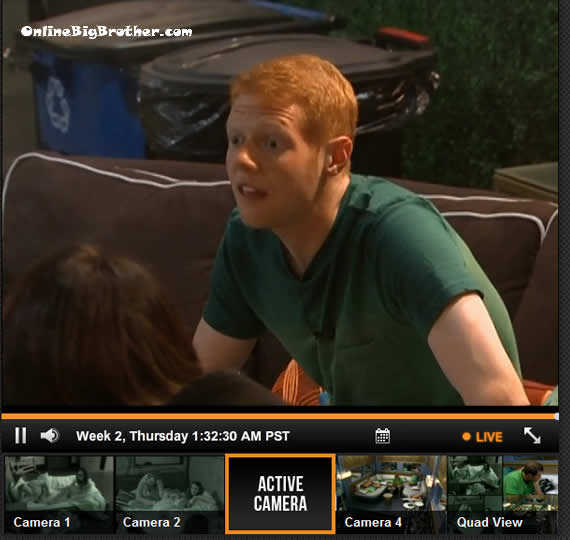 Andy going off about how much Aryn, Jeremy, Nick, Gina and Kaitlin trust him and tell him everything. He keeps saying They are puting up Candace and Elissa and the target is Elissa.
Andy has been moping around saying that Aaryn's bunch is super pi$$ed at him.
1:38am SPencer tells Helen the HOH group doesn't trust Jessie and Nick. Spencer says he's sticking to his story. Spencer is fully confident Elissa will win MVP again.
[polldaddy poll=7226129]