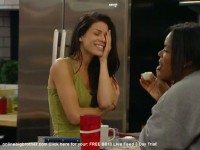 Watch the Big Brother 13 live feeds on your Android and iOS devices. Sign-up for the 3 Day Free Trial
11:15am – 11:40am Dani, Shelly and Kalia are in the kitchen. Dani sing punch me in the ovaries. Shelly says punch you 25 times for your 25 b-day! Dani says punch me 25 times for the 25 unborn babies. Dani says that she hopes its a competition where you have to give up your soul because I am ready! Dani then says I hope it is a competition to eat babies … JUDAS! Dani leaves the kitchen.
WATCH all DRAMA unfold LIVE on SuperPass! FREE 3 Day TRIAL
Kalia starts talking to Shelly. Shelly and Kalia talk about how they are done with Rachel. Kalia says that if it looks like she is leaving …she is going to give Rachel a mouth full. Shelly says that she can't wait for her chance to tell Rachel what she really thinks. Kalia says that come Thursday she is going to destroy her. Kalia says that Rachel wins the vote for the person no one likes. Shelly says I know ..and she thinks people do. Kalia starts talking about how Porsche was asking her for her vote… Kalia is like ..I am on the block too! Kalia says that she wonders if she is really the target. Shelly says yeah she has no idea either ..but that we will know today.. They talk about today being the most important day. They talk about what the competition will be like. Kalia and Shelly both say that if it's a spelling competition neither Jeff or Jordan will be good at it. Kalia says that worst case is if Porsche wins it. Shelly says that if it involves any kind of common sense …Porsche won't win it… she is good at math though.