Follow @BigBspoilers and @Dawgsbigbrother on Twitter for recent crazed out spoilers. There is also a Facebook page.
10:19pm JR, Adam Jordan is telling Adam that they control who wins the game. She counts them out Jeff, Brendon, Rachel and Jordan they control who wins Big Brother 13. Jordan says it Doesn't matter what everyone else thinks JJBR control who wins Big BRother 13″ . She reminds him it doesn't matter who else goes into the Jury house because if JR go home they have the numbers.
Adam: "So let the best man win" Jordan we'll see what happens Adam: "oh ya ya vote on game play.. still a lot of game to be played.. still a lot of game" Kalia joins them asks if they want some of the candy on the counter. Jordan snaps "No"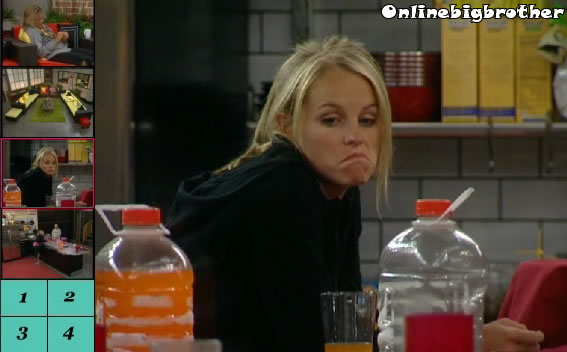 10:31pm Kitchen JRKA Everyone quiet expect for Adam and Kalia. Kalia is humming away.. Rachel asks them if they want to play cards Jordan snaps at her tells her that she doesn't like cards she's already told Rachel that. Kalia wants to play cards.. Her and rachel start to play..
10:46pm Kalia and Rachel playing Cards.. Adam preparing food. Jordan at the counter sad.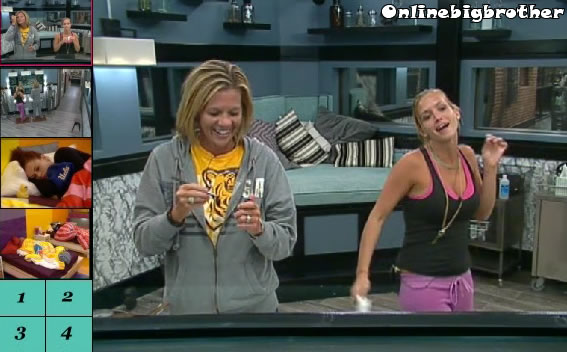 11:15pm PS Bathroom Shelly is pointing out how adam is sucking all their asses. Shelly: "We tried all week to get him to change his vote and he never did". Porsche understands what ADam is doing sometimes you have to do things to survive.
Porsche says they JR are going around telling everyone they get to pick the winner of big brother 13. Shelly: "really.. we'll that's fine.. they can do that whatever.. It's only fun for them when they are winning.." Shelly brings up that Jordan and rachel are saying they want to go in the next 2 weeks. Porsche: "Good.. rachel this week Jordan next week"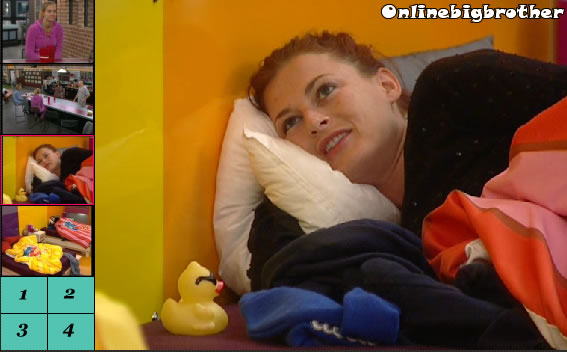 **UPDATED
11:50pm Bedroom JR
rachel: "There coming after me you know that"
Jordan says nooo.. She hopes she the one out this week.
Rachel; "BLANK  I wish I've just gone today"
Jordan: "I bet Jeff and Brendon are really upset… I can't win anything to save my life".. Both of them are feeling defeated. Jordan says she's not even going to go upstairs to talk to Porsche.. she just doesn't care. Rachel brings up what would they do if it's Porsche and Kalia in the final 2. Jordan groans. Rachel: "How about Porsche Shelly… or Shelly/Kalia"
Jordan says if she can take a trip or Veto she's going to take the 10G's she doesn't care there's no point. Rachel agrees says Brendon did the same thing last year.. he took the veto and still went home.
Jordan really feels sorry for Jeff.. He really wanted to come back in here and give it a try. Jordan didn't want to but Jeff was gung ho about it so she joined. Rachel: "We should of never done this.. you can't be a competitor you have to be a floater"
(It's really pathetic listening to these 2 it's almost as bad as listening to Adam kiss ass in the kitchen right now)
12:01AM Kirchen SPK Shelly is telling them how pissed she is because just a bit ago Adam was all "Geeked UP about JJR". Kalia: "Honestly.. that's something we've been dealing with for a long time" (Shelly has been responsible for a lot of it)
Porsche gets called into the DR..
Shelly says she voted to keep dani.. Shelly explains that after the blow up this morning with JJR she had to vote for her.. "I knew it was going to be 3 to 2".
Adam joins them.. Kalia is saying that dani was saying all along they had to break up the couples there was no way to win. Shelly: "I've been saying that for a long time" ( Shelly turns her back on Adam.. Adam just keeps his mouth shut)
12:17am Porsche gets her HOH room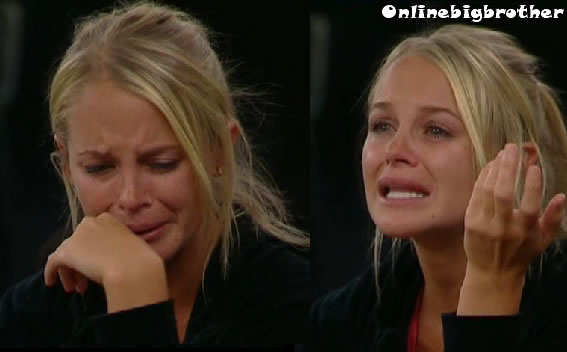 12:30AM JR Jordan breaking down
She's mad at Shelly because she really trusted Shelly, she thought Shelly was a sweet old lady. Jordan goes on about how she gave Shelly that vote call. Rachel says everyone in this house is like that but them they have to know they are all that is left. Jordan continues that Jeff worked so hard and built this alliance that they thought was strong so they could make it to the final 5 and duke it out..
(Jeff wanted an alliance of people who sucked at comps so they could plow through them int he finals.. it usually doesn't work out that way)
Check out the Big Brother 13 Polls
Share it YO!!
Tweet