Watch the Big Brother 13 live feeds on your Android and iOS devices. Sign-up for the 3 Day Free Trial
12am In the bathroom, Dani and Porsche are talking. Porsche tells Dani that she should be out there practicing and that you never know she may still be in the game. Dani says that Adam is scared that he can't beat Dani. Dani says that she doesn't want to hang out with everyone. Porsche tells Dani to do it anyway and to stop moping. Kalia joins Dani in the bathroom. Dani is crying and tells Kalia she is really sad and wishes she could just leave. Kalia says if it makes you feel any better …I'm not doing well at that game. Dani says that that makes her feel worse. Jeff comes in to the bathroom and the conversation stops. Jeff leaves. Dani says America's Sweethearts. Dani asks Kalia if she has finished her speech for tomorrow. Dani tells Kalia that the second half of her speech tomorrow will probably anger some people. Dani says that she could be really mean but she is going to keep it just above the belt.. possibly on the belt. Dani says that maybe if I could make people hate me like Rachel and then I could stay in the game. Dani says that Adam told her that if Rachel does make final two she has his vote. Dani tells Kalia not to let that Rachel get to the final two. Dani says that the first thing she is going to tell Brendon in the jury house is that she thinks his girlfriend is the most horrible person. Dani says that Kalia can't turn your back on Porsche. Kalia says she won't she has no one else. Kalia starts crying. Dani tells Kalia that Shelly found Rachel's dog beanie Quackers. Kalia asks what was she doing in the toilet? Dani says that she probably pooped.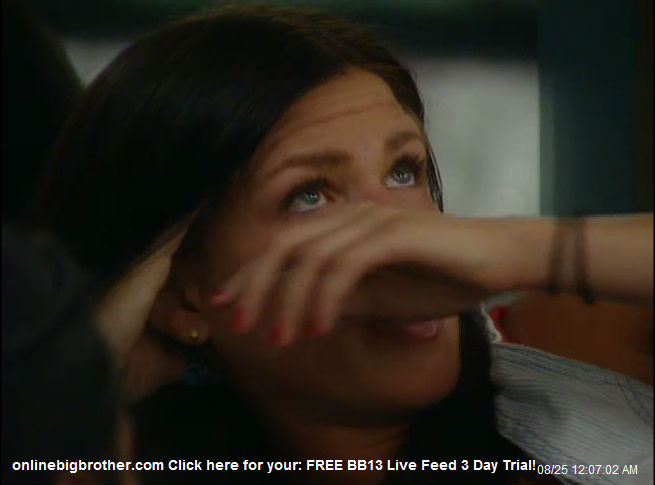 WATCH all DRAMA unfold LIVE on SuperPass! FREE 3 Day TRIAL
Up in the HOH room, Jeff and Jordan are talking. Jordan tells Jeff that is worried that Shelly could have a deal with Porsche and Kalia. Jeff doesn't doubt that Shelly could have a deal with them because everyone is covering their backs. Jordan is worried because she doesn't want Rachel and Jeff to go up on the block. Jeff tells her don't worry about it because Jordan will win. Jeff and Jordan leave and head downstairs. Jordan and Rachel are watching Adam practice in the backyard. Jordan says that there are four of us playing ..we can do it! Jeff, Jordan and Shelly are talking about the competition on the backyard couches. Shelly wonders how the practice set up they got will be different from the actual competition. Shelly and Rachel are now alone on the couch. Shelly tells Rachel that Jeff threw the corn hole competition. Rachel asks he did? Shelly says that is what everyone told her. Rachel asks who told her that? Big Brother cuts the live feeds.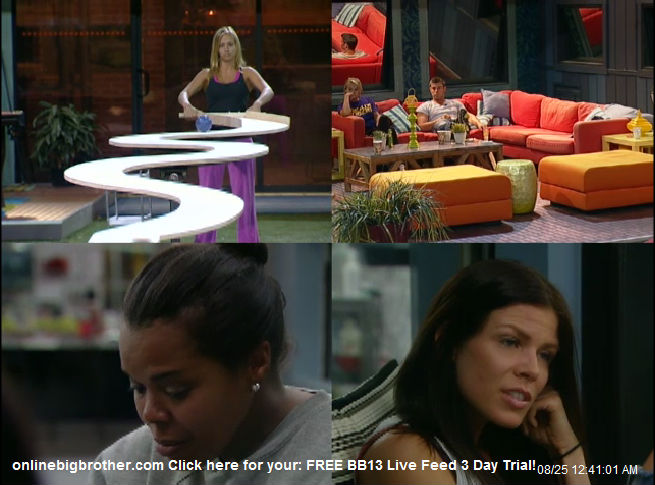 12:40am In the bathroom Dani and Kalia are talking. Kalia is crying and saying that she hates it here Kalia says that she doesn't want this anymore.. and says that she doesn't even think she can win. Dani tells her there are only five people in her way. Dani says that she has a one in seven chance of winning the game and not a lot of people can say that. Dani tells her she needs to not care about hurting people's feelings anymore and that the only thing she should worry about is making it to final two. Kalia says that she doesn't even care about winning the money and that she just wanted it to be us at the end. Kalia tells Dani that she would have probably beat her but at least they would have made it to the end together. Dani tells Kalia that her and Porsche need to help each other in the competitions.
FLASHBACK – Don't miss all the drama!
Superpass – 3 Day FREE Trial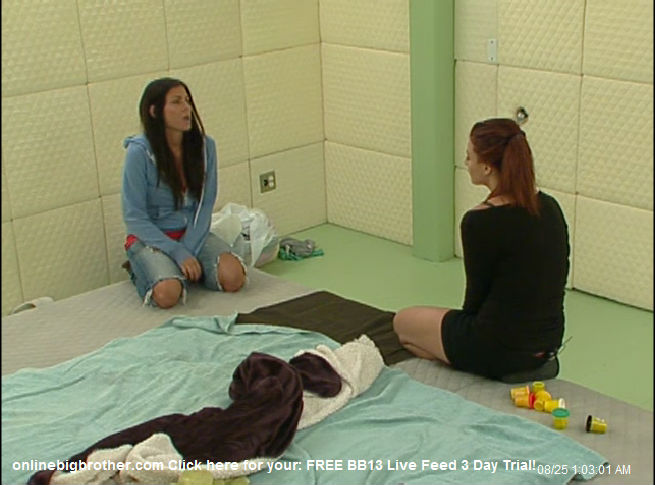 1am In the candy bedroom, Dani is packing up her suit case. Dani also grabs some of the plastic lemons and throw them in her suit case. Rachel and Dani go into the Havenot room and talk. Dani tells Rachel that her most recent goodbye message to Brendon included her apologizing to Brendon and she tells Rachel that she told Brendon she would look out for Rachel. Dani starts crying. Dani says that she is so hurt that Jeff and Jordan would do this to her. Dani tells Rachel she wishes she would have back doored Jeff when Rachel and Brendon wanted. Rachel says that Brendon wanted to be here more than anybody and she wants to be here more than anybody. Rachel says that she has put her life on hold for two summers now to play this game. Rachel says that you guys hid my stuffed animal. Dani swears on her life that she didn't take the beanie dog. Dani says that it's dumb when people take stuff to a personal level in this house. Dani tells her the person hiding her stuff isn't the person she thinks but she isn't going to name names. Dani tells Rachel that her entire birthday Rachel was harassing her. Rachel says she wasn't. Dani says that she did harass her maybe she was so drunk and that's why she doesn't remember. Rachel denies doing it. Dani says that this has been the worst week and birthday week ever and that she has been crying in the diary room so that no one sees her. Rachel tells Dani that she doesn't know what is going to happen with the vote tomorrow, she doesn't know who is going home. Dani says she knows how it is going to go down. Dani says she knows she is going home and wishes she could just leave now, she doesn't want to sleep on this bed or go hungry anymore. Shelly looks into the havenot room and says that she heard screaming. They tell her everything is fine and Shelly leaves. Rachel apologizes and says that she may have said some things that night because she knew it was getting under Dani's skin and that she was angry at her for sending Brendon home again. Dani and Rachel agree that none of the moves either of them have made have helped anyone but Jeff & Jordan and Dani says that they are going to win the game.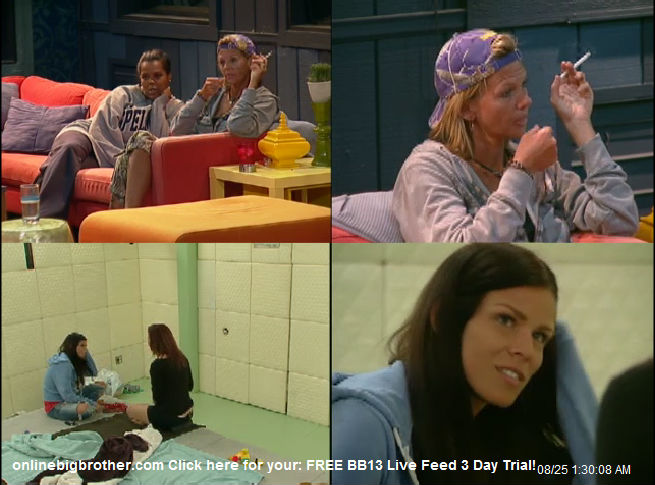 WATCH the houseguests LIVE on SuperPass!
Click here for your: FREE 3 Day TRIAL!
1:30am Dani and Rachel talk about how they could have ruled the house if they had worked together. Rachel asks if Jeff threw the corn hole competition. Dani says yes. Rachel asks her if she made a deal with Jeff and Jordan. Dani says she made a deal to keep them safe if they kept her safe and she says that is why she went after Brendon and Rachel that week. Dani says they swore they wouldn't put her up or back door her. Dani says she wanted to back door Jeff but she was worried that everybody would be pissed at her if she did that. Dani says that after Jeff made her a havenot he came up to her and apologized for doing that but told her that she is really a have because she isn't going home this week and told her that there deal was good. Dani says that Jeff and Jordan are liars! Dani thinks Jeff putting her up was personal, he was holding a grudge from week three. Rachel says that she never told Dani to back door Jeff. Rachel asks who wanted to back door Brendon? Dani says everyone. Dani says that she has made a lot of stupid game moves. Rachel says that she has too. Rachel says that she could be the next one out of the house. Dani says sarcastically that she is glad we all spent the summer signing a pay check for Jeff. Dani is trying to get Rachel to vote for her to stay. Rachel asks do you have the votes? Dani says that she has Shelly and Porsche. Rachel starts saying that she could blame her vote on Shelly or Adam. Rachel tells Dani that she doesn't have Shelly's vote. Dani says that she thinks she could have Shelly's vote. Dani says that she thinks Shelly would go along with it if Adam said he'd vote for her but she doesn't think she can get Adam's vote. Dani says that Adam can't take his mouth off of Jeff's dick. Rachel tells her to think about it but don't tell anyone! Rachel says she has until 5pm tomorrow to swing the votes. Rachel asks who hid my duck? Dani says Porsche. Rachel asks who hid my dog. Dani laughs and says Shelly. Dani says she hates you. Dani tells her not to tell anyone she told her that. Rachel says that thinks if Shelly is mean enough to hide her dog then she would be mean enough to vote against Jeff and Jordan.

1:50am In the backyard, Dani and Shelly are talking on the couches. Dani asks Shelly if she's talked to Adam. Shelly says that she has but he hasn't changed his mind about his vote. Jordan is in the backyard practicing the game. Jeff and Adam are playing pool. Kalia says Jordan is acting weird. Dani says that she thinks it is because she knows Jeff can't compete and Jordan isn't able to win. Kalia says that Jordan is actually doing pretty well at the game. Dani says that this might not be for the HOH competition. Dani whispers and tells Porsche about her conversation with Rachel. he tells Porsche that Rachel will vote to keep her but she needs another vote. Dani says that she thinks she can get Shelly's vote.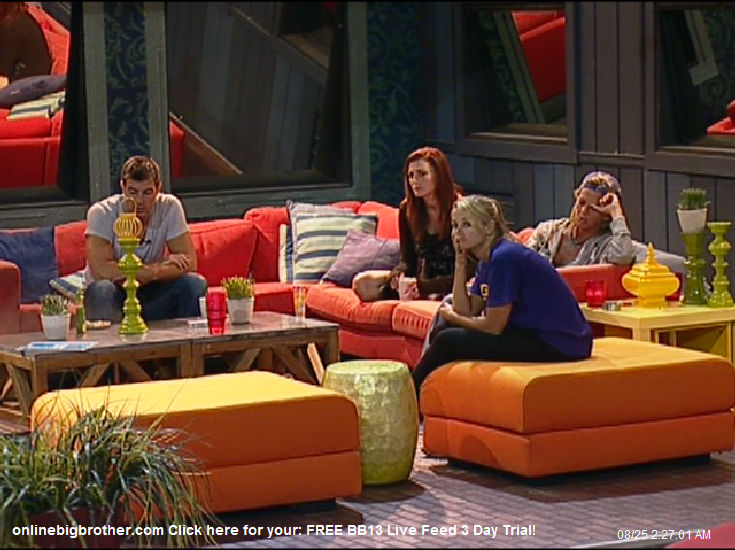 2am – 2:30am Dani and Kalia are now talking. Kalia tells Dani that she has been thinking about her speech tomorrow. Kalia says that she wants to tell them if they keep her in the house she will suffocate them in their sleep. Dani says that production would love that and asks her to promise to say that. Dani heads inside. Jeff, Rachel, Jordan, Shelly are on the couches. Jeff asks Rachel what's up with her and Dani. Rachel says she is so stupid and that Dani was complaining that Rachel is throwing jabs at her all the time and making things personal. Jeff asks her who started the conversation and Rachel says that she did and she wanted to know why Dani was making it so personal. Jeff tells Rachel that Dani is leaving and she shouldn't talk to her, just leave it alone.
Sign-up NOW and watch the houseguests live!
Click here for your: SUPERPASS – 3 DAY Trial!
If you like this site and want to help us keep it running please consider donating, Your donations go directly to paying the server and bandwidth fees. Donate Link

Big Brother 13 Live Feed Image Gallery
Follow: @BigBspoilers and @Dawgsbigbrother on Twitter for recent crazed out spoilers. Theres also our Facebook page.
Big Brother 13 Spoilers POLL CAST your VOTE!


Share it YO!!
Tweet