Watch the Big Brother 13 live feeds on your Android and iOS devices. Sign-up for the 3 Day Free Trial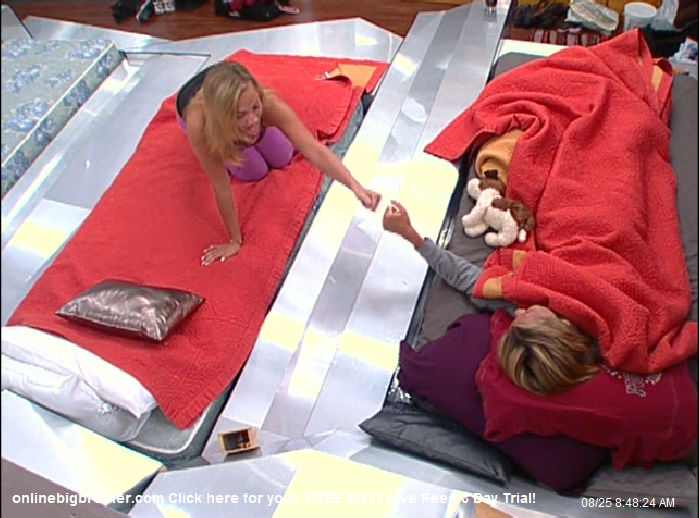 If you like this site and want to help us keep it running please consider donating, Your donations go directly to paying the server and bandwidth fees. Donate Link
8:40am – 10am Big Brother wakes up the houseguests. Everyone stays in bed but Porsche who changes her battery and then briefly whispers to Shelly but can't hear what she says. Shelly and Porsche bump fists. Porsche says that those two were talking last night and that Adam said he is playing with them (Jeff and Jordan). Porsche says we are done with him ..there is nothing we can do at this point. Porsche says she was practicing the ball game in the backyard and got 4 out of 5 of the balls to the end. Shelly gives Porsche the thumbs up. Porsche then climbs back into her havenot bed. Big Brother announces that there are fresh batteries in the storage room. Adam gets up and changes his batteries. Dani then get up and heads to the bathroom and then goes back to bed. All the houseguests are still sleeping.
WATCH all DRAMA unfold LIVE on SuperPass! FREE 3 Day TRIAL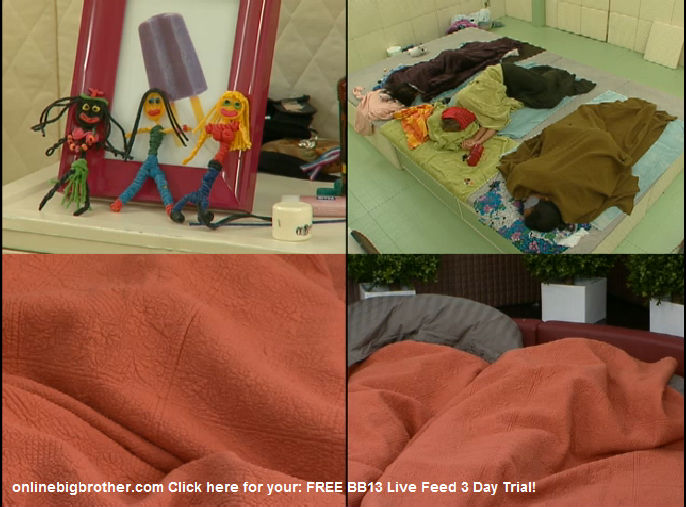 10:20am – 10:45am Shelly gets up out of bed and heads into the kitchen. Shelly starts cleaning the house.. (She can't smoke because they are on an indoor lock down while Big Brother sets up in the backyard for the Live Show Tonight.) Rachel wakes up and goes through the kitchen to the bathroom. Rachel comments that she thought Shelly was making breakfast. Shelly says no… I could make you something if its easy though. Rachel says no that's okay. Rachel talks about how she stayed up till 5am and is really tired ..not good especially today being the HOH competition.. Adam gets up and wonders when they will all be called up to the HOH room. Rachel says about 11am ..are you taking a shower. Adam says yeah. Rachel says all staying up late does is gets up bags under your eyes. Rachel asks if the HOH competition will be the snake game? Shelly says yup. They comment that it could be for anything though.. Shelly and Rachel both says that they just need to make sure they win HOH tonight.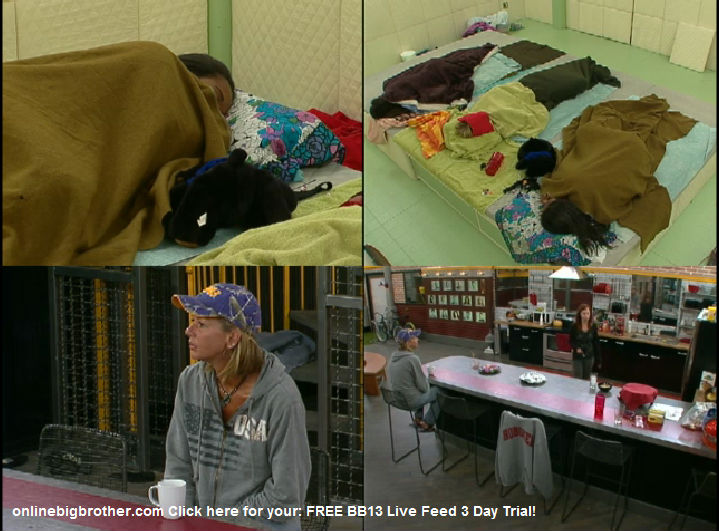 10:45am – 11am Big Brother switches the live feeds to the TRIVIA screen. When they come back, All the houseguests are up in the HOH room except Adam. Adam is in the kitchen frantically pouring a bowl of cereal. Adam then heads up to the HOH room and sits down at the HOH table to eat his breakfast. Porsche is listening to Jeff's cd, while the others sleep.
11:45am They are still on an HOH lock down.. All the houseguests are trying to sleep..
12:15pm HOH lock down continues… Silent HOH..
Sign-up NOW and watch ALL THE DRAMA after the Live Show Tonight!!
Click here for your: SUPERPASS – 3 DAY Trial!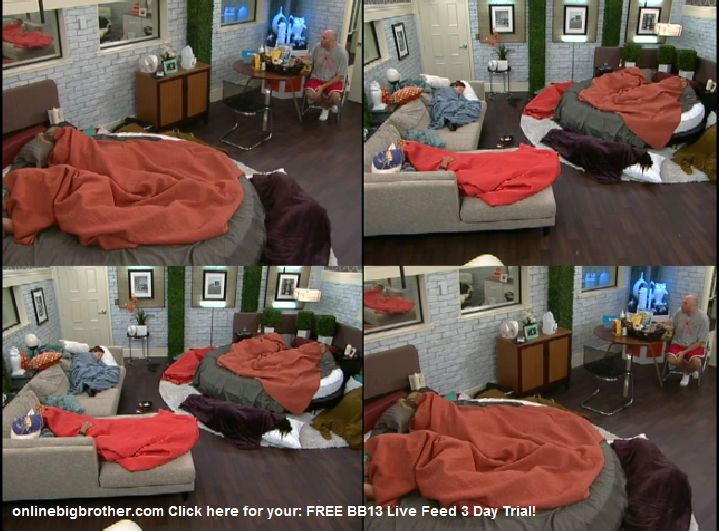 Big Brother 13 Live Feed Image Gallery
Follow: @BigBspoilers and @Dawgsbigbrother on Twitter for recent crazed out spoilers. Theres also our Facebook page.
Big Brother 13 Spoilers POLL CAST your VOTE!


Share it YO!!
Tweet