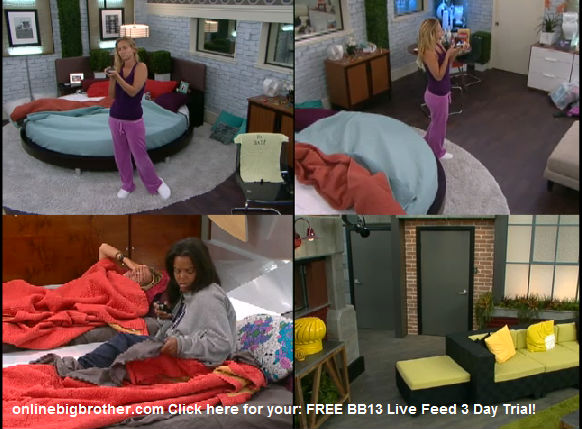 10am – 11am Big Brother cut the live feeds to wake up the houseguests. When the live feeds come back, Porsche is up in the HOH room and is having trouble working the spy cam TV. Porsche heads into the bathroom to brush her teeth and then tries switching the views on the TV again but can't figure it out. Porsche gets frustrated and goes back to the bathroom to put on her makeup. Downstairs, Kalia is getting back into bed in the metal room. Adam is still fast asleep. Shelly is also laying in bed with her hand on her forehead. Porsche then heads downstairs and goes into the metal room to check to see if Kalia and Shelly are awake. Porsche tells them that she is locked out of the HOH room because production needed to go in there. Porsche and Kalia are in the bathroom talking. Kalia starts telling Porsche that when she went to bed last night she waved to Porsche at the spy cam in the kitchen and then went and leaned on the door and it opened… Big Brother cuts the live feeds to the we'll be right back screen. When the feeds come back, Porsche and Kalia are talking about whether or not there will be a Pandora's box. Porsche says that it would have to be something really tempting because I like the way things are in the house. They talk about how its something good and bad that happens. They talk about what would happen if Jeff came back into the house. Porsche says that she would push the button to leave ..because that would be ridiculous. Rachel joins them in the bathroom. Rachel leaves. Kalia says that she doesn't think that someone could come back because that already happened. Porsche wonders if she will be locked up in the HOH and the fortune teller will start telling them things. Or that Jordan or Rachel would get a power or something.. Kalia wonders why they (production) would need Porsche's HOH room. Big Brother cuts the live feeds again to the we'll be right back screen..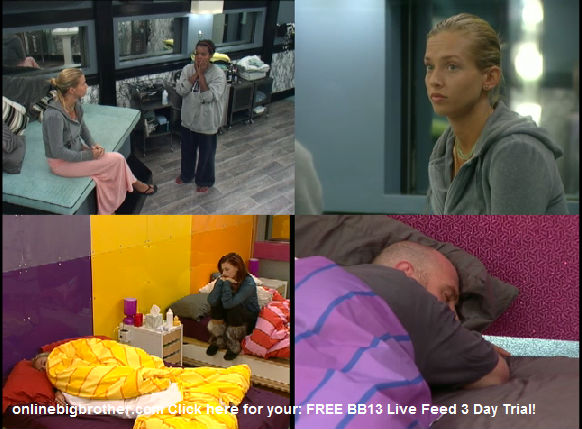 11am – 11:15am Shelly, Kalia and Porsche are in the kitchen. Shelly is doing dishes when she gets called to the diary room. All four cameras switch to the candy room where Jordan says this is stupid. Rachel says trust me I know! Jordan says the only way we can win is if there is some magical power where we can replace nominees or something. Rachel says yeah. Jordan says thats the only way we can make it. All four cameras switch to Kalia and Porsche talking in the kitchen. Porsche is talking about her conversation with Shelly were they were talking about their final three. Porsche says that she is considering keeping Jordan to the end so that the vets don't have control of the jury. Kalia says that the only way any of us have a shot is if all the vets are in jury. Porsche says she thinks Shelly wants to make a deal with me or something. Kalia says make it with no intention of keeping it. Porsche says that she really thinks there will be the box in my room. Kalia says oh yeah, especially after yesterday. Porsche says that Shelly has no one here. Kalia says she knows. Porsche says that the only thing that can ruin it is if Jordan wins the veto. Kalia says that would be bad, really bad! Porsche starts comparing herself to Jordan …but says that she (Porsche) is a little bit stronger.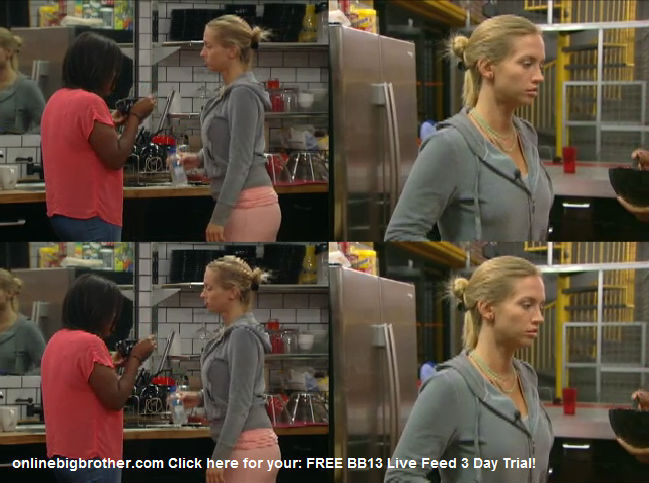 11:20am – 11:35am Big Brother tells the houseguests.. the live feeds cut to the we'll be right back screen. When they come back, Kalia and Porsche are out in the backyard. Kalia says so we're worried about Pandora's box… Porsche talks about how they were on the indoor lock down for 6 hours. Big Brother keeps cutting the live feeds in and out. When the feeds come back, all the houseguests are out in the backyard sitting on the couches. They start to discuss the wake up songs but don't want to get in trouble. They say that Brendon used to wake up early and request wake up songs and that sometimes he got them. Adam, Kalia, Porsche and Shelly continue to talk about random stuff …while Rachel and Jordan sit in silence. Jordan leaves the couch.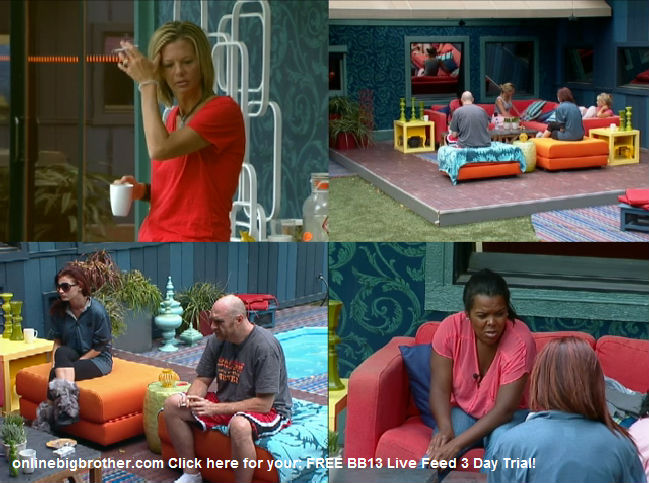 Share it YO!!
Tweet