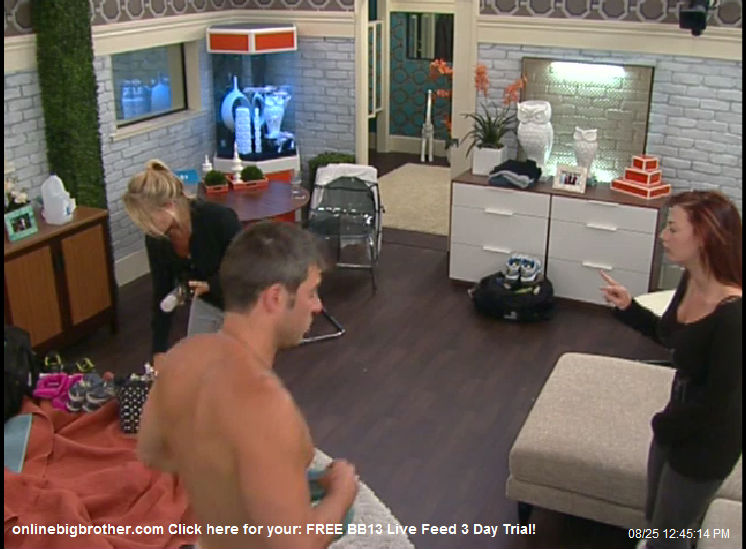 Watch the Big Brother 13 live feeds on your Android and iOS devices. Sign-up for the 3 Day Free Trial
12:40pm Big Brother switches the live feeds to the TRIVIA screen.. When the live feeds come back, the houseguests are leaving the HOH room. HOH lock down is over. Rachel stays up in the HOH helping them pack up their stuff. Rachel asks Jeff and Jordan if they went to bed after that? They says yeah. Jeff says what about you? Rachel says yeah. Rachel and Jordan go over their strategy for winning tonight's HOH competition. Jordan says that if she goes before Rachel she will go for a hole in one and that Rachel should go for a number. They talk about beating Porsche and say that just because she came close in the last one doesn't mean she'll do well in this one. Rachel gets called to the diary room. Jeff and Jordan head downstairs with all of their stuff. Adam is in the kitchen cleaning up and putting away the rest of Jeff's HOH basket. Jeff and Jordan head into the candy room to get settled in again.
If you like this site and want to help us keep it running please consider donating, Your donations go directly to paying the server and bandwidth fees. Donate Link
Sign-up NOW and watch ALL THE DRAMA after the Live Show Tonight!!
Click here for your: FREE 3 Day TRIAL!
1pm – 1:15pm Jeff says that he wants to call Shelly out so bad! Jordan asks what?! Jeff says he isn't going to ..so it doesn't matter. Adam comes into the candy room and says that Porsche is taking this bed back …unless she wins HOH .. but she won't because I will! Rachel comes in and lays down. Jordan then comes in and asks if they are doing DR's. Jordan says to Rachel that we have to win today because if we don't one of us is going home. Jordan says that she can't get nervous …because then she will mess up. Jordan says that if we have to pick the balls out ..I don't want to be first. Adam says that he doesn't think the snake ball game has anything to do with the HOH. Jeff, Jordan, Adam and Rachel talk about the missing items in the house. Jeff mentions that there are three musketeers (Dani, Kalia, Porsche) that might know where Rachel's puppy dog is …and that there might be a fourth musketeer (Shelly) that might know now too.. Adam remembers when they game them the game in the backyard they were told who ever has the best balance may be rewarded. They wonder if it will be a speed competition. Adam thinks tonight's HOH will be questions. They talk about how they have been hearing banging in the backyard. Jordan says that we will know if its the snake game for HOH is we have to pick orders. Jeff sarcastically says yeah ..if we walk out into the backyard and there is a curly looking board ..we'll know .. They all laugh..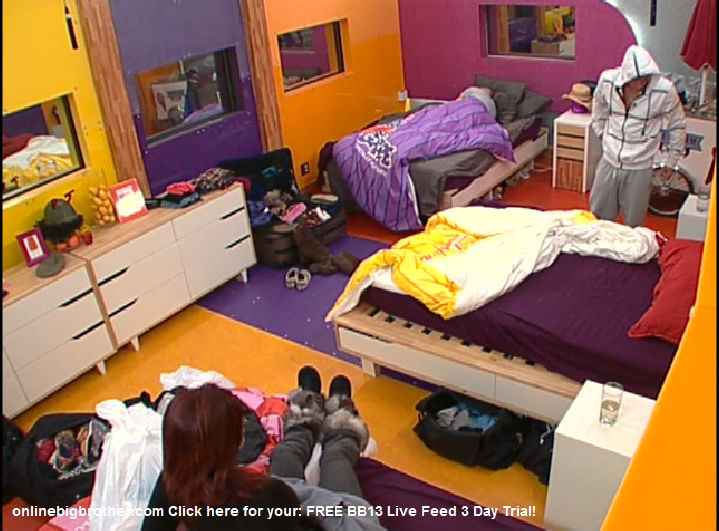 WATCH all DRAMA unfold LIVE on SuperPass! FREE 3 Day TRIAL
1:20pm Porsche joins them in the candy room. Jeff and Adam talk about how in the beginning Dominic was stealing their jokes… and that it pissed them off but that they didn't want to say anything because it was the very beginning. They discuss how Keith and Cassi were in the house for such a short time and then had to wait in sequester just to be told …okay go home. They talk and joke around about farts and other random stuff.

1:30pm – 1:45pm Shelly and Rachel are in the bathroom. Shelly tells Rachel that she needs to do what is best for her. Rachel says that she is trying to weigh out the pros and the cons. Shelly says that this maybe the only time to do this. Shelly says that we need to have her guarantee that we are safe. Rachel says that the pro for Dani is that it gives you the chance to win. Shelly says well yeah for you too. Shelly says don't do a damn thing until she guarantees. Shelly says that if she is in the jury house she will make sure they don't say a damn thing about you. Rachel says when you are in the jury house …it is different no one will listen. Rachel and Shelly talk about the deal Jeff, Jordan, Dani, and her together and that they were trying to bring in Dominic. Rachel says that her and Porsche were just friends …they didn't have a deal. Rachel explains the whole thing with Dani trying to backdoor Jeff and how they all blew up. Shelly says that what she is trying to accomplish is that the two (Jeff and Jordan) of them don't get all the money. Rachel says that she thinks Dani would turn on them before Jeff and Jordan would. Shelly says thats the thing ..you never know .. as soon as someone wins HOH …everything goes out the window .. and people just say okay you got me. Dani comes into the bathroom and talks about how Kalia is in the havenot room crying about how she doesn't want to lose me (Dani). Shelly jokes that Dani is going to have to get a restraining order. Rachel jumps into the shower. Shelly comments that the sun is wrinkling her skin .. she jokes that she came into the BB house and all she got was more wrinkles. Shelly jokes with Dani saying what if she (Kalia) starts walking around saying vote her out. Shelly laughs and says okay! Shelly tells Dani about how she is turning on Jeff and Jordan and how all of America is going to go bitch!! Shelly sticks up her middle finger.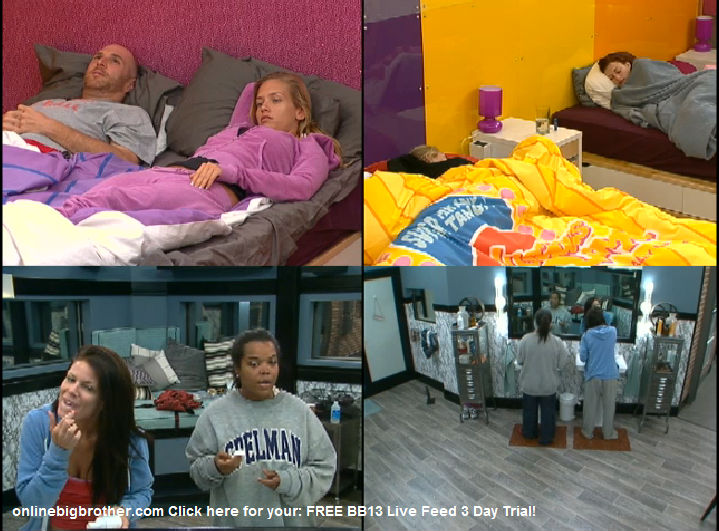 2pm Rachel asks Porsche in the candy room if Kalia was really crying. Porsche say I don't know. Rachel says that she heard she was crying in the havenot room. Rachel asks if she was really crying because Dani is leaving. Porsche says I don't know. The conversation changes to talking about tv shows with Adam. Meanwhile in the bathroom, Dani and Kalia are in the bathroom. Kalia talks about how she was balling in there forever! Dani ignores the comment and changes the subject. Dani talks about how she won't have another hard boiled egg for a yeah .. that she has had dozens..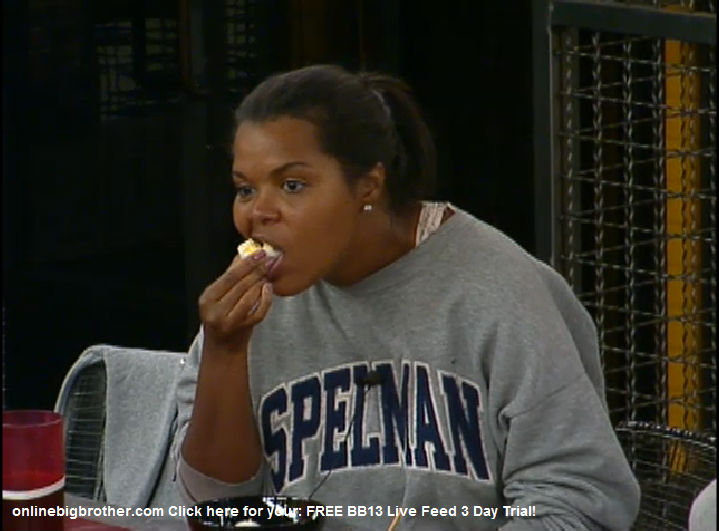 2:20pm – 2:40pm Kalia and Dani are in the kitchen. Dani talks about how she has her suit case and two full trash bags full of stuff that she has collected from the big brother house and competitions. Dani talks about all the stuff she got last season she was on BB. Dani says that she has the letter that they gave to Rachel that said that she gets a golden key and her dad isn't coming back. Porsche joins them in the kitchen. Porsche talks about how Shelly's BLANK cover fell off and she thought it was a ring. Dani says that only on Big Brother will your most embarrassing moments be caught on the internet for ever… They continue to talk about random stuff. Shelly joins them. Dani says that it will be another hour till the mock at 3:30pm.. Dani talks about how the hoe bag stole her blanket. Dani asks if Kalia has her speech ready. Kalia says yeah …the same as what she was saying last night. Dani says what if I feel a tingle in my loins ..can I ask questions during it?
3:20pm TRIVIA YO
Signup NOW & watch ALL THE DRAMA after the Live Show Tonight!
a href="https://www.dpbolvw.net/click-2949899-10429386
">SuperPass – 3 Day FREE TRIAL!

Big Brother 13 Live Feed Image Gallery
Follow: @BigBspoilers and @Dawgsbigbrother on Twitter for recent crazed out spoilers. Theres also our Facebook page.
Big Brother 13 Spoilers POLL CAST your VOTE!


Share it YO!!
Tweet