Big Brother 13 Live Feeds Can be watched on your iPhone and Android Mobile devices sign up -> Watch Big Brother 13 on Your iPhone or Android Phone
6:14pm Shelly and POrsche They mention that Kalia is trying to sell the 4 deal with Adam. Shelly swears she hasn't talked to Kalia at all yet.. she thinks she will tonight. Shelly says their game all depends on who wins the HOH this week. They both agree they need to get rid of Jeff before the double eviction.
6:30pm Porsche and Shelly brings up that they have done everything they can it's now looking like they need to make plans for Kalia staying. Porsche likes both Kalia and dani and is willing the play with which ever one. Shelly points out that If Adam doesn't flip is shows us he's with JJ. Porsche thinks the fact that Adam won't flip is reason enough. POrsche reminds her that everyone runs second place if make it to the end with Jeff.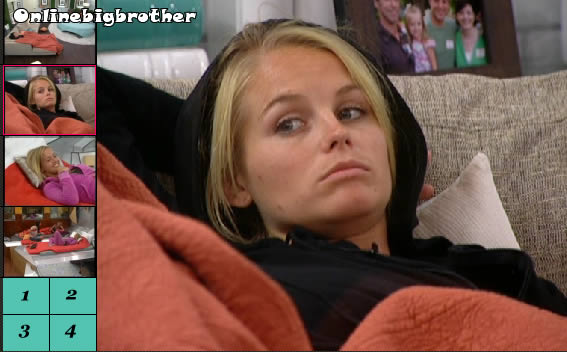 6:41pm HOH JJ They start to question the loyalty of Adam and Shelly. Jordan is worried that Porsche, Kalia, Adam and Shelly are going to come after JJR. Jeff agrees thinks that a very possible scenario. Jeff says there's nothing he can do if they flip they flip..
Jeff: "If SA Flip they will have to deal with me all week.. you think Shelly can sit outside with me and look me in the eyes".. Jeff is confident that they will have Dani gone this week and the rest will be easy pickings as long as JR win HOH this week.
Jordan: "I'm talking about after Dani is gone they will flip.."
Jeff: "If they are going to flip why don't they do it now.. Now would be the time to flip and Keep the stronger player.. What are they going to do team up with Kalia and Porsche that win BLANK"
Jordan thinks adam feels he has Shelly, Kalia and Porsche..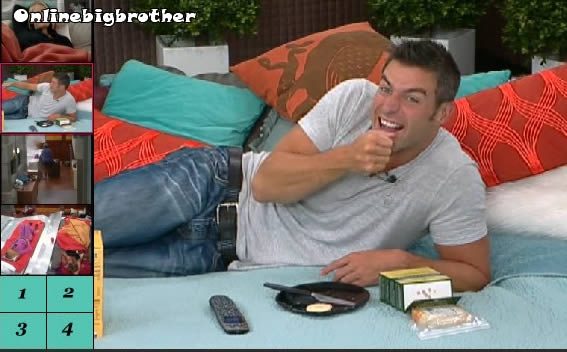 Jeff: "He has done BLANK.. he's played the fence the entire time there not a person in this house he will win against.. BLANK Bozo" Jeff goes on a mini rant how Adam walks around the house talking like he's done something and he's always bringing up how other players haven't won BLANK. Jeff laughs that Adam thinks he's won 1 POV and now he's vindicated he's playing the game. Jeff: 'If Dani can overpower them with her tears than BLANK it that is how it's going to be"
Jordan mentions that she doesn't know where Shelly is anymore she got a feeling that After Dani goes SPAK will come after JJR. Jeff reiterates that she needs to win HOH.
(JJ do not trust SA.. Even Jordan doesn't trust Shelly.. )
7:00pm They have one of the comps for tomorrow they need to balance a ball on a "Snaking" track. Porsche reads out comp card "Good balance maybe rewarded".. Give is a try one player at a time gently tip the one end up down from side to side.. DO NOT BREAK IT and prqactice safety at all times.
(They have only been practicing for 10 minutes but Shelly has done the best so far. )
7:21pm all everyone still practicing.
**UPDATED**
7:47pm Shelly and Kalia in storage room Kalia is go over the talk she had with Adam.. She stressed to Adam that if the newbs do not get together now they will have any chance to win this game. Kalia adds that she stressed with Adam if he goes final 3 with JJ there is not a chance he's going to win the money. Shelly: "This is what I've been trying to pound in his head.. but the fool doesn't see it"
Shelly: "I have been drilling that into his head for the last 2 days non stop he won't budge" Shelly mentions that Adam will not see
Shelly says she's tight with JJ but if she wins HOH she swears to god she will put up rachel and Jeff… Shelly: "Do you have any idea of the kind of BLANK storm that will start if I put Jeff uo?" Kalia knows it's going to be pretty messy but unless they can get Jeff out before the double eviction they are done for. Kalia: "You see all the comps he's now winning.. How can Adam think he's going to beat Jeff and Rachel in final 4"
Jeff walks in… Kalia switches the conversation.. Jeff leaves.. Kalia points out that they were talking about different things when Jeff was in the storage room.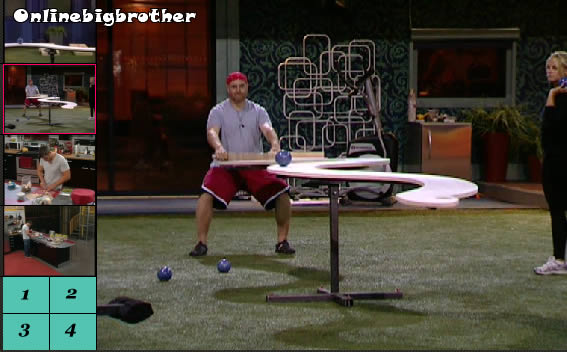 8:14pm "bozo's" in it to win it
The comp is a crap shoot.. there's no clear winner, maybe shelly is the best and Rachel the worst
Check out the Big Brother 13 Polls
Share it YO!!
Tweet