Watch the Big Brother 13 live feeds on your Android and iOS devices. Sign-up for the 3 Day Free Trial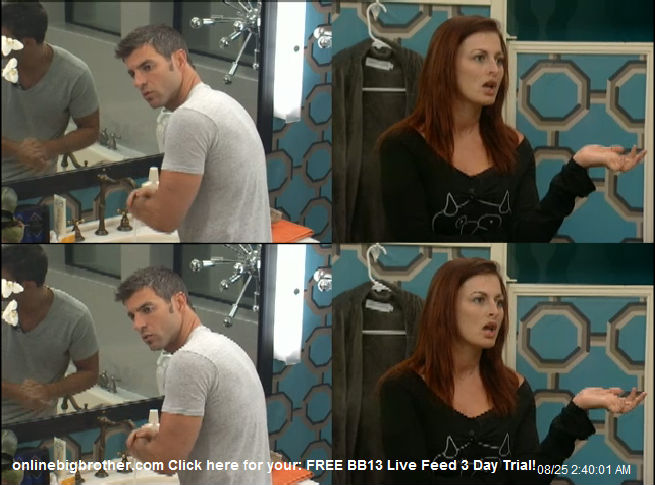 2:40am Up in the HOH room are Rachel and Jeff are talking. Rachel says that she doesn't want to start a lot of drama but she was told that Jeff threw the corn hole competition. Jeff asks who she heard that from. Rachel says maybe from Dani. Jeff says Dani told him that too. Rachel says that is funny because that is the competiton Brendon went home because of… Jeff says he never said that or did that. Rachel says it is not that she doesn't believe Jeff but when it comes to something that involves her fiancé she has ask. Jeff tells her to think about the situation Dani is in, she is now stirring up things and telling lies in an attempt to stay in the house. Jeff says how the BLANK did I throw it? Rachel says she doesn't know and that she wasn't playing the game. Rachel says she believes Jeff but they all agreed to come to each other with stuff. Jeff says he isn't upset with Rachel they did agree to come to each other. Rachel says that she is so frustrated with Shelly and Adam right now and Jeff agrees. Jeff tells her that this is exactly what they want, to stir everything up before the vote. Rachel says that Dani thinks Shelly and Adam will vote to keep Dani. Jeff says that Shelly and Adam are protected no matter what, if Porsche or Kalia win then they aren't going up and if Jordan or Rachel wins then they are also safe. Jordan asks if they think Shelly's vote is still good? Jeff says he was thinking about going to get Shelly right now and talk to her but wonders if he should do that right now.
Sign-up NOW and watch the houseguests live!
Click here for your: SUPERPASS – 3 DAY Trial!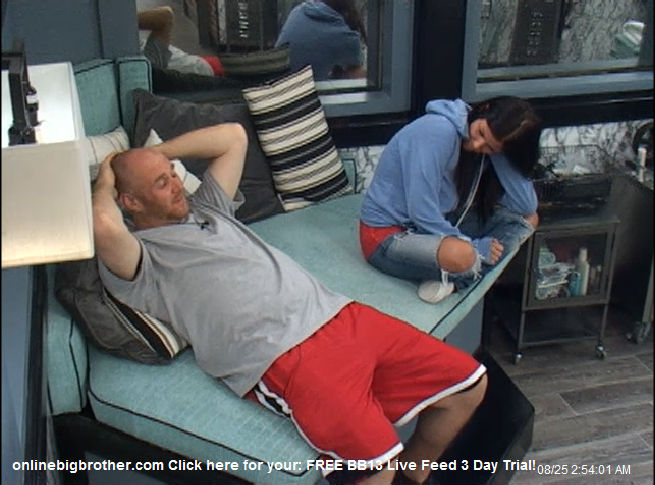 2:50am In the bathroom Dani and Adam are talking. Adam asks her what was up with Rachel? Adam calls Rachel a whackadoo! Dani says she and Rachel talked about how personal the game had gotten between the two of them. Dani says that she doesn't know how or why it wouldn't benefit you.. Adam says that he has been trusting his gut the whole time. Dani says and your gut tells you not to trust me? Adam says yes, I know it sucks to hear that. Dani tells him he will feel like an idiot for saying that after he watches the show back. Dani says that he is wasting his summer here and that he is just signing the check over to Jeff. Dani says that she would 100% have his back. Dani tells Adam that he is going home next week if he doesn't keep her. Dani tells him that he can't win the game by piggybacking and that he has to make big moves or else he has no chance in winning the game. Dani asks Adam if is a 100% no on a vote to keep her or will he sleep on it? Adam says he respects her so he is going to tell her now that he is not going to vote to keep her. Dani says okay.. I'll see you in jury… next week! Dani tells Adam that nice guys finish last. Adam tells her he has made his decision and he knows she doesn't like it and probably doesn't respect it. Dani tells Adam that her dad hates him, he didn't used to but now he does hate him. She again tells Adam he is going to feel so stupid when he finally watches the show back. Dani gets up and starts to leave the bathroom and tells Adam there are people here that like her. Adam jumps up and tells Dani not to leave angry like that. Dani heads into the metal bedroom and Adam goes outside.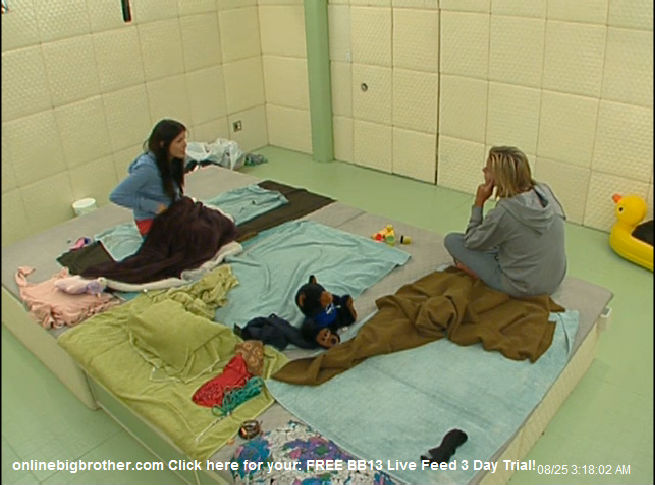 3:15am Dani and Shelly are talking. Dani tells Shelly that she thinks she can get Rachel to vote to keep her. Shelly says everyone is going to have a heart attack tomorrow when Dani stays! Shelly says that if Rachel goes up there and tells Jeff & Jordan then she is BLANK. Dani says Rachel won't do that. Shelly says she will just tell them that Rachel is a liar! Dani says that her and Shelly are friends for life now!! Dani also says that her dad is going to hate Adam but is going to love Shelly. Dani thinks the competition will be questions tomorrow. Dani says that Jordan is terrible at that. Dani says that she is going to act shocked and that Kalia is going to die!
See What They Can't Show You On TV! SUPERPASS – 3 DAY Trial!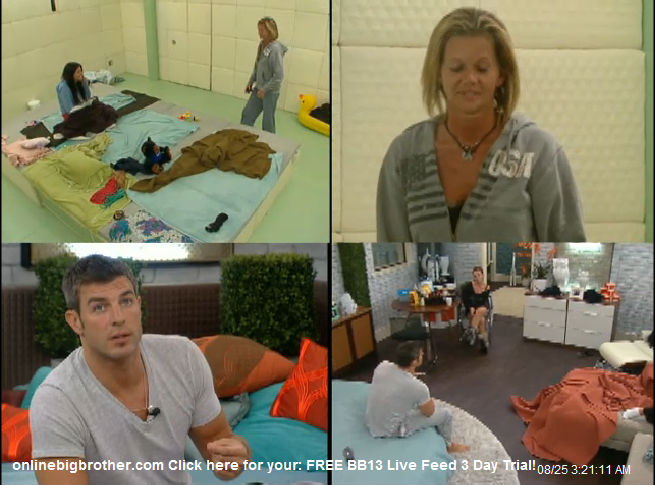 Meanwhile up in the HOH room, Jeff, Jordan and Rachel are talking. Jeff says that he is going to talk to Adam and tell him that they are cutting out Shelly and that they can offer him a final 4 deal …Jeff, Jordan, Rachel, Adam. Jeff asks who is she with, she's trying to throw everybody under the bus? They talk about how Shelly is a liar and how she's been working both sides. Jordan says they can't say anything to Shelly until after Dani leaves. They can get it all out into the open with Shelly but they should wait until after they get rid of Dani. Jeff says that you know everything they say down there is BLANK. Jeff warns Rachel not to go and have late night talks with them and make herself crazy, he tells her to just come back to the HOH if that starts up. Rachel laughs and says she will sleep on the HOH couch. Jeff heads down stairs finds Shelly in the havenot room with Dani and asks for a smoke and then they head outside. Shelly tells Jeff that it seems like Adam is freaking out. Jeff asks what is Adam freaking about? Shelly says she doesn't know he is acting weird. Jeff then goes back up to the HOH room. Jeff tells them that he found Shelly alone in the have-not room with Dani. Adam joins Jeff and Jordan in the HOH. Adam says he is trying hard not to lose it. Adam says Dani was throwing BLANK in his face. Adam tells them Dani told him that her dad is going to hate him, he didn't but he will now. Adam says that Dani is desperate. Jeff tells Adam he thinks Dani has Shelly. Adam says it doesn't matter because without his vote it doesn't mean anything. Jeff says that he wants to cut Shelly out of there deal. Adam says that he is BLANK willing to do that. Jeff tells Adam that he went downstairs and he found Dani and Shelly alone in the havenot room talking. Adam says that he is just biting his tongue and that he doesn't want his temper to come out, when I unleash my fury it is BLANK bad! They all agree that they will wait until after Dani goes home tomorrow before starting a war with Shelly. Jeff thinks if Porsche wins HOH they could easily make a deal with her. Adam tells them that he admitted to Dani that he was 100% not voting for her. Jeff laughs and says that's when she got mad. Adam tells Jeff all the things that Dani has been telling him to get him to vote for her.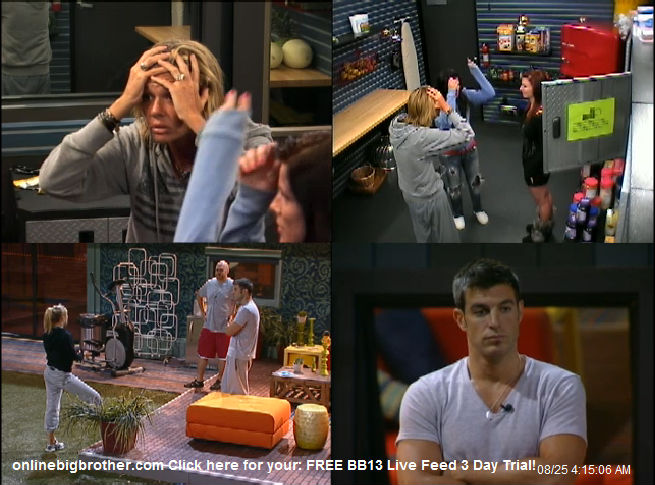 FLASHBACK – Don't miss all the drama!
Superpass – 3 Day FREE Trial
4:15am Dani, Shelly and Rachel are in the storage room talking. Dani asks them if they are all good ..are we all on board? Dani says that Porche is 100% with us. We're all solid. Dani says that the HOH competition tomorrow is only going to be Jordan tomorrow and Adam. Shelly asks if Rachel is going to be board if Porche is? Rachel smiles and laughs and says we're all nervous. Shelly says that when you went upstairs.. I was like what the BLANK? Dani says that Shelly was nervous because you were talking to Jeff. Rachel says don't worry I won't say anything. Shelly says that Dani said you wouldn't. Dani asks so we're all good, it's okay? Rachel says that she is so BLANK tired. Shelly asks Rachel are we cool? Dani says that you have no idea, seriously, you have no idea. Shelly says that they are going to freak out on us tomorrow. Dani says that we'll figure it out. Shelly asks Rachel how she can be so cool? Rachel says because I can, I've played it before. Shelly says you guys wait a minute as Rachel heads out the door. Shelly motions for her to come back but Rachel turns and heads out the door and go gets in her bed. Shelly asks where is she going? Dani says look at you in here freaking out. Shelly says that she thinks she has hives. Shelly tells Dani that you better make her shake on it. Shelly puts her hood up and starts pacing around the room. Shelly asks why do I have this felling that she's going to walk Jeff and Jordan in here and say everything. Dani laughs and shakes her head no. Dani leaves. Shelly keeps pacing.

4:30am – 5am Up in the HOH room Jeff and Jordan are talking. Jeff says that he doesn't get why anybody buys Dani's BLANK. Jeff says that he is the only one who doesn't and that is why she is pissed. Jeff says that she doesn't know he threw that veto she's just making it up. Jordan says that Rachel kept telling her the first time Brendon went home that she shouldn't trust Shelly. Jordan says she hates to think of Shelly turning on them. Jordan doesn't want to attack Shelly because she has a family and a daughter and she doesn't want to embarrass her. Jeff says that Shelly keeps bringing up all the money Jeff and Jordan have won and he says he knows that she has money. Jordan says that we know she is spreading lies but we don't need to go and have a bash session. Jeff says she brought it on herself, she made three separate final three deals. Jeff and Jordan decide to go to sleep..
WATCH all DRAMA unfold LIVE on SuperPass! FREE 3 Day TRIAL
If you like this site and want to help us keep it running please consider donating, Your donations go directly to paying the server and bandwidth fees. Donate Link

Big Brother 13 Live Feed Image Gallery
Follow: @BigBspoilers and @Dawgsbigbrother on Twitter for recent crazed out spoilers. Theres also our Facebook page.
Big Brother 13 Spoilers POLL CAST your VOTE!

Share it YO!!
Tweet