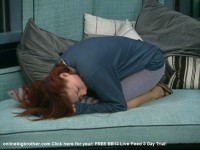 Watch the Big Brother 13 live feeds on your Android and iOS devices. Sign-up for the 3 Day Free Trial
9:15am Big Brother wakes up the houseguests. Shelly and Adam are in the backyard smoking. Shelly says in case you haven't noticed they are protecting themselves like mother and daughter. Kalia joins them in the backyard. They talk about how their bodies really take a beating in the big brother house. Kalia heads back into lay back down. Adam says that he is nervous. Shelly says don't be nervous ..you know we're going up. Just think its more camera time. Adam says it's not the camera time I want. Adam says that he wishes everything would just speed up. Shelly says that at least we know what is going to happen. Shelly and Adam discuss how everything changed because Porsche opened up Pandora's box. Shelly says that $5,000 wasn't worth it, especially after just getting through the fast forward. Adam says that they make it really tempting. Shelly says that 1% of the prize money is not worth it. Adam says that our fate is now in Jordan and Rachel's hands and they will do what's best for them. Adam decides to go lay back down. Meanwhile, Rachel and Jordan are laying in bed talking about how they need to buckle down and strap in win stuff. They try and go back to sleep. Adam comes in and gets back into bed. Rachel gets up and goes to the bathroom. Jordan gets up and Adam tells her that he really doesn't like that Shelly is talking shit about everyone.
Sign-up NOW and watch the houseguests live!
Click here for your: SUPERPASS – 3 DAY Trial!