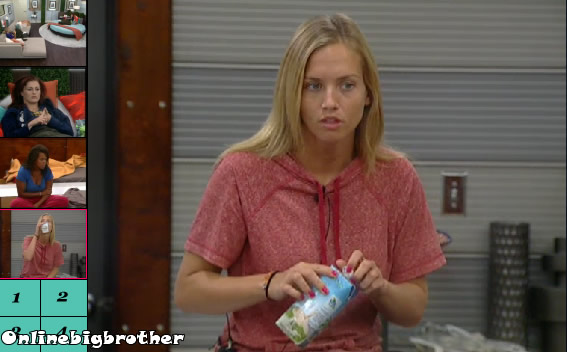 Big Brother 13 Live Feeds Can be watched on your iPhone and Android Mobile devices sign up -> Watch Big Brother 13 on Your iPhone or Android Phone
12:07pm Adam, Porsche and Adam Adam: "I apologize now if I get violent..Not that it will be on purpose" (Adam actually is a really nice bloke.. wish he would do something)
Kalia is saying that if it's OTEV and given all the tension in the house there's going to be blood… Kalia adds that rachel is probably going to get really physical. Adam and Porsche agree. Kalia: "If Rachel tries to take a card out of my hands.. it's going to be philly take it to the streets"
(They are planning it will be otev one of the more physical comps in Big BRother)
Everyone is on edge they are just walking around waiting for the comp to start. They keep talking about how physical it's going to get and how there ready to "Throw it down". Even Adam is pumped
12:23pm They're going over the possibility of it being a Punishment comp. Kalia and Porsche start doing their stretches… (Shit man they are pumped .. adam is pacing around like a caged lion)
12:30 they've been talking about Big Brother 11 for some time. Porsche still stretching. They briefly mention the feeds saying that there's buttons you can press so you can track a houseguest. (nope it's not that sophisticated).
Sign-up NOW and watch the houseguests live! Uncensored Live Feeds 3 Day Free Trial
Noon in the HOH Jordan and Rachel are studying. A bit ago they were both mentioning how important it is for them to get Veto so they can have all the power. Jordan is still very much pushing Porsche to go home this week. rachel still favors Kalia they are both worried that Kalia will win the HOH next week.
12:36pm POV Comp has started
1:47pm POV yo
2:14pm POV yo