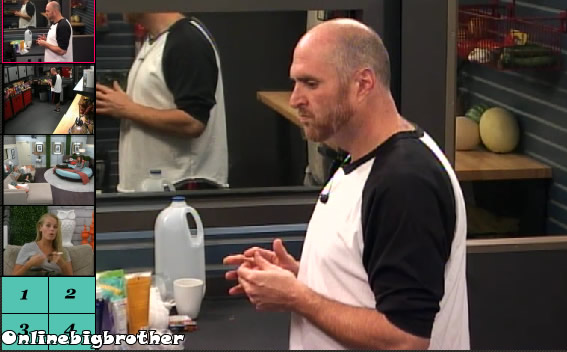 Big Brother 13 Live Feeds Can be watched on your iPhone and Android Mobile devices sign up -> Watch Big Brother 13 on Your iPhone or Android Phone
2:53pm Storage room Adam He looks in the mirror says "YA YA  BLANK YA" he starts counting on his fingers… (Seriously WTF is this guy doing on the show )
2:55pm KP Bathroom Kalia and Porsche are talking about Adam and how he basically wants to go to final 3 with Rachel/Jordan instead of KP. Porsche is a little pissed she's blow drying her hair can't hear  BLANK.. Kalia starts to cry says that she feels that this entire game they've been in the same position trying to flip ONE vote against the Vets.
3:15pm General Chit Chat..
Adam starts explaining his strategy during the OTEV comp. He was scanning for names all the time and when he found a name that was relatively unique he would remember where it was. He points out that there was a lot of Common names like Lawon and Dominic he knew they would never ask a question about those players because there names were too common would make the comp easy. Everyone agrees that "Jeff" was the hardest name to find. Jordan: "POrsche was the one that Grabbed it first"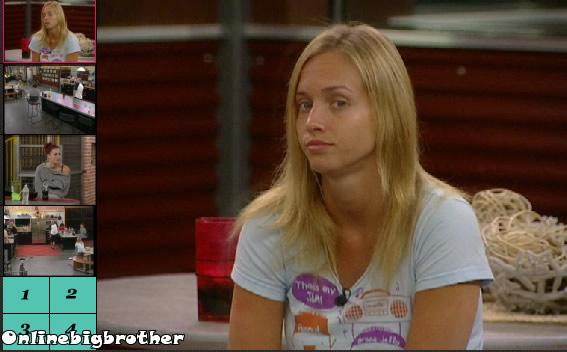 3:30pm General chit chat Porsche, Adam and Rachel being social, Jordan just sitting there pulling her hair. Rachel asks Porsche if Kalia is int he DR and if she alright.. Feeds cut.. rachel is trying to get everyone to play cards.
3:35pm HOH AJ Adam tells Jordan that he basically told Kalia that he's pissed off at her and he's not using the Veto. Jordan asks her if there is anything they can do to get Adam to flip sides. Adam says no way, he's telling kalia he's thinking about it but in the end he won't be using the VETO. Jordan asks him flat out if he has a final 2 deal with Porsche. Adam says no. Jordan asks if he'll take JRA or JPA. Adam says he will take the vets to the final 3 that's the way he wants to play. Jordan starts saying that Rachel and Jordan played the game the entire time they deserve to be in the final 3 eith Adam. She doesn't think that Porsche deserves to win because she didn't play the game and she's only on the show to further her career. Jordan: "She told me she never wanted to play game… she shouldn't win she never did anything". Adam keeps telling Jordan that he's 100% going final 3 with JR she doesn't have to worry if he wins HOH he'll put up Porsche. Jordan starts saying that it's not about who is your best friend it's about the game and who is a bigger threat. Adam agrees says he's always been with JJ he always will be. She says she had that deal with Kalia week 2 but thinks Because Kalia put JEff up then the deal is really off. Adam and Jordan high five they both agree final 2. Adam: 'I  BLANK needed that Veto for myself"..
(Jordan is using the argument that Porsche is a  BLANK player and because she never talked game to JOrdan she doesn't deserve to get far in the game. She then uses the argument that Kalia is too strong a competitor to keep in the game and they must get her out this week. adam eats all this up and has attached his lips to Jordan's ass. As it stands now Adam will not use the POV.)
(3:42pm HOH cam 3 Jordan being insane)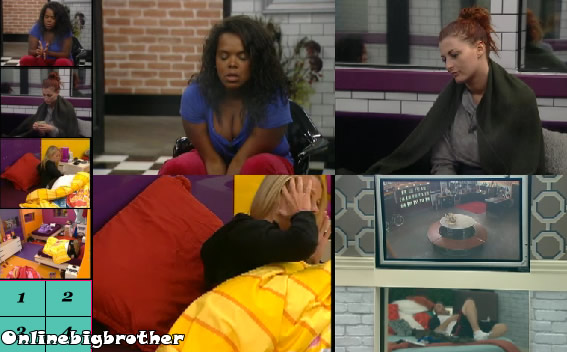 4:00pm Purple room Cards with KPR, Jordan resting in the candy room and Adam listening to music in the HOH
4:37pm cards and Sleeping yo.
4:50pm Purple room Adam and Rachel Adam is telling rachel about her HOH CD. He says some of the songs have rock elements in them there not too "Twangy". Rachel says she really only likes a couple songs on the entire CD. (It doesn't seem like rachel like her HOH CD.. Jordan however loves it.)
4:55pm Purple Room RKAP playing cards having a good time.. Jordan sleeping.
5:30pm JRKA Playing guessing games..