Big Brother 13 Live Feeds Can be watched on your iPhone and Android Mobile devices sign up -> Watch Big Brother 13 on Your iPhone or Android Phone
Kalia and Porsche Nominated
5:36pm Candy Room Kalia and POrsche Kalia is saying how weird it is that Rachel goes around all year preaching how they need to get out the floaters and people that don't do anything and here she is not nominating the biggest floater in the game. Kalia goes on about how Adam has seriously done shit in the house and she keeps him safe. Porsche thinks once it gets down to final 5 all that floaters must die rhetoric is over everyone wants easy people to beat in the end. Kalia knows she points out that is the reason they always have a pack of losers near the end. (Honestly Kalia you've made so many mistakes this year i'm surprised you're still around)
Porsche says if Adam wins this veto he can take one of KP down and put up Jordan then they can evict Jordan because they control the votes. The next HOH it will be Kalia, Porsche and Adam competing so they can take out rachel. Porsche: "we'll have an all newbs final 3"
Kalia hopes Adam does win it.. she hopes he at least tries. Porsche thinks he will because if one of KP win it then Adam goes up. POrsche mentions to Kalia that Rachel has told the entire house about her offering Rachel final 2 last nigh. Kalia: "ohh… I knew that" Porsche says she tried to explain to Rachel that Adam will take Jordan to the finals because there's no chance for him to win against Rachel. Kalia adds that theres really no chance for Adam to win, she also thinks that rachel will not win against Jordan in the final 2. They count the votes, Brendon for rachel. Dani, Shelly, Jeff, Kalia and POrsche for Jordan. Porsche explains that when she was talking to rachel she told her that her chances of winning are better if she sticks with KP but apparently Rachel doesn't think so.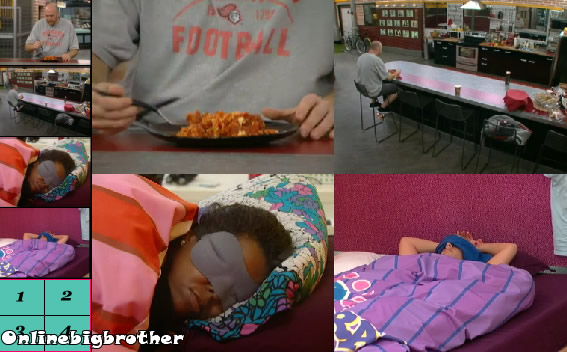 6:18pm Adam eating KPJR Sleeping.. There all sleeping because they think POV could be tonight. They've just started the lockdown.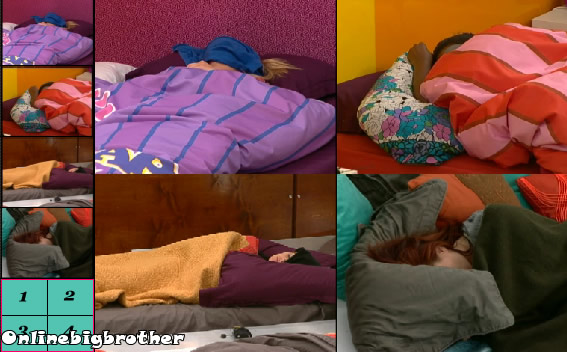 6:40pm everyone sleeping..
7:26pm Sleeping yo
8:00pm Kitchen JRK They are talking about the Jury house, Dani and Shelly. (Feeds cut in and out) The general conversation is that Dani and Jeff didn't get along before the show. Apparently Dick and Dani were calling people trying to find out who else was selected to be on this season. Jordan is sure that everyone is getting along in the jury and having a good time. She adds that BB11 Jessie and Natalie were together like Rachel and BRendon were last year amd Jessie voted for JOrdan to win the money so people change in the Jury house. Kalia and Rachel say they didn't think so. Jordan disagrees tells them that JEssie had a huge crush on natalie. (No way was Jessie and Natalie anything like BR BB11)
They start talking about Shelly and how INSANE her lies were. Kalia and Jordan bring up a couple conversations they had with Shelly where Shelly swore up and down that she did not lie. They all think Shelly is a nice lady outside the house but inside she lied to everyone.