Big Brother 13 Live Feeds Can be watched on your iPhone and Android Mobile devices sign up -> Watch Big Brother 13 on Your iPhone or Android Phone
8:30pm Purple Room RKP Talking about Tori Spelling being in the house and how geeky Adam was. Kalia: "He literally turned into Phillip when she was here". Kalia retells a bunch of stories of Adam fumbling around interacting with her. Kalia also mentioned that Tori was shown where they sleep and said "oh you don't make your beds" Rachel: "I always make my bed" POrsche: "Half these beds aren't even being slept in"
Rachel: "remember when Sarah McLachlan no.. Shania Twain was in the backyard for Big BRother 3". Kalia and Porsche say they never knew that. rachel: "Oh ragan use to always talk about it.. I guess it wasn't Shania Twain.. We'll ask adam he'll know" (It was Sheryl Crow). They start talking about Reality show etc etc…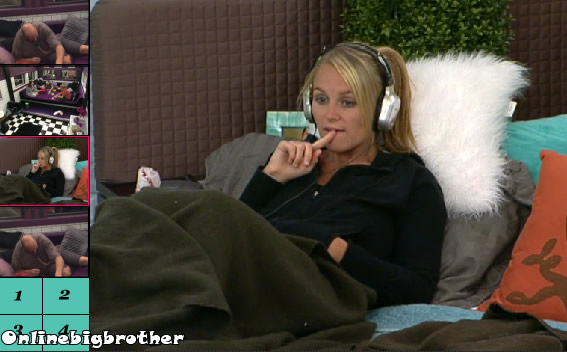 9:07pm Jordan alone in the HOH
9:15pm Purple Room RAP Adam talking about how the life feeders are probably having a field day with Tori Speling being in the house. They all Joke that Adam told Tori if her and her husband ever run into trouble to give him a call…
Back to Playing Cards very little talk..
9:30pm JR HOH They are thinking something is up because production has given them alcohol and they thought the comp would be tonight. Jordan wonders if perhaps the comp is Tomorrow night. Rachel Doesn't think so because they've never had a lock down this early for a Saturday night Comp. Rachel says her muscles are really sore from the HOH comp she's going to soak in the tub tonight.
Jordan is nervous that Adam is working with KP and if he wins POV then Jordan is going up and Home. Jordan adds as far as she knows Adam has never lied to her.. Rachel says that she knows 100% that Adam has a deal with Porsche but Porsche also has a deal with Kalia. Jordan doesn't trust Kalia but sometimes feels that she always talks and it makes you comfortable around her. Rachel: "I trust Kalia as far as I can throw her… Jordan she's made a final 2 with everyone in the house". Jordan and rachel agree that they need to win the veto but if Kalia or POrsche win then they will put Adam up and vote out Either K/P. They are both nervous if Adam wins the POV.
9:40pm JRKP in the purple room talking about getting all the clothes today and how sweet Adam was getting clothes for Farrah. Rachel and POrsche drinking a giant glasses of wine. Jordan isn't playing cards the other 3 are.
10:00:pm Same Thing now their chatting about prom.. (what was worse girl talk or steamboat talk) .
Sign-up NOW and watch the houseguests live! Uncensored Live Feeds 3 Day Free Trial
10:33 Purple Room PAKJ PAK talking Jordan is just pulling her hair. Porsche tells a long story about how she met her first boyfriend at a "outback" restaurant where she worked as a hostess.
11:30pm Rachel and adam They're trying to figure out what the comp will be. Adam jokes says the comp will be dancing. Rachel hopes so. Adam is almost positive it will be OTEV. He says it's a pretty straight forward comp just have to be fast.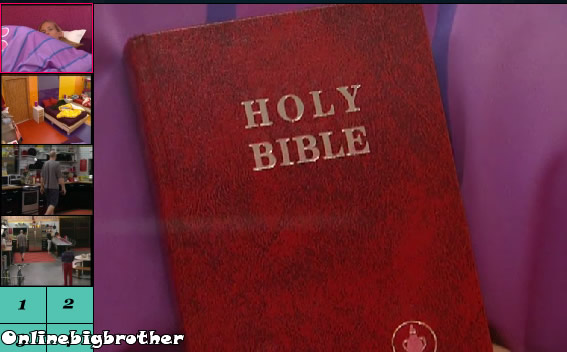 11:34pm Porsche studying her dates.. She's using the bible as a study aid by flipping threw the pages and calling out events that occurred in the Big BRother house corresponding to the page number.
11:45pm Kalia and POrsche Kalia is using the bible now to help her study. Porsche is talking about her HOH letter.
11:53pm Purple Room Adam and Jordan Adam says he's really got to watch it in the veto because he doesn't want to hurt any of the girls "you are fragile" Jordan tells him she's worried that he'll use the veto. Adam swears he's with them he has to win the veto for keep himself safe he will not use it. Adam: "Kalia will be mad at first but Porsche will get over it.. that's if she doesn't get evicted"
Jordan tells him she doesn't want to get screwed over. Adam swears he's with them. Adam tells her they need to get rid of Kalia. He knows that Porsche has been studying but he's sure they can beat her. ..