Watch the Big Brother 13 live feeds on your Android and iOS devices. Sign-up for the 3 Day Free Trial
8:35am – 9:40am Big Brother wakes up the houseguests. When the live feeds return, Rachel is heading into the downstairs bathroom to grab something's and then goes backup to the HOH room. Adam is laying in bed staring at the ceiling. All the other houseguests are still sleeping in bed. Jordan wakes up and heads into the bathroom to get ready for the day. Porsche is now up and in the bathroom with Jordan. Rachel joins Jordan in the downstairs bathroom. Kalia is now up and in the bathroom as well. Adam and Kalia are in the kitchen going over the events of the house. Kalia says that she has stared at the houseguest pics for ever and feels like there is no way she couldn't get them. Kalia asks Adam if they ever said anything bad about her or Porsche. Kalia says that they were saying bad stuff about each of us to one another. Adam says that all they said was that if I didnt go up then for me to not use the veto if I won it. Kalia asks Adam if he did win it …would you ever consider using it on one of us? Kalia says because then we would have the votes to keep you safe. Adam says yeah na….
WATCH all DRAMA unfold LIVE on SuperPass! FREE 3 Day TRIAL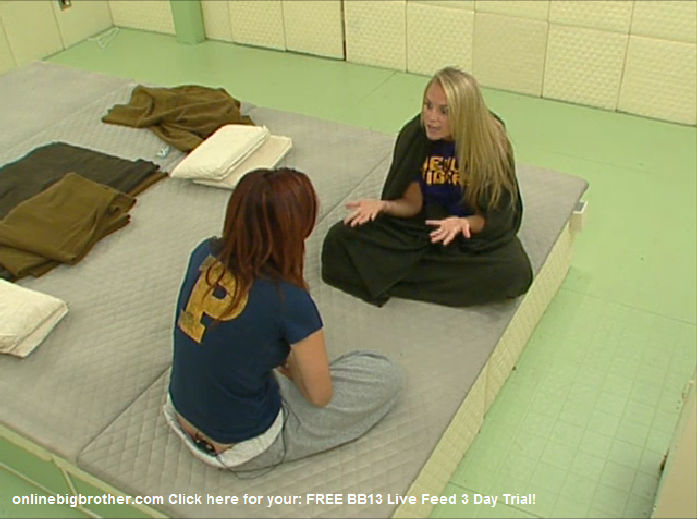 Jordan and Rachel go into the HaveNot room to talk. Jordan says that we need to win today to see how Porsche does in this …and if we win and one of them don't win …maybe we should get rid of Porsche. Jordan and Rachel go through the different scenarios of what could happen and who to get rid of. Jordan says that we need to think about everything. Jordan says that the HOH doesn't play in the final veto. Jordan explains how it worked in her season. Jordan talks about how Kalia is slower. Jordan says that she thinks Porshce is neck and neck with us …and I don't want it to be like that. Rachel says that if its questions next week ..Porsche isn't really good at that like Kalia. Jordan and Rachel talk about how they aren't sure if they can trust Adam not to use the veto. Jordan says that she was just thinking about all this stuff …if we win. Rachel says when we win! Jordan and Rachel leave the havenot room and Jordan goes to lay down.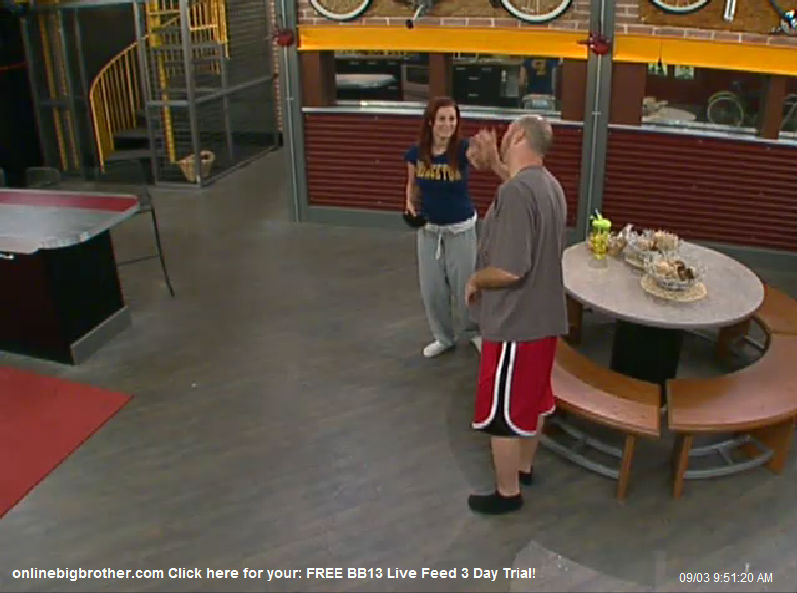 9:50am Rachel goes to the kitchen and asks Adam if he won the veto he wouldn't use it right!? Adam says no he wouldn't …that last night he was just joking around and didn't mean it. Rachel says okay good. Adam says that he has worked too hard to get here and isn't going to BLANK it up. Adam says trust me… and I already have my speech ready. They high five.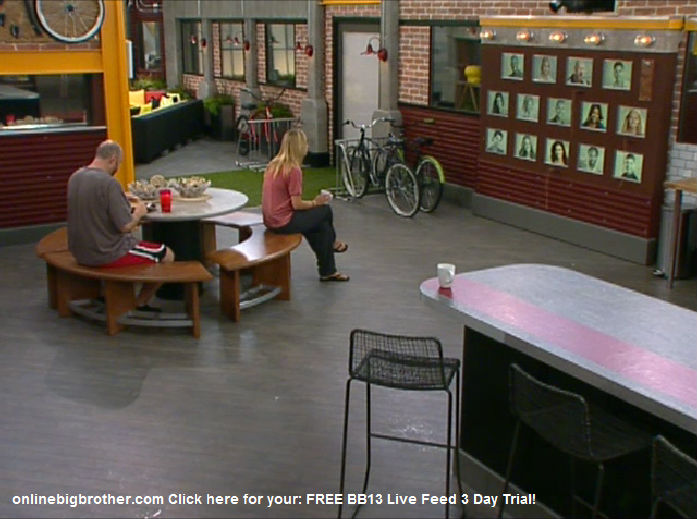 10:10am Porsche joins Adam in the kitchen and she talks about being nervous and just wanting to get the veto over with. Porsche says she is trying to think positive. Porsche and Adam talk about past veto competitions. Porsche remembers the veto where they were trying to back door Brendon and neither Rachel or Brendon got picked to play. Adam says with luck like that we could have all gone to Vegas and won a lot more than $500 G's. Porsche says OH MY GOD, Adam if you win this veto …life looks really good. Adam doesn't say anything. Porsche says that she is feeling a lot better than yesterday. Adam says that we are doing it for Dominic and Keith …our fallen partners. Porsche says MMMHHMM. Porsche says that she misses Lawon. Adam says that he misses his little pretty boy Dominic. Porsche says that if she wins or wins $50,000 she will pay for Kentucky. Adam says that it has been a good summer .. spent his 40th b-day in the BBhouse and he met Tori Spelling. Adam wonders if he has made it on the show The Soup.
Big Brother 13 Live Feeds
Click here for your FREE TRIAL: SUPERPASS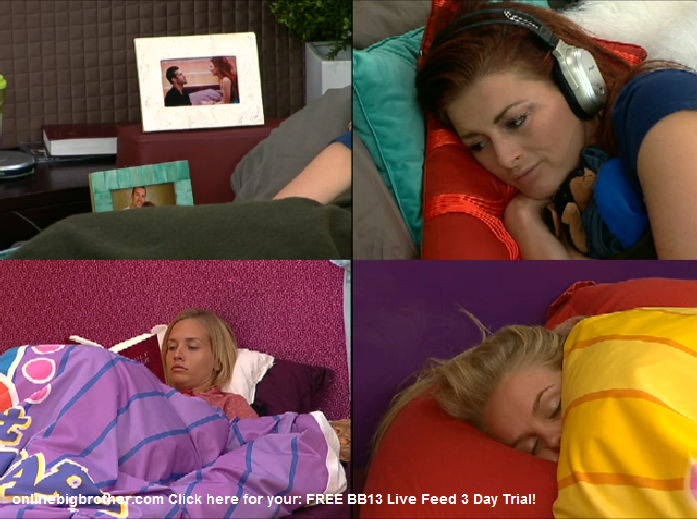 10:15am – 10:35am Adam goes to take a shower. Porsche goes to lay in bed with the bible. She is either reading the bible or studying the events of the house. (A few days ago, Porsche and Kalia put stickers on the top page corners of the bible to represent the days and events of the house.) After awhile, Porsche puts down the bible and goes back to sleep. Meanwhile, Rachel up in the HOH room laying in bed listening to her cd. Rachel cries a bit after looking at the photo of her and Brendon. She wipes her eye and smudges her makeup. Rachel starts studying the events and dates of the house using her fingers.
Meanwhile, Kalia studies the houseguest memory wall…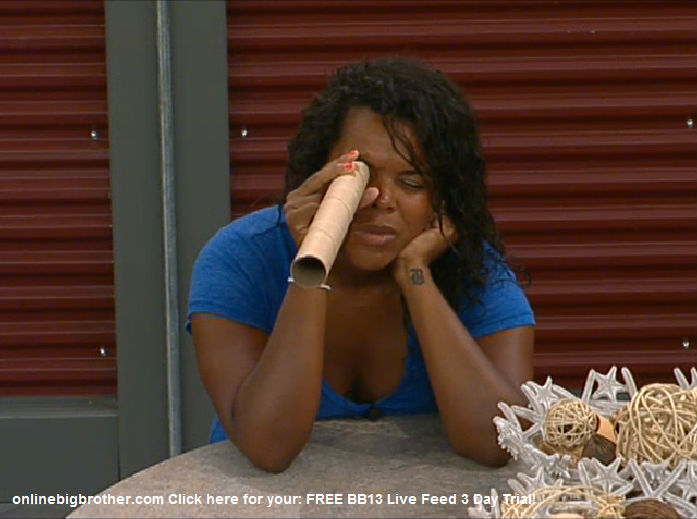 10:50am – 11:10am Rachel is in the HOH bed reading the bible. Adam just called Porsche and Jordan lazy for sleeping and then he goes and lays down and closes his eyes. Kalia is wandering around looking at stuff in the house and then goes to get in bed as well. Jordan gets up and heads up to the HOH room. Jordan tells Rachel that she can't sleep. Jordan asks if she can sit up here. Rachel says of course you can sit up here. Jordan says that they are still building out there. Jordan wonders what Jeff and Brendon are doing. Jordan says that she can't sleep in the candy room because people keep coming in and out. Rachel says that Porsche and Kalia keep staring at the memory wall. Jordan says that's not today. Rachel agrees. Jordan says only 12 more days …then we get to see them. Rachel and Jordan try and figure out the days and how many people are left in the house. Jordan says that if Adam wins and uses that veto …I WILL FLIP OUT! Jordan says surely he won't. Rachel says that she asked him and he said that he shouldn't have joked with Jordan and that he won't use it. Jordan say we are almost there! Rachel says I know. Jordan talks about the competitions from her season. Jordan says that in her season the final HOH doesn't get to play in the veto. Jordan says that if I win HOH then it would be you against Porsche. Jordan and Rachel are trying to figure out who it would be better to keep. Rachel says that if the next HOH is questions ..Kalia will win it because she has won two question competitions.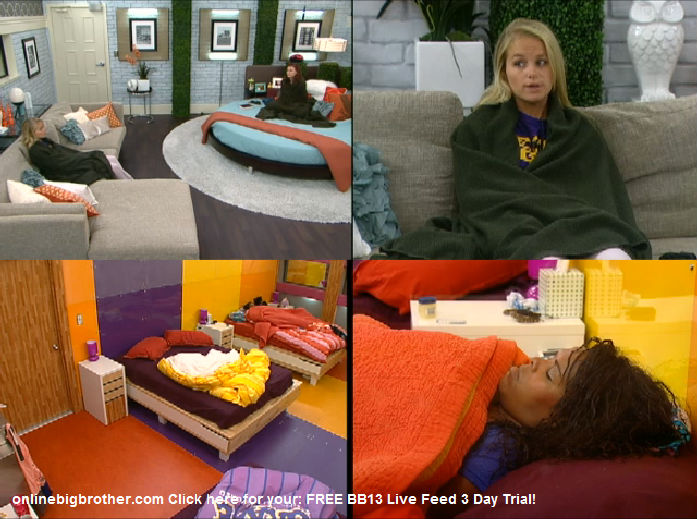 11:10am – 11:30am Jordan and Rachel continue to talk about getting to the end. Jordan says that she wants to prove that she can get to the end again. Jordan says that she just wants to get to the final two …and then she doesn't care if she gets first or second place. I just want to prove that I can do it a second time. Rachel says that she feels like they have worked so hard to get here. Jordan says it's definitely been more psychologically hard. Jordan and Rachel both say that they aren't even nervous about the veto today.. Jordan says that she knows they are nervous …which is good because they will mess up. Jordan is stretching getting ready for the competition. Jordan starts explaining how the OTEV competition worked in her season and gives Rachel pointers on how to do well at it.
If you like this site and want to help us keep it running please consider donating, Your donations go directly to paying the server and bandwidth fees. Donate Link

Big Brother 13 Live Feed Image Gallery
Follow: @BigBspoilers and @Dawgsbigbrother on Twitter for recent crazed out spoilers. Theres also our Facebook page.
Big Brother 13 Spoilers POLL CAST your VOTE!