Big Brother 13 Live Feeds Can be watched on your iPhone and Android Mobile devices sign up -> Watch Big Brother 13 on Your iPhone or Android Phone
3:31pm HOH Adam, Jordan and Rachel Adam is swearing that he will not use the Veto if he wins it and he will fight his hardest to win the veto. Adam goes on about how he wants to stick to the plan go final 3 with JR. Adam thinks the number one thing they need to do this week is get rid of Kalia because they know the next HOH will be questions and she's already proven herself to be very strong at those comps. Rachel says that Kalia offered her a final 2 yesterday. Adam again swears that he is friends with Porsche but they have no game agreement.
Rachel says it will be Porsche and Kalia on the block. Jordan is pissed at Porsche and Kalia for suggesting that Rachel puts up Adam/Kalia or Adam/Porsche. Jordan says the only reason they are suggesting that is because they want to get her up on the block. Jordan doesn't care who wins the game as long ad Porsche or Kalia are not in the final 2.
Rachel reminds Adam that he really needs to fight next week and win the HOH/POV because Rachel and Jordan have done a lot to protect him in this game.
Jordan and Adam both saying that Porsche won more than 5grand in her Pandora's box (Adam knows for a fact that she only got 5grand). Jordan starts saying that Porsche won 10 grand and with the 10grand she got with her stipend she's won enough money.
Adam: "They want to win this for Dani.. " Jordan and rachel agree that Kalia and POrsche are in this game to win the money for dani. Adam mentions that he knew Dani was up to something so once he found out she wasn't with JJ he knew 100% that she couldn't be trusted. Adam adds that he was fooled my Shelly and had no idea the extend of her lies in the house. Rachel mentions that she had a good idea about what was going on but nobody wanted to listen to her. Jrodan points out that Shelly was going around trying to tell people that she saved rachel and got them to put Lawon up. Rachel says that is complete BLANK. Adam agrees. (Actually Shelly played a critical roll in manipulating Kalia to put a pawn against Rachel I watch that entire process take place)
JRA all get going on some light Dani, Porsche, Kalia bashing… Adam really talking it up like he actually did something this year. They start going over possible final 3 quiz questions Adam is a bit confused about how they will handle Dick leaving will he be considered the first houseguest to leave or will Keith be considered? Adam tells them about Season 9 where they asked the question "was there any pre-existing relationships among the housguests before the season begin" Everyone guessed false but the correct answer was true because of the Guinea pigs (Another great example of Production BLANK with this show.. yes folks it's been there since I started watching this show season 4)
Updated
(** Please note Jordan's comments about Porsche winning the "10 grand" + the 10 grand stipend effectively making 20 grand for the summer were made to try and push Rachel closer to wanting Porsche gone. Jordan knows POrsche is close to Adam and Rachel so she's worried if porsche wins HOH then JOrdan has a real chance of going home. )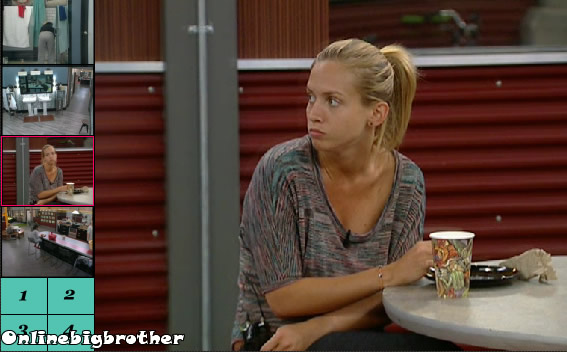 4:00pm kitchen KP They start talking about how Shelly was screwing everyone over in the game. Kalia brings up that everyone in the house was getting BLANK over by Shelly, Shelly. Kalia and Dani knew Shelly was lieing but they had no idea to the extent. Porsche says that she had a idea about what Shelly was up to that is why she was pushing for shelly to go but nobody really listened to her. (the exact same thing has been said 10 minutes ago in the HOH by Rachel)
Sign-up NOW and watch the houseguests live! Uncensored Live Feeds 3 Day Free Trial
4:17pm backyard couch KPA They asks Adam if JR asked him if he would use the veto. Adam says he told them he would not use the veto. Porsche: "Good that is what you should say". They mention to Adam the only way they can make it to the end is if they stick together. Adam tells them Kalia and Porsche will be going up JR are not stupid enough to not. Apparently production told them there will be a indoor lockdown tonight, they start speculating that it will be a physical comp. Adam thinks OTEV, he also points out that most times the POV is physical.
4:30pm Trivia Nominations kalia and Porsche going up
(Kalia is the target unless she wins POV she's going home)