Big Brother 13 Live Feeds Can be watched on your iPhone and Android Mobile devices sign up -> Watch Big Brother 13 on Your iPhone or Android Phone
8:14pm Backyard, Kalia, Adam, Rachel and Jordan They are talking about the audience reactions when certain houseguests were evicted. All of them except for Rachel thought Dom's applause was very loud. Kalia points out that Jeff and Dani where probably the loudest. Jordan agress. Rachel says she was surprised by Shelly's applause. KJA all think Shelly's applause was muted.
They start going over all of Shelly's lies.. Kalia brings up the personal conversation she had with Shelly about race. Kalia says she will destroy Shelly's Character if she find out that Shelly went around and told everyone about it. rachel: "Uhh she did I'm telling you right now" Kalia is mad. Adam bring up the possibility that Shelly was America's Player. They all agrees she wasn't. They briefly talk about BB12 and all the nasty things Monet and Brit would say about Rachel being full of STDS. KAlia mentions that Monet was really boring she wonders how those type of people get on the show. Adam agrees says that sometimes they cast the worst people (Funny this coming from Adam) KAlia thinks some people are really good at auditions.
8:25pm Backyard bunch talking about Dominic.
Jordan wonders if DOm and Dani will date.. Kalia doesn't think so. Jordan: "It seemed like they genuinely liked each other". Jordan thinks that dom was a ladies man. Kalia thinks Dani and Dom had a connection.
Adam: "Keith Loved DAni.. he would always say he's playing POrsche but Dani is driving him crazy"
Jordan: "When Porsche was out in the bikini Keith would stare at her butt"
Kalia: "Black guys love there butts"
They wonder if Dom liked Cassi. Kalia thinks that Dom and CAassi were friends and nothing else. Rachel points out that Dani wanted Cassi out because of that. Jordan agrees.
They start laughing at how Lawon reacted when Keith spilled his guts. Kalia: "HE  BLANK ME HE  BLANK ME FOR REAL"
They start talking about Shelly again. Rachel brings up that Shelly was going around telling everyone she manipulated Kalia to put up LAwon. Kalia swears it was not her Idea it was Kalia's.
They mentions Shelly's "3C's" Character, Class and Competitions and how she would preach them all the time. Rachel laughs and says a couple days ago she told Rachel that KP didn't have the 3c's
Kalia says that Shelly would say nasty  BLANK about rachel and POrsche.
Kalia brings up Shelly saying about Rachel "You'll never win at life… "..
Rachel: "You mean win Big Brother 13"
Kalia: "No Life"
Rachel: "I'll never win at life.. Thanks Shelly"
Sign-up NOW and watch the houseguests live! Uncensored Live Feeds 3 Day Free Trial
8:40pm Porsche Joins them.
Kalia starts talking about girls that dip their tampons in vodka.. the alcohol goes straight into your blood. Rachel brings up girls that us GHB because they don't want all the extra calories of real alcohol but still feel the effects of getting drunk.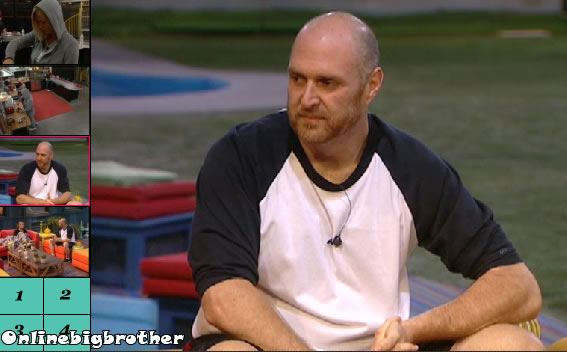 9:05pm AP They are talking about how there will be people in the internets talking  BLANK about Adam and Jordan. Adam had warned Farrah that she shouldn't read too much because there's whole pages out there that Hate on the houseguests. Adam: "Somedays I feel like… Man my game sucks" Jrodan tells him he's got a good game he's won 2 POV's now, She thinks he's too nice of a guy to really play dirty. Adam knows that Kalia is going to try whatever it takes to use the veto and all he's going to say to her is "Why did you vote to evict me last week" .
(Is there a Adam fan anywhere out there? )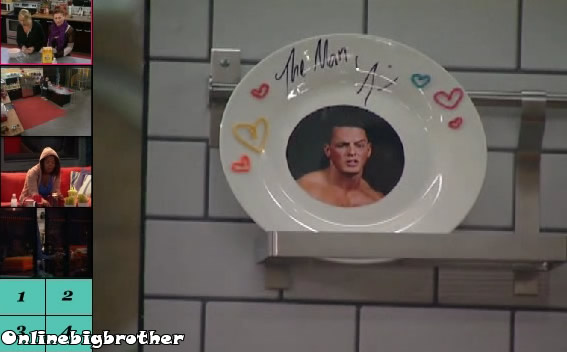 9:13pm JR and Adam JR are both going on and on about how wonderful of a guy he is. Jordan says after looking at Adam for the first time she thought he was going to be like Dick but he totally wasn't. Adam says he's a really nice guy people just need to get to know him.
9:25pm Porsche and Kalia They are trying to understand why Adam is sticking with JR when his odds are better if he goes with KP. They start running threw reasons why it's better for Adam. Kalia doesn't understand why they are going into a quiz HOH and betting on Jordan. Porsche points out that Adam could very well win the HOH.
KAlia says Adam forgets that he's  BLANK her over, Kalia mentions the Rachel vote when She was HOH.. She got over it why can't Adam get over last week. Kalia starts listing off things that Porsche can say to try and get him to use the Veto on her. She brings up that Porsche was allies to Adam long before he was with Jordan. Porsche disagree. She's not sure what they can say to Adam.
Adam comes in Porsche leaves. chit chat..
**Updated**
Kalia tells him she is really really sorry for voting against him she explains that she wanted Shelly gone but they told her moments before they were voting Adam out. Kalia explains that they literally lied to Kalia just to drive him away.
Porsche just talked to Rachel and she said "Big Brother 13 is officially my season"
Kalia: "you're picking Rachel over your own alliance"
Kalia: "It'll be 3 to nothing in the HOH.. I guarantee you Rachel and Jrodan will take each other to the end… ADAM the first part of the HOH is endurance."
Adam knows whats going on he hasn't made up my mind but….. he says it really hurts that she voted against him.
Both Kalia and Porsche tell Adam that if they take Jordan out then its Kalia, Adam and Prosche to win HOH then they can get Rachel out. Adam: "But what if Rachel wind POV". Kalia: "If I win HOH next week I will put up Rachel and POrsche.. A golden goose is being handed to you". Kalia tries every angle on Adam "Make a big move Adam it's time… fans like big moves Adam"
Kalia: "I've spent the whole game with a deal with Jordan and I never ONCE turned on her.. I can be trusted Adam"
Kalia: "The only way for a newbie to win is to have 2 up in the final 2"
Adam: "Yeah and let them decide which one"
Porsche: "We've all been saying this from day one if Jordan sticks around nobody will get her out and she'll win again".. Prosche tries to drill into Adam that the vets have all the votes in the jury house.
(Adam is doing what Adam does to deflect anything … a lot of rights right.. right… right.. )
10:30pm Kalia campaigning to Jordan Kalia feels that because she's a strong competitor and she made moves for other people that she is being xed out of the game. Kalia really wanted to make it to the final 3. Jordan wants Kalia to know that people wanting her out because she's a strong competitor is a compliment. Jordan goes on about how intelligent Kalia is and how people are worried they cannot beat her.
11:12pm Kalia being quiet!!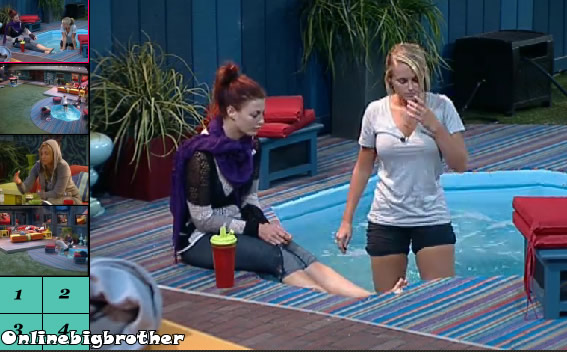 11:30pm JR Rachel is asking Jrodan what is wrong with Kalia. Jordan explains that Kalia has had some win and is getting emotional. Jordan adds that Kalia was really campaigning hard. Jordan feels bad but it's a game, "She's kept staring at me.. made me feel uncomfortable" Jordan whispers that she'll tell rachel more later tonight. JOrdan: "All I told Kalia was I wold talk to you… but she's getting upset.
11:35pm porsche and Adam on the couch. JR in the hot tub chit chatting..