This Big Brother Spoilers covers late night action on the Live Feeds on September 4th. Adam is nervous and seems to be smoking more than usual. Jordan is concerned about her relationship with Jeff saying that they live so far apart.
1am Kalia and Jordan are talking. Jordan is talking about her and Jeff and how they can't have a distance relationship forever. Jordan says that they need to figure out what they need to do next. Jordan says that one of the great things about her and Jeff is that we trust each other and aren't jealous people so it makes being in a long distance relationship easier. Jordan that her and Jeff are like buddies, we aren't mushy, mushy. They start talking about how they can't wait to see their families. Kalia says that after Dani left and after the double eviction she was worried that she had no one else but herself to depend on. Kalia says that she felt like she had to win HOH. Jordan tells Kalia that she wasn't the one on the chopping block, Shelly and Porsche were the targets. Jordan says that if she would have won the double eviction HOH she would have put up Shelly and Porsche. Jordan say that the night before the double eviction her and Jeff knew they had to get Shelly out and they wanted to pull someone else over to their side and they were thinking about Kalia. Kalia tells Jordan that she isn't about playing sides in this game she is more than willing to shuffle the deck especially since her alliance was sent home. Jordan says that big brother isn't an easy game. Kalia says that the first week she wondered what she had signed up for. Jordan tells Kalia that it was the best feeling to walk out of the house and know that the game is over, she says everyone at that point gets onto the same page. Adam joins them. Adam says that coming out of the big brother house must be like coming out of a coma. Adam goes inside. Adam goes into the purple room where Rachel is and Rachel asks if Jordan is alone in the backyard. Adam says that Jordan is with Kalia. Rachel says that Kalia is trying to make a final three deal with Rachel and Jordan and was offering them anything they wanted. Rachel says that she has no problem confronting Kalia about that. Rachel says that Kalia was fine getting rid of Porsche. Big Brother cuts the live feeds..
Big Brother 13 Live Feeds
Click here for your FREE TRIAL: SUPERPASS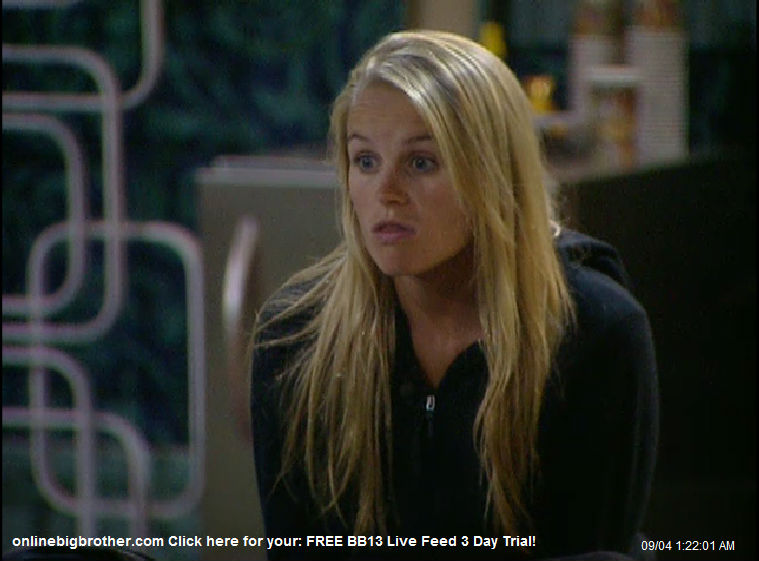 When the live feeds return, Rachel and Adam are talking about the POV competition today. They talk about how some people throw competitions. Rachel says that she has never thrown a competition. Rachel tells Adam that she thought he threw the second POV. Adam says that he didn't …that he just sucked at it. They continue to talk about other houseguests that threw competitions. Adam tells Porsche he thought she was going to win the banana competition. Porsche says that was a personal competition for her because she wanted to stay up there longer than Dick and says that she didn't want to fall off before the old man.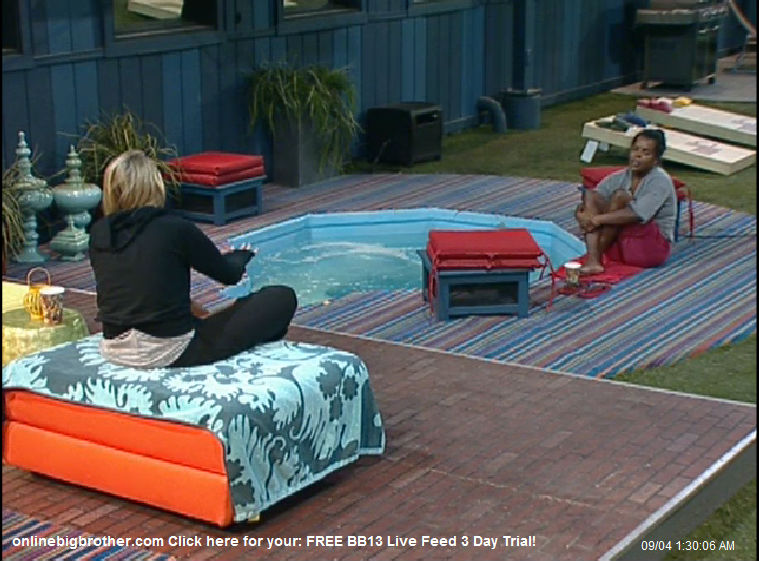 1:30am Jordan and Kalia continue to talk. Jordan and Kalia are talking about Dani. Kalia is tells Jordan that she considers Dani to be a really good friend but says Dani threw them under the bus before she left. Kalia says that she couldn't believe Dani campaigned against her and had people campaigning against her when they were on the block against each other. Kalia says it made her look like a punk that week. Jordan says that she thinks Dani really does care for Kalia. Kalia says that she doesn't hold it against her and that she separates the game from real life. Kalia says that Dani was probably really embarrassed that she got sent to jury second when she made it to the finals last time and she came back to try and prove she could play the game without riding her dad's coattails. Kalia says that when Dani left she told her that she thought Dani would win America's Favourite but that Dani said by the time the game is over people would forget about the moves she made. Kalia asks Jordan what she would need from her to keep her in the house this week. Kalia says she doesn't really want to try and get Adam to use the Veto because Jordan would go up and Jordan says yeah and I'd go home. Kalia says that she has played this entire game keeping Jeff and Jordan in the back of her mind because of the deal they made. Jordan says she knows that Porsche is coming after her. Kalia asks why she would keep someone in the house she knows is coming after her? Kalia says that if Adam doesn't use the veto which she doesn't think he will then he would prefer to keep Porsche because they have been close the entire game. Kalia says that Adam can vote to keep Porsche and Jordan can vote to keep Kalia and if Rachel would break the tie and keep Kalia then the three of them could move forward together. Kalia starts throwing Porsche under the bus. Kalia says that Porsche is just looking forward to what comes after big brother like trying to get a hosting gig.
24/7 UNCENSORED Big Brother 13 Live Feeds!
Click here for your: FREE 3 Day TRIAL!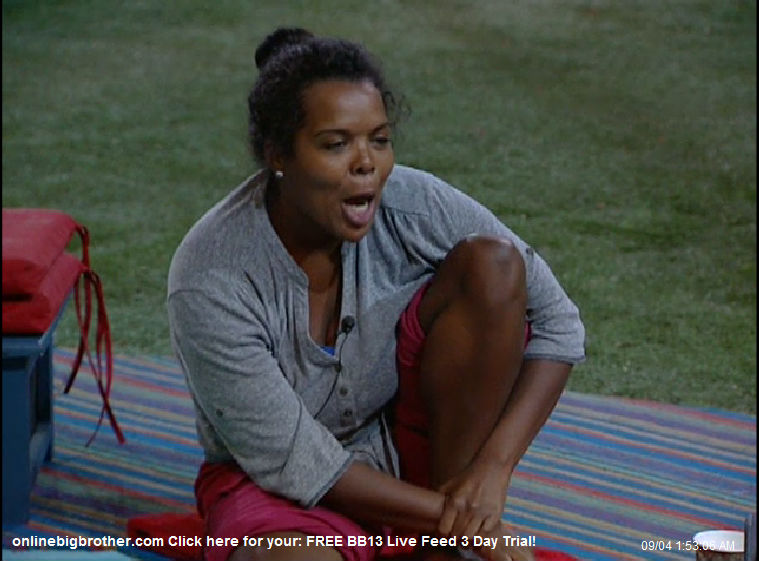 1:50am Adam, Jordan and Kalia are talking. Jordan is talking about her first seasons where she felt like after the first day in the big brother house she wanted to leave. Jordan says that now the big brother house feels like home. Adam heads inside. Kalia tells Jordan that doesn't want to do anything that will make Jordan go up on the block. Kalia that says if she sits down with Rachel and Jordan and makes final three deal then that is it she wants that deal to stick to the end. Jordan tells her they have plenty of days left to talk to Rachel and that Adam could still use the veto. Jordan says in that case she would be going home. Kalia tells her that Adam adores her and she doesn't think he'll use it and put Jordan up. Kalia and Jordan laugh about Adam because he can't lie in this house. Jordan says that Jeff took Adam under his wing and she thinks Jeff genuinely likes Adam. Jordan and Kalia talk about Lawon volunteering to go up as a pawn. Kalia says that he thought he would get money or a power out of it. They continue to talk about past events of the house. Jordan and Kalia wonder how Shelly will react in the Jury house. They both think that she will exaggerate things to the other jury members. Kalia starts talking about how offended she was that Rachel made a comment to Kalia about Dani being her master. Kalia says that no one in this house is her master. Kalia says that she knows people are going to say that Kalia was just doing what Dani wanted but that all the decisions she has made have been her own. Jordan says that they did think Dani was pulling all the strings and that Dani knew that she had all of them wrapped around her finger. Jordan and Kalia continue to talk about the double eviction and about Shelly.
See What They Can't Show You On TV! SUPERPASS – 3 DAY Trial!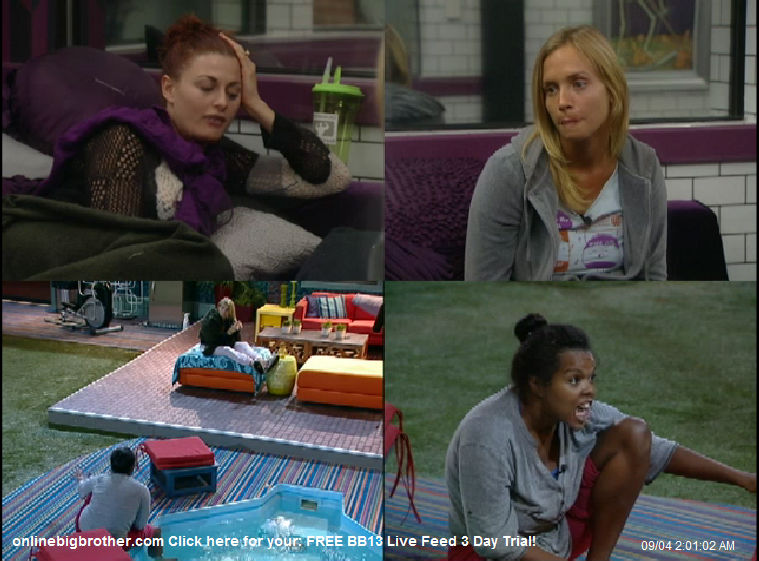 2am Meanwhile in the purple room, Porsche and Rachel are talking. Porsche tells Rachel that Dani told her before she left that she had to stick with Shelly and Kalia. Porsche says that they had to get Jeff out because he was the captain of the other side. Porsche tells Rachel that she wasn't ever the target. Rachel says she was last week. Porsche says she had no doubt that Rachel was going to win the veto last week. Porsche says that she thought Jordan was going to go home last week. Porsche says Kalia was ready to vote Jordan out last week. Rachel tells Porsche not to worry about whether or not Adam uses the veto on her but that she needs to make sure she has the votes to stay.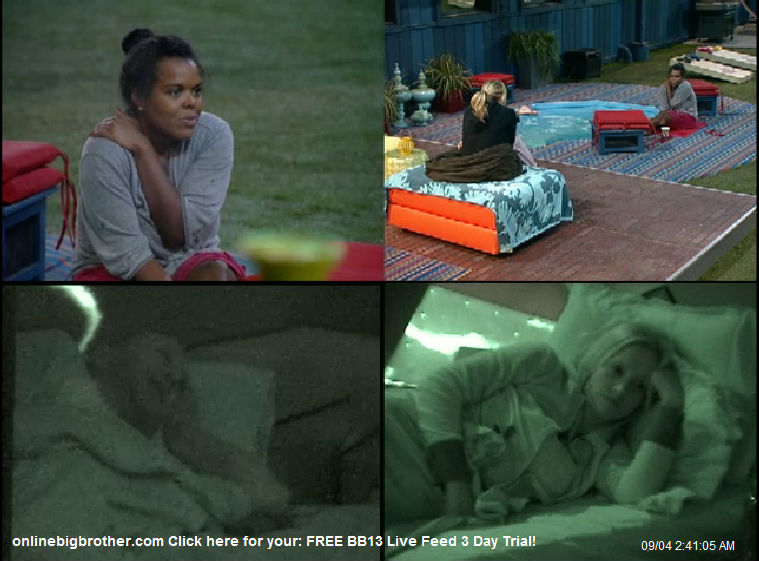 2:40am In the metal room, Porsche and Adam are talking. Porsche asks Adam if he is working with Jordan and Rachel. Adam tells her not to ask him that. Porsche says good answer. Porsche tells Adam that she has tried to talk to Rachel but she isn't feeling 100% comfortable because it has been so long since she talked game with Rachel. Porsche tells Adam she was trying so hard for that Veto. Porsche tells Adam that she got $10 grand in Pandora's Box and that she had to split it with Kalia. Porsche tells Adam that when she saw the $10 grand she thought she was going to go on a date with a jury member and that she would be able to give them the money and buy their vote.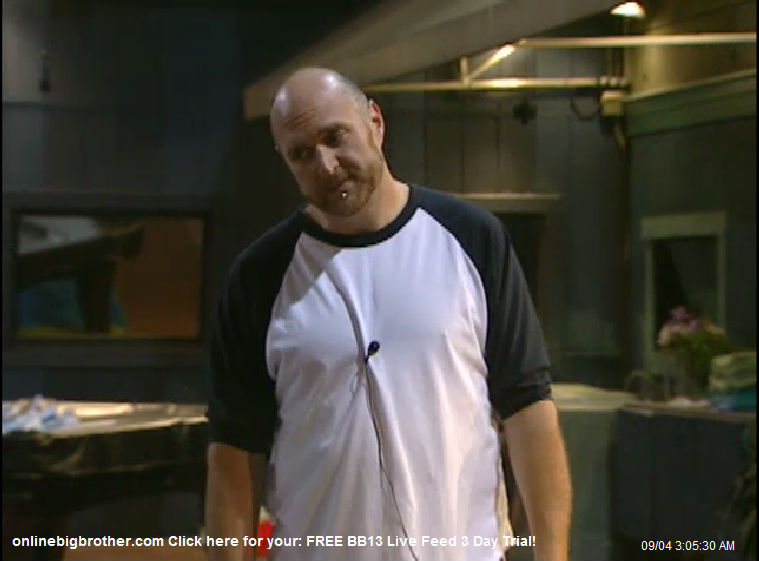 3am Adam heads out into the backyard alone for a smoke. Adam starts talking to the cameras and says he is safe this week and there is one HOH left and he has to win it. Adam says that he thinks he is doing pretty well so far. Adam says Porsche wants him to use the veto on her .. sorry I can't… I made a deal to work with them. Adam says Rachel and Jordan want to be in the final three… you got to earn it. Adam says that too many lies will kill you every time. Adam says that everybody has won this game in different ways and I'm playing mine. Adam heads inside to get ready for bed.
3:30am All the houseguests are now sleeping..
6am All the houseguests are still sleeping..
9:30am Still sleeping.. No wake up call yet..
If you like this site and want to help us keep it running please consider donating, Your donations go directly to paying the server and bandwidth fees. Donate Link
WATCH all DRAMA unfold LIVE on SuperPass! FREE 3 Day TRIAL

Big Brother 13 Live Feed Image Gallery
Follow: @BigBspoilers and @Dawgsbigbrother on Twitter for recent crazed out spoilers. Theres also our Facebook page.
Big Brother 13 Spoilers POLL CAST your VOTE!