POV Holder:
Jeremy
Next POV
July 13th
POV Used
?
POV Ceremony
?
HOH Winner:
Aaryn
Next HOH:
MVP:
Elissa
Original Nominations:
Elissa, Helen and Jeremy (MVP)
Current Nominations:
?
Last Evicted Houseguest
David
Have Nots
Helen, Elissa, Candice, and Andy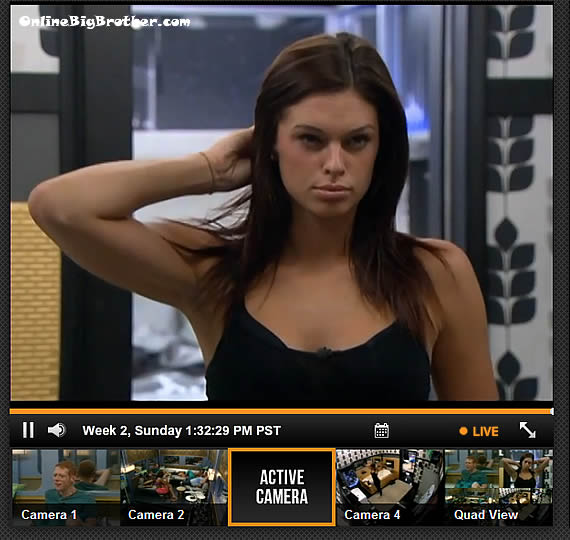 1:28pm HOH Aaryn and Kaitlin
Aaryn talking about how Amanda came up to the HOH last night and told her and Jeremy how they are being portrayed on the show. Jeremy is being portrayed as an A$$hole and she is being portrayed a b!tch. Amanda told them there is no way they are getting MVP. Amanda thinks McCrea or herself will get them. Aaryn: "She was like Y'all don't have the votes we have the votes y'all are both the biggest targets in this house"
Kaitlin: "Why would she do that"
Aaryn: 'I don't know she's trying to scare us into being on her side"
K: "Was McCrae there"
A: 'No.. he would have lost hi Sh1t"
K: "Did you tell MC"
A: "no"
K: "I will"
Aaryn thinks Amanda was saying that to tell aaryn that she would probably be friends with everyone in the house because she'll probably never get MVP.
K: "She has no control over who gets MVP and why would she get MVP"
A: "I know.. it makes me feel like sh1t"
Aaryn: "Elissa's votes have nothing to do with her being a valuable player.. it's who she is"
1:40pm Elissa in the backyard
1:50pm HOH Aaryn, Jeremy and Andy
Andy says even if Nick goes it's not devastating. Aaryn is glad it's Nick being nominated because Nick is so smart he will be able to figure out how to stays.
Jeremy says "that side" of the house is getting really sketched out, Elissa wants to make a deal "she's throwing you all under the bus"
Andy: "what do you mean what side "
Jeremy: "the people that are coming after us "
Andy: "like Helen "
Jeremy: "No she's cool with us"
Jeremy says it was Elissa, he just wants Andy to know he's got going through with the deal that was offered.
Jeremy: "This is why we need her out of the house"
Jeremy tells him that 'Texas don't f*** around" they are solid whereas the other group isn't they are already throwing him under the bus..
Judd joins them "kusdfh lkajsdfhg klasrjhgklsadfjhg ksadljfgh sdfaksadk" (I fell asleep.. i never sleep so much)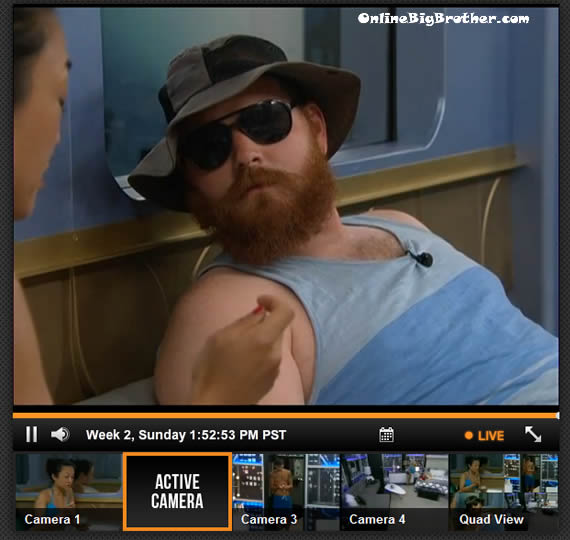 1:50pm Cockpit Helen and Spencer
Spencer is saying if Amanda goes up she will get voted out Elissa has the power to stay this week. Spencer adds that they need to get the flip flopper out of the group. Helen will talk to Elissa.
Helen says that Nick has a final two deal with Jeremy. Spencer says that Week 2 the least thing you should be worried about is final 2 deals.
Spencer saying that Amanda is dangerous the best thing for their alliance is to get Amanda out. He says that Amanda is going to jump ship they will lose the numbers and the strength they have the power to get her out now.
Spencer: "I wouldn't be surprised if Amanda tried to reform the 7 on the other side with Elissa being weaponized"
Spencer: 'Amanda is the poison in the well right now" he points out how MCrae is under her control.
S: "She's flirty and takes dirty.. big titty buxum brunette"
They start talking about Nick being Dan's relative.
Spencer: "I dunno maybe
Helen: "We have to assume he is based on what Elissa knows.. I have figured it out.. "
Spencer: 'You figured it out"
Helen: "yup I went to Diary last night..based on everything we know"
2:04pm cam 1-2 Bedroom Spencer and McCrae
MC: "Jer said people are gunning for me and Amanda"
S: "They are"
MC: 'Whats up with that"
S: "People see you as the king and queen of the this side of the house and everybody trusts you but nobody trusts Amanda.. they are not gunning for you they are gunning for her "
S: "She's always scheming"
Spencer explains the story "you are going to flip to the otherside and possible pull Elissa and target us"
Mc: "Amanda is doomed anyways"
S: "We have to do what is best for the moving company"
2:10pm Have nots Jeremy and Amanda
Jeremy: "Regardless if it's true or not three people came to me this morning and are trying to make side deals to kick your A$$ up on MVP and throw you out"
Jeremy: "They are telling me to keep Elissa and throw you out..It's been nobody on my side.. they say you are the puppet master and they want you gone"
Jeremy: "I'm trying to let you know that you might not be on the right side of people right now.. we have the strong players this is the time to jump on"
Jeremy adds that they are saying they are saying Amanda is throwing nick and him under the bus telling people they have a final 2 deal.
Jeremy says it was two females and one male.. Jeremy adds that they are saying they trust McCrea but not you and think if they get rid of Amanda they can get mcCrae back on their side
Jeremy: "If you want to jump on board with a strong team then do it now.. "
Amanda asks if it was Helen.
Jeremy: "No but they did say Helen was on board"
Amanda : "Spencer howard? "
Jeremy says it wasn't howard it was spencer and one more
Amanda Candace
(So it was Candace, Elissa and Spencer)
Someone is at the door so Jeremy hides (See picture below)
Amanda: "I'm with you 100% we're all strong and the best looking"
J: "For sure"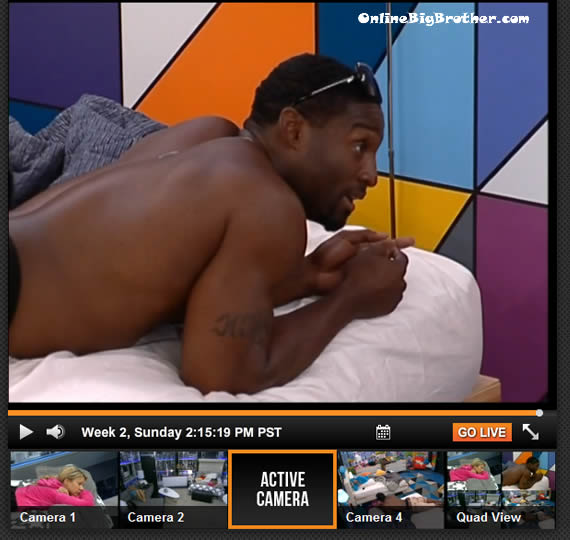 Howard is telling Nick that Spencer and Jeremy are making a play to see if Amanda will go up. He still wants to get Elissa out this week.
Nick: "It's better for me if Elissa goes home"
Nick: "Right now Elissa is stirring up all this sh!t about me"
Howard: "Elissa out is best for me to"
Howard points out that everyone is going to be targeting Amanda next week.
Nick: 'Dude whatever it takes whatever the Moving Company needs"
Nick's boot list is Elissa, Amanda, Helen, Candace and then they can widdle down their girls.
Nick: "We need to get rid of the ones we have the least influence with.. this is why Spencer needs to get closer to Helen"
Howard: "Helen doesn't have the power it's Elissa.. but I would rather Elissa go home of course but i'm scared Amanda is sleeping with McCrae every day"
2:41pm Helen, McCrae and Amanda
Amanda asks Helen if what Jeremy said is true. Helen is saying that she is not on board with getting Amanda out that someone is lying to Jeremy. Helen starts in on her Nick is the cousin of Dan and he's gotta go because he'll win all the MVP's
Helen says that Spencer was suggesting they put someone in their alliance up with the MVP. She told him no F*** way. Helen is concerned about Spencer but right now they need him.
Helen is saying she telling Elissa to put up Nick, "I can control Elissa to the point of making sure that third nominee isn't one of us"
Helen leaves
McCrae :"Do not talk to anyone.. you are on everyone's radar right now"
Helen comes back says that Nick will win MVP and they will never have a chance to get him out. Helen leaves again
McCrea: 'Everything is going to be alright.. just listen to me.. we'll be fine"
Amanda: "I don't trust Jeremy"
MC: 'We ahve to we have to go with them.."
McCrae: "If Spencer is the shady one we don't have the votes anymore"
McCrae: "I'm telling you she's not going to stay.. "
A: "You, me, Andy, Howard, Judd.. who else.. would Spencer be the only one?" (To vote out Elissa)
MC: "Do not whisper to anyone today.. your plan for today is not to talk to anyone you are the shadiest person next to Nick"
A: "I want ELissa to stay"
MC: "She's not going to stay.. if one person turns we don't have the votes anymore"
MC: "She's not going to stay I'm telling you she's not going to stay.. the best thing is to vote her out
McCrea: "You are holding on to a sinking ship
Share it YO!!
Tweet